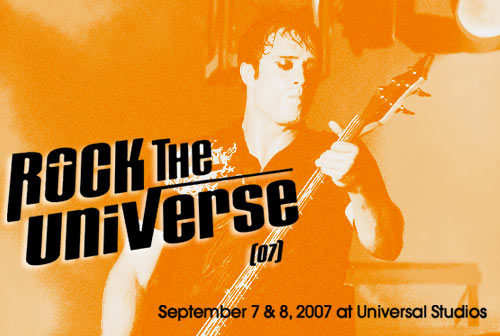 Relient K, TobyMac, Casting Crowns, MercyMe, Skillet, & more
9/7 - 9/8/07, at Universal Studios in Orlando, FL
FRIDAY
After visiting two previous Rock The Universe events at Universal Studios in Orlando, Florida, it's tough to not start looking forward to the festival every year. We'd previously attended in 2003 and were drawn back particularly by the presence of Audio Adrenaline last year as they wrapped up their career. But a few standout acts in this year's lineup, as well as the allure of "getting away" for a weekend, drew us back to Orlando for Rock The Universe 07.
This year ordering tickets ahead of time gave event-goers the opportunity to purchase their RTU tickets and get 2-Day, 2-Park tickets in addition to the event. Previously, the event doesn't begin until 4PM at Universal Studios, so RTU-goers would have to pay full price for separate tickets to Islands Of Adventure (the other Universal park next door) if they wanted to experience that park as well. We decided to arrive in Orlando early enough to make Friday an all-day fling at Islands before heading to Universal Studios for the start of Rock The Universe that evening.
Although the gates become open to the RTU attendees at 4:00, the shows don't start right away - giving people a chance to either ride a favorite ride before shows begin, grab a bite to eat, or at least have a little time cushion to get to the first show and grab a spot in front of the stage before its start. Grits kicked off Rock The Universe 07 on the Hollywood Stage, a smaller setup than the main, Yard Stage, and is located in front of a fast food establishment called Mel's Diner. The audience was a bit thin for the two rappers, but the pair still put on an enthusiastic hip hop show for the fans present. At 6:30 over at The Yard Stage, which attendees pass as they walk through the park shortly after entering, Family Force 5 was the inaugural act for the main stage. As we walked over following a quick and exciting detour onto the "Revenge of the Mummy" ride, the sounds of their set opener "I Love You To Death" was drifting through the park streets. As the stage came into view and the sound became clearer, so did the fact that Family Force 5 was not quite their usual selves. Frontman and chief vocalist Solomon "Soul Glow Activatur" Olds was absent due to the recent birth of his first child, so his brother and FF5 bassist Joshua "Fatty" Olds had traded his instrument for the mic, with TobyMac bassist Todd E. Funk (aka "Zodiac") filling in for him. The band's entire set was still its usual frenzy of fun and energy, but Solomon's absence was undoubtedly felt. There's a sense of organized mayhem when the band plays in its full glory, but without "Soul Glow," there just seemed to be a bit of apprehension among the rest of the members - and understandably so. But given that their ringleader wasn't in attendance, the guys - who I will always say put on one of the best live shows you can see today - still put forth a valiant effort. And their set still consisted of their usual staples, with "Replace Me," "Drama Queen," "Kountry Gentleman," "Love Addict," "Numb," and "Earthquake" all making the list. And when the thematically sound "Earthquake" (that's a Universal ride reference for those unfamiliar with the Orlando theme park) came to a close, the band came back for an encore with "Supersonic" and "Whatcha Gonna Do With It," their newest song which features all of the guys dancing and singing along to a track (sans their instruments). Before leaving the stage, Fatty offered a heartfelt prayer for the people of RTU for a great way to end their segment.
Between Family Force 5 and the unfortunate simultaneous 7:45PM shows from Jars Of Clay and Hawk Nelson, shark victim Bethany Hamilton shared her testimony on the main stage. And when it came time to decide who best to see following her message, we chose Jars Of Clay at the Yard Stage first. They had already begun their opener "Good Monsters" by the time we'd arrived back at The Yard, and it was a shocker to anyone who hadn't heard of their summer fest garb to find the six-piece alt pop/rock group clad in gym shorts and polo tees. Looking like a band of retro joggers (Jars of Clay is "JOC"... get it? Yeah, it's a stretch), it was fun to see that the guys still had a sense of humor, but it definitely clashed with the mood of some of their songs. By the time "Work" followed as the second song, the more serious rock anthem of loneliness just didn't have as poignant an impact being received from the brightly-colored, short-shorts-wearing Jars guys. Nevertheless, Jars Of Clay put on a fantastic set, and I found myself getting lost in the music. "Work" was immediately followed up by "God Will Lift Up Your Head," and "Nothing But The Blood" for a rousing segment of upbeat worship, and then the guys moved right into "Take Me Higher" from their latest album Good Monsters. In the twelve-plus years I've seen the band live - since the first time when they opened for PFR before their debut had even come out - this marked the first time I'd ever seen the guys live in a festival setting, and it was fun to experience the different feel.
Unfortunately, it was at this point that my wife and I decided it may be best to head back to the Hollywood Stage to catch some of Hawk Nelson's set before it finished. We didn't know how long either band would play, so considering the possibilities of just 10-song sets, it seemed ideal to leave after five songs from Jars. We arrived at the Hollywood Stage as the Hawk boys were at the kazoo playing part of their song "Hello" from their sophomore album Smile, It's The End Of The World. Vocalist Jason Dunn brought his girlfriend on stage to play the little plastic instrument along with him, and the song was soon followed by a cover of "Just What I Needed" by The Cars. The pop/punk band's popular anthem "California" followed, before Dunn paused for a serious introduction to the suicide-themed ballad "Zero." The portion of their set that we saw just seemed to breeze by as the band closed with the raucous "Bring 'Em Out," and we exited the audience to look for a friend of ours. While we stood by the merch stands located to the side of the Hollywood Stage, we soon heard an acoustic version of "36 Days" drift over as Hawk delivered a humble encore. As we mingled around the Hollywood Stage for some time after their set, I was disappointed to note that Jars Of Clay kept on playing long after Hawk's conclusion, and I wished I'd known they would play so long beforehand so I could have made it back to The Yard for some of it. Even from where we were by the Hollywood Stage, I recognized the subtle hints of recent set Jars staples like "Dead Man," "Love Me," their cover of INXS' "Don't Change," "Flood," and their closer "Light Gives Heat."
There was a substantial break in time between Hawk Nelson's set and MercyMe's at 9:45. But at The Yard, a pair of pop/worship acts - Echoing Angels and John Waller - preceded the main stage closer, Casting Crowns. The night's headliners had suddenly gone from different brands of rock to straight-up contemporary and pop, not leaving much to choose from if you're not a big fan of Christian pop radio. We sat with a couple friends in the Universal Starbucks near the Hollywood Stage to unwind a bit before catching a couple of minutes of the headliners before calling it a night. When we arrived back at the Hollywood Stage, MercyMe was performing a cover of Johnny Cash's "Won't Back Down." I was in awe of how thin the audience was for this popular act. But the band put on a strong performance, and after "Bring The Rain," the band launched into an updated version of "I Can Only Imagine" and we soon headed to The Yard to catch a little of the night's main event.
I was even more in shock of the massive crowd gathered in front of The Yard Stage. The sold-out Rock The Universe audience seemed to be mostly gathered there for Casting Crowns. It was near impossible for us to get close enough to even really see the stage (let alone take pictures), and after "We Are The Body" and "Does Anybody Hear Her," we decided there was no way to beat the crowds and decided to visit a Universal Studio ride or two before the park closed at 1:00AM...
SATURDAY
Since we had spent all day at Islands Of Adventure the day before, we decided it was time to devote all of Saturday to Universal Studios. Our goal? Visit as many of the park's attractions before the event's start. How'd we do? Not too shabby if I do say so myself...
For a late lunch/ early dinner we hit up the Hard Rock Cafe around 3PM, and as were about to leave sometime after 4PM, we were surprised to find the beautiful and sunny Orlando day had become a torrential downpour. We waited for it to subside a bit, closer to 5PM, and made our way through a massive line at the entrance to get inside. As soon as we walked through the gate, the skies opened up again, and Amy and I dashed into the first store inside the park for cover. TIP: bring ponchos to Rock The Universe! Last year, it had rained quite heavily too, so we wanted to be a bit more prepared this year. But the rain didn't let up for our trip to The Hollywood Stage for The Afters. The rain delayed the show, and we had to stand around as the stage's emcee, Craig, tried to kill some time. But after some setbacks, when the rain stopped and the sun came back out, The Afters plugged in and proceeded to perform, opening with the catchy "Until The World" before launching into "Someday" and a brand new one, "Never Going Back To OK." They prefaced one of The Afters' more classic tunes, "You," by saying it was one the band had written while working together at a Starbucks. The soft ballad was followed by another new one, "Ocean Wide," a heartbreaking song inspired by a picture-perfect family whose husband surprisingly walked out on them one day. A new rocker entitled "Tonight" was next, with "Love Lead Me On" and one last new track, "Keeping Me Alive" preceding the band's most recognizable song - and biggest hit - "Beautiful Love" to close out their set. Although most of the audience watched the band sopping wet, it was well worth it.
Skillet was scheduled for 7:15PM, and things were delayed a bit with speaker Brent Crowe coming before them to speak briefly and funnyman Daren Streblow as well, who left us all in stitches. There aren't too many genuinely funny Christian comedians, but Streblow truly surprised us. Just as Skillet finally got to play, it began to rain again - and hard too - but they kept on playing. Opening with "Whispers In The Dark," the hard rock band performed mostly newer songs from their latest two records (Comatose and Collide), continuing with "Forsaken," "Better Than Drugs," "The Last Night," and "Collide." The latter two were given especially extended treatments, with guitarist extraordinaire Ben Kasaica getting a chance to exhibit his incredible talents. "The Older I Get" was next, with the enthusiastically received "Rebirthing" firing up the audience before "Obsession" and "Comatose" followed. Frontman John Cooper shared his excitement for playing Rock The Universe every year - admittedly his favorite venue to play. Due to Skillet's visible excitement and energy, the band put on what was easily one of their best shows I'd seen from them to date. After Cooper told the story of a recent illness Kasaica has suffered from, they launched into the softer "Yours To Hold," and we decided to catch the finale of TobyMac's set over at The Yard.
On our way over to The Yard, we could hear TobyMac's signature "Old School" medley which, upon our reaching the stage had just finished. And with an explosion of energy, Toby and his team broke into the dc Talk original, "Jesus Freak." The entourage wrapped up the song and exited the stage, but returned inevitably for an encore with the hit single, "Made To Love" from his latest project, Portable Sounds. Toby paused a bit to share about our purpose for loving Christ despite ourselves, and concluded the pop tune. To end their set, they played "Extreme Days" breaking into a frenzy on stage in the joy-inspiring way that can only be achieved by a TobyMac set.
With Toby's exodus from the stage, it was coffee time again, and when we soon returned to The Yard once more, teenage pop vocalist Robert Pierre was performing. Completely out of place as a headlining main stage act, Pierre wasn't exactly a well thought-out warm up act for Relient K. But a prolonged delay followed, and instead of a 9:30PM start for the band, Relient K didn't begin until an hour later. The alt rock/pop punk fivesome kicked off their set with "Who I Am Hates Who I've Been" and "High Of 75" from their standout album Mmhmm and proceeded to perform the newer "Devastation and Reform" before dipping further back into the past for the appropriately themed "Chapstick, Chapped Lips, and Things Like Chemistry." Matt Thiessen's love song for his girlfriend "The Best Thing" followed, along with "Life After Death and Taxes" and a cover of Tears For Fears' "Head Over Heels" which meshed right into "In Love With The 80s." It seemed much more appropriate to have a band like Relient K finishing out the evening than Friday's picks for headliners, but for those wanting a softer, more adult contemporary concert choice, Jeremy Camp was performing at The Yard Stage during RK (although, honestly, due to the delays in Relient's set, he could have been finished by the time Relient K even began, given his slotted 9:15PM start time). And after Relient K's hit single "Must Have Done Something Right," frontman Matt Thiessen shared openly about the post-Creation East bus fire the band suffered and how he's overcome the anger and disappointment that followed, giving it over to thankfulness that no one had been injured (despite the loss of gear and such). The aptly chosen "Up and Up" ensued, along with the worshipful "Getting Into You" and emotional "Forgiven." To wrap up their set, the band then ripped into "Which To Bury, Us or the Hatchet?" and then bowed out with "Let It All Out." Of course, an encore is expected, and Thiessen greeted the fans by reminding them that they hadn't played their "most ridiculous song yet." With that, they performed "Sadie Hawkins Dance" to an uproarious reception, and even invited a fan to join them on stage to play guitar along with them. As they began another standout hit, "Be My Escape," guitarist Matt Hoopes started too early and Thiessen found pleasure in teasing the fellow Matt about the blunder. Finally, the evening of music concluded with the band's performance of "I So Hate Consequences," thus bringing Rock The Universe to an end. Immediately, the audience began to clear out, despite a candlelighting ceremony being on the bill for the night. It was tough to tell whether the crowd didn't know it was coming or if they were just was eager to beat the rush and leave for the night, but it was unfortunate that they weren't sticking around longer.
Rock The Universe '07 was another year of great music within the fun-filled theme park of Universal Studios. While Disney's rival celebration Night Of Joy was taking place at Magic Kingdom the same nights as Rock The Universe, there seemed to be plenty of lineup competition between the two as Night Of Joy had nabbed artists like Third Day, Sanctus Real, and Flyleaf -- all bands that would better fit under the title of "Rock The Universe," while crowd-drawers like Casting Crowns and MercyMe seemed to be more of the kinds of bands to fit into Night Of Joy's contemporary format. Regardless, Rock The Universe was as diverse this year as ever, offering pop, hip hop, crunk rock, hard rock, and a mix of many of those throughout the length of the event. While crowd control may remain the fest's biggest hangup, there's still an abundance of things to do and music to choose from while at this attraction. So if you're looking for options for planning a late Summer vacation next year but would also like to take in some live music, you can't go wrong with a setup like Universal Studios Orlando's Rock The Universe.
Visit our iTunes Podcast page for a video montage of highlights from Rock The Universe '07!
--
John DiBiase
, 9/12/07
Rock The Universe 2007 Photo Gallery
click on an image for a bigger size
Grits -- Friday, 6:00pm, The Yard Stage
Family Force 5 -- Friday, 7:45pm, The Yard
Jars Of Clay -- Friday, 7:45pm, The Yard
Hawk Nelson -- Friday, 7:45pm, The Hollywood Stage
MercyMe -- Friday, 9:30pm, Hollywood
The Afters -- Saturday, 5:15pm, The Hollywood Stage
Brent Crowe -- Saturday, Hollywood Stage
Daren Streblow -- Saturday, Hollywood Stage
Skillet -- Saturday, 7:15pm, The Hollywood Stage
TobyMac -- Saturday, 7:00pm, The Yard Stage
Relient K -- Saturday, 9:30pm, The Yard Stage
*all photos by
John DiBiase
or
Amy DiBiase
, and are the property of
Jesusfreakhideout.com