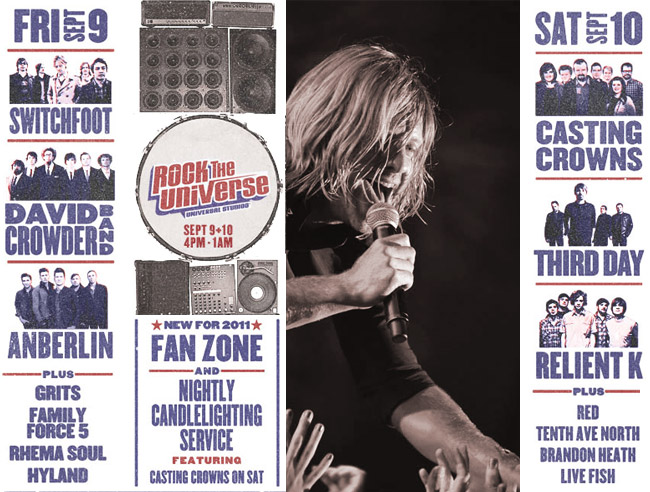 Rock The Universe 2011
9/9 - 9/10/11, at Universal Studios in Orlando, FL
FRIDAY
It's hard to believe that three years have passed since the last time we attended Rock The Universe festival in Orlando, FL. The concept of mixing the top artists in Christian pop and rock with one of the coolest theme parks in the world is pretty difficult to pass up, so it's tough to take a break from attending this fest for too long.
The "Rock Your Weekend" ticket option is the ideal way to go, too. With it, the festival-goers can attend both nights of the festival as well as attend either Universal Studios or Islands of Adventure during the day. It's a nice deal, and it gives you the opportunity to take advantage of being near two great theme parks. In addition to the usual festivities, there is a Sunday morning worship service at Universal Studios which you can also attend to extend your RTU experience. We had to fly out on Sunday, so we unfortunately did not check out this portion of the fest this year.
On Friday, we took advantage of the first day of the festival to visit Islands of Adventure. This was the first year for us that the Harry Potter zone was open, so we made sure to at least stroll through there on the way to hitting some of our favorite rides and attractions. The highlight of the Harry Potter area? Butterbeer! This is a beverage lifted right out of the film series (Harry Potter and the Prisoner of Azkaban, according to Wikipedia), and is a nonalcoholic drink that tastes a lot like butterscotch. It's wicked stuff and well worth the visit to Potter-ville to experience!
Before long, it was time to head over to Universal Studios to prepare for the first night of 2011's Rock The Universe. The "gates" open to Rock The Universe folks at 4:00pm, with the music not beginning until 6:00. The biggest downside to either Rock The Universe or Disney's Night Of Joy (which also runs the same weekend over at their parks) is that they take place during Orlando's rainiest of seasons. It's not quite bad enough that it tends to rain, but it's quite spastic when it does -- and it'll often downpour and then clear up before dumping on you again. With all of the shows being outdoors, it can really put a damper on things.
Rain pounded Rock The Universe 2011 from the start. I had been looking forward to Word Records' Dara Maclean performing at 6:35pm at the park's brand new Fan Zone Stage, but unfortunately, a brutal downpour defeated the new stage setup. Meanwhile, at the festival's Main Stage, rap group Rhema Soul was set to perform at 6:30pm, with hip hop staple Grits performing right afterwards at 7:30pm. Instead, we decided to brave the rain and watch Tooth & Nail Records' pop/rock band Hyland over at the Hollywood Stage at 7:00 (which was delayed until 7:15 due to the rain... which isn't bad, considering). With three out of four of the members daringly performing barefoot on a slippery stage, the guys presented an energetic set to a soggy but enthusiastic audience. They opened with the recognizable "Jumping The Gun" and moved quickly into "The One That Got Away." Frontman Jon Lewis then announced their radio single "This Love Is Free" and encouraged crowd participation with the song's standout "Whoa-oh's." Lewis then paused to share about how the band had a bunch of gear stolen earlier in the year and how it inspired the song "Take What You Want." "Never" followed, and the band dropped out to allow Jon to perform the song acoustically by himself. He then encouraged the audience with some words from his heart before the other guys rejoined him to finish the song. Hyland then closed with "Til Death." Their set was a decent way to start off the night of music at the Hollywood Stage, but they weren't exactly the ideal warm-up act for a band like Family Force 5, who followed soon after.
With the intense rain, which was on and off in merciful spurts during Hyland and some of Family Force 5, I actually am not sure if the Fan Zone Stage had been closed down for the night or just postponed until later that evening while we were at other shows, but I was definitely disappointed to not have been able to experience it that night. Once Hyland had ended, we decided to remain where we were and wait for the set change for Atlanta's Family Force 5 to take the reins. The crunk quintet squeezed quite a bit of music into their set time, opening surprisingly with one of their most popular songs, "Love Addict." "Kountry Gentleman" was next and then frontman Solomon Olds took a moment to encourage his audience to join the party and dance along as he tried to teach the moves to their new song, "Wobble." It went over pretty well, but the guys returned to beloved fan favorites like "Supersonic," "Drama Queen" and "Fever" before trying out another new song on the Orlando crowd. Soli explained that the song was written as a love song for his wife and then launched into the soulful pop tune, "You Got It." Switching gears somewhat drastically, they brought back "Dance or Die" before going back much further for the silly "Put Your Hands Up," and then getting a little more serious for the anthemic "Radiator." After band member intros, they broke into their third new track from the upcoming album III, "Dang Girl," and followed it nicely with "Get Your Back Off The Wall," "Earthquake," and "Ghostride The Whip." To close their set, they strapped on the infamous backpacks they wore last summer that display illuminated globes with prints of their faces on it and ended with "Get On Outta Here." It was a pretty solid and diverse set that nicely mixed up old favorites with new tracks.
By the time Family Force 5's set had drawn to a close, David Crowder*Band's Main Stage set had been well underway. When we walked over there, the celebrated worship band was performing "You Are My Joy," which they soon followed with "God Almighty." The audience was drawn in by Crowder's down-to-earth, yet quirky personality and the incredible entourage of musicians he has backing him up. The popular "Here Is Our King" followed, and then Crowder asked if the audience was in the mood for a "good old fashioned ho-down." With that, they performed "I Saw The Light" mixed with the hymn "I'll Fly Away," before moving into the delectable "Oh Happiness" and the soaring "O Praise Him." Before long, the guys were wrapping up one of the final festival performances of their career with "Sing Like The Saved." It was a very upbeat set and a decent mix of fan favorites (although I would have loved to have heard more from Church Music).
We then made our way back to the Hollywood Stage where Anberlin had begun rocking their hometown audience. When we approached, they were performing "Never Take Friendship Personal," which they soon followed with "Pray Tell" from their most recent album, Dark Is The Way, Light Is A Place. Afterwards, frontman Stephen Christian dedicated the next song to all of their friends and fans who have followed them since the beginning and proceeded to resurrect an oldie, "Change The World (Lost Ones)," from their debut, Blueprints For The Black Market. Another new one, "Art Of War," was next, and then "Take Me As You Found Me." As we walked back over to Main Stage where the final band of the night was about to perform, Anberlin was performing a cover of Depeche Mode's "Enjoy The Silence."
With their seventh album approaching, Vice Verses, an album that has been in heavy rotation in the soundtrack of my life lately, I was especially looking forward to seeing San Diego's Switchfoot perform again. It's been quite too long since I had the opportunity to see them live and the wait has been well worth it. The rock fivesome opened with the blistering "Mess Of Me," and it was clear that the audience was in for a pretty rocking show. The guys kept the fan favorites rolling pretty quickly with "Stars" next and then "This Is The Sound." Jon Foreman then slowed things down quite a bit for "Your Love Is A Song," before taking a moment to talk about the next song. To my surprise, Foreman informed the crowd that new rocker "Dark Horses" was written from the perspective of the less fortunate and needy. Knowing this brings a lot of added depth to an already excellent rock song. "This Is Your Life," from The Beautiful Letdown was a nice surprise, but not nearly as much as "Gone," which followed -- a song I certainly haven't heard them perform live in quite some time. From here, Foreman launched into the worshipful "Restless" from their upcoming album and then the diamond in the rough of their 2006 album Oh! Gravity, "Awakening." To close, the guys broke out in a building, moody version of "Love Is The Movement," which merely utilized the song's chorus and not its music, and merged it with their biggest hit to date, "Meant To Live" (it's a combination they've been using for a couple years now actually, but it is a great mix). Thankfully, that wasn't it for their set. When the guys walked off stage and came back for an encore, they performed a third brand new song, "The War Inside," one of my personal favorites from Vice Verses. It's an excellent track and a great way to end their evening. But to make sure the guys were giving their fans something they'd all recognize, Switchfoot closed with another classic, "Dare You To Move." And with their set, so ended the first night of Rock The Universe!
Due to how late the night had gotten by the time Switchfoot had finished (it was probably about 11:30), we didn't stick around for the scheduled Candlelighting Service at 11:45 and decided to head back to our hotel to rest up for the next full day at Universal Studios...
SATURDAY
Since we'd spent the morning and afternoon of Friday at Islands of Adventure, we decided Saturday should be dedicated wholly to Universal Studios. We got there in time for a late breakfast/early lunch and grabbed something to sustain us in a cafe near the park's entrance (Beverly Hills Boulangerie). We then spent much of the day revisiting some of our favorite Universal attractions and catching up with a few friends before the evening's festivities began. Unfortunately, a bought of rain struck yet again but luckily it didn't affect the shows at all. So when the park was opened to the Rock The Universe crowd and the music was set to begin at the Fan Zone Stage, I made sure not to miss my second chance to see Dara Maclean perform. Earlier this year, I had had the privilege of attending an acoustic performance of Dara's when she was pitching her tracks to the radio folks months before her album dropped. I was intrigued and impressed by her voice as well as her personality, so I was curious to see her in a real concert setting. I was certainly surprised to see Dara with a full band to support her live show. First impressions can make or break an artist, and with Dara's soulful pop sound, it wouldn't do her justice to be introduced on stage by performing to recorded trax. Maclean opened with the title track from her debut, You Got My Attention, and followed it with "Unreachable" before she took a moment to talk to the audience. Maclean then performed "Free" and "Nothin' You Won't Do" before we had to leave the area. Over at Main Stage, an indie band from Kentucky called Live Fish opened the night at 6:00pm, playing some standard fare pop/rock. It was okay, but among such major players at the festival, it seemed odd that the band was among them. Meanwhile, Brandon Heath was also performing at the same time at the Hollywood Stage, so there was a pretty wide variety of music represented between the three acts. RED performed at 7:00pm, which we unfortunately missed, but we had just seen them at Purple Door Festival recently anyway. Tenth Avenue North was performing at 7:30 at Hollywood while Fervent Records' newcomers for King & Country were playing at Fan Zone. I was hoping to check out the brother duo (who are Rebecca St. James' brothers who used to just go by "Joel & Luke"), but we were meeting with friends during their set and just barely got back to that stage for the next set.
At 8:00pm, Family Force 5 performed a special acoustic set for the Rock The Universe crowd. The Fan Zone stage is a nice addition; it's squeezed inside a side street with the stage facing the other side of the street. There aren't really many places to sit and watch, but there was at least one set of stairs outside a building facade that worked well to watch the show from. When the crowd was smaller, it was possible to chill on the curb, but for Family Force 5, the audience was pretty packed. The next show at Main wasn't until 8:30, so there was a decent turnout for this special performance. All five guys were seated for their set as Jacob was still behind his drum kit and Nathan sat behind a djembe drum. Although this stripped down set wasn't as taxing on the guys as their usual high-energy show, it was noticeable that Solomon had started losing his voice some the night before and it was only worsening during this set. Still, Soli sounded good despite the vocal troubles and the rest of the gang backed him up nicely. They opened with "Kountry Gentleman" before moving into "Radiator" and then busting out the classic "Cadillac Phunque." It was especially fun to hear songs like "Fever," which was next, and "Supersonic" which was later, since those songs are usually some of the more aggressive and danceable. "You Got It" (which was after "Fever") makes for the perfect acoustic song since it already has a slower, more stripped down feel to it. "Supersonic" followed, and then the guys wrapped up their acoustic show with Friday night's set opener, "Love Addict."
We arrived for Relient K's evening performance at Main Stage in time to hear them open with "Who I Am Hates Who I've Been," followed by "Sahara" from their latest full-length album, Forget And Not Slow Down. The downside to being at one stage in the park and then trying to attend another show at a different stage is that you'll have to lose your place at either stage. For Relient K's show, the audience was packed in tightly and we decided to not even bother trying to get closer than the outskirts of the crowd since we needed to eventually get back over to the Hollywood Stage. The problem with this is that you don't really feel part of the audience at such a distance. Still, I was glad we got a chance to check out most of RK's performance. With the recent release of their first cover songs EP and the forthcoming release of a full-length covers album, the band played their own take on Cyndi Lauper's "Girls Just Want To Have Fun" and then paused to talk about writing new music for a 2012 all-new (i.e. no covers) studio album. The title track from Forget And Not Slow Down followed, along with a string of favorites like "The Lining Is Silver," "High of 75," "Be My Escape," and the oldie "Chap Stick, Chapped Lips, and Things Like Chemistry." Before we left the area, we heard them play "The One I'm Waiting For" from their fourth album, Mmmhmm, and "Getting Into You."
The interesting thing about the Rock The Universe Main Stage is that, over the years, the stage has changed positions and locations multiple times. One year, it was facing the street with a very huge open area for audiences (I remember watching Skillet perform to a modest crowd... which, these days would be a pretty huge one instead!). The last time we were there, the stage was facing the Twister ride, with the stage being sideways as you walked by it down the main street. It was a decent setup, but I can understand why it needed to be reimagined considering the park's layout there has changed drastically now. By that, of course, I'm referring to the addition of the Rip Ride Rockit coaster that was added right where the stage area was. Because of this, the stage area has also been cut down, which makes a little less space for concert-goers to gather in. What it does add, however, is an incredible backdrop to experience a concert. Also, the new stage setup appears to be fixed and part of the layout there now, so there's a good chance that stage isn't going anywhere in the near future. The only complaint I still have about the concert area, though, is the metal fencing they use to organize where people go in and stand in the audience section of the area. It's like a maze without any markings, and when the crowd is packed in, good luck finding your way out of there. The openings to get in and out are few and small, so you end up standing in a congested line of people trying to all find and squeeze through one opening. It's a minor gripe, but I was hoping it would have been improved upon over the years we've missed.
We returned to the Hollywood Stage for our final show experience of the night: Third Day's 9:15 show. The last time we'd been to RTU in '08, Third Day headlined the Main Stage, so it was a little odd to see them perform on the secondary Hollywood Stage. Labelmates and contemporary pop giants Casting Crowns were set to perform an hour later on Main at 10:15, so Third Day was up against some pretty stiff competition... but that wasn't about to stop them from putting on a really great show. Their set began nicely with "Lift Up Your Face," the opener from their latest release, Move, getting the crowd prepared for a solid southern rock show. "I Got A Feelin'" was next, and frontman Mac Powell encouraged the audience to do a little side-to-side stepping along to the song. Another classic, "RockStar" followed, before the radio hit from Revelation, "Call My Name." Afterward, Mac did his traditional headcount of how many people in the crowd had seen them before and how many hadn't, and then they broke into the title track from Revelation. At this point, Powell was thrilled to do something unique for the Orlando crowd and brought out Brazilian singer Marcus Salles to sing "Cry Out To Jesus" with him on stage. Salles doesn't speak much English, so a translator accompanied him to aid Salles and Powell. As they performed "Cry Out To Jesus" together, Salles provided a few choruses of the song in his native tongue of Portuguese; it was a unique touch to add to their show. After Marcus left the stage, Third Day performed "Surrender" from Move and encouraged some crowd participation. It was cool to see bass player Tai Anderson pick up the guitar for this track, while guitarist Mark Lee rocked a steel guitar midway through the song. Album highlight "Make Your Move" was a killer addition, and then the set shifted gears once again for the popular worship anthem "God Of Wonders," in which Powell invited singer/songwriter Trevor Morgan out to sing with him. With Morgan on stage, Powell then announced that they would perform one of Trevor's own songs. Third Day then took a backseat to serve as the backup band for Morgan has he performed "Jesus Rides The Subway." It was a neat interlude, but I personally would have rather have heard a Third Day song in place of one of Morgan's. But with a dozen of their own songs performed during their generous set, it wasn't like we were shortchanged by the substitution of a guest's performance. To return to Third Day's set, Powell and keyboardist Scotty Wilbanks opened "Creed" with just the two of them before the whole band kicked in. To close, the band performed the rocker "The Otherside," which featured Mark Lee on the slide guitar. It was a great way to end their set, but after they bowed and exited, the crowd chanted for more. The band briefly congregated off stage and soon returned for what appeared to be a totally unplanned encore. Fittingly, they played "Gone" from Move to bring the night to a rousing finish.
Tired and content with the shows we'd seen throughout the weekend, we made a mad dash for the gates, despite the Main Stage still going and there being a late night Candelighting Service to take place yet at 11:15. The nice thing about Universal Studios is there is a late night retail area located between the two parks that is accessible to the public without tickets, called Universal CityWalk. CityWalk offers several restaurants, snack places, a Starbucks, some stores, and even an AMC Universal Cineplex 20 with IMAX (which is huge and reminds me of the one in New York City). So if you don't feel like sticking around the parks til the 1:00AM closing time that's alotted for RTU participants, you can checkout at any time and head on over to CityWalk.
Rock The Universe is always a highlight of our late summer plans, when we're able to make it, and with some of the best in Christian pop and rock performing in two of the coolest theme parks in the world, you pretty much can't go wrong. It's definitely worth checking out if you've never had the pleasure of attending. Visit www.rocktheuniverse.com for the latest details on the fest.
--
John DiBiase
, 8/25/11
Rock The Universe 2011 Photo Gallery
click on an image for a bigger size
**vertical images cropped for thumbnails**
Hyland: Friday, Hollywood Stage
Family Force 5: Friday, Hollywood Stage
David Crowder*Band: Friday, Main Stage
Anberlin: Friday, Hollywood Stage
Switchfoot: Saturday, Main Stage
Rip Ride Rockit Roller Coaster:
Dara Maclean: Saturday, Fan Zone Stage
Family Force 5 (Acoustic Show): Saturday, Fan Zone Stage
Relient K: Friday, Main Stage
Third Day: Saturday, Hollywood Stage
*all photos by John DiBiase and are the property of Jesusfreakhideout.com