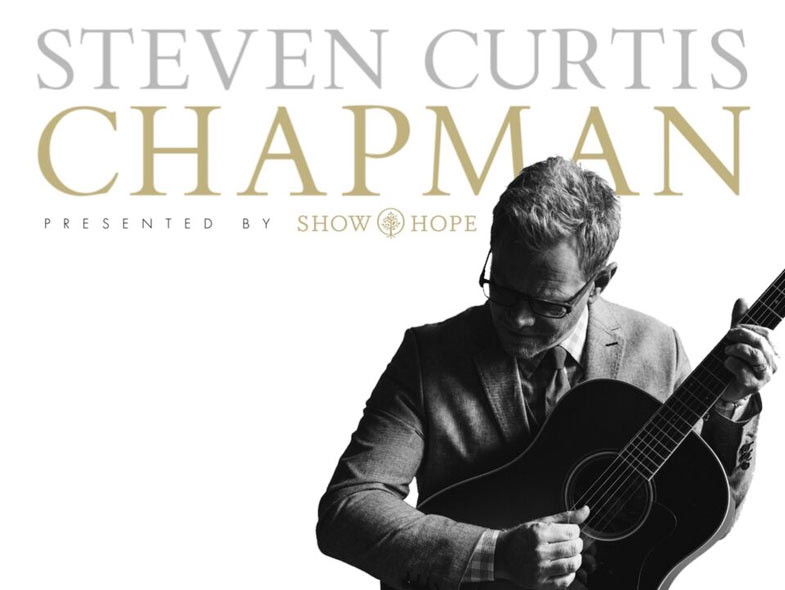 SCC Solo Tour
Steven Curtis Chapman
3/18/18, at Carlisle Theatre in Carlisle, PA
When you've been making music as long as an acclaimed artist like Steven Curtis Chapman has, a question that is probably posed often is "What next?" For Steven, the answer came in the form of a tour that takes things back to the very basics, all in the form of the SCC Solo Tour. The name itself is simultaneously specific and vague, posing further questions. Is it "Solo" as in "just Steven and his band?" Is it "Solo" as in "just Steven and his guitar and no one else, but there's an opening act?" Or "is it really just Steven?"
The stage at the Carlisle Theatre was surprisingly barren, immediately answering our question as to what to expect upon entering the auditorium. The theater is a vintage establishment and a fitting setting for this type of show. Alas, the concert was indeed just Steven Curtis Chapman all by himself. No band. No opener. No extravagant lighting. (The audience didn't even need ear protection.) It was simply an intimate evening of Steven Curtis and fans of his music, gathered in one place to celebrate something special we all shared a love for.
The closest thing I can liken a performance like this to, more recently, would be Jon Foreman's after show performances. While the venue always moved (sometimes literally) and he seldom had a microphone, Foreman's after show sets were intimate, just him and a guitar, and it was something really special. In the past, shows I've seen performed by Justin McRobers, Christopher Williams, Thad Cockrell or Dave Barnes were similar as well, with often bare bones stage production and just the performer with their guitar and/or keyboard. For SCC Solo, Steven had a screen behind him that sometimes illuminated to show the audience personal photos from his life and musical career, videos for songs like "Cinderella" and "When Love Takes You In," and messages about his charitable organization for orphans, Show Hope. Steven was always either behind his acoustic guitar or his keyboard, but this show had more stories and talking from the artist than ever before. This was literally "SCC Solo." And because he didn't have to answer to any other artist or band members, he had the freedom to talk whenever he wanted to - sometimes even mid-song - and he often exercised that freedom.
Steven stepped out onto the stage and, after greeting the Carlisle audience, broke into fan favorite "Live Out Loud." For just a guy and his guitar, Steven captured a lot of the energy of the song, and was able to keep it going with "Love Take Me Over," from his most recent studio album The Glorious Unfolding, and "Let Us Pray" from 1996's Signs of Life. It was the latter that Steven took the liberty to halt mid-song to express that, while performing a song, he sometimes has random thoughts, and for "Let Us Pray," it's that he may be the only artist ever to work "behooving" into a song. He, all the while, kept strumming, and then picked the song back up to finish it. It was a hilarious spontaneous moment, but I was surprised to find that he did the exact same thing (and nearly word-for-word) on his SCC Solo live album recording from a show the month before. It works wonderfully live, but it doesn't quite play as well in recorded form for repeat listens (plus, it loses a little something knowing it's somewhat scripted).
Chapman took time before the next song to reflect on God's faithfulness in his life, and launched into what he considered to be a series of songs that served as autobiographical representations of his faith journey. "Lord of the Dance" served as Chapter One, followed by "No Better Place" as Chapter Two. We were then treated to a home movie of his father recording music while Steven was a little boy, and shared that Johnny Cash's "Folsom Prison Blues" was the first song Steven ever learned on guitar. After playing just a portion of the song, he continued to talk about his family, his parents, his troubles, and getting saved. "For the Sake of the Call" was next, and he followed it with sharing more about his family growing up, and sang "Great is Thy Faithfulness." "My Redeemer is Faithful and True" was next, and then he played just a snippet of "Go Away Little Girl" by Donny Osmond, as it was the first song he'd ever played with his older brother, while in first grade. He then shared the story about playing the Grand Ole Opry for the first time (and bombing in the process!) and meeting Mary Beth after moving to Indiana for college. He then performed "I Will Be Here," with photos of the two of them displayed behind Steven. Chapman continued to talk about his relationship with Mary Beth, as well as the birth of their organization for orphans, Show Hope, and performed "When Love Takes You In" while sitting at his piano, sliding immediately right into his worship song, "Who You Say We Are." Steven followed it with sharing more about Show Hope and its goals and achievements (especially in China with Maria's Big House of Hope), and then invited people to become a part of what Show Hope is doing before taking an intermission.
Before the intermission wrapped, a series of clips from old SCC performances were shown on the screen backdrop. First, it was "Heaven in the Real World" at the Dove Awards, then "Facts are Facts" and "Dive," also at different years at the Dove Awards. Finally, a series of presenters at the Doves expressed their admiration for Steven and his accolades, including Michael W. Smith, Audio Adrenaline, Newsboys, Third Day and more. It was bittersweet to see some of my favorite artists at the top of their game back in the day -- with several no longer making music (or, in Third Day's case, about to embark on their farewell tour). But it fit in with Steven's theme for the evening of recall and remembrance.
When Steven returned to the stage, he launched into iconic fan favorite "The Great Adventure," which incidentally celebrated 25 years since its release last year. The audience got on their feet for this song -- the first time all night -- and remained standing for another upbeat one, "Do Everything." Everyone then sat again for what was a brand new song, "Remember to Remember." It was a wonderful addition to the night that fit oh so well with the evening's retrospective nature. At this point, Steven paused to offer the audience the chance to request songs for him to play. The requests were many, and some real deep cuts were asked for. Steven did the best he could, especially with some being tough for him to recall, but they included "SEE," "Treasure of You," "Together," "Free," and "Fingerprints of God." He then honored the family of a service member he knew of being in attendence and performed his special song, "We Remember." He followed it with giving us an update on what his children are up to these days and told the story of "Cinderella" before playing it. "The Glorious Unfolding" was next, with a reprise of "Great is Thy Faithfulness" following and then closing with another fan favorite, "Dive."
What a night of music and remembrance! If anyone has followed along with Steven's career at any point, this tour is something really special. For this reviewer, Steven's music has meant a great deal for over twenty years. I'd started listening to Steven when I began high school, and his songs of hope carried me through some really tough times. His songs continued to encourage and impact me throughout various stages of my life that have unfolded since. While just the man and his guitar may not be what you'd initially expect from this show, it's perfect for anyone who's ever been touched by this incredible artist's music. SCC fans, don't miss this tour!

-- John DiBiase, 4/15/18
SCC Solo Set List 01. Live Out Loud
02. Love Take Me Over
03. Let Us Pray
04. Lord of the Dance
05. No Better Place
06. Folsom Prison Blues (Snippet)
07. For the Sake of the Call
08. Great is Thy Faithfulness
09. My Redeemer is Faithful and True
10. Go Away Little Girl (Snippet)
11. I Will Be Here
12. When Love Takes You In
13. Who You Say We Are
*Intermission*
14. The Great Adventure
15. Do Everything
16. Remember to Remember
17. Requests: SEE
18. Requests: Treasure of You
19. Requests: Together
20. Requests: Free
21. Requests: Fingerprints of God
22. We Remember
23. Cinderella
24. The Glorious Unfolding
25. Great is Thy Faithfulness (Reprise)
26. Dive
SCC Solo Tour Photo Gallery
click on an image for a bigger size
**vertical images cropped for thumbnails**
Steven Curtis Chapman
*all photos by John DiBiase and are the property of the photographer and Jesusfreakhideout.com