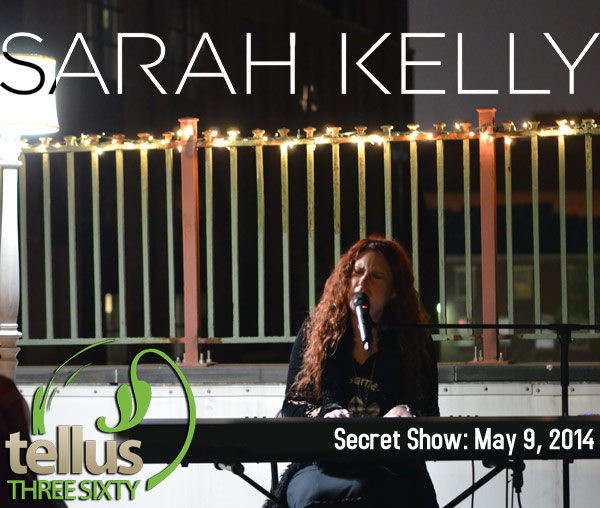 Sarah Kelly "Secret Show"
Sarah Kelly, Ryan Kennedy, Cali Buchanan
5/9/14, at Tellus360 in Lancaster, PA
Ten years ago, Gotee Records released the debut album from Rockford, IL's Sarah Kelly, titled Take Me Away. Sarah has been leading inspiring worship ever since, sharing her story of struggling through an abusive relationship and her victory coming out of that. In recent years, Sarah has started her own music school in The Woodlands, TX (SarahKellyMusicSchool.com), where she currently works with 300 students alongside her loving husband Jonas Ekman. As she gets ready to release a brand new independent studio album next month, My Corner of Heaven, Sarah has been doing a few run of dates that include special Friday night "Secret Shows" for her Kickstarter campaign supporters and friends.
On May 9th, Sarah Kelly hosted one of these secret shows on the rooftop of a club in Lancaster, PA called Tellus360. Only 49 people were allowed on the rooftop, so Sarah had to reluctantly turn down over 250 requests to attend. The venue offers one of the more unique live show experiences. The grassy rooftop offers a stone pebble seating area and a "stage" area that gives artists a minimalistic lighting setup (white Christmas lights and a single lamp), complete with historic Lancaster buildings as the backdrop. It's intimate without a single bad seat in the house. For this event, Sarah took the opportunity to showcase some of her school's talent; Ryan Kennedy, a 20-year-old worship leader, and Cali Buchanan, a 19-year-old mainstream market teenage rocker. Given the setting, however, everything was acoustic, with Ryan and Sarah sticking to the piano as Cali reluctantly traded her rock n' roll comfort zone for an acoustic.
Sarah started off the night's collection of songs with the title cut from her forthcoming album, "My Corner of Heaven," an upbeat tune that boldly proclaims that worship music can rock too. Afterwards, Sarah introduced the first student of the night, Cali Buchanan, who briefly talked about how she writes about relationships and how her first song, "Catch Me If You Can," was one of her many songs about boys. Sarah made it very clear that Cali represented more of the mainstream side of music while Ryan was more geared toward the Christian market. While Cali performed everything on guitar while singing, Ryan Kennedy plucked the keys for his songs, offering rich stories behind his worshipful lyrics, starting out with "No Other King." His soulful voice seemed mature beyond his 20 years, while the songwriting was clearly influenced by Sarah Kelly's approach to worship, as opposed to the 3-chord radio-ready brands. It worked nicely for Kennedy's sound. While I'm not easily impressed by most new worship music coming out of the industry these days, I was surprised that Kennedy was truly impressive.
It came back around to Sarah Kelly and she took some time to gush a little (charmingly so) about her students and talked about how the school does not intend to be a label of any kind but does hope to help mold and direct their students in their artistry. She then performed the melancholy "Just As You Please," a beautiful and personal ballad about surrendering to the Lord's will and direction in our lives. She followed the song with a little more talk about the mainstream group of students in her school that they fondly dub "Vegas" and how, after a recent experience at the National Worship Leader's Conference, they now call them Vegas Revival. She then passed the mic to Cali again. Buchanan shared about some airport troubles earlier in the day, which left the singer/songwriter without her own guitar to play this evening, and then she performed what she called her "God song," "Everything Can Change." While the acoustic format of her songs didn't faithfully represent the supposed rock stylings that she usually offers (Sarah likened Cali's sound more so to Paramore), she certainly has talent, and I'd be curious to hear more of her studio work. However, she admits to writing most about relationships and "boys," so her audience is clearly more of the young female demographic than anyone else. This song, however, did showcase more mature songwriting for the young Texan.
Kennedy then talked about working at churches and his own personal testimony, and how sometimes working with others in ministry can present some bad days as well as good ones. He then performed "Day Like Today," which bore a message I'm sure many believers can relate to. Lyrically, Ryan's songs leaned more toward the Christian life with an inspirational approach than straight-up worship, and it fondly reminded me of some of the best in Christian music before worship leaders dominated the airwaves. Sarah Kelly then reminisced a little about her signing with Gotee and her early days and then performed the title track from her debut, "Take Me Away." With the sky being the venue's ceiling, the vocals soared and carried, giving no limit to Kelly's passionate wails. It was a beautiful thing.
Cali then performed "One More Dance," and talked about how most of her relationship songs (since she doesn't "do relationships") were inspired by watching her peers and movies. For Ryan's next song, "Where I Am," he shared about how the song was inspired by a couple guys who hold a Bible study in a tattoo shop near him and how Jesus meets us right where we are despite ourselves. The song literally gave me the chills as he brought the message home. When Sarah had the mic again, she pointed out her old guitarist from her Rockford, pre-Gotee days, Chris Titus, sitting in the audience, and fondly reminisced about their professional time together. She then introduced her next song as her absolute favorite and performed "Out of Reach," from her album Where The Past Meets Today, a song that represents her freedom from the trappings of her former abusive relationship.
The group went around the circle one last time, leading off with Cali Buchanan singing about a girl who needed a kick to get out of a bad relationship, and then Ryan Kennedy sang the title track from his indie EP, "Another Moment." He prefaced the song as having been inspired by recognizing the need of the homeless and how God called us to care for "the least of these." It then came back to Sarah Kelly to close, and she asked the audience to pick her final song. She received two requests from a few sitting up front and tried to decide which to perform before the mini-crowd encouraged her to play both. She led off the more somber (but beautiful) "At About Midnight" and then closed with the worshipful "Living Hallelujah."
Sarah Kelly's "secret show" performance was one of the first times I felt like I was attending a Nashville GMA artist showcase outside of the late industry event week. It was an intimate performance and a great display of diverse stylings and themes from three truly talented artists. And if you happen to get a chance to worship along with Sarah Kelly in concert, don't pass it up. She brings something truly special to the worship scene that is rare and genuine, easily cementing her at the top of my list as favorite worship leader around.
--
John DiBiase
, 5/10/14


Clip of Sarah Kelly Performing "Just As You Please"
May 9, 2014
Sarah Kelly "Secret Show" 2014 Photo Gallery
click on an image for a bigger size
**vertical images cropped for thumbnails**
Venue Shots (via iPhone)
Cali Buchanan
Ryan Kennedy
Sarah Kelly
*all photos by John DiBiase and are the property of Jesusfreakhideout.com