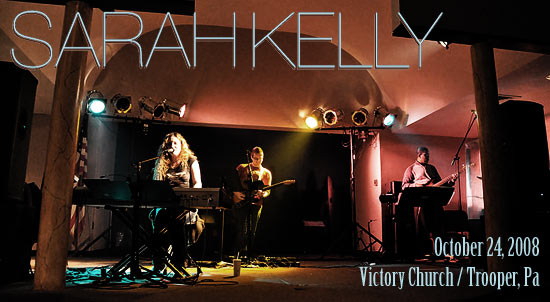 Sarah Kelly
10/24/08, at Victory Church in Trooper, PA
Sometimes the best show is the laid back, almost living room feel of an intimate setting. For one late October evening in Trooper, Pennsylvania, worship leader (and self-proclaimed "rocker chick") Sarah Kelly lead a small church group in song with just her piano and a few members of the church's band. Ever since I heard Sarah's debut record Take Me Away, a low budget original independent worship recording that went on to be picked up by Gotee Records (as-is) and even earn a GRAMMY Award nomination, I was drawn in by Kelly's passionate vocals and infectious heart for worship. But you don't really get the whole "Sarah Kelly" picture until you experience her live show -- an often candid, often personal encounter with a worshipper's heart. And what else sets Sarah apart from most worship leaders (besides a slightly intimidatingly beautiful voice to sing along with), is a serious importance placed on art in worship. You'll get quality music with a heart pointed heavenward, as well as nothing but honesty, from this worship leader.
Sarah's personality is unmistakably welcoming. Partly nervous about not only not having her band with her, but enlisting the help of a few musicians she's never played with before (save for the church's own worship leader who Sarah knew from going to Rockford Masters Commission with years ago), Sarah frequently joked about herself while engaging members of the audience directly. Kelly did well to tear down any wall between the worshippers and the worship leader, with the stage just being a tool to help her lead - not to necessarily set her apart. For the first half of her set, Kelly sat behind a keyboard to perform her own originals, often breaking between songs (or sometimes during them) to address the congregation. She opened with an oldie, "Matter Of Time," and proceeded into "Out Of Reach," which she quickly interrupted to share an embarrassing story about a slip up in the lyrics she made while recording a recent live DVD at Flevo Festival. Sarah then bravely attempted to play a rare gem, "Still Afraid," before forgetting the words halfway through to regrettably be unable to finish it. The congregation graciously understood, and Kelly then dedicated the next love song to a couple in the audience having been married thirty years and launched into "Fall Into You." With that, she closed her solo piano set with "Living Hallelujah," before the church's worship band re-emerged (they opened before her set) to join her as backup. After a smoke machine was used to fill the stage with a thick mist, Sarah retreated from the cloud, laughing about its thickness and her inability to see her now shrouded band. She knelt in front of the stage where a handful of young teens had just gathered and began to encourage them, as well as the rest of her audience, to not get caught up in abusive relationships. She then opened up about her teenage years when she struggled with self-hate, which lead to cutting and her involvement with abusive boyfriends. Kelly didn't hold back from sharing about her personal tragedies, ending the message with encouragement that Jesus had rescued her from the destructive pattern, and even encouraged those struggling with anger problems to seek help before the problem escalates.
Her powerful testimony served as an appropriate lead-in to her hit single, "Take Me Away," a song the singer wrote during an especially desperate time in her life. From there, she launched into the beautiful piano ballad, "At About Midnight," a song she penned as she was coming out of a season of pain, and then concluded what served as sort of a three-part story of redemption with the praise anthem, "Brand New Day," for which Kelly hopped to her feet to lead the congregation in the joyous tune. The title track from her latest album, Born To Worship, followed, serving as the evening's closer, yet Kelly wasn't quite ready to say goodnight. She announced her desire to just lead the congregation in a time of intimate worship and encouraged each person to seek after Jesus in whatever way needed (whether that would require them to sit down, kneel, find a quiet corner, etc). She then broke into Chris Tomlin's renowned hit "How Great Is Our God" before moving into her own beautiful rendition of "Amazing Grace," which she worked portions of her song "Not Home Yet" into. To close, Kelly lead the worshippers in a few choruses of Tim Hughes' "Here I Am To Worship" and then left the stage to mingle with the Victory Church congregates for a bit.
Although this night was much more of an unconventional Sarah Kelly performance, with her missing her usual bandmates especially, the more laid back and spontaneous nature of the evening gave the night a wonderfully personal and intimate feel that is a rare gift, but something that Kelly often injects into her performances in some degree. As she is a fantastic artist and an unfortunate rare breed in worship leading, fans of even the most intimate worship would do best to find themselves under the lead of Sarah Kelly for an evening. It's a special treat that just might even change your life.
--
John DiBiase
, 10/29/08
Sarah Kelly at Victory Church Photo Gallery
click on an image for a bigger size
**vertical images cropped for thumbnails**
Sarah Kelly
*all photos by
John DiBiase
and are the property of
Jesusfreakhideout.com