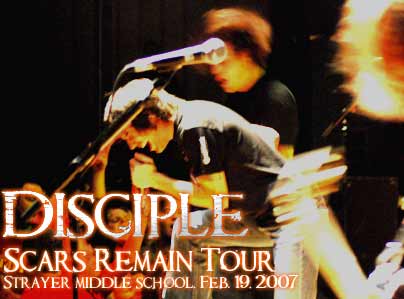 Disciple, Family Force 5, Fireflight, Decyfer Down
2/19/07, at Strayer Middle School, Quakertown, PA
Rock tours can turn out to be a great way to sample new talent while getting a chance to see some of your favorites live as well. Disciple has been rocking audiences for over fourteen years and has become one of the premiere metal / hard rock acts in Christian music. And with their stellar new project, Scars Remain, a headlining tour is well earned. Backing the band on the Spring leg of their Scars Remain tour are three fresh new acts - Decyfer Down, Fireflight, and Family Force 5. The quartet of rock talent is a diverse assortment that adds up to one strong night of energetic, and inevitably loud, music.
North Carolina natives Decyfer Down kicked off the evening with their brief but aggressive set. The four-piece played selections from their 2006 SRE Recordings debut End Of Grey, including their hit "Fight Like This," before relinquishing the stage to Florida's own Fireflight. This evening was a bit different for the band as frontwoman Dawn Richardson was nursing a black eye she'd inadvertently received from the elbow of one of Family Force 5's stage crew when she braved a guest appearance on stage with them the night before. With her hair reverse-parted along with the aid of layers of make-up, Richardson took center stage without inhibition, leading the quintet to deliver an impressive five-song set. The group opened with "Action," a driving anthem for battling complacency. "Serenity," the lead-off track from the band's debut record The Healing Of Harms, preceded their popular single "You Decide," a powerful message encouraging people to make their decision to follow Christ based on Jesus himself and not on the actions of believers around them. The fast and furious set concluded with "It's You" and "Waiting."
The tour was well-organized and things moved rather smoothly with set changes being swift and nearly seamless. The auditorium of the Middle School was packed with audience members of all ages, with about a hundred twenty-five short of a thousand in attendance. The general admission format to the evening made it flexible for concert goers to crowd the stage or grab a seat at their leisure, which is often the ideal setup for a show of this kind.
Atlanta-born and raised Family Force 5 was next, bringing their usual tour de force of crunk rock to the stage. FF5 delivers what is easily one of the best live shows one could see as their unbridled stage presence is as impressive as it is amusing. But through the silly outfits and poses, and the often nonsensical party songs, the band made it clear they were on stage because of their love for Christ, and these guys are living proof that you can be a Christian and still be well-versed in what it means to have fun. Their sadly brief set began with one of their more aggressive and spiritually relevant songs, "Replace Me," before delving into the hopelessly catchy and fun "Drama Queen" and popular single "Kountry Gentleman." Gigantic inflated balls were released into the audience for volleying while the band broke into the anthemic and delectable "Love Addict," before asking the crowd to clear floor space for willing participants to break dance during "Numb." Lead vocalist Solomon Olds (aka "Soul Glow Activatur") is one of the most entertaining showmen around these days, maintaining a sense of unpredictable wit and delightful absurdity, proven this evening once the ringleader emerged on stage with plastic keyboard patterns strapped to his legs and forearms, later to be joined by silver-painted and studded fist gloves from the product line for the film Hulk. The evening's standout set drew to a close with the rampant "Earthquake" and impossibly enjoyable "Supersonic."
As the final set change took place, a local minister took the spotlight to share with the crowd about the differences in how we perceive things. The pastor broke down the faith message into basics, delivering a simple salvation message. The only problem was the execution of the message seemed a bit too preachy, or like something you'd hear at a youth retreat, for a hard rock concert. It just felt a bit out of place. This thought was only confirmed when the vocalist of the evening's main act, Disciple, would later share from his own heart in a down-to-earth and easily relatable fashion. Once the guest speaker was finished, Disciple's headlining spot was soon underway with the vicious "Regime Change," commanding the attention of all in the auditorium. Vocalist Kevin Young was still recovering from being sick recently (during which he didn't miss a single show), but you wouldn't have suspected anything was off about Young's abilities. He was still able to deliver a throat-shredding scream as perfectly as a melodically sung verse. And this combination, actually, is what makes the band's most recent work so strong - a versatile and accessible approach to heavy music songwriting. Their set primarily mixed up selections from their latest album Scars Remain ("Regime Change," "Game On," "Scars Remain," "Fight For Love") and their previous self-titled venture ("Rise Up," "Shine Down," "The Wait Is Over"). And Young has such a passion for his faith and for the United States that just comes off so genuine and therefore contagious. His performance of the anthem for the the war against terror, "Game On," was prone to send chills down your spine as he screamed patriotic verses while raising an American flag in hand. And after the riffy "Someone" from their latest release, Young paused to share some thoughts on Christ and encouraged those who don't know Him to seek Him before the night was over, without putting any real pressure on those who might not feel ready yet to make such a committment. It was one of the most heartfelt altar calls I'd seen in a longtime, and one that seemed to touch quite a few of the members of the audience. The band's ballad "After The World" followed, before playing a few more recent tracks and then launching into a series of old favorites for the longtime diehard Disciple fans. The lengthy set drew to a close with probably the band's biggest hit to date, "The Wait Is Over."
The Scars Remain Tour is one of the tighter lineups for a rock tour to make the rounds in some time. A sampler of talent seasoned and just beginning, the Scars Remain Tour is the perfect alternative to the more abrasive mainstream circuits, and a family friendly evening of fun, entertainment, and faith.
--
John DiBiase
, 2/23/07
Scars Remain Tour Photo Gallery
click on an image for a bigger size
Fireflight
Family Force 5
Disciple
*all photos by
John DiBiase
and are the property of
Jesusfreakhideout.com