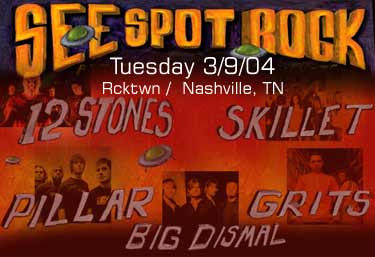 12 Stones, Skillet, Pillar, Grits, Big Dismal
03/9/04, Nashville, TN at Rocketown
Last year, five of CCM's biggest artists got together for a tour unlike any before it. Sanctus Real, John Reuben, Pillar, Relient K, And O.C. Supertones comprised 2003's "Favorite Live Tour", as chosen by CCM Magazine subscribers.
And like any good movie, for better or worse, a sequel is inevitable. See Spot Rock returns for its second year. The bands are obviously strategically picked. You get one new band (This year it's Big Dismal), one hip-hop/rap artist (Grits), as well as three well-known rock bands (Pillar, Skillet, and 12 Stones). Though this is an incredible ensemble, last year's was much more exciting, at least to me. But the opportunity to see Pillar and Skillet live (I've never seen Skillet live) was enough to get me to the show.
Big Dismal came out first. I am not much of a Big Dismal fan…at all. But I did recognize two of about six songs they played ("Remember and "Running Through My Mind") The rest, I can only assume, were from their debut Believe. They never indicated they were playing anything new.
The guys of Big Dismal looked like they were thoroughly enjoying themselves on stage. While one was flexing his muscles, another was aggressively playing his guitar displaying a huge smile on his face as he did. That may not seem like a big thing, but he never really broke from this slap happy smile. It was quite interesting to say the least.
Next up was Grits. Their DJ came onto the stage before Bonafide and Coffee made their entrances. He played the "A, B, C" song and demanded audience participation. After various DJ cuts, the two men of Grits entered the stage. They played "Ooh Ahh" as well as "Tennessee Boyz" and "Here We Go". They also played a few songs from their new release Dichotomy A which is releasing June 29th. The new songs were very good, but overall, their entire set seemed to lack any coherence. The whole thing just appeared very thrown together. They did more dancing around than rapping, it seemed. Overall, their set was decent, but it could have been a lot better.
After a brief intermission, Pillar took the stage and broke out into "Behind Closed Doors". I've seen Pillar live once before (Ironically, it was on the last See Spot Rock), and I just love the energy they have. It might have something to do with the fact that I adore Pillar in the first place, but these guys know how to rock a stage.
They then played "Open Your Eyes", and then Rob Beckley spoke to the crowd and endorsed Pillar's new release Where Do We Go from Here with hits stores June 15th. They played three songs from the new CD, all of which were great. If you are a Pillar fan, the new stuff will be music to your eyes. But anyone who cares little for them in the first place shouldn't expect any sort of change. They played various songs from Fireproof ("Further", "A Shame", and "Echelon") before closing with the fan favorite, "Fireproof".
A few minutes after Pillar made their exit, Skillet made their way on stage. Personally, I believe Skillet should have ended the show. But, I can understand where the marketing strategy would come in. 12 Stones is the band with the name. But Skillet…Skillet is Skillet. But, alas, Skillet came out second to last. They started their set with "My Obsession" and got about two-thirds of the way through the song before John Cooper stopped everyone and had the sound checked. After a few moments, he started playing and then had the song stopped again. When the problem was finally fixed, they finished the first song. I didn't notice a problem in the first place. But apparently, it didn't sound good to Cooper.
Of all the bands there that night, no one had as much crowd control as Skillet. Cooper could stop singing completely and the crowd acted as an almost choir. In fact, you could almost hear the crazed fans over his voice at times. Skillet played "Best Kept Secret", "Alien Youth", and "Angels Fall Down", as well as several from their latest release Collide. They ended with the hot-as-can-be "Savior". After Skillet left, the inevitable "Skillet, Skillet" chants began. The set was short, however sweet. But the crowd gathered wanted more.
Several minutes after the chants had faded, 12 Stones took the stage for the finale to See Spot Rock. The crowd was very obviously exhausted after Skillet's electric set. But Paul McCoy's onstage antics (Acting like a complete lunatic, spinning, screaming, contorting his face in very unusual ways, etc…) was enough to keep the energy in the crowd. Strangely, 12 Stones played nothing new. Everything came off of their self-titled 2002 debut. They played a good number of the songs from their debut, however. But I couldn't help but feel that the songs are aging, and they needed new material. I mean, their new one releases in the summer, right? Why not play one or two new cuts? It makes no sense.
The band did have a great stage presence going for them. I was most interested with their guitarist's playing. As a guitarist myself, it was astounding to watch him play. I listen to the CD and envision him playing, and I finally got to see it live. It was remarkable. For the final song, obviously "Broken", the crowd took all that they had left in them and let it out. "Broken" ended and 12 Stones said goodnight. So too ended See Spot Rock.
See Spot Rock was, once again, an incredible experience. I can't help but wish that they had just cut Big Dismal and Grits and given the other three bands longer sets. But, I can understand how including a rap act and the band that had the number one CHR single of last year is a good marketing move. However, like last year, it was almost as if you were listening to your favorite radio station and they were playing one great band after another. See Spot Rock is, indeed, something special. Perhaps this year doesn't match up to last year's, but this is still one of the premier tours of Winter/Spring 2004, possibly of the entire year. We'll have to wait and see.
--
Josh
, 3/11/04