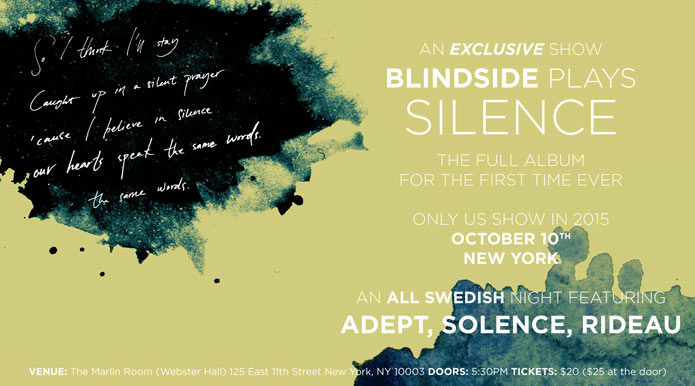 Blindside

10/10/15, at The Marlin Room at Webster Hall in New York City, NY
Sometimes it's nice to just be off duty for a night. When I started JFH, it was fully out of a love for Christian music and it came easy to write about album after album and show after show. But 19 years into this, it's gotten tough to just attend a show and enjoy it strictly as a fan. I've gotten so conditioned to taking notes, shooting the artists, and finding a way to enjoy the show while still thinking about how the write-up is going to come together days after the music ends. When I heard that Swedish rock giants Blindside were playing their first show in the U.S. in four years and that it would be one night only in New York City, I found it incredibly tempting to attend. But it became a must when they said it would be a performance of their 2002 hit album Silence in its entirety - from start to finish.
With all that said, the fact I decided to write something about the show stemmed mostly as a relinquishing to the thought that "OK, I went as a fan, not as a reporter, I enjoyed the show... now I suppose I can report on it." Call it an experiment or even a selfish attempt to immortalize the evening for myself a bit. (Ha, two years before I started JFH, I used to write up my own account of a concert-going experience simply for the sake of not wanting to forget how incredible the experiences were. That makes this thought nothing too foreign.) But, in the end, I felt that the show was too great not to write about -- and they're even now going to do more of them!
Rambling intro aside, Blindside's return to the States was one show I even went so far as to actually purchase my own tickets for us to just go and enjoy as fans (I even intentionally left my Nikon home!). We tagged along with a couple friends for the drive to NYC and arrived just after the first band had started to play, one of the three fellow Swedish acts that would perform first: Adept, Solence, and Rideau. And considering how we really just wanted to see Blindside (apologies to the openers), the four of us agreed to spend the two hours before the headliner's set walking the streets of the city--since we rarely get to visit the city and, well, it's New York City!
We got back inside The Marlin Room at Webster Hall shortly before the 8:30pm start time of Blindside's set. The room was pretty packed (it was sold out), but it also was surprisingly not very big. It was a cool venue, though; it's one I'd never been to before. An instrumental intro of sorts softly built things up for the first song of their set, "Caught A Glimpse." And with ferocity and energy, the Swedish rock quartet exploded in a flurry of heavy goodness. The audience was immediately into it, but as can be expected, they responded more during the album's most memorable offerings, like "Pitiful," "Sleepwalking," "Cute Boring Love" and "Time Will Change Your Heart." Front man and lead singer/screamer Christian Lindskog even cited a song or two as having never been played live until this evening (I believe it was "She Shut Your Eyes," but I'm not 100% certain on that). And they ended their set with a soft and memorable acoustic performance of the album's title track, "Silence." It's such a memorable album, but it also reminded me how many deep cuts that album had as well. There were chunks of it that just kind of blended together, but for the most part, it's one of those records that has aged really well in 13 years and still sounds great today.


Short Clip of Blindside performing "Pitiful"
October 10, 2015
The band seemed to be ready to call it a night when they left the stage. After having seen Switchfoot perform Hello Hurricane front to back, as well as Relient K performing Mmhmm in the same vein last year, both bands had returned for an encore filled with fan-favorites from other albums. Thankfully, Blindside really wasn't done, and they returned with a vengeance for "Eye of the Storm," off of the strong 2004 follow-up album to Silence, About A Burning Fire. "My Alibi," a truly odd song choice from 2005's relatively disappointing The Great Depression, felt out of place in the night. It's slow and a little dissonant and just all-around nothing like anything off Silence or Burning Fire. But the band then followed it with a special treat for fans-- a brand new song from what might be a new record in 2016. It was pretty good, but stylistically seemed to fall somewhere between Fire and Depression. I'm really curious to see what the album as a whole will sound like. To close the evening in a blaze of glory, Christian let out a scream of "I thought about fire in the sky!" to launch "About A Burning Fire." The audience went beserk, with fans climbing on stage and diving into the audience to crowd surf. One fan even grabbed Christian's hand holding the mic to scream along the lyrics before diving into the sea of fans. As the song drew to a close, Christian himself went into the audience and propped himself up in the crowd as he sang. At one point, his head clocked a star-shaped decoration on the ceiling and he went down--but he never stopped singing. Before they left the stage one last time, Christian expressed heartfelt gratitude to the New York audience, insisting it was an experience they wouldn't soon forget.


Short Clip of Blindside performing "About A Burning Fire"
October 10, 2015
It was a great opportunity to see Blindside live once again, and to hear an album that contains some truly unforgettable hard rock songs performed live for the first time from start to finish. The band has since announced two more U.S. "Silence" shows for December -- one in L.A., one in Dallas -- and you can get info on the band's latest happenings on their Facebook page. Don't miss them if you can attend!
--
John DiBiase
, 11/4/15
Blinide's Set List
Caught A Glimpse
Pitiful
Sleepwalking
Cute Boring Love
The Endings
You Can Hide It
Thought Like Flames
Time Will Change Your Heart
Painting
Midnight
Coming Back To Life
She Shut Your Eyes
Silence

Encore

Eye of the Storm
My Alibi
(a new song!)
About A Burning Fire


Short Clip of Blindside performing "Sleepwalking"
October 10, 2015
Blindside "Silence" Photo Gallery
click on an image for a bigger size
**vertical images cropped for thumbnails**
Blindside
*all photos by John DiBiase and are the property of Jesusfreakhideout.com