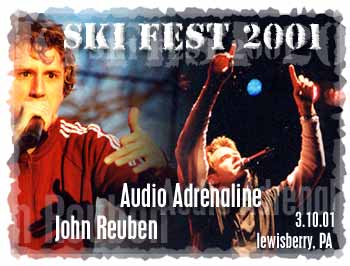 Audio Adrenaline, John Reuben
3/10/01, Lewisberry, PA. at Ski ROUNDTOP.
If you're travelling a long distance somewhere, it's best to have good directions. Unfortunately this wasn't the case for our trip to Ski Roundtop in Lewisberry, PA. Under the impression we had good directions, we embarked on the 2 hour trip which resulted in taking an additional hour and a half. After ticket arrangement setbacks, we entered the sectioned-off make-shift parking-lot 'arena' and joined the crowd in wait for John Reuben. I'll be honest with you... Me and Amy are not hip hop/rap fans (with the exception of the rap/rock styles of Reality Check, POD, old school dc Talk, and Supertones). 'Hardcore' hip hop just isn't our thing. But we knew that Reuben was known for his entertaining shows and captivating stage presence. And that's what we found. Accompanied by a talented DJ and a friend to assist in the raps, John accomplished in getting the crowd to participate and to get the place moving. He opened up with "Divine Inspiration" off his 2000 Gotee Records debut release, Are We There Yet?. The guys were visibly cold and they often took the opportunity to express it. With smoke drifting from their mouths from the cold, it seemed as though they were trying to be more energetic than usual to compensate. John constantly throughout the show insisted on crowd participation. He asked how many members of the audience had been to a hip hop show before. A large number enthusiastically answered. Then he asked for how many 'honestly' don't like hip hop, and a few bravely admitted so (ourselves excluded). With me wearing merely an Audio A shirt with a JfH 'hoodie' over it and blue jeans and Amy bundled up to be my 'abomidable girlfriend,' we didn't exactly feel all too motivated to do anything but almost-huddle. Also, with having a camera bag strapped around my torso, it kind of made Reuben's demands a little difficult. But being near the front made it more obvious to him of my lack of participation and when he insisted the crowd to repeatedly raze their right arms up and down to the beat, he shouted "C'mon! I wanna see every hand in the air. EVERY hand! THIS IS NOT AN OPTION! YOU DO NOT HAVE A CHOICE!"
Reuben's anticts were great. Although he promised that those who didn't like hip hop music before the show would be 'believers' afterwards, and I can't say I am, I do however have a new-found respect for Reuben's work. Not that I didn't respect him before, but having been exposed to a lot of secular rap over the years through peers or even in the workforce, I have lost most tolerance for it. The boys also performed "Him Her He She" and the humorous "Hello Ego" (complete with crowd participation on the "blah blah" part). The show's highlight, though, was when Reuben gave his testimony in the form of an easy-to-understand slow freestyle rap without musical accompaniment. This was followed by "No Regrets." The intro to "Jezebel" was rather funny as the DJ interrupted him to tell him that a girl in the back of the large crowd had been checking him out the whole show (obviously staged, but funny). He proceeded to stand at the edge of the stage and gaze off into the crowd as if making eye contact and then mouthed the words "Call me!" with his hand to his face in as if it were a phone, leading into the song. Following a solo by the DJ, including a break-dance performance, the crowd was especially moving with Reuben's closing song "Do Not" as the chorus exclaims "Do not tell me what I can and cannot do when I rock!" We were impressed with John's show and I would have to definitely recommend seeing him live to anyone who is a fan of this genre.
Almost immediately, members of Audio Adrenaline trickled onto the stage, setting up their instruments and leading into the show with a instrumental Intro. Once lead singer Mark Stuart took his place in front of the mic, the band opened with their cover of The Who's song "Let My Love Open the Door." Guitarist Tyler Burkum sported a heavy winter coat with a furry hood, bassist Will McGinniss was burried under a beanie and a couple shirts while Mark wore long sleeves with a t-shirt over it and black snow pants. "I think this is the coldest outdoor concert we've ever done!" Mark exclaimed in between songs. "Mighty Good Leader," also from their 1999 Underdog release, followed, as the group tried to get things moving a little more despite the increasingly cold and windy weather conditions. Continuing to rock the parking lot, the band moved right into "I'm Not the King" from their 1996 bloOm record. Audio A has always been a band for rocking out their show and this night was no exception. But it was just everyone's luck that it was getting darker, windier and colder rather quickly! "OK, we're going to play a little old school Audio Adrenaline now, taking you back to 1993!" Stuart announced before the band began playing the crowd favorite "Big House." Stuart hopped off the stage and began leaning into the crowd encouraging the crowd to join him in singing.
"Underdog" and the worshipful "Hands and Feet" followed before leading into the song about Mark's childhood memories of his family car, "Chevette." "We're a Band" came next, opened by a few bars of Aerosmith's "Walk this Way" before leading into Stuart's distorted vocals that made it sound a little more like Kid Rock than the usual version of this 1993 song. In the middle of the song when the band was introduced, Mark pulled some volunteers from the crowd to jump around on stage. Accompanied by a stage-full of mostly young people, the song finished with even some of the kids break-dancing on stage. Afterwards Mark proposed that they'd play a new song from their greatest hits album, Hit Parade, but warned the crowd that he was going to mess up the words [because he didn't know them all yet]. The song rocked out and Mark sang the first half perfectly, but forgot the second half of the song and instead substituted the words... "I love Pennsylvania... Pennsylvania... is my favorite state! I love Creation Festival..." After the close of "Will Not Fade," Will McGinniss addressed the crowd, "Hey, this is a serious moment you guys. This is the part where you hold the hand of someone really near and close to you... and... EXPLODE!" Suprised that it wasn't a serious moment, the band jammed into "It's Over" as they closed out the evening's set. After the song ended, Mark sheepishly admitted, "Well, this is the part where we walk off stage for a minute and then come back on but we're too COLD and we rather stay under the warmth of the lights." With that, they played their swing version of "DC-10" from their Underdog album, and closed out with the upbeat "Get Down." The guys stuck around the lodge after the show and signed autographs and talked to people. It was an excellent show, we had a good time, and if you haven't seen these boys live yet, you're really missing out!
-written by
John
Ski Fest 2001 Photo Gallery
click on an image for a bigger size
John Reuben
Audio Adrenaline
*all photos by
John
and are the property of
Jesusfreakhideout.com