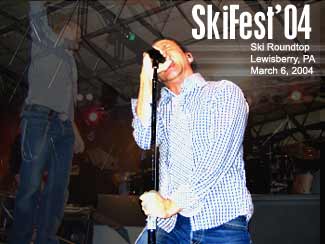 Audio Adrenaline, By The Tree, The Mint
3/6/04, Lewisberry, PA. at Ski ROUNDTOP.
I don't learn from my mistakes. I say this because, well... I should know better. Three years ago, my then-girlfriend and I travelled to Ski Roundtop in Lewisberry, PA for Ski Fest 2001. A relatively new hip hop artist named John Reuben was set to open for the seasoned and beloved rock band Audio Adrenaline. It was March. It was in the mountains. And, especially as the sun continued to descend, it was cold. Clad insufficiently in an oversized homemade JfH hoodie, I found myself clutching my camera bag tightly in a vain attempt to stay warm. Well, three years and a wedding ceremony later, we returned to that familiar Ski Roundtop, and I hadn't learned a stinkin' thing. In fact, I was more insufficiently clad in a "LIFT" tee and an Anberlin track jacket while standing in a the way of an intense wind bringing a wind chill that'd give Frosty hypothermia. Regardless, I sucked it up and braved the frigid air. I mean, c'mon. It was the twentieth time I was seeing Audio A in 20 years. Everyone's gotta make their sacrifices.
See, what wasn't worth braving the frigid air was in fact the opening acts. Yes, there was no energetic and fun show from Reuben to keep us warm. However, the opening act, little-known The Mint, did offer a worthy show after all. However, they're not an act for everyone. The rather young members were quite troopers braving the frigid winds and even took the opportunity during a new track entitled "King Of Glass" to rock out in a fine and tasty instrumental moment. Their brand of emo-flavored rock worked, but a mostly unfamiliar audience just stood and stared while waiting for the evening's main course.
Oh but of course frostbite waits for no act. By The Tree prolonged the wait with their brand of run-of-the-mill pop rock. While the trio did their best to keep the crowd interested, it wasn't until a worship set of familiar songs like "God Of Wonders" was played that the crowd really pepped up. The guys announced their plans to refocus themselves by recording a new worship record this month for a Summer release. The bland show ultimately left me colder and more anxious for the AA set...
And finally after what felt like an extended wait, Audio Adrenaline kicked in their Summer 2003 set intro to "Worldwide One" as they took the stage in typical rousing form. Lead singer Mark Stuart sported a freshly shaven hair style (as opposed to the long locks he showcased for most of 2003) while the former owner of a popular mohawk, Will McGinniss also showed off a drastically shorter set of follicles. I must admit these rock n' roll veterans were in rare form. The guys goofed off a little more than usual, seemingly more excited to be playing a longer set than the abbreviated ones they'd been playing on the Winter Jam tour. The band went through their most common set right now featuring "Mighty Good Leader", "Church Punks", the classic "Big House", "Dirty", and the more serious "Hands and Feet" and "Ocean Floor". The guys were beginning to show a bit of rust coming off of Winter Jam when "We're A Band" rolled around. With Stuart poised to rock out to the 11-year-old hit, a few unfamiliar words uttered by him made it clear he'd forgotten the words. Despite his attempt to fake it, an embarrassed Stuart admitted sheepishly, "I forgot the whole second verse!" As if it weren't the first time, Stuart stated they'd move right to the chorus which the rest of the band picked up perfectly without faltering. Despite it being a disappointment to hear a shorter version of one of my favorite songs, it was still quite amusing and entertaining (sorry Mark!). Following the fan favorite "Underdog", Stuart announced that a fan's birthday was coming up and invited them on stage for a special duet with them for "DC-10". The laid back atmosphere of the set continued beyond Will's heartfelt message and the radio single "Leaving 99" through to "Beautiful" when fans were invited on stage to jump around and party along with the band. When Stuart noticed a young fan sporting a "Newsboys" beanie, they jokingly made a big deal about it, prompting Tyler Burkum to strum a few chords of the band's signature song "Shine" before being rebuked by Stuart.
Following the fun "Get Down", Stuart admitted it was too cold to leave the stage and come back for an encore (which was reminiscent of their 2001 performance), and proceeded to play a medley of "Start A Fire" and Grand Funk Railroad's "American Band". Audio Adrenaline proved they still have got it after 13 years and admitted they hope to keep going just as long. They were a pleasure to watch ten years ago and are still one of the best live shows in Christian music today. If you like solid, upbeat pop-fueled rock n roll, you're missing out if you have yet to familarize yourself with the antics of Audio Adrenaline.
-written by
John
Audio Adrenaline Set List

01. Worldwide One
02. Mighty Good Leader
03. Church Punks
04. Big House
05. Dirty
06. Hands And Feet
07. Ocean Floor
08. We're A Band
09. Underdog
10. DC-10
11. *Will's message* / Leaving 99
12. Beautiful
13. Get Down
14. Start A Fire / American Band

Ski Fest 2004 Photo Gallery
click on an image for a bigger size
The Mint
By The Tree
Audio Adrenaline
*all photos by
John
and are the property of
Jesusfreakhideout.com