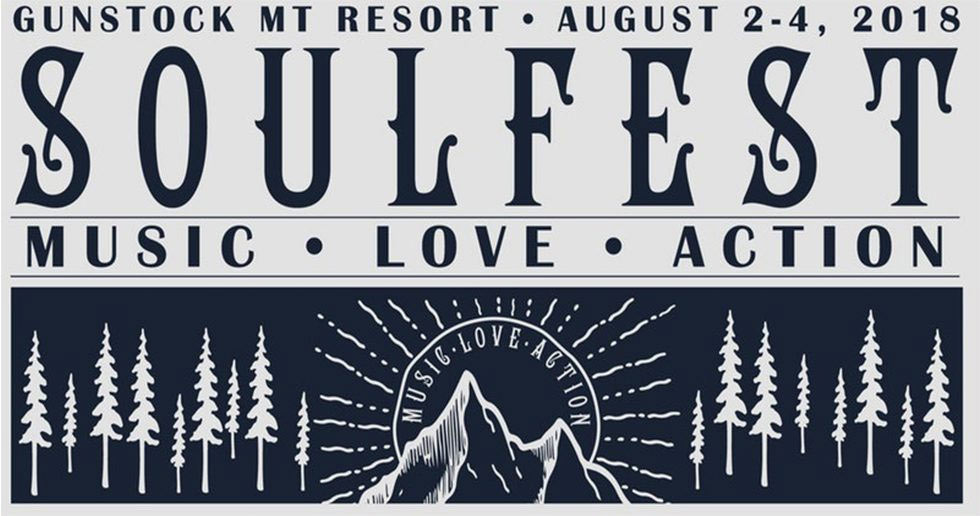 Soulfest 2018
8/2 - 8/4/18, at Gunstock MT Resort in Gilford, NH
Soulfest, New England's largest Christian Music festival, has always had a slightly subversive air to it. New Englanders, known for their fiercely independent spirit and history of thinking outside the box (see Walt Whitman, Henry David Thoreau or Ralph Waldo Emerson), would be the natural choice to have a left-field kind of Christian music festival, and Soulfest delivered in spades. But more than just making you think, the festival is a testament to the many flavors of the Church that exist. Franciscan monks can be seen mingling with punks and heavy metal fans, while suburban families with Air 1 and K-LOVE t-shirts are present in equal measure.
This was my 19th Soulfest (out of 21, thank you very much. I've missed two, once for basic training in the Air Force in 2000, and last year due to job commitments), and the festival has grown wonderfully into a fully-formed event that seeks to serve and educate as much as it entertains. A quick look at the festival schedule shows seminars and community discussion on issues like human trafficking, substance abuse, suicide prevention, race relations that are lead by such musical personalities as Propaganda, Remedy Drive lead singer David Zach and "Chainbreaker" singer Zach Williams. And the first few bands that graced the main stage showed the breadth of the kind of music that is made by followers of Christ.
Remedy Drive opened up the festival in the blazing heat of an August afternoon, and won the crowd over quickly with their energy and heart. Playing through a good portion of their recent album, North Star (named for the star that runaway southern slaves followed north to freedom), David Zach and crew rocked and preached in equal measure. Sharing a moving story about going undercover in the brothels of South East Asia, Zach punctuated each song with a poignant story about its genesis. Already in the running for album of the year, seeing North Star played live (including the epic, extended-to-ten-minutes long "Brighter Than Apathy") might have cemented the album as number one for me.
The following band, veterans The Violet Burning, likewise won over the crowd with an opening salvo of "The Star Spangled Banner" done "Jimmy Hendrix at Woodstock" style. But it was the following number, "Vacuous," that served as the most sneakily subversive moment of any main stage act. The song was a mostly Pink Floyd-like instrumental with a robotic voice overtop that repeated catch phrases and radio spots from major Christian music radio stations like "safe for the whole family". I found it to be both spot-on commentary and humorously subversive, seeing that the artists on the stage later in the day and weekend were almost entirely Christian radio artists. The Violet Burning have been around for more than 30-plus years now, and I hope Soulfest continues to bring them back every year. (This was their third visit in as many years.)
John Mark McMillan followed with equally compelling and thought-provoking tunes like "God's Of American Success" and the highly political "No Country" and "Enemy, Love." McMillan had a crack band at his disposal, and the quality of the music was top-notch. Ending with a few worship tunes ("King Of My Heart," "How He Loves") balanced out all of the commentary in a masterful way. This setlist was far superior to when I saw JMM open for Needtobreathe a few years back.
Jordan Feliz and his brand of Justin Timberlake pop-rock followed, and the contrast was stark. Feliz had a full band with him, and there was plenty of energy on stage. But it felt as if there was mostly backing tracks playing, and the band seemed redundant. Each of Feliz's songs were almost exactly the length and sound of the album versions, and the whole set had a karaoke feel to it. Live music is a great opportunity to stretch things out a bit, and though a festival set has a distinct time limit, surely a little bit of variation in song form could be offered. Feliz is perhaps still coming into his own as a performer, because his banter with the crowd was stilted and painful. He's a favorite of my two daughters (who were singing along and jumping around beside me), so I mostly kept my opinions about his set to myself.
In a distinct contrast, fellow Christian radio artists Big Daddy Weave followed up with a set that was both organic and fluid, but still tight and polished. In all fairness, Big Daddy Weave has been around for almost 20 years now, and their veteran quality was immediately apparent. Opening up with the compelling "Lion And The Lamb," the veteran southern band led a worship set that had the whole ski mountain singing along. Some folks might have a hard time toggling between artists like The Violet Burning and Big Daddy Weave (who are about as far apart on the musical and personality spectrum as you can get), but I truly appreciate the spectrum of the Church that is represented on days like this. The band also had one of the best ministry moments of the festival when their bassist Jay Weaver (and brother of lead singer and band namesake, Mike) shared poignantly about his struggles with suicidal thoughts in the years since loosing both of his feet to a rare and sudden medical condition. The honesty and humor Jay brought to the story was the needed balance to talking to the crowd about an issue that is near to his heart and relevant in a society that has far more suicides than we care to discuss.
TobyMac closed out the night, and though I've been attending TobyMac shows (in one form or another) since the early 90's, this performance ranks up there with one of the best I've seen. Pulling from all over his solo and DC Talk material, but still managing to play nearly his entire last album, the veteran showman and his large band managed to present much of his well-known material with fresh arrangements and stretched out performances that evoked everything from U2 to reggae and every form of pop and hip hop in between. The classic and bouncy "Catchafire (Whoopsie-Daisy)" sat well alongside new single "I Just Need U," with the band fleshing out the tunes with extended intros and instrumental breakdowns. Having been skeptical of TobyMac as a songwriter from time to time, I was struck with how great a discography of music he has to bring to the table.
TobyMac has also been talking about, and displaying a heart for, racial diversity for as long as he has been giving concerts, including when he and his drummer B Haley (who is African American) gave individual talks on the state of race relations in the country (including more than a few references to the White Supremacy march in Virginia last summer) and the Church's role in showing a better way, and speaking (and living out) diversity in our lives. When you have a track record like TobyMac (who is married to a Jamaican woman), you can speak to this issue with a power that others can't match.
The next day called for rain, so my family packed our warm-weather gear and made it back to the mountain in time to catch new, all-female band Trala, who's lead singer is Moriah Peters, former solo artist and wife of for KING & COUNTRY lead singer Joel Smallbone. Trala's music is a creative mix of Beyonce' and Mutemath, and was a great opener for the day. Alas, a massive thunderstorm (complete with a flash flood warning) hit the ski mountain with a ferocity, forcing Trala to pause their set for an hour.
In the ensuing cloudburst, my family went to the indoor stage and enjoyed the acoustic stylings of Christopher Williams (who is a legend in New England circles). I first saw Williams open for Jars Of Clay almost 15 years ago, and he's as capable and captivating a performer with just an acoustic guitar as anyone with a ten-man band. Williams made good use of the huge, rain-soaked crowd to have a few sing-alongs that lifted the spirit of the crowd. Sometimes the unexpected rain moments can bring something more poignant and memorable than you expected.
Back on the mountain, Trala finished out their set, and Rebecca St. James (who is Moriah Peter's sister-in-law) came on next. Cut short due to the rain delay, St. James showed a great deal of rust, having not given many concerts in the last few years, but prevailed by playing a set of mostly worship tunes off her last few albums. St. James has always been an empowered minister, and her talk on purity and married life was as sharp and incisive as ever.
Popster and American Idol contestant Colton Dixon came next, and he and his band bravely battled the elements to play a quick set of tunes from his past two albums. Playing in the pouring rain is daunting, but Dixon and crew passed the test. His brand of pop is close to Jordan Feliz's, but somehow Dixon's band seemed to pull off the "live" aspect better.
David Crowder and crew truly never seemed to be bothered by the rain, and played a fantastic set of hillbilly rock (mixed with proto-heavy metal and hip hop) that brought the soggy crowd to a full roar. Seeing Crowder brave the elements to play his banjo and acoustic guitars (his beard seemed to be keeping his instruments dry) uplifted my family after a cold, wet day, and we danced away in front of the stage. The Crowder guys are consummate professionals, and their good humor and southern charm was a needed boost to the night. Playing a good deal of material from both Crowder albums, and a few choice nuggets from his "*Band" days. Crowder's channeling of Ray Charles on "All My Hope" is now my favorite Crowder moment of all time.
After a massive stage change over, for KING & COUNTRY hit the stage behind a massive curtain where the band projected shadow puppets to an epic background soundtrack. With a theatrical opening monologue by Joel Smallbone about living free (with an accompanying animation projected on the curtain and surrounding screens), the seven-man band ripped into the title track of their last album with an energy and verve that coincided with the rain stopping and the moon coming out. The dramatics of the moment cannot be over-stated, and the crowd (which was perhaps 8,000+ strong) was invested in the show in a way that happens only rarely at a festival like this. With the combination of dashing showmanship (with 18th century military costumes and old-timey instruments like a hand pump organ and cellos) and impeccable musicianship, the band put on the best show I've seen this year. Playing through nearly their whole last album, and debuting a few from their upcoming release (including the fantastic and epic final number "Joy"), for KING & COUNTRY proved to be the best show of the festival (eclipsing TobyMac's fine set from the night before), and a concert-going highlight of my musical life.
As my waterlogged family and I made our way to the gates for the last time (alas, we would have to miss the next day's shows to attend a wedding of a dear friend) I was struck with the diversity of folks in God's Kingdom. The strength of events like this (to me) is that it shows the wide array of folks that are doing good work for the Lord. There are those who see things very differently from each other (I imagine a conversation between Propaganda, David Crowder, Rebecca St. James and the Big Daddy Weave guys would be a tremendous exercise in seeing life from another's point of view), and gathering together shows that the Spirit is truly working in a vast array of people in our world.
And that's true diversity. I can't wait for next year...
--
Alex Caldwell
, 8/13/18