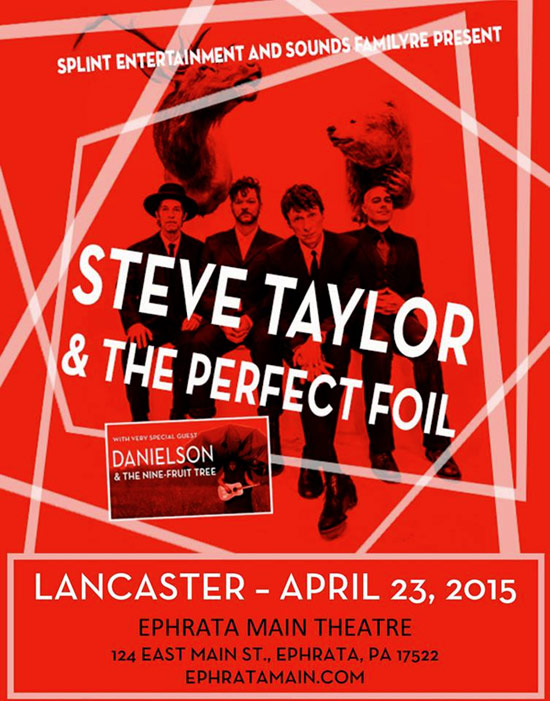 Steve Taylor & The Perfect Foil

4/23/15, at Main Theater in Ephrata, PA
Thanks to the wonders of Kickstarter, artists who have long laid dormant are back in action with the help of their diehard fans and longtime listeners. One who has benefited greatly from this is solo artist turned acclaimed producer (Newsboys, Sixpence None The Richer) and even film director (Blue Like Jazz), Steve Taylor. Since vocalist Peter Furler exited the Newsboys, the Aussie has been kicking back in the drummer's seat with Taylor, rediscovering a passion for just playing music (and, incidentally, it was Steve who pushed Peter toward a solo career). To make things more intriguing, one-half of husband/wife duo Fleming & John and acclaimed painter and musician Jimmy Abegg (AKA "Jimmy A") make up the rest of "The Perfect Foil." Together, they put on one heck of a show and carry with them an elite representation of CCM's modern musical history.
Let me candidly begin by explaining an important error in the coverage of this tour. Longtime group Danielson, who has also been known as Danielson Famile when performing with members of his family, joined Taylor & Co. on this tour as Danielson and the Nine-Fruit Tree. We fully intended to get to the venue on time to see the entire show, but with more than one party in our group having to wait to get out of work before hitting the road during rush hour to make it to Ephrata in time, it proved a very challenging task. Also, one online source cited a 7:30 start time while another said 8pm. We ended up just barely arriving by 8pm, and when we made our way inside, it appeared as though the show hadn't started yet (leading me to believe 7:30 was when the doors opened). However, when John Mark Painter, Abegg and Furler took their places on stage, I became wholly (albeit briefly) confused. I even entertained the notion for a moment that maybe the bands were pulling a "Steven Curtis Chapman" shuffling approach where the headliner would open with a song or two, give up the stage to the opener for a short set and then come back for a full set of their own. But, alas, we apparently had completely missed Danielson's opening set. (So, many apologies to Danielson and any readers frustrated that this in an incomplete review. We really tried to make it on time.)
With that said, we were thrilled to have much closer seats to the stage this time around, as opposed to last year's Manheim set. Also, a year ago, the band's debut album together, Goliath, hadn't even released, so any new songs were mostly unfamiliar then and it was much easier to really get into the new songs this time. The band opened once again with Goliath openers "Only A Ride" and "Rubberneck." Taylor also sported his classy black suit and tie and proved to still be fit to rock with a great deal of energy and flexibility. Taylor's an incredible performer and frontman and he really knows how to engage his audience.
The majority of the evening's set was very similar to last year's tour, actually. The Manheim show had gotten cut short due to a sound curfew, so the 16-song-set was actually supposed to be closer to twenty. This night was pushed to a staggering 21 songs and it was a generous and delectable assortment of songs. "I Want To Be A Clone," "The Lament Of Desmond R.G. Underwood-Fredrick IV," and "Moonshot" once again followed, but this time around, "Double Negative" found its way into the set, followed by Squint's "The Moshing Floor" and new song "Standing In Line." Afterwards, given the fact that the show was literally in an active movie theater, Taylor joked about Paul Blart: Mall Cop 2 playing in the theater next door and how fans had to wait 21 years for Squint's sequel. He then got his iPhone out to open a "mouth harp" app and perform the intro for "Goliath." Their rocking update of the 80s song "Am I In Sync?" (which released on the digital Deluxe Edition of Goliath recently) was next, and then Steve paused to talk about all of the different formats Goliath is now available in, including seven different colors of vinyl and two different colors of cassettes. He also jokingly plugged their official fragrance, "Eau de Foil," which was available on their merch table, before launching into the edgy "In Layers." Next, Taylor introduced "Easy Listening" as being about CCM's "two fathers": the radio format easy listening and Barry Manilow. Jimmy A once again inserted some 1970's style "sing-playing" as he mimicked the guitar tones with his voice. The more mellow "A Life Preserved" lead into the frenetic "On The Fritz," and then the band performed the poignant Goliath closer, "Comedian." And with the audience primed for a just-as-impactful finale, Steve said "This last song is my prayer for all of you," and proceeded to perform the fan favorite "The Finish Line," complete with a fantastic guitar solo from Abegg. With that, the gang left the stage and an audience cheering for more. When the guys inevitably would return, Steve joked that they talked about what song would best suit the Lancater audience and began performing Beyoncé's "Single Ladies (Put A Ring On It)" (a cover song they've been performing for at least a year now as well). They then quickly followed the silly cover with the tongue-in-cheek classic, "Cash Cow" (which was incredible to hear live, I must add), and then the fast-paced oldie, "We Don't Need No Colour Code." But as if 19 songs wasn't enough, "Jim Morrison's Grave" from I Predict 1990 was next and then the rock ballad "Hero" to close the night.
Great songs and incredible talent radiated from this fantastic four-piece band, and I enjoyed this batch of songs even more than last year's. If you like Taylor's music -- current or of old -- you'd be cheating yourself out of a great time by missing these guys in concert. Definitely try to catch these guys live soon!
--
John DiBiase
, 5/9/15
Steve Taylor & The Perfect Foil Set List

01. Only A Ride
02. Rubberneck
03. I Want To Be A Clone
04. The Lament Of Desmond R.G. Underwood-Fredrick IV
05. Moonshot
06. Double Negative
07. The Moshing Floor
08. Standing In
09. Goliath
10. Am I In Sync?
11. In Layers
12. Easy Listening
13. A Life Preserved
14. On The Fritz
15. Comedian
16. The Finish Line

Encore
17. Single Ladies (Put A Ring On It)
18. Cash Cow
19. We Don't Need No Colour Code
20. Jim Morrison's Grave
21. Hero
Steve Taylor & The Perfect Foil Tour Photo Gallery
click on an image for a bigger size
**vertical images cropped for thumbnails**
Steve Taylor & The Perfect Foil
*all photos by John DiBiase and are the property of Jesusfreakhideout.com