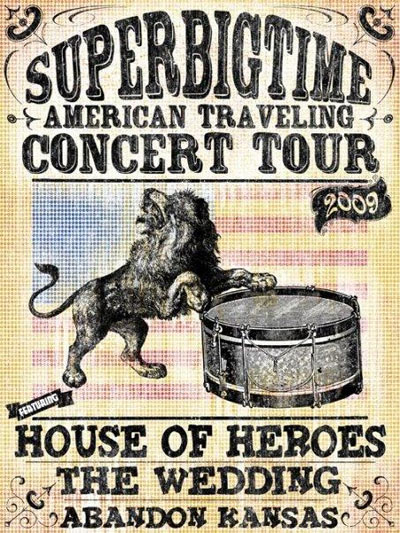 SuperBigTime American Traveling Concert Tour
House of Heroes, The Wedding, Abandon Kansas
9/14/09, at Main Street Cafe in Kansas City, MO
Just off of I-70 in Kansas City, MO, lies a little place called Main Street Cafe. Once taking residence in the basement of an old church - and now on the upper floor of a big brick building - you wouldn't expect much of anything to be going on there. But you can go there to the living room-style venue just about any night and check out some cool bands. While most of the time it's independent artists (i.e. We Shot The Moon, The Ember Days, etc.), they've also had their fair share of major label artists as well (such as The Almost, Roper, Showbread and more). After taking a few months off from shows to do some remodeling, they got right back to it, and one of their first bigger shows came on September 14, 2009, with Gotee Records' ridiculously-named SuperBigTime American Traveling Concert Tour, featuring House of Heroes, The Wedding and latest Gotee-signing Abandon Kansas.
The show was advertised as starting at seven o'clock, but ended up starting at eight instead. This only increased the anticipation. It had been about three years since I had seen House of Heroes live, and it was a heck of a show. So I couldn't wait for it to get started. Thankfully it wasn't a bad wait, as Abandon Kansas was shaping up to be a good show as well. And since Abandon Kansas is certainly rather familiar with Main Street Cafe (the Wichita guys frequented the venue as an independent act), they had a lot of fans there to make them feel at home and comfortable. They started their set off with "Make Believe," my personal favorite from their first Gotee EP, We're All Going Somewhere, which happened to release a mere six days before this night's show. The guys in the band (particularly guitarist Brad Foster and bassist Nick Patrick) proved to be quite entertaining outside of the music they played. Foster moved around the stage a lot with an odd rubbery-leg dance, not forsaking the talented musicianship as well. They followed it up with "The Harder They Fall" (where they had the audience chant "the harder they fall" during the bridge), and then "I Wonder If It's Me." I wondered if they were going to do any of their independent stuff to appease their longtime fans, as they were quite popular locally before their Gotee signing, and to answer my question, lead vocalist Jeremy Spring said "This is from our last record, You Build A Wall, I'll Build A Ladder." It happened to be the one indie song of theirs I knew, "Minutes," a song I wouldn't be surprised to hear on their next album. After "Minutes," Spring said that the next song was not theirs, and proceeded into a cover of The Killers' "All These Things That I've Done," one of my favorite songs by The Killers. A great rendition, keeping true to the original, including the "I got soul, but I'm not a soldier" bridge. They closed out their set with "February" and "Close Your Eyes." Abandon Kansas definitely has a lot of experience on stage, so it wasn't surprising that they put on a good show, and it was definitely a plus to see them when they were in a venue they were familiar with so I could see them when they're most comfortable. I look forward to seeing them again sometime.
I mentioned earlier that the venue is styled like a living room. There are lots of couches and chairs and stuff that you can sit down and relax in, but on the north end is where the stage is, with about fifteen feet of standing room for watching the concert. So it doesn't generally hold a huge crowd, but as The Wedding was about to take the stage, a slew of people came up to fill up any open spots. I had no idea that The Wedding was that popular, but I quickly understood why they were. I had never seen them live before - the only opportunity I had to do so had ended up with me getting to the show late and missing them. Their set started off with full intensity, playing "Return" from their most recent outing, The Sound, The Steel EP. A frenzy of rock on the stage, including heavy punk rock guitars and drums and a crazy swinging microphone, led into another track from the EP, "Receive." They moved back in time for the Polarity song "I'll Sleep When I'm Dead," and even farther back for "Move This City" from the band's debut. The new vocalist, former LetterKills frontman Matthew Shelton sounded great singing "Move This City." Near the end, the song transitioned into newer song "Redeem," which sounded a lot better live than on the EP. Shelton then told us that their next song was a new one from their next album, which was exciting news to the people in the crowd, who were a lot more energetic than the smaller crowd for Abandon Kansas. But given the difference in style and intensity of the bands, this added energy made sense. The song they played was called "Bethlehem," a great rocker that made me anticipate the next album. They took a minute to say thanks to everyone who supports The Wedding while a short snippet of the intro track from Polarity played, which naturally transitioned into the album's first song, "Say Your Prayers." Near the end of the song, Shelton threw the mic to a guy in the audience and let him sing part of the final chorus. A lot of people don't like that, saying they were there to hear the band sing their songs, not people in the crowd, but part of a good live show is crowd interaction, and The Wedding has that, and they have it good. Several times throughout the show he put the mic to peoples' faces so they can sing, and he seemed to make the crowd as much a part of their set as the band and songs themselves were. The last song they played was another from The Sound, The Steel, "Reveal," which they ended with a sweet, heavier version of the famous guitar riff from Black Sabbath's "Iron Man." They said their thank-you's, and put their instruments down, and the bassist climbed up onto one of the amps and laid down on his stomach and pretended to sleep, even fake yelling at people who were talking and taking pictures, saying "I'm trying to sleep!" It wasn't long before I heard a sound that is usually reserved for the final act of the night: "One more song! One more song!" It was unexpected to me, and it may have been for the some of the bandmembers too. It seemed like they were all debating on it, but they decided in favor of another song. As they made their way back on stage, one of the guitarists played the riff of Guns N Roses' "Sweet Child O Mine," to which a few of the audience members cheered. But he stopped and said "Just kidding! How cool would that be though?" Then the bassist shouted "I already packed up my stuff!" But he got everything back up, and after Shelton told everyone to come in closer and pack it out, they ironically played "It's Time To Rock (OK?)." Following their actual last song, they went around giving high fives to everyone and left the stage for real this time. Before this show, I liked The Wedding, but after their set at Main Street, I became a fan.
What was slightly strange - and a little sad - about this show was that, as The Wedding left the stage, a lot of the people in the crowd left the building. Many of them were there for The Wedding and The Wedding only. So a much smaller crowd remained for the headliners, House of Heroes. Nonetheless, the guys came out and got things started with a great opening song, "Lose Control" from The End Is Not The End. It definitely was a great way to get the show started and get the crowd energized, however, the mixing of the sound was a bit off. Everything sounded great except that, from where I was standing, I couldn't hear Tim Skipper's vocals. I thought it was just where I was standing, but it hadn't been a problem at all with the past two bands' performances. However, that was the only downfall of the show. After "Lose Control," they followed it up with a couple songs from their previous album Say No More, "Mercedes Baby" and "Buckets For Bullet Wounds." Skipper then talked to the crowd, thanking them for coming, and mentioned how crazy the name of the tour was. After talking with the crowd for a bit, they went back to music with one of their newer songs, "If." Wasting no time they followed up "If" with "Code Name: Raven" and then "Leave You Now." After a little more chit chat, where Jared Rigsby asked if there were any Communists in the audience, all of the guys - including the drummer, Colin Rigsby, who had a microphone coming up from behind his drumset and then over his head which then dropped right in front of his face so he could add his vocals - started harmonizing part of the chorus of Queen's "Fat-Bottomed Girls." They didn't perform the whole thing though, but instead went right into "Baby's A Red." A mention of the Beatles came afterwards, when Skipper also mentioned that they had a new EP out called House of Heroes Meets The Beatles. The drums jumped in with a quick fill, and they pulled out "Can't Buy Me Love," performed flawlessly. I was hoping for another song from that EP, but there wasn't another one. Instead they introduced their latest addition to the band, a new bassist who used to travel with the band as part of the road crew. He proved to be a great addition to the band, able to play old and new songs as well, proven when Skipper said "This is an old song" and they proceeded to play one of their most well-known songs, "Serial Sleepers." It's the first song I had ever heard by HOH, so I was glad to hear that they still play it live. The album closer from The End... was next, "Field of Daggers," leading into their final song of the night, a personal favorite from The End..., "In The Valley of the Dying Sun." They finished up, said their thank you's, and left the stage. For the first time in a long, long time, there was no chanting of "One more song!" after the headlining band, which I don't think the guys were prepared for, as they left their instruments on the stage when they walked off. They waited a minute, and when it became apparent that the audience demanded no encore, they came back up and started packing up.
House of Heroes was billed as the last act of the night, and technically they were, but after their set, Jeremy Spring from Abandon Kansas came back up with an acoustic guitar. The owner/operator of Main Street was good friends with the Wichita native, and before the show she asked him if he would do a short worship set after the show was over, to which he agreed. So he came up and played for about ten to fifteen minutes, blending popular worship songs like Hillsong United's "From The Inside Out" and Chris Tomlin's "How Great Is Our God" with snippets of various others thrown in as well. A good number of people stayed for the worship, which was very encouraging. It was also great to see his heart as he led the whole room into a time of praising the Lord.
Gotee's SuperBigTime American Traveling Concert Tour was a good idea from the label. It not only gave Abandon Kansas their first national tour, but it was another chance to check out one of the best pop/rock acts in Christian music today, House Of Heroes. It was also good to see The Wedding, and to find out that they're on the verge of releasing a new album. Though they didn't give an official release date, but my hopes are that we'll see it sometime in 2010. All in all, it was a great night of rocking out and having fun. Not a bad end to a summer of amazing shows.
--
Scott Fryberger
, 9/19/09
SuperBigTime American Traveling Concert Tour 2009 Photo Gallery
click on an image for a bigger size
**vertical images cropped for thumbnails**
Abandon Kansas
The Wedding
House Of Heroes
*all photos by
Scott Fryberger
and are the property of
Jesusfreakhideout.com
and the photographer.