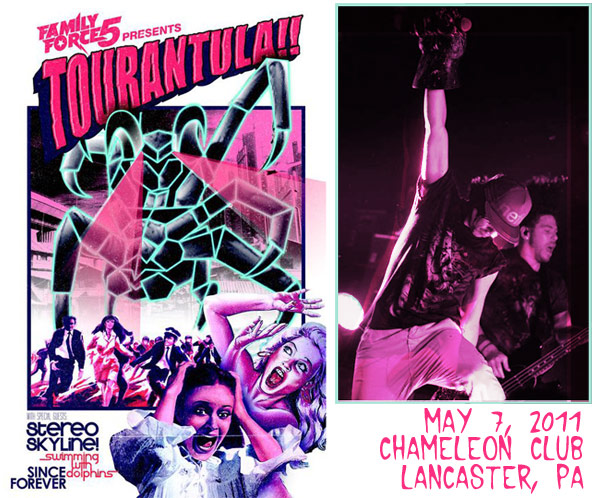 TOURantula
Family Force 5, Swimming With Dolphins
5/7/11, at Chameleon Club in Lancaster, PA
The Chameleon Club in Lancaster, PA has become a regular stop for Atlanta based quintet Family Force 5 over the past few years. The band's popular Dance Rawr Dance Tour (which, I believe, has had three runs three years in a row now) has often sold out the Lancaster hotspot, but instead of waiting until their usual September tour, Family Force 5 brought their cleverly titled TOURantula to the venue. With a modest lineup that consisted of two mainstream acts and one crossover (Swimming With Dolphins), the Chameleon's Saturday night audience was a bit more modest, although still packed with enthusiastic fans (which was proven by the audience not really getting into the show all that much until FF5 appeared on stage).
For this tour, Family Force 5 offers a special VIP ticket option that includes an exclusive meet and greet with the band prior to the show and a short acoustic set, appropriately dubbed "Arachnocoustica." Those who purchased this option also got a unique VIP tour badge signed by the band and the guys' brand new three-song EP, III (which, incidentally, is likely to be the title of their forthcoming new album). We had the pleasure of attending the "Arachnocoustica" set and the band opened their set with unfortunate personal news. While they proceeded to make rather light of it, frontman Solomon Olds shared with their intimate audience that they had just learned minutes ago that their parents' family dog of eleven years, a chihuahua named Coco, had passed away. They proceeded to make frequent references to Coco all night, including during the evening's main set. The five sat at their special acoustic performance set up to open with a stripped down version of "Radiator," a track from Dance Or Die that is still a set staple. "Cadillac Phunque" was mext, a track they don't usually play during their sets anymore, so it was great to hear one of their older fan favorites live once again (even if it is just in acoustic form). They played one of their newest songs, the slower "You Got It," which translates perfectly as an acoustic version. Distracted by thoughts of their beloved pet, Jacob cried "Long live Coco!" as the Olds brothers reminisced about their dog. To close, they presented a chilled version of "Fever," and the acoustic set was over seemingly pretty quickly. After fans were given a chance to meet the guys and take photos with the band, they were ushered back outside to wait until the doors officially opened at 7pm.
The first band to perform was a pop punk group called Since Forever. They exhibited a great deal of energy and excitement on stage, but ultimately were a bit too typical sytlistically to leave much of an impression. The highlight for the younger portions of the audience was a pop punk rendition of Justin Bieber's smash hit "Baby" (which only sounded slightly better than its original). Perhaps I'm just getting old, but when bands like these guys start covering Hanna Montana and Bieber in their already short set (this means they just play even less of their own material), it's a bit of a turn off. Surely there's another way to make new fans? Stereo Skyline was next, a formerly four piece that had lost two of their members right before the start of TOURantula. This rendered the pair as just an acoustic set, and it was a valiant attempt on their part to keep going despite the personnel losses, but the set was too bland for an otherwise high energy show. Their set went on a bit too long, and Tooth & Nail Records' own Swimming With Dolphins followed.
Swimming With Dolphins originated as a project between Owl City's Adam Young and Austin Tofte, but was reduced to just Tofte after Young left to focus solely on Owl City. In a live setting, Tofte was supported by two female keyboardists/vocalists and a drummer. Tofte and his fellow keyboard accompaniment rotated keyboards from song to song, while all three took turns on vocals (with Tofte providing the most). Tofte and the band's drummer both sported Jacques Cousteau style red beanies, while the ladies seemed to have their own individual wardrobe theme going on (I think it would have been kind of cool for all of them to share the Cousteau theme in appearance). While their songs weren't as memorable or catchy as Young's project, Swimming With Dolphins offered a comparable electro pop sound with an 80s flavor that was infectious enough to inspire some moving in the audience. The foursome were a nice warm up act for Family Force 5, as they performed old cuts from their indie days (like "Silhouettes" and "Sleep To Dream") as well as new tracks from their forthcoming Tooth & Nail debut, Water Colours (like "Easy," among others).
A brief set change preceded the evening's main event. As the tour backdrop and riser logos were unveiled, the outline of large black spiders were revealed on the gear cabinets. The audience largely turned their full attention to the stage as a soundbyte from an old horror movie that referenced large arachnids served as a precursor for the night's opening song, "Kountry Gentlemen." Now, these guys are known for wearing a consistent theme from member to member at their live shows, previously being football gear, tank tops with their faces on them, and jackets with lighted trim. This theme was a little more subtle, however, as each guy donned a shirt that showcased an animal or reptile (for example, ChapStique had a snake on his shirt, Soli had a tiger). From the start, the band displayed a high energy show, but it was evident that something was a bit off this evening. Solomon seemed much more subdued than usual (I later learned that he had been feeling pretty sick that night), but it was likely that the wind had been knocked out of their proverbial sails with the news of their dog's passing. "Drama Queen" was next with "Fever" close behind. "Earthquake" is usually one of the band's most frenetic performances (I have very fond memories of the on-stage mayhem that I witnessed the first time I saw them live at GMA six years ago) and even this song tonight seemed more reserved than usual. Aftewards, Soli addressed the audience, asking the staple "How many have seen us before?" question before sharing with the full crowd the news about Coco. He then switched gears to inform us that for the next track he was getting to play bass, which he doesn't usually do, and they performed their brand new song, "Dang Girl." "Supersonic" followed, which got the crowd pretty rowdy and pumped up. "Radiator" was next, complete with band member introductions. As they moved into "Dance Or Die," Solomon adlibbed an additional intro lyric in honor of their puppy, "Coco where you at, girl? ... She lived a good life." New dance anthem "Wobble" was next, a song that translates much stronger live than on disc, and Solomon demonstrated the band's intended moves for the dance song. "Lose URself," from the band's debut, Business Up Front, Party In The Back was next, continuing a dance feel, and then things picked up more of a rock feel with the infectious "Get Your Back Off The Wall." Solomon was looking wearier as the night progressed, but he pushed on and still displayed more energy than most frontmen. "Love Addict," complete with the Hulk gloves, closed their set, leaving the audience hungry for more. And FF5 is a band to deliver. They soon returned with their more rap-based "Ghostride The Whip" before closing with what Solomon dubbed their new "slow jam," a plugged in rendition of "You Got It."
Even on a seemingly "off" night, Family Force 5 still has one of the best live shows you can see today. While TOURantula also isn't their best tour lineup (and I personally hate the spider theme), fans will want to catch their show as well as the special acoustic set. Still, I look forward to catching them on the road after III releases later this summer and the band continues to perform new tunes live.
--
John DiBiase
, 5/10/11
Family Force 5 TOURantula Set List
01. Kountry Gentlemen
02. Drama Queen
03. Fever
04. Earthquake
05. Dang Girl
06. Supersonic
07. Radiator
08. Dance Or Die
09. Wobble
10. Lose URself
11. Get Your Back Off The Wall
12. Love Addict
Encore
13. Ghostride The Whip
14. You Got It

TOURantula
click on an image for a bigger size
**vertical images cropped for thumbnails**
Family Force 5:
Swimming With Dolphins:
Family Force 5:
*all photos by John DiBiase and are the property of Jesusfreakhideout.com