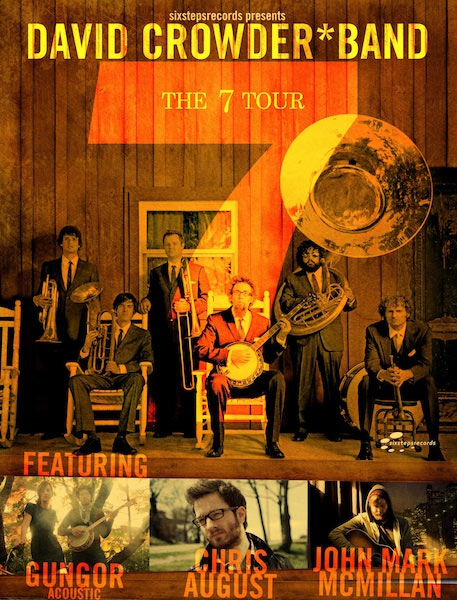 The 7 Tour
David Crowder*Band, Gungor, Chris August, John Mark McMillan
10/30/11, at The Electric Factory in Philadelphia, PA
It's pretty hard to believe that easily one of the best bands in today's Christian music - and especially in the worship music community - is hanging it up. The 7 Tour is officially David Crowder*Band's farewell tour and it has been selling out shows across America as Crowder and his team of skilled musicians express their thanks by leading fans in friends in worship one last time as a collective. One of the stops near the end of this bittersweet run of shows brought them to The Electric Factory in Philadelphia, PA.
Although DC*B has played here before, Philadelphia's The Electric Factory is kind of an odd place for a praise & worship show. Not only is it a bar, but it's one of those venues you typically see a rock show in (and usually mainstream acts at that). Still, it's actually a great setting for David Crowder*Band and the perfect place to let the light of Christ shine in the City of Brotherly Love. On this final tour, Crowder enlisted the support of fellow worship scene talents Gungor and John Mark McMillan, who both are pushing the boundaries of artistry within an arguably largely unimaginative "genre." To round out the performers at an even four, Word Records' pop phenomenon Chris August performed some of his popular tunes acoustically a couple times during the night. But to get things started, worship leader John Mark McMillan emerged, donning a red beanie and clutching a guitar, to perform his own Americana/folk influenced songs. With a full band supporting him, McMillan opened with a brand new song from his forthcoming sophomore album, Economy, "Sheet of Night." He then broke out a song the audience seemed to immediately recognize with the inspiring "Death In His Grave," before eliciting cheering and excitement when he launched into "Skeleton Bones." McMillan then took a moment to talk a little about Economy and its release the following Tuesday, and then played another new one, titled "Love You Swore." Afterwards, he talked about "breezy southern rock music" a la "Tom Petty and Bruce Springsteen" and performed a track he considered to be in the same vein, another new one called "Daylight." McMillan then brought his set to a close with "Seen A Darkness." The singer/songwriter's music is certainly a welcome break from the sameness that most worship music suffers from, however, it's undeniable that the artist's vocal style is an acquired taste. Also, his stage presence is a bit stiff and dry, which may make it difficult for some to get drawn into his particular brand of worship leading. It's something that only seemed more apparent after an artist like Chris August stepped up.
Chris August isn't your typical solo artist. Although the man's got more skills than his recorded music will display, his live acoustic performances showcase it better. August also tends to talk quite a bit at his shows, even if he starts to dig himself a hole with some candid unfiltered thoughts. He opened his set by telling a story (whether true or not) about how Crowder had invited him out on the tour but had asked him to leave his band at home and perform an acoustic set. With that, he opened with "Battle," and then issued a disclaimer that he'd be performing a couple songs now, leaving, and then coming back, and didn't want anyone being confused by this format. He then shared a bit about the theme of forgiveness inspiring the next song, performed "7x70" and left the stage.
The stage setup for The 7 Tour is rather simple but wonderfully executed. To give the stage and even the venue somewhat of a ballroom feel, three chandeliers hung from the ceiling for the duration of the night. They wouldn't be fully utilized until Crowder's set, but they still made a nice accent during the opening acts. When Gungor took the stage as merely a three-piece, they looked more like a band of minstrels than a worship band. Michael Gungor provided vocals and guitar, banjo and kick drum, while Lisa Gungor offered vocals and keys, and cello extraordinaire Kevin Olusola provided strings and beatbox. Michael gave a little disclaimer about this being their non-standard acoustic set too, and opened their performance with "When Death Dies" from their new album Ghosts Upon the Earth. It was with the first song that Olusola proved to be more than just a cellist. Before the song's close, he offered some impressive beatboxing to add another layer to the song. Their whole set just oozed an artsy feel and it was fun to watch the trio with each song. "The Earth Is Yours," from their debut as "Gungor" titled Beautiful Things, was next, followed by "You Are The Beauty" from Ghosts..., which featured Lisa on the melodica. "You Have Me" followed, and then Lisa and Kevin left the stage for Michael to perform the emotional "Song For My Family" on guitar from the Michael Gungor Band 2008 release, Ancient Skies. To close, Lisa and Kevin rejoined Michael for "Beautiful Things."
Before the next set change, Chris August came back to perform a couple more songs. He performed a brand new, unreleased song titled "Amen" and joked about the simplicity of the title having been due in part to the confusion his "more complicated" titles, like the mathematics in "7x70," had caused in people. After he finished the song, he said that it hadn't been recorded yet, but that he had contemplated what it might be like to have someone Kirk Franklin on the song and a church choir (and said he'd love to get God's Property back together). He then performed a good portion of the song again, but with a lot more soul injected in it. Afterwards, he talked about having been to The Electric Factory when he'd toured with Ashlee Simpson in 2006 and how he has a fond memory of getting the latest Passion record at the time and skateboarding around Philly while listening to it. He said it was the renewed fervor for Jesus he began feeling then that had inspired his hit song, "Starry Night," which he then played before leaving the stage again.
After a lengthy set change, David Crowder*Band opened with Crowder leading things off himself, performing a brand new song, titled "Oh Great God, Give Us Rest," and then got the full-band performance going into full effect with "The Veil" from their previous studio album, Church Music. At this point, the band was utilizing the whole stage area and the chandeliers illuminated fully throughout the night. David paused between songs to express his appreciation for the opening acts and then performed their hit anthem, "There Is No One Like You." David then picked up the keytar for "Foreverandever Etc...", which included an interlude on the keys from bassist Mike Dodson of David's "favorite song of all time," the Super Mario Bros. theme, and then the audience joined in for the chorus of "Foreverandever" before closing. "Beautiful Collision" from A Collision followed, and then "Intoxicating" from Illuminate. Midway through the song, the guys stopped and David joked that he missed his cue (whether or not this was planned or truly accidental, it wasn't revealed), but he took the time then to tell the story of his last experience at The Electric Factory and how he thought he'd imagined the "pods" (some strange slanted sort of cubicles along one wall) that lined one part of the Electric Factory wall. He was relieved to see that he had not hallucinated about their existence and told the amusing story as to why he'd been so confused. The band then continued "Intoxicating" and added a jam moment at the end, which actually dragged the song out a bit too long. Given that this was their final tour, they probably could have snuck another song ("Oh Happiness" perhaps?) in instead of extending this one. At this point, David asked if they could perform a new song and they debuted the excellent "Let Me Feel You Shine" from their final album releasing in January, Give Us Rest (A Requiem Mass in C [The Happiest of All Keys]). "Glory Of It All," from Remedy was next, followed by "Shadows" (complete with guitarist Mark Waldrop performing Lecrae's added rap verse from the Passion: Here For You version of the song), and then they moved into "You Are My Joy," "God Almighty," and "Here Is Our King." Before the next song, a fan shouted "Don't break up the band!!" to which David took a second before saying that he appreciated that, and talked some about going into the studio to record their final album... and out popped a Christmas EP instead. The guys huddled in the middle of the stage for their bluegrass take on "Go Tell It On The Mountain" and an acoustic version of the hymn "Because He Lives." Another fan interrupted the downtime between songs to tell David he had brought him a gift: a squirrel. Crowder quickly expressed his distaste for the furry woodland animals and when the fan lobbed the plush animal onto the stage, the singer exclaimed and recoiled as he kicked it back stage. It was a funny moment which served as an odd segue into the boisterous Hank Williams cover of "I Saw The Light," which they merged with "I'll Fly Away." To close their set, they performed "How He Loves," which was originally written by John Mark McMillan, so the worship artist joined Crowder and company to sing the second verse. Chris August also joined the band on the piano while Michael Gungor provided guitar and vocals. It was a real nice way to wrap up the main portion of the Crowder set by unifying the tour performers. Everyone then left the stage and it was only a matter of time before they would come back for the encore. When they inevitably did, Crowder shared a bit about the ONE Campaign and Project 7 (including the unique story as to how he met the guy who runs it) and urged the Philadelphia audience to support those organizations and causes. They then performed one more Christmas song, their epic take on the instrumental classic "Carol of the Bells," which featured Crowder at the piano. "O Praise Him" followed, and then the guys shared how The Electric Factory was actually one of their favorite places to play (and for Mark, it was his absolute favorite), and they took a photo of the audience to commemorate the evening. At this point, Crowder appropriately reminisced about the band's humble beginnings in Texas and recording their very first indie record, All I Can Say. And with that, they closed the night, and their final performance in Pennsylvania, with "All I Can Say."
It's never easy to say goodbye to a friend or loved one. And for a band that has had such an impact on the lives of many as well as music itself, it's even more difficult to imagine the music world without the David Crowder*Band. While it's been said that this may not one hundred percent be the last we'll see of DC*B, it is until there is some kind of announcement as to otherwise. It won't be the last we'll hear from Crowder himself or his band members, but as a collective, it may be awhile - if ever - till we see them live again. If you get a chance to catch any of their final performances, don't miss them!
--
John DiBiase
, 11/3/11
The 7 Tour
click on an image for a bigger size
**vertical images cropped for thumbnails**
John Mark McMillan:
Chris August:
Gungor:
David Crowder*Band:
*all photos by John DiBiase and are the property of Jesusfreakhideout.com