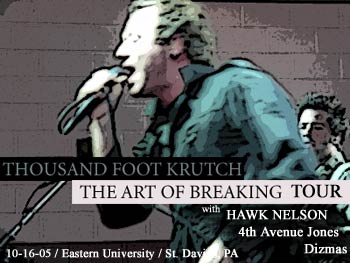 Thousand Foot Krutch, Hawk Nelson, Dizmas, 4th Avenue Jones
10/16/05, at Eastern University, St. Davids, PA
Getting lost stinks. And I've learned I'm not too fond of Yahoo! online directions either. When you end up getting to the general area of your destination in pretty good time and then spend about half hour or more driving around aimlessly, stopping at gas station after gas station asking for guidance only to be told they don't know the location of a popular local university, it can put a damper on your travel experience.
But since this obviously isn't meant to be an account of our travels to The Art Of Breaking Tour, but of the tour itself, I won't dwell on that any further. The Eastern University date of Thousand Foot Krutch's Fall tour in St. David's, PA, was the final stop on the tour. It was an impressive collection of artists, ranging from the hiprocksoul of one of this year's most impressive new artists 4th Avenue Jones, to the softcore edge of Canadian headliners Thousand Foot Krutch. It was a bittersweet evening for the bands as the tour was drawing to a close, but was one fun, rocking night for the fans.
Piling a near soldout show into the University gymnasium, 4th Avenue Jones kicked off the evening with their hiprocksoul hybrid "Fabulous Dramatics." The six-piece band was one of the most memorable aspects of GMA and Creation East this year and it was a delight to see them on tour finally. Sadly, however, their set was tragically brief, cramming all they could offer into a 3+ song set. Continuing on with the hip-hop "Take Me Away," and the quirky, more rock-based "Stereo," they closed their set with a nod to The Offspring with their own rendition of one of the band's most popular songs. But a 4th Ave set wouldn't be complete without a tear-it-up guitar solo from Timmy Shakes, who is easily one of the most incredible guitar players in Christian rock today.
New Sparrow Records rock act Dizmas stepped up next. The band did an effective job getting the crowd going as well, but didn't especially stand out from the other acts of the night. And, after a brief set change, Hawk Nelson emerged, clad in blazers, each with a large letter on the back that, when the guys were turned around, collectively spelled out "HAWK." They opened fast and furiously with "Long And Lonely Road," proceeding on with "Things We Go Through" and "California." The pop/punk quartet from Canada paused between songs to joke amongst themselves and address the crowd. Lead vocalist Jason Dunn interacted with the crowd quite a bit, leaving the stage a few times to hang over the fence in front of the audience and lean into the crowd. They proceeded to play "Bring 'Em Out," their contribution to the upcoming family film, Yours, Mine, & Ours, followed by "Every Little Thing." Jason shared an encouraging word with the audience against suicide before playing the sensitive ballad "Take Me" that led into a piano-driven rendition of Oasis' "Don't Look Back In Anger." The band closed with their anthemic "Letters To The President," and gave it a new spin by ending the punk song as a piano ballad. I've seen this band a few times now since first seeing them live last November and they just seem to get better with each time I see them. Definitely a highlight of the evening.
A surprisingly long delay separated Hawk's set from the headlining spot. I was pretty surprised it took them so long to get on with the show. But before too long, the stage had been cleared and rockers Thousand Foot Krutch opened with "Make Me A Believer." I'd seen TFK live a couple times before, and I have to admit, the first time I saw them a few years back at a festival, I was not impressed in the least. But since the release of Phenomenon and then this year's The Art Of Breaking, Thousand Foot Krutch seems to have found their niche. Rock is what they do best. Frontman Trevor McNevan seems to get better each time I've seen him too. Maybe the material he has to work the crowd with is better, but their set is as tight as ever. They kept the set energized by loading it with some of their edgiest tracks, proceeding with "Step To Me," the anthemic "Rawkfist," "Bounce," "Faith, Love, And Happiness," "Hurt," "Stranger," and even the classic fan favorite, "Puppet." While the latter isn't one of their best songs recorded, it translates incredibly well live.
It's common for the final night of a tour to encourage mischief. And what else would you expect from the Hawk boys? During TFK's "Slow Bleed," a figure fully dressed in a Grim Reaper costume wandered onto the stage to pester the band. Trevor, barely flinching while performing, yanked at the figure's costume in an attempt to unveil the disguise, but it didn't budge. Beneath the costume was Hawk Nelson's Jason Dunn, who ended up taking a tumble off the side of the stage as he exited. Unfazed, TFK pressed on with "Quicken," "Phenomenon," "Breathe You In," "Absolute," and "Move," leaving the stage for an inevitable encore. Upon returning after a very brief break, the band performed "Hand Grenade" before leaving Trevor to sing the ballad "This Is A Call." At this point, as the band rejoined him for the song's finish, all of Dizmas and Hawk Nelson came on stage unplanned and unannounced to sing along with Trevor. It was a cute way of finishing out the tour.
It's a shame The Art Of Breaking Tour is over since I can't exactly tell you to rush out and see it. However, I can recommend the bands individually, so if you get the opportunity to especially see 4th Avenue Jones, Hawk, or TFK live, I advise against passing on the opportunity!
--
John DiBiase
, 10/19/05
The Art Of Breaking Tour 2005 Photo Gallery
click on an image for a bigger size
4th Avenue Jones
Dizmas
Hawk Nelson
Thousand Foot Krutch
*all photos by
John DiBiase
, and are the property of
Jesusfreakhideout.com