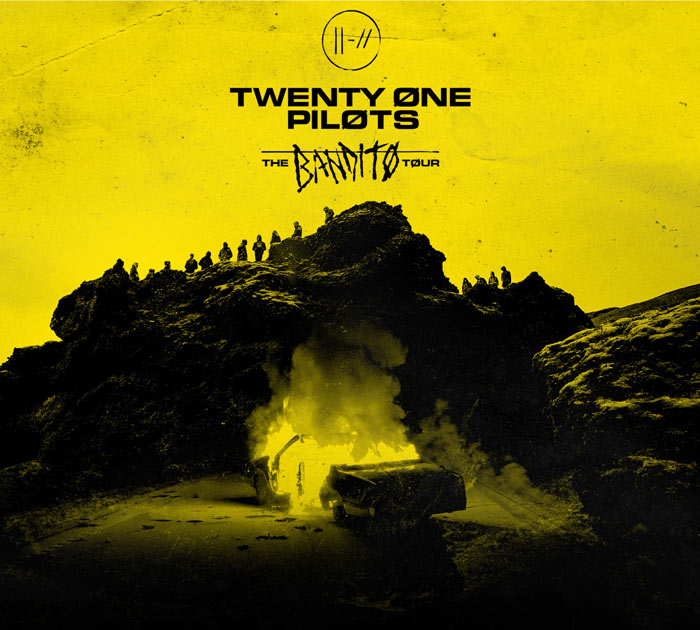 The Bandito Tour
Twenty One Pilots
11/3/18, at Amalie Arena in Tampa, FL
Wow. Perhaps the understatement of all-time, but I really don't know what else to say. I have been a music fan, collector, and concert goer for over twenty-five years, and the Twenty One Pilots "Bandito" show I witnessed last night might very well be the greatest live show I have ever seen. How is it that two performers can have a stadium-sized audience eating out of their hand for over two hours?! So much so that at the end of the set, the crowd was so satisfied they didn't even call for the obligatory encore! I could list every single detail of the show, but I would rather not ruin it for anyone who has yet to see them live. Suffice it to say, this was an impressive show well worth the money to experience it for yourself.
So rather than giving away specifics, I want to take a few minutes to speak in generalities about the five things that impressed me most.
There is something to be said for a band that has a strong enough catalogue that they can play for two hours straight, and you still leave slightly disappointed that they didn't play a song you were highly anticipating. It requires one of two things, and often both. First, it requires a tremendous amount of strong songs. Secondly, it requires some longevity as a band. Though it is likely many have just discovered the duo with their Blurryface album, the guys had more than enough songs to keep the crowd engaged all evening. Though I was somewhat disappointed to not hear two songs I was hoping for, I didn't leave dissatisfied at all.
With many moving parts and transitions, Tyler Joseph and Josh Dunn left the audience wondering where they might pop up next. There seemed to be no expense spared when it came to keeping all areas of the audience fully engaged. I won't spoil it, but along with a few expected TOP traditions, they had a few new tricks up their sleeve to keep us guessing.
Lead singer Tyler has grown in his confidence over the years of non-stop touring, but he often sings while wearing masks, or even his shirt over his face. Many times, this is to serve the song that he is singing, not just to hide. They also both did a terrific job checking in with the upper deck, and far away seats, regularly addressing them. Another big part of their unmatched showmanship was their relentless energy. I mean, seriously, when they say they are going to "give it everything they've got," this is clearly not hyperbole. The stage presence of these two dudes was entertaining, moving, daring, and often unexpected.
All night long there were videos, set changes, and a killer light show that served to enhance the message of their songs. I specifically appreciated many of the video images for the songs from their newest album, Trench, which I feel helped me better understand the narrative they were seeking to communicate.
I have seen countless live shows in my years of concert attendance, but rare is it that I've seen a lead singer go so far to honor his bandmate. Perhaps it's due to only having one other band member (a joke he made at some point), but I get the impression from the show, and watching interviews of the band, that they genuinely admire each other. Not only did they honor each other, but they certainly honored the fans. While some bands seem to take for granted that fans are largely who put them in the place to do what they are doing, these guys truly seem to get it. Although they have undoubtedly worked hard, they share their need for the fans by including them in the show throughout the night, with the audience more than happy to oblige in singing and dancing their hearts out. I thought that they did a great job mixing in some older fan favorites, while still giving healthy doses of songs from Blurryface and Trench.
Lastly, Tyler talked very little during the evening, preferring to allow the songs to do the talking, which wasn't a bad thing. However, what I saw, heard, and felt, were two guys who love what they are doing, and love the people they are doing it for. Despite nary a verbal mention of the name of Jesus, the visuals, the songs, and the tone of the evening spoke loudly, and clearly, that these guys both know Him, and are seeking to make Him known. It would seem that they have taken the encouragement of Colossians 3:17 to heart, "And whatever you do, whether in word or deed, do it all in the name of the Lord Jesus..." For my money, this dynamic duo are absolutely worth the money and effort to see, and I would unequivocally say after seeing them live twice that they are the best live show I have ever seen. You should definitely make it a priority to see them if given the chance.
--
Josh Balogh
, 11/4/18