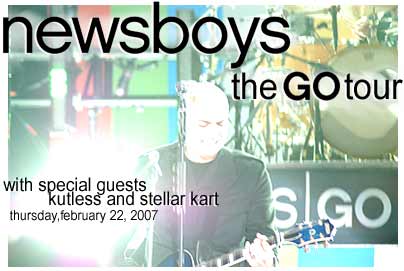 Newsboys, Kutless, Stellar Kart
2/22/07, at Stabler Arena, Bethlehem, PA
It was about twelve years ago when I first saw Newsboys perform on their Going Public Tour with Audio Adrenaline opening for them. Phil Joel and Jeff Frankenstein had recently joined the band, and John James was still the band's lead vocalist and frontman. Now in 2007, former PC3 ringleader and solo artist Paul Colman has stepped in to play guitar, while Joel has recently stepped out, leaving the Newsboys as just a four-piece. Deciding to continue the band without replacing Joel, Frankenstein and Colman are sharing his responsibilities on this Spring's GO Tour, in support of their latest album, Go.
The Newsboys have been a band known especially for their entertaining and exciting live shows, centered around their catchy and fun brand of pop music. While the band is often thought of as being strictly for the youth group crowds and maybe parents who remember their days when they were just starting out, the truth is that the Newsboys are a collaboration of talented musicians with a flare for the theatrics, and just have a keen sense of how to put on one purely great performance. In recent years, these showmen have become more worship-minded in their musicianship and live shows, toning down the extravagance, and focusing more on the music. This worked well for the then-quintet, but their knack for putting on incredible, elaborate live shows was not only missed, but going unused. This year's Go Tour, however, remedies this, as their recent album returns them to the style of songwriting that caused so many in the Christian music market to fall in love with the breakfast-loving Aussies in the first place.
Accompanying the Newsboys on the Spring leg of The GO Tour is pop/punk rockers Stellar Kart and the hard rock outfit Kutless. Both bands are an unlikely pick as openers for Newsboys, but they do, however, fit in with the youthful target audience of the headlining act. Stellar Kart, who've recently taken radio by storm with their hit "Me and Jesus," got things off to an energetic start, opening with "Activate" from their latest record We Can't Stand Sitting Down. The young guys wasted no time reminding audiences who they are, and launched right into "Me and Jesus" before continuing with "Hold On" and "Procrastinating," also from their latest album. Encouraging the crowd participation of jumping up and down "for the entire length" of the fifteen-second-long "Tree Climber," the guys turned out to be a pretty good warm-up act for the night, and closed with the hopeful and exuberant "Life Is Good."
BEC Recordings own smash hit act Kutless was up next, bringing their own brand of pop-flavored hard rock in the same vein as mainstream acts like Creed or Nickelback. But while their sound may be reminiscent of some mainstream counterparts, the biggest difference you'll immediately find with a group like Kutless, is their heart for Christ. Frontman Jon Micah Sumrall emerged on stage first with acoustic guitar in hand to begin performing "Strong Tower" before he was joined by the rest of Kutless. The guys probably gave those unfamiliar with the band a false sense of security as to what kind of show they were in for as they continued the worshipful mood with "We Fall Down." But this wouldn't last too long, however, because soon Sumrall would let out a scream, "Are you ready to rock!" and amp things up with "Hearts Of The Innocent" and "Pride Away." "Somewhere In The Sky" and "Shut Me Out" were next, with Sumrall sitting at a piano for the anthem-for-marriage "Promise Of A Lifetime." Sumrall also shared a bit of the band's history, including their humble beginnings as a worship band, and the group soon closed with "Sea Of Faces" and "Better Is One Day." Their set was solid, but I can't say they seemed to really fit on tour with a band like Newsboys.
After Kutless cleared the stage, the newest Newsboy, Paul Colman, came out to share with the audience about a new ministry they were supporting called Global Tribe. The first thing noticeable about Colman was that his face was distinctly battered, displaying a sewn-up and discolored right eye brow and nose. Colman explained in a light-hearted fashion that he'd gotten so excited talking about Global Tribe at a recent show in Kalamazoo, that he lost track of his footing and fell off the stage, smashing his face enough to warrant stitches. The singer/guitarist continued to generate plenty of laughs and sympathy from the Bethlehem audience before completing his message urging the crowd to join them in supporting Global Tribe to fight the world's poverty. Upon finishing his talk, a ten minute intermission followed.
Although only pieces of it could be seen throughout the opening acts due to an enormous Kutless banner, when the lights illuminated the set for Newsboys, a fantastic stage setup was revealed. Four large screens were set behind the band, with two more larger ones set below those and a row and a half over of over thirty vertical columns of lights that often created a sort of visual equalizer effect, and more lights framing the screens and the stage. Not included at this date because of seating issues, a catwalk is supposed to extend from the front of the stage on this tour, which would allow band members to venture out into the crowd. However, across the auditorium towards the back of the audience, a small stage was setup (with more lights) that would later become key locations for some of the evening's greatest moments.
Newsboys didn't waste any time in firing up the audience, opening immediately with their biggest hit to date, "Shine," which included an explosion of confetti into the audience and a short Gospel message from frontman Peter Furler. The ridiculously catchy first single from their record Go, "Wherever We Go," was next, keeping the energy moving. The screens behind the band displayed live footage of the guys as they played, with all kinds of colorful effects making for a truly unique live experience. Keeping with the vibe of the new record, they continued with "The Mission," and "Something Beautiful," paused for their cover of "Blessed Be Your Name," and returned to the new material with "In Wonder." In September, I'd caught the Newsboys live show at Rock The Universe in Orlando, and while it was great to hear a classic or two resurrected, it was one of their blandest shows I'd seen in awhile. In addition, Colman didn't seem to fit in just yet. He may have still been adjusting to life as a Newsboy, but he didn't appear comfortable in the role. At this spot on The Go Tour in Bethlehem, Pennsylvania, you wouldn't have guessed Paul was relatively new to the band. He fit in perfectly and actually had a better stage presence than a few of the previous guitarists the band has had. Phil Joel was missed, but his absence actually allowed Jeff Frankenstein to stand out a lot more than just a stage piece as he often previously was, especially when "In Wonder" ended, and he and Furler appeared in the back of the room atop a small stage. Furler was armed with a mic and guitar while Frankenstein had a keyboard on hand with an effects-laden mic. The two put on a humorous little duet as they performed brief fragments of "Not Ashamed," "Million Pieces," "Entertaining Angels," and ended with the beautiful throwback "Where You Belong / Turn Your Eyes Upon Jesus." The two then performed "It Is You" before Peter gave a brief message and reminisced about the band's experiences in Pennsylvania over the years (from signing their first recording contract in Allentown, to performing at Creation East). The band reassembled to perform "He Reigns" and then teased the audience that the show was over without having performed a certain fan favorite. As the crowd's excitement grew, images of boxes of Captain Crunch flashed on the large screens above, causing the audience to roar. "Breakfast," from their 1996 release Take Me To Your Leader, inevitably followed, along with the fun and upbeat "Your Love Is Better Than Life."
At this point, Peter disappeared from the stage again, and back on the small stage now stood a lone setup of standing drums. Furler stood at the mini-set while drummer Duncan Phillips was also illuminated at his full set back on the stage. The two faced-off on the drums, egging each other on and encouraging the audience until Furler's platform brought him some 25 feet in the air and Phillips' platform tilted and began rotating as he played. Although the band has done dueling drums before, this was by far one of the most fun and exciting means of pulling it off to date, creating a real memorable moment for the evening. Upon finishing their drumming competition, the band reunited once again on stage for a final, rousing performance of "I Am Free."
The incredible performance from Newsboys assured all in attendance that the band isn't done yet and is far from being "washed up" or out of steam. The foursome put on one of the greatest headlining shows you can see today, and one of the best I've seen from them in the past dozen years. While their more stripped-down shows let their music speak for itself, their performance-based tours are fun and exciting, something the Newsboys excel at. If you are a fan of the band or ever were at one time, I can't recommend The G0 Tour enough.
--
John DiBiase
, 2/25/07
The GO Tour Photo Gallery
click on an image for a bigger size
Stellar Kart
Kutless
Newsboys
*all photos by
John DiBiase
and are the property of
Jesusfreakhideout.com