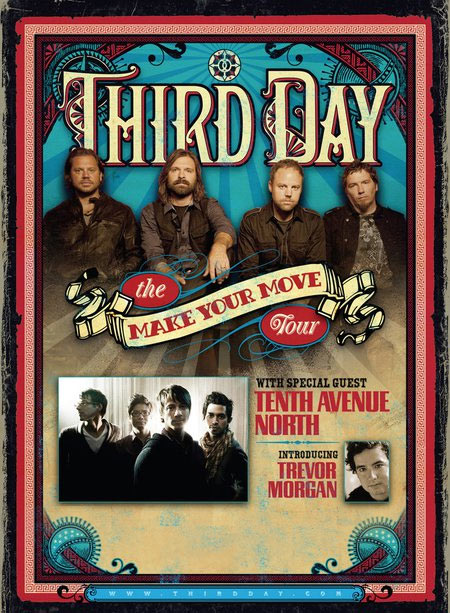 The Make Your Move Tour
Third Day, Tenth Avenue North, Trevor Morgan, Bob Smiley
11/6/11, at Mohegan Sun Arena in Wilkes Barre, PA
It's been fifteen years since the first time I saw Third Day on tour. For that show, two other newcomers, All Star United and Seven Day Jesus, had opened for the band at a festival in Hatfield, PA. Now, with an impressive career to their name and over a dozen releases under their belts, Third Day has set out on the fall leg of their Make Your Move tour, this time enlisting the artistic support of radio favorites Tenth Avenue North and indie singer/songwriter Trevor Morgan, making a stop at the Mohegan Sun Arena in Wilkes Barre, PA.
I was surprised to see comedian Bob Smiley emcee the evening. I believe I've seen him appear at some festivals over the years, but I don't recall having see him emcee a tour since the Newsboys Air Dome tour some eleven years ago. Smiley has always been an acquired taste, and in his defense so are most comics, but his presence and craft was stronger this evening than I'd ever heard from him before.
After a brief into, Smiley welcomed Trevor Morgan out onto the stage. Armed with just his soulful southern flavored voice and an acoustic, Morgan played a few of his own cuts, beginning with "Easy" from his new album, The Blessed and the Broken. It's actually little-known that this isn't Morgan's first release. The artist put out his debut in 2004, titled Wonderlight, to a warm but modest reception. He soon seemed to disappear from the spotlight, but this year Third Day has enthusiastically taken the artist under their proverbial wing, and fans have seen Morgan perform with the band on tour and even at some summer festivals throughout 2011. Before his second song, Morgan humbly thanked the audience for showing up early enough to catch his set and for bearing with him through his opening act. He performed "Love That Way" next, before closing with "Psalm 23." Morgan then thanked everyone again, receiving an incredible standing ovation from his listeners. With a smile and a wave, he left the stage.
Bob Smiley returned as a set change took place behind him. He made jokes about the iPhone as well as the primitive nature of the inferior Blackberry, and then he got serious to do a plug for Grand Canyon University in Phoenix, Arizona. Afterwards, Bob exited and the pop rock outfit Tenth Avenue North was up.
With a backdrop that displayed the image of a painted glowing lightbulb, the foursome opened with a newer song (which I didn't recognize or catch the lyrics for), displaying a distinct rock vibe. It's a little odd for me to see these guys rock out for a change after first having seen them on tour a few years ago with Sanctus Real when each member looked clean cut and performed acoustic contemporary pop. Their show at Winter Jam last year was surprisingly more upbeat and engaging, and this year, they're almost like an entirely different band. Vocalist/frontman Mike Donehey seems to have taken notes from Switchfoot's Jon Foreman -- from the longer blonde hair and stubble, on down to a dress shirt and tie (which sometimes is Foreman's wardrobe). Mike even hopped off the stage and sang in the bleachers, engaging with a few fans, much like Foreman does on the SF tours. Still, the band's sound is of a more pop rock base and fans of the group's more prominent softer side still won't be disappointed.
"Break Me Down," from their debut Over and Underneath, was next, and then Mike jumped up onto the drum riser to begin singing "Healing Begins." Afterwards, Mike spoke from the heart about our shortcomings and imperfections and how God redeems us in spite of them. The mellow and appropriate "Any Other Way" followed, and then the guys picked up the pace again with the rocker "All the Pretty Things" from their newest record, The Light Meets the Dark. During this song, Mike introduced the band members and expressed his excitement about playing in the Mohegan Sun Arena, since he himself is of Mohegan descent. He then encouraged some crowd singalong of the song's "oh-oh's," and implored the "bad singers" of the audience to sing as loud as they can... And for the "good singers" to drown them out. The lights dimmed when the song ended and the lightbulb on the backdrop illuminated as a piano solo led off the next ballad, "You Are." During this song, Donehey hopped down from the stage and traveled into the bleachers to get a few fans to singalong and take pictures with a couple others. While still standing on the stairs in the stands, he finished the song and then spoke again about our imperfections and how God's grace covers us. Before heading back to the stage, he began singing "Hallelujah," from their debut, and mixed it with their biggest hit, "By Your Side" to close their set.
Smiley emerged one final time to share some laughs, mostly revolving around the birth of his son, before talking about the good work that World Vision is doing. He urged the Wilkes Barre audience to support the needy children that World Vision helps and sponsor a child during the show's intermission.
After a lengthy intermission and an extended set change, the Third Day boys took the stage, ready to deliver their signature southern rock show. Appropriately, given the tour's title, the Atlanta quartet opened with "Make Your Move," a rocker with a delicious bass groove. The blazing rock anthem from Revelation, "The Otherside," was a surprise but welcome second offering. And with "Slow Down" after it, it was rapid fire highlight-after-highlight. There was a brief breather afterwards and then keyboardist Scotty Willbanks, soaking in a single spotlight, belted out the lyrics to the soulful "People Get Ready," and then the band kicked in for Move's "Follow Me There." To my surprise, the worshipful "Sing A Song," one of the highlights from the Offerings series, was next, followed by the radio hit "Call My Name" from Revelation. They slowed things down a bit with the anthemic "Children of God," which also served as a great singalong moment for the audience. Frontman Mac Powell took a moment to share with the audience and expressed how he thinks God was going to do something big during the evening. The backdrop behind the band then changed to the artwork for Revelation as they broke into the title track from the album.
At this point, the band did something different at this show that I've never really seen them do before. Without the aid of a catwalk, like at Winter Jam '10, between songs Mac Powell made his way to the back of the audience on the floor section of the arena and performed an acoustic rendition of "Cry Out to Jesus" as just him and his acoustic. He then honored the old fans with "Love Song" before Tai, Dave and Mark joined him. Powell took requests and first performed "Consuming Fire" acoustically, and then fulfilled another request with "Born Again." Bassist Tai Anderson then traded his bass for an acoustic guitar for the next song, "Surrender." As Mac and Tai performed the song and encouraged some crowd participation, Mark and Dave went back to the stage to prepare for the end of the song. As they belted out the guitar solo in the latter half of the song, Mac and Tai returned to their places on stage to close out the song with full energy... Complete with a fully lighted backdrop. "Lift Up Your Face" was next, still utilizing the bright lights behind them, and then Powell reminisced a bit and expressed his appreciation for the band's "old school fans." One of Mac's favorite Third Day songs followed, "I've Always Loved You," from the album Time. Powell invited show opener Trevor Morgan back out to perform the song with him, even providing some of the vocals. Then, like at their show in Orlando at Rock the Universe this past September, Third Day doubled as Morgan's live backup band as the singer performed his single, "Jesus Rides the Subway." It's a good song, but I'm still not sure it's quite worthy of inserting into the middle of Third Day's own set.
With Morgan's exit, Third Day returned to form with their former longtime set opener, "Tunnel," before Powell shed his guitar for just his mike as they performed the softer "What Have You Got To Lose" from Move. Mac then took a moment to share a message from his heart about the story of the rich young ruler from scripture. He talked about how important it is for us to give up ALL things to God -- not just the good and not just the bad. He then asked us all to raise our hands as he prayed, to give the things we're holding back to God and then open our hands to receive what God has for us. Following this with the worship favorite "God of Wonders" was a nice touch, and Mac invited Tenth Ave's Mike Donehey back out on stage to sing with them. Following the song, everyone cleared the stage, leaving the crowd cheering for more. The guys then returned for one last song, aptly closing the night with Move's "Gone" (complete with band member introductions).
The Make Your Move Tour is a solid night of inspirational music with a pop and rock flair. Fans of Third Day's music - old and new - should find a lot to like about the set list they perform on this run. I always have appreciated how they tend to change things up pretty often as not to get stuck in any sort of rut, so keep in mind that this set list may not be the same you may hear at a show you attend, but you can expect a healthy mix from a band whose live show just seems to get better each time I see them.
--
John DiBiase
, 11/10/11
The Make Your Move Tour
click on an image for a bigger size
**vertical images cropped for thumbnails**
Trevor Morgan:
Bob Smiley:
Tenth Avenue North:
Third Day:
*all photos by John DiBiase and are the property of Jesusfreakhideout.com