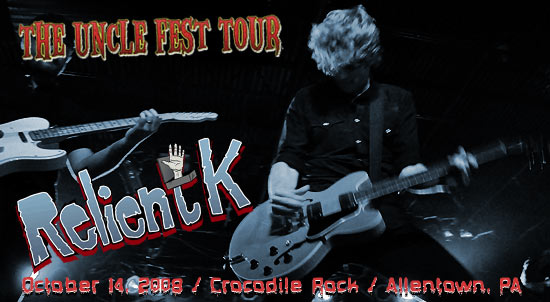 The Uncle Fest Tour: Relient K, Ludo, This Providence, House Of Heroes
10/14/08, at Crocodile Rock in Allentown, PA
With Fall being a great time for some of your favorite acts to come rolling through your town, it won't be unlikely for a couple of said tours to even overlap in one week. This became our problem. Our original plan for this particular October week was to catch two PA dates of the Dance Rawr Dance 2 Tour and then head back to Philadelphia on the third consecutive day to catch Relient K's Halloween headlining tour, The Uncle Fest Tour. Sadly, the Philly Relient K show folded and their other PA date, a show local to us, was moved a day later than originally planned, putting a significant kink into our concert-going plans. But it mostly all worked out, as we hit up the infamous Crocodile Rock bar and club in Allentown, PA on Tuesday, practically a stone's throw from JFH HQ (as opposed to trekking through rush hour traffic to the city of Philadelphia).
Long-winded intro aside, we planned to arrive at Croc Rock in time for our most anticipated set of the evening, House Of Heroes. Sadly, their manager had given us a later start time than what was actually planned as he was under the impression their set would be the same time as the one the night before. So when we arrived just a couple minutes before seven, we could hear the bittersweet sounds of the tail end of "In The Valley Of The Dying Sun" drifting from outside of the venue... as the band finished their set. Disappointed but not broken, we proceeded inside to wait for the next act, This Providence.
This was the first time I was seeing This Providence perform live, as the indie pop rock band played cuts from their self-titled debut, as well as their brand new EP, Bright Lights (which had just released the same day). Standout moments from their set included the acoustic "Sand In Your Shoes," which left vocalist Daniel Young alone on stage with just his acoustic, and "My Beautiful Rescue." Their set was good, but Young seemed frustrated by the unenthusiastic Pennsylvania crowd (and understandably so), encouraging the fans on at least one occasion to move around and get into their set.
Given the Halloween theme of the night, there were several props on stage, like a skull, some cotton spider webs, a bat hanging near the drum set, and a jack-o-lantern near the sound board. The holiday theme was something Saint Louis, Missouri geek rock act Ludo would later take advantage of, but the mainstream Island Records band first played new tracks from their record, You're Awful, I Love You, as well as fan favorites from their self-titled 2003 debut (like "Good Will Hunting By Myself"). With Andrew Volpe's Reese Roper-like vocals coupled with a frenzied and spastic on stage personality, their show was more fluff than substance, which is something the follow up headliners have always balanced out very nicely. To close their set, Volpe incorrectly dated the following cover song as being from 1986, before butchering the Ray Parker Jr. theme song from Ghostbusters -- a cover song that Relient K, love 'em or not, would probably have tackled with greater finesse.
After a lengthy set change, the Canton, Ohio rock band Relient K stepped up to close the night. For their set, the kit for the band's new drummer, Ethan Luck, was covered in cotton webbing with a huge fake plush spider in front, while a lantern, skull, and raven were perched atop vocalist Matt Thiessen's classic wooden piano. Also, each member wore some eye makeup to keep with the vibe and Thiessen emerged in a black cape to the tune of their opening song, "I Need You." Thiessen then shed the cape for "Come Right Out And Say It" and proceeded into "Who I Am Hates Who I've Been." Matt then paused to address the crowd, introduce the admittedly silly-named tour, and appropriately launched into a nice cover of The Addams Family theme song (to go along with the "Uncle Fester" reference... in case you didn't catch that). It then served as a nice lead into "High Of 75," followed by an oldie, "Mood Ring," and then a new cut from their Birds And The Bee Sides EP, "The Lining Is Silver." The rocker "Devastation and Reform" followed, and then Thiessen introduced their 80's cover of Tears For Fears' "Head Over Heels" - which he also announced would not lead into "In Love With The 80's" tonight (despite some fans' shouting requests), but would instead lead into "Chap Stick, Chapped Lips, and Things Like Chemistry." Surprisingly, they then broke into their fan favorite "Sadie Hawkins Dance," before offering "Be My Escape" and the seldom performed fast rocker, "The Only Thing Worse Than Beating A Dead Horse Is Betting On One." The band then shifted gears once again, breaking out another new one, the slow acoustic folk track, "At Least We Made It This Far." Finally, to close out their fifteen song set, the guys closed with the strong pairing of "Which To Bury, Us Or The Hatchet?" and "Let It All Out," taking their set out on a quiet and thoughtful note.
I was thrilled to hear in a blog from Thiessen, once this tour launched, that the band was starting to perform "Deathbed" live. When the band returned to the stage for their encore, I was pleased to hear Thiessen bang out the opening piano rhythm to cue the song. What unfolded as the encore was the unique and complex eleven minute epic tale of redemption that would serve as a truly poignant way to end the evening. By the time Thiessen reached the emotional finish, "I am the way, Follow me and take my hand, And I am the truth, Embrace me and you'll understand... I am love," the room was silent and chills were running down my spine. It's a gutsy thing to perform that on a bar and club tour and I have to give the band a lot of credit for performing it in such a setting -- but they pulled it off incredibly well. At the close of the song, the guys bowed out to end the evening.
While Relient K could have had a couple stronger acts on this run than This Providence, and more specifically Ludo, The Uncle Fest Tour is a fun evening of indie rock and pop music. We really wish we could have seen House Of Heroes' set as they're well worth the price of admission as well, but hopefully next time we won't miss them. If you get a chance to see this tour, be sure to arrive early enough not to miss one of the greatest acts in rock music today, and then stick around for Relient K's solid headlining set.
--
John DiBiase
, 10/18/08
The Uncle Fest Tour 2008 Photo Gallery
click on an image for a bigger size
**vertical images cropped for thumbnails**
This Providence
Ludo
Relient K
*all photos by
John DiBiase
and are the property of
Jesusfreakhideout.com