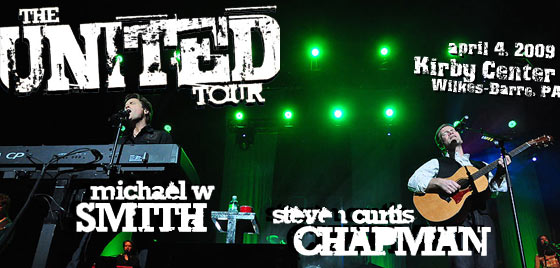 The United Tour
Michael W. Smith, Steven Curtis Chapman
4/4/09, at Kirby Center in Wilkes-Barre, PA
When murmurs of the "The United Tour" started buzzing last year, announcing the teaming up of CCM legends Michael W. Smith and Steven Curtis Chapman, this concert goer was more than intrigued by the match up. However, the Fall leg of The United Tour didn't venture close enough to our humble residence, so I'd succumbed to the notion that the opportunity to experience this tour had passed me by. But when a Spring 2009 continuation of the tour was announced, well, hope was restored and the announcement of a date less than two hours away was assurance that we might finally get to experience this phenomenon for ourselves.
SCC and MWS. Together on tour. Who would have thought? The artists admit they've long discussed the idea, and with Smitty steadily riding a success wave, it's almost a surprise that he might pick such a time as this to co-headline a special tour (and twice!). The tragic loss of the Chapmans' five year old adopted daughter last May seemed to threaten the future of Steven Curtis in music, so it seems appropriate for Michael to support his friend as he ventures back out on the road in a new season and journey in life.
Wilkes-Barre, PA's Kirby Center, a beautiful classic theater, is great venue and setting for such an event. On this tour, Smitty and Chapman are the only performers, as the two shared the stage on and off the entire night. I was kind of surprised they didn't have an opening warm-up act, but the absence of such allowed for these seasoned performers to share even more music with those hoping to hear a fair mix of old and new songs. The night began sometime around 7:30pm on this particularly chilly Sunday night in April. SCC and MWS stood on the stage side by side -- Chapman on his acoustic and Smith behind his keyboard. Chapman's son Caleb supported both singers on guitar the entire night, along with Tait/SCC guitarist Justin York. Singer/songwriter Michael Olson was a suprise guest on drums, while accompanying bass, backup keys, and the occasional violin were also present throughout the night. To kick off the evening's festivities, Chapman and Smith lead the audience in worship, opening with Matt Redman's "Blessed Be Your Name" and Chris Tomlin's "How Great Is Our God" before Smith stepped back to let Chapman take over.
To transition into Steven Curtis Chapman's opening set, Smith grabbed an acoustic as he and Steven traded places at the keyboard. With that, SCC opened his set beautifully with "All Things New," before Smith exited to leave Chapman alone to perform "Yours." Since last year, Steven has been sporting a goatee and glasses, which is a sight to adjust to for fans used to his boyish, clean shaven look. But beneath the additional facial hair and spectacles is the same old friendly face and voice we've come to know and love over the years. Chapman's music played a big part in my life as a young Christian - in much of the same way Smith has for so many others. So it was a tough pill to swallow to watch the Chapman family go through such a trying season last year -- and hearing Steven pour his heart out to the Wilkes-Barre audience so freely about it was even more heartbreaking. Chapman shared openly about the tragic time his family endured during "Yours" and performed the additional verse he wrote after the loss of Maria. "Mirace Of The Moment" followed, and then Steven opened up again about the struggles of returning to the stage after the loss and how he felt like he could never play the song "Cinderella" live ever again (especially since it was partly inspired by taking care of Maria one evening). He reflected on God's strength through the hardship and his sovereignty, which appropriately lead into "God Is God" from his Declaration release. Among the personal stories Steven shared about his family and Maria, one of the most encouraging and fun ones was his telling of the day early last year when she began asking her mother Mary Beth if Heaven was just as Audio Adrenaline described it in their song "Big House." Steven emotionally expressed the joy and hope that he had for knowing God has a plan as he recalled answering Maria's questions about Jesus and lead her to the Lord that day. Chapman also shared about the family's ministry for orphans in need called "Show Hope" and announced the plans for a new orphanage to be opened in her name, aptly titled Maria's Big House Of Hope.
Steven picked up the mood a bit by encouraging the audience to stand as he performed "Live Out Loud," even inviting friend and frequent song co-writer Geoff Moore on stage to sing the song with him. Steven then closed his portion of the night with the hit "Dive" from Speechless, for which Smitty joined him as well. Surprisingly, once Steven had finished his set and seemed to turn the reigns over to Michael, Smitty began to talk candidly about the two artists' music and launched into a segment where the guys performed each others' hits. Michael opened with "The Great Adventure," which Steven joined in on and then followed him with "Go West Young Man." Michael returned with "For The Sake Of The Call," to which Steven then sang "My Place In This World" and "I Will Be Here For You." Smith then joked that during the plans for the tour, Chapman had sent him a list of the SCC songs he would be playing during his set and had been upset that Steven wasn't going to play his favorite SCC song. Smith then encouraged him to perform it for the Wilkes-Barre audience, with Chapman breaking into an intimate acoustic performance of his classic "I Will Be Here." With that, the artists left the stage and Geoff Moore returned to share from his heart about the Show Hope Foundation and his experience with adopting two orphan girls himself (www.showhope.org). A brief intermission then followed.
When the lights dimmed again, Michael W. Smith emerged for an opening piano medley of fan favorite Smitty songs from throughout the years -- selecting tracks from albums like Go West Young Man and I 2 Eye, including "Secret Ambition" and "Thy Word." Smith then talked about his 2000 release Freedom, a collection of instrumental orchestral arrangements, and performed a beautiful piano-only version of "The Giving." He followed it with "Friends" and invited Steven Curtis back on stage to sing along. Afterwards, Chapman left again, and Michael let loose into a rousing worship set that began with the title track from his latest release, A New Hallelujah. For "The River Is Rising," Smitty soon left his station behind the piano and began running around the stage, firing up the Wilkes-Barre audience. A cover of "Mighty To Save" followed, along with "Shout Unto God," before Smith took a break from selections from A New Hallelujah for covers of Tim Hughes' "Here I Am To Worship," Reuben Morgan's "I Give You My Heart," and the Lenny LeBlanc/Paul Baloche modern worship classic "Above All" (which Smitty recorded on the first of his three worship projects). Michael then returned to the new material with "Deep In Love With You" and followed it up with his "Healing Rain / Let It Rain" medley, for which Steven Curtis Chapman joined him at its finale. The pair, accompanied by their live band, then performed Smith's own "Agnus Dei," before Geoff Moore returned to the stage and everyone gave a rousing finish with Tomlin's "How Great Is Our God" once again. Smith and Chapman embraced as the audience cheered them on, and waved goodbye for the night, signaling the close of a memorable evening of music and worship.
I knew great things had to come out of a pairing like Michael W. Smith and Steven Curtis Chapman, and it was evident that a great deal of thought and planning went into making this a tour to remember. Keeping the night's focus on these legendary musicians' careers -- even crisscrossing them a bit along the way -- gave ample time to spotlighting their expansive catalogs of music. Hopefully this won't be the last time Smith and Chapman share the stage on tour together... and hopefully more artists will take cues from these guys on how to make a tour of talent a special night for fans to remember and cherish.
--
John DiBiase
, 4/8/09
The United Tour 2009 Photo Gallery
click on an image for a bigger size
**vertical images cropped for thumbnails**
Michael W. Smith and Steven Curtis Chapman
Steven Curtis Chapman
Michael W. Smith
*all photos by
John DiBiase
and are the property of
Jesusfreakhideout.com