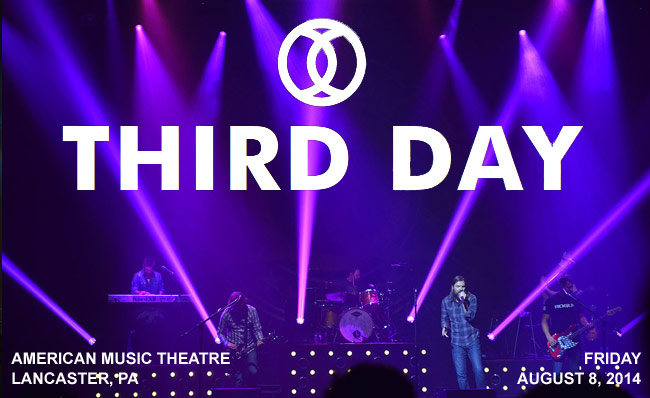 Third Day
8/8/14, at American Music Theatre in Lancaster, PA
During the summer, in most cases, you'd have to attend a major summer festival to see your favorite band live. However, there's the glorious "one-off" that fans can find like a mini-musical oasis when bands book a show on an otherwise off day that serves as an intimate performance that usually is just the band by themselves. In some cases, a local band will be tacked on to open, but in this particular instance, Third Day was brought in to the American Music Theatre in Lancaster, PA to perform all by themselves to a sold out crowd.
Although I've seen many concerts virtually across the street from the American Music Theatre since the mid 90s (at the LMHS Fine Arts Center), I never even knew this venue existed until this show. It's got the setup and feel of a big church show, but it really is just a modern theater specifically used for performances like these. While I use ear plugs at shows these days (Ever since experiencing hearing damage at a show while shooting in front of a speaker, it's a must.), I thought the acoustics were great. And when I saw Third Day do a one-off last fall, Mac complained about having a cold and I thought he still sounded good, but this evening he was at the top of his game and it truly showed.
One thing about a Third Day show is that you won't leave feeling cheated about the number of songs they perform. The light show is excellent, but it's not the main focus; it's used to enhance the live experience. You won't be seeing fireworks or streams of flames soaring into the air. A Third Day show is more about the music and message than entertainment. It's definitely refreshing.
If you've seen Third Day in the past year, the set list isn't extremely different, however, these guys are a band that isn't stuck in a specific lineup of songs per show. You may see them one night with one set and then they'll change it up the next night. Switchfoot is another band that does that, while Audio Adrenaline, TobyMac and Newsboys have often not deviated much from a specific set list. But while they once again walked out to the Moby theme from The Bourne Identity, "Extreme Ways," they opened with the blazing southern rocker "OtherSide" (instead of "Kicking and Screaming" a year ago). DecembeRadio's Brian Bunn, who's been touring with the band for a while now as an extra guitarist, gave a rousing pedal steel guitar solo, helping the night to have quite an energetic kickoff. With Mac encouraging the audience to join in clapping along, the fun "Kicking and Screaming" followed, along with "RockStar," before the worshipful "You Are So Good To Me" had the audience worshipping along with the band. The moving "Revelation" followed, complete with a soulful piano intro from Scotty Willbanks, and the energy resumed for Move's lead-off song, "Lift Up Your Face." The audience then sat as Powell shared a little history about Third Day. But just as the band went to start the next song, they realized Mac's guitar was out of tune, so he decided to launch into the old school fan favorite, "Thief" instead, complete with a standout guitar solo by Mark Lee. It's spontaneity like that that is a highlight of a Third Day show.
Mac gave a little more history about how he and Mark started Third Day over 20 years ago, and then just the two of them, with the aid of Scotty's keys, performed "Show Me Your Glory." Powell talked a bit about worship and how they're currently recording a new worship album, and then performed an acoustic take on the old hymn, "Blessed Assurance." He then asked a pastor in the audience to pray for everyone there as well as the turmoil in the world, which is something I don't think I've ever seen done at a regular show like this. It was a nice touch and a great lead-in to an acoustic version of "Cry Out To Jesus." The worship continued with a full band rendition of "God of Wonders," "I Need A Miracle," and "Trust In Jesus." The guys then gave their soulful, Gospel spin on "Come Together"'s chorus to lead into the fun and funky "I Got A Feeling" to close their set. But an encore is pretty inevitable at a Third Day show, and "Tunnel," "Creed," and a cover of Michael W. Smith's "Agnus Dei" (which Third Day contributed to the 1998 worship compilation, Exodus) closed the night beautifully.
When you see Third Day live, you're going to get a great live show, whether it's on tour, at a festival or in these smaller, more intimate settings. More big things are ahead for these boys of Atlanta, so keep them on your radar.
--
John DiBiase
, 8/20/14
Third Day Set List

01. OtherSide
02. Kicking and Screaming
03. RockStar
04. You Are So Good To Me
05. Revelation
06. Lift Up Your Face
07. Make Your Move
08. Thief
09. Show Me Your Glory
10. Blessed Assurance
11. Cry Out To Jesus
12. God Of Wonders
13. I Need A Miracle
14. Trust In Jesus
15. Come Together/I Got A Feeling

Encore
16. Tunnel
17. Creed
18. Agnus Dei
Third Day 2014
click on an image for a bigger size
**vertical images cropped for thumbnails**
Third Day
*all photos by John DiBiase and are the property of Jesusfreakhideout.com