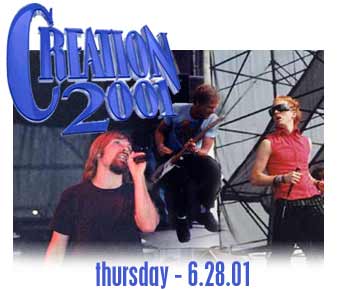 Earthsuit, Kendall Payne, Switchfoot, Josh Harris, Jaci Velasquez, Third Day
6/28/01, Mt. Union, PA. at the Agape Farm.
Day 2 of Creation. AKA the first full day. Typically, if you don't get up any sooner, you're usually awoken by the heat of your tent (or in my case... the back of my van) around 9am or so. If not, then you'll probably wake to the sound of an obnoxiously loud snare drum sound check from main stage (and someone repeatedly saying "Hey, hey, hey, check one, check two, hey hey hey..."). This is all good, however, because of where you are! It's Creation, folks! You wake to the sound of music, spend all day seeing lives shows and listening to speakers, and go to sleep for this to repeat for several consecutive days!
At 9:25am, speaker Mike Silva spoke at Main Stage. He gave a quite passionate message on "Satisfaction, How Do I Get My Hands On It?" I don't know if it's simply because I'm just not a morning person or what, but I didn't particularly like his speaking style. He seemed to be shouting at us (and the Lord above knows that's the last thing I can handle after I just woke up) rather than speaking. We headed to main (stage) around 10 for Earthsuit's set at 10:05am. Earthsuit's set last year was easily one of the best of the fest and this year wasn't particularly an exception. The opened with the bouncy and crowd-pleasing "Do You Enjoy the Distortion?" The rock/rap with reggae flavoring of "Against the Grain" followed. Lead vocalist Adam LaClave danced oddly around the stage sporting a pair of sunglasses he never removed as he shoved his arms forward in the air repeatedly almost as if he were using his fingers as imaginary pistols. The catchy melodic reggae influences of "Whitehorse" followed, and then "Schizophreniac." Adam proceeded to pick up a guitar (which he can't play) and show the crowd some "love" as the created numerous random sounds of feedback and distortion that not once amounted to a pleasant sound. He ended his energy releasing feat by dropping the guitar to the stage floor. The went on to play "Osmosis Land," "Said the Sun to the Shine," a newer tune "Noise for Your Eyes," and closing with their hit, "One Time." It was one high energy performance that served as a highlight of Creation Fest 2001 as well.
Acoustic/rock solo artist Kendall Payne strapped on her acoustic and followed up those energetic souls that make up Earthsuit. She had just finished stomping and singing along to their set, and even brought out further support of the band with her on stage as she wore a shirt that read, "Earthsuit is my boyfriend." Payne did a worthy job doing solo acoustic renditions of the fully produced tunes on her debut album Jordan's Sister. She opened with "Formerly Known As," followed by "Modern Day Moses." And she told a story of her and her friends critiquing a gorgeous woman as being so gorgeous they find it repulsive to open her hit "Supermodels." She often addressed the crowd and she seemed cool and calm with having no accompaniment and having to perform to several thousand people. She closed her short set with "Closer to Myself" and "Never Leave." Following Kendall, Rob Schneck gave a talk at main at 11:25, which we missed due to work. I spent my lunch time helping at the Forefront booth and while the FF crew went to see their band Pax 217, I chose to remain back and help hold down the fort a little. From the booth I heard a little of Pax' set. They opened with an instrumental guitar solo of the Top Gun theme (while I'm not a Pax fan at all, I found this amusing), and then broke into "Sandbox Praise." The young group's harmonies and rap vocals set to mild hardcore (is that a worthy description? "mild hardcore?") continued with their hits "A.M." and "Prizm." And it was during "No Place Like Home" (I believe), that the band paused to introduce themselves. They appeared to be well accepted by the crowd which isn't a surprise due to their mass appeal.
Of course I left the booth for the next main stage act-- Switchfoot. The amazing alt/rock trio started at 2:00pm. Their backstage crowd was an interesting one for sure. In front of me stood Kendall Payne who was clearly enjoying herself, and fans of Switchfoot, Third Day. 3D lead singer Mac Powell stood with arms folded watching the band they had once toured with on their Conspiracy No. 5 Tour. David Carr, Mark Lee, and Tai Anderson were present as well and seemed to enjoy the show as well. And as if that wasn't enough, Miss Jaci Velasquez stood quietly off to the corner of the backstage area. But hey, who doesn't like Switchfoot, right? The band opened with "St. Augustine," a number they've been opening up with quite often lately and had done quite well on Christian pop radio. But they cranked things up a bit for their latest hit "You Already Take Me There." It's fun watching these guys because it's so evident and clear they have fun themselves at what they do. They're often jumping about, while lead singer/guitarist Jon Foreman does regular leaps from the drum riser on cue to plant his feet on the stage floor with the music. And they continued to play engaging ditties such as the fun tune about materialism, "Company Car," and the encouraging, "The Loser." Following "Incomplete," bassist and little brother of Jon, Tim Foreman offered his brief and comical rendition of "I could have died in your Arms Tonight" (that's right... I don't know the official title :) ). And of course the band once again played the Aretha Franklin hit "Respect." The little cover interlude was followed by a return to the band's originals with "Turn Everything Over" and the jab at pop culture, "Poporazzi." With that, they halted the momentum and lifted their voices heavenward for a short praise and worship set where they lead the crowd in singing "When the Music Fades," Jon's own prayer "Let That Be Enough," and "I Could Sing of Your Love Forever." With time running out, they concluded with engaging and moving renditions of "I Dare You to Move" and "Learning to Breathe."
Concluding Switchfoot, we made a b-line over to the Fringe Stage for the first time of the week where Ballydowse, Glenn Kaiser, and Earthsuit (again), had just finished their sets. At 3:05, four speaker sessions began in three separate areas of the festival. Josh Weidman, Laurie Polich, and Eric & Leslie Ludy were all speaking at different points while we listened to Josh Harris at Fringe. Joshua, the author of the famous Christian book I Kissed Dating Goodbye, gave a convicting and encouraging message on "Lust: Destroy It or Be Destroyed." For those who didn't like what Harris had to say in his book, would probably see his live talks differently. Harris is hands down one of the best speakers I have ever heard and has a way with seeming exceptionally real and down to earth and on the level with the listener.
Afterwards, we went back to camp to scrape up a make-shift dinner before heading back to work. During these efforts, we heard Stacie Orrico and Rachel Lampa's teen power pop from main stage, beginning around 5:35pm. Complete with dancers, Stacie opened the split set with Rachel, before the two shared the stage and Rachel did a set on her own. That I recognized, Stacie performed such hits as "Don't Look at Me" and "Genuine." At 6:20pm worship was lead by The Katinas, which I missed once again while being up at the FF table, and at 7:05pm worship time was featured at main stage. (NOTE: We missed the rest of the acts at the Fringe Stage for the day: Rod Laver, Stavesacre, & Living Sacrifice) At 7:35pm, speaker Eastman Curtis gave his message on "Keys to Being a World Changer," which was a pretty good talk (also heard from the booth). Every night they shut the vending areas down while the evening speaker talks so that all is encouraged to attend.
At 8:40pm, Jaci Velasquez performed main stage. I'm not all that familiar with her music, I admit, but I did notice she opened with one of her newer songs, "Crystal Clear." Her set showcased her excellent vocals and Spanish-flavored music. Anyone can see this girl's supremely gifted. She put on a pretty good show.
The closing act for the night was... yep: those lovable boys from Atlanta - Third Day! The band looks like their slipping into a retro phase as of late with Mac's hair being reminiscent of the 70s as well as guitarist Brad Avery's longer hair. At 10:05pm, the band opened with the southern rock song "Took My Place," followed by the happy end-times cut, "Sky Falls Down." It was the first time Third Day was performing as a headlining act to close out an evening at Creation Festival. All the previous years they've attended, they had always preceeded the closing act in some form. After continuing to rock the stage with their southern flavored pop/rock with "Never Bow Down," the band introduced a brand new song to the audience, "Come Together," which is the title track from their upcoming record of the same name in November. Mac Powell then encouraged the crowd --everyone present-- to stop what they were doing for a prayer break. After a moment of silence followed by prayer from Powell, they lead the crowd in a contemplative "I've Always Loved You," a song written from the eyes of God. The quintet (plus travelling keyboardest Geof Barkley formerly from Geoff Moore's band The Distance) proceeded to slow the set down a bit for a time of worship as they lifted their praises to the sky with "I Remember You," "You're Everywhere," "King of Glory," their hit "You're Love Oh Lord," "Oh God You Are My God," "My Hope Is You," and the old band favorite, "Love Song." But the praise and exaltation didn't stop there. Probably their most popular song followed, "Consuming Fire," before "Alien" closed out the set. Of course with Third Day's departure from the stage, with the lights still out, the crowd roared for the band to come back. The 3D guys, after briefly refreshing themselves off stage, returned with an incredible instrumental segment before leading the audience with the worshipful "Agnus Dei." Third Day put on a solid show. The group has learned easily how to fuse an evening of rock music with worshipful lyrics and attitudes. If you haven't seen them live, you're missing out.
To close the night out just right, the festival performed their annual evening Communion service at around 11:20pm. Those who were backstage were invited to accompany those performing the service on stage (yes, we took the invitation :) ). They handed out small plastic cups filled with cranberry juice with a layer of purple-colored foil on top, sandwiching in a wafer with a plastic film on top keep it sealed (to represent the body and blood so that all in attendence could partake in the communion service). A minister lead the brief service and once it concluded, the crowd was dismissed and returned to their camps until the next morning...
Creation 2001: Thursday Photo Gallery
click on an image for a bigger size
Earthsuit -- 10:05am Main Stage
Kendall Payne -- 10:50am Main Stage
Switchfoot -- 2:00pm Main Stage
Jaci Velasquez -- 8:40pm Main Stage
Third Day
-- 10:05pm Main Stage
*all photos by
John
, and are the property of
Jesusfreakhideout.com
Wednesday | Thursday | Friday | Saturday