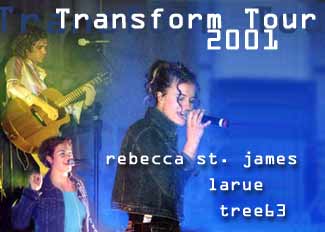 Rebecca St. James, LaRue, Tree63, Fuse Box
5/13/01, Quakertown, PA. at Quakertown Senior High School.
It's nice to finally have a concert that's less than two hours away. Better yet, Quakertown Senior High School was under an hour. Although it was Mother's Day, we trekked out to Quakertown, PA to catch the latest date on the Transform Tour. The gymnasium was a nice setup. "Gold Circle" tickets were set on the floor in the middle and regular general admission tickets were set in the bleachers on the side. The stage backdrop was a large 3/4 white circle with spotlights at key points around it. There was a smaller full circle in the middle of it which was later used for funky light patterns.
The show was scheduled to begin at 6:30pm, but at almost exactly 6, Rebecca St. James' backup band from Tennessee, Fuse Box opened with a praise and worship set while people were still coming in and settling in their seats. Although it confused most of the audience, including myself at first, it was an interesting and just plain good idea to have a worship act a half hour before the concert kicks off. Playing what sounded like their own written works, they also played a modernized version of "Let the River Flow." They did a good job in leading the crowd in worship and it was an appropriate intro to the evening.
After such an intro, it only seemed fit for the South African boys Tree63 to play next. Opening with the crowd-pleasing "1*0*1," the band proceeded to offer a surprisingly fun and rather entertaining performance. Their bouncy pop/rock worship went over well with the crowd as they continued on with their set with their hit single "Treasure," as well as "Look What You've Done." Lead singer John Ellis loosened up the mood a bit with light-hearted comments. During "Can I See Your Face," they tossed in a perfect cover of U2's "Beautiful Day," a band who obviously is one of Tree's influences as found notable in their sound. They ended with their equally upbeat "Joy" but not before throwing in a few bars of the famous "This Little Light of Mine."
After a brief break, brother/sister pop act LaRue made their appearance, opening with "Wake Up" from their sophomore record Transparent which had released earlier this year. The siblings looked comfortable and perfect on stage together. The bare-foot Natalie LaRue wore a shirt and long skirt topped off with a denim jacket, which is, by the way, apparently making a comeback? Everything about LaRue seemed to fit on this tour. Their youthful and artistic set, their friendly and cheery presence. Everything. They proceeded to play "Near to Me" from the same record before Phillip addressed the crowd followed by "Theory of Flight." Natalie introduced "Someday" by explaining that the song is addressed to her future husband. Following her almost completely solo performance, showcasing her beautiful melodies, Phillip complimented her sister, "That was beautiful, Natalie." He then asked the crowd, "Wasn't that beautiful?" It was cute to see them complimenting each other on such a relaxed, "real" level. The young duo finished out their unfortunately short set with "Fly," "I Can't Sing," and "Reason."
There was another short break before the lights dimmed again, the backdrop lit up, and the "Intro" from Rebecca St. James' 2000 Transform album sounded through the auditorium. Two of her younger brothers stood bearing sunglasses and tossed glow-sticks bent into circles into the crowd along with a crashing beat intro to "Reborn." Rebecca came out on stage, being greeted with an ecstatic audience as she immediately began singing to "Reborn." At the song's end, Rebecca, with her hair pulled back in pig tails, wasted no time in getting into God's Word. She shared from Matthew 5 about being salt and light to the world, and proceeded back into the music with "Don't Worry." Oddly enough, Rebecca, too, was wearing a denim jacket, except with also wearing denim jeans (as opposed to a skirt in Natalie's case). Things kind of stopped again as Fuse Box's drummer let loose in an impressive all-out solo. At the song's conclusion, Rebecca proceeded with yet another song from Transform, "Universe." She used some digital distortion on her voice for parts of the tune, much like secular artist Cher has more recently become known for. Rebecca then talked a little about how the song came about and how, like the song states, that nothing in the universe could take His love away. She proceeded to speak about how her career originated and sang "Go and Sin No More" and "Abba" from her 1996 God recording. But the beats picked up and the place got moving as RSJ moved into the power pop hit "One" with pounding synths and dancy beats.
Rebecca pulled up a stool and sat for a heart-to-heart talk with her audience about Compassion International. She shared on some personal experiences she'd had and urged the audience to sponsor a child if they hadn't already. Natalie LaRue joined her to talk about her experiences with Compassion. Then, following their talk, there was a 10 to 15 minute break which allowed people to sponsor a child if they'd like and for the bands to take a break. It wasn't very long before the lights dimmed again and the instrumental "Intro" sounded again and RSJ and Fuse Box began playing "For the Love of God." Rebecca opened her heart once again with her song "Wait for Me," which she wrote to her future, unknown husband. In the song, she urges for him to stay pure for her but that if he has made mistakes, it's OK with God's forgiveness. She also urged the audience to remain pure as well, and if they haven't, that they can have a second chance in Him. After "Wait for Me," she told the story that she was told of a Christian girl who had been living a seemingly double life. She would profess to be a Christian, but then go out, party, cuss, get drunk, etc... When the girl was confronted about this lifestyle, she claimed that she was just showing nonChristians that we weren't that much different from them. Rebecca strongly urged the audience that she was wrong and we are different and are meant to be different. She then quoted a saying she had heard that "if you're not going to live like a Christian or act like a Christian, then don't tell them you're a Christian!"
Before the band proceeded to play "Pray," RSJ introduced her brothers and her backup band Fuse Box. During "Pray," Tree's lead singer John Ellis joined Rebecca for a sort-of duet. And following "Pray," the lights fell solely on Rebecca as she delivered an excellent a capella rendition of her "Psalm 139." She then stopped the music to share another story with the audience. This time, she told a story to help explain the great sacrifice Christ willingly made for us. She then sang her Columbine-inspired "Yes, I believe in God" before inviting those who want to accept Christ to come forward as well as those who want to rededicate themselves. After those who came forward left the auditorium to join instructors to talk to them, Rebecca lead the crowd in worship with "Come Let Us Adore Him," her song "God," and ended with "We Exalt Thee."
Rebecca's show is an experience unlike most in music today. This young woman has a lot to share with her peers (and non-peers alike) around the world. I found her songs and messages very inspiring and the evening was a very positive and uplifting experience. If Rebecca and her crew come around your area anytime soon, I strongly suggest catching her live show. You'll surely be glad you did.
-written by
John
Concert Photo Gallery
click on an image for a bigger size
Fuse Box
Tree63
LaRue
Rebecca St. James
*all photos by
John
and are the property of
Jesusfreakhideout.com