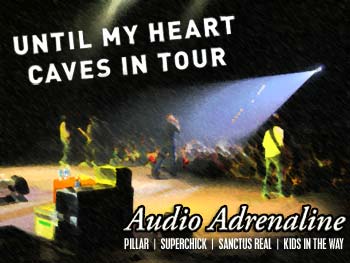 Audio Adrenaline, Pillar, Superchick, Sanctus Real, Kids In The Way
10/6/05, at Lancaster Bible Church, Manheim, PA
March delivered our first experience of a show at Lancaster Bible Church in Manheim, PA. While the experience was mixed, I came away with a distinct, lasting impression -- a long lasting ringing in my ears. I've been going to concerts quite regularly for about eleven years now and I think I can honestly say Lancaster Bible Church seems to have some of the worst acoustics. Sure, addressing this in the first paragraph could be bold and maybe even getting ahead of myself, but when you're attending a concert, and the music is so loud it's causing immense pain to your body, there's a very good chance the music is mixed too loud. This not only causes damage to our most treasured Godly gift of hearing, but it hurts the quality of the music being broadcast from the stage. And let me tell you, this tour indeed offers some quality music.
LBC beefs aside (just bring ear plugs), Christian rock vets Audio Adrenaline have released their eighth studio album this Summer and have launched a major tour in support of it. And of course this puts me in jeopardy of dating myself to say this, but my first real concert was an Audio Adrenaline show in October of 1994. This is a band who is one of the hardest working and ministry-driven teams in the industry today, coming so far and having proven that they've got immense staying power... in spades. While some promising acts fizzle after one record, AudioA is touring their eighth studio project, and there is something to be said about that. Over the years, the band has displayed some changes in personnel, style, and live show, but their heart for Jesus remains the same and the guarantee that you will see one really good live rock show is a given. This band indeed holds some sentimental value in my life since they were my first show, but seeing them live twenty-four more times later, I can definitely say they've survived the test of time. And even though the rigorous touring and high energy performances have taken a toll on lead vocalist Mark Stuart's beloved voice, one thing will forever remain the same -- he's one of the best frontmen in the business, and an irreplaceable one at that. From where fellow JfH staffer Kevin and I were stationed most of the evening backstage, we could for once really see head-on how the crowds were receiving the bands and Stuart held their attention even when all he was doing was rhythmically beating a tambourine.
But with my reflections on one of my favorites established, on with the show! The diverse rock-driven tour lineup had a little something for just about everyone. Getting off to a bold start with Flicker Records recording artist Kids In The Way right around 7:30pm, the night was ablaze. Displaying what is nothing short of a unique emocore sound (thanks to Dave Pelsue's signature vocals) with a dash of hook, the band tore into their set immediately with the pounding "Apparitions Of Melody." While I'm sure many parents were double-checking their tickets to make sure they were in the right place, or just seeking refuge outside the church sanctuary doors within the building's own coffee shop, KITW is a band for the youth. And with them offering such a bold message of faith to the crowd, those turned off need not fret too much. Proceeding with "Breaking The Legs Of Sheep," "Safety In The Darkness," and closing with "The Seeds We've Sown," their short fifteen minute set was just a tease for fans (No "Head Over Heels?" No "This Could Be The Song That Will Change Your Heart?"), but adequate to whet the appetites of potential new ones.
After an impressively brief set change, Ohio-natives Sanctus Real took the stage. Now, if you're thinking it may seem a little weird (and perhaps unfair?) for a talented pop/rock band to follow an act like Kids In The Way, I'd have to agree. Sanctus Real is a solid and promising rock band, but an unlikely match for the down and dirty edge that KITW offers. Nonetheless, Sanctus delivered as usual, opening with the catchy "Closer" and continuing on with "The Fight Song" and a brand new cut from their pending April, 2006 release, "Trying." Although slightly longer, SR's set seemed to fly right by as they closed with "Alone," "All I Want," and the beautifully delivered worship original "Everything About You." Their straight-forward and inviting set was a highlight of the night. And I must say that in the whole of the evening, Sanctus Real's placement among the other bands worked. InPop's Superchick only added to the diversity of the artists. And for the girls who survived Kids to get to Superchick, there were probably just as many guys who would be willing to grin and bear Superchick to get to Pillar. So I guess it all works out.
The female-fronted garage rock band Superchick puts on a show like a high school pep rally that you would actually enjoy attending. While most of their songs are not only catchy and fun, they often aim right for young people's hearts and strike them dead-on. Opening with the aptly titled "Anthem," the band set the tone for the evening. "One Girl Revolution" and "Pure" followed, with the powerful "Hero" really making an impact. At one point, bassist Matt Daly paced the stage nearly shouting rap verses at the crowd, ending his rhythmic rant by standing on a step in the middle of the stage and rallying the audience. Vocalist Tricia Brock paused after the song to share from her heart on how their latest record Beauty From Pain had been born out of some tougher times. With that, they closed with the sensitive "Suddenly" and moderately monotonous "It's On."
A longer set change took place as the evening began to climax for the final two acts. As Superchick left the stage, the packed crowd began to chant the name "Pillar." Before long, the mostly long-haired rock band started off their set with "Holding On" and "Hypnotized." The audience was eating up the band's engaging set, as they continued on with their popular U2 cover "Sunday Bloody Sunday," "Simply," "Further From Myself" and "Bring Me Down." One highlight of their set included a moment where Kids In The Way's vocalist Dave Pelsue emerged to join Pillar's Rob Beckley for "Sunday Bloody Sunday." A healthy mix of popular newer tunes, the band introduced a brand new song entitled "Our Escape" to be from their Summer, 2006 release. The song was well-received and was just a taste of what will be new musical territory for the band. The call to arms of "Frontline" preceded the closing hit "Fireproof," and the band exited.
I had the pleasure of talking to a couple of the AudioA guys before the evening's headlining set, which helped add to the meaningfulness of the evening. The excitement was building for the night's final act at about 9:50pm (which seemed considerably late for a weeknight show) as the stage crew rushed around to prep for Audio Adrenaline. A gigantic white sheet soon displayed the band members' silhouettes as their show began. When the opener "Clap Your Hands" was in full swing, the curtain dropped to reveal the rock quartet (quintet if you count their live show help, guitarist Brian Whitman). Up until the release of their new record, the band had been mostly playing the same set for quite some time. And since I've made it a point to catch their show when they come to my general area, I'd heard the same set a lot. With all the material they have at their fingertips from over the years, it must be difficult to continually try to squeeze new songs into an already tight set list. So with a newly refreshed list of songs for their show, the performance seemed to take on a new life. "Worldwide One," which served as the lead-off song on their last tour followed "Clap Your Hands," with "Mighty Good Leader" not far behind. And just like any band who has written a hit that will most likely never be forgotten (Jars Of Clay's "Flood" and dc Talk's "Jesus Freak" come into mind at the moment), the band launched into "Big House." Lead singer Mark Stuart waded into the crowd at one point to select someone to help sing along and finish the song out, prompting him to return to the stage as the band moved into the title track from their new album Until My Heart Caves In. One thing that must be stated about the new songs from AudioA is that they play extremely well live. There's a sonic, rich sound to the newer songs that just translates so well before a live audience.
Immediately following "Until My Heart..." came the anthemic missions-inspired song "Hands and Feet." They slowed things down a bit, bathing the stage and audience in a blue light for the reflective "Ocean Floor." Whitman filled in for Stuart on the second verse of the song, allowing him to take a break for a bit. Upon finishing the song, original bassist Will McGinniss shared a heartfelt encouraging word with the audience about moving past our sins and being cherished by our Heavenly Father, which served as a perfect lead-in for "Starting Over." On their previous tours since the release of Worldwide, "Leaving 99" was inserted here, but it was nice to hear something new. And considering how both of these songs are sung entirely by guitarist Tyler Burkum, it felt like it flowed just fine. The lights dimmed between songs as the foursome prepared to refuel the show with an edgier rock tune. Their classic rock staple "We're A Band," from their 1993 album Don't Censor Me, is always a welcomed moment in an Audio Adrenaline show. Another Burkum vehicle, "Melody (Lost Inside The Wonder)" followed, which gave Stuart a chance to remain on stage, but recede a bit into the background as he played the tambourine. "Melody" became a nice worshipful moment in the set, and I was glad they'd included it. "Beautiful" seemed a strange choice to follow, however, but is always a fun song for the band to play live as they continue to invite fans on stage to jump around and sing along with them everytime. Their popular pop/rock hit from Underdog, "Get Down," kept the energy level high well into the closer of the famous "Your Love Keeps Lifting Me Higher." A song I've loved ever since I heard it in the film Ghostbusters 2 as a little kid, AudioA performed it extremely well as more of a worshipful song than it was originally intended for. The band left the stage at that point and hung back briefly before their encore. Drummer Ben Cissell stepped out first and up to the front of the stage to encourage the audience to check out their Hands & Feet Project ministry in Haiti. Audio Adrenaline then collectively closed with their original worship song, and first single from Until My Heart Caves In, "King." They ended the song in an a cappella fashion which gave it a strong and powerful finish.
The Until My Heart Caves In Tour was definitely one of the best tours I've seen this year. With a lineup that gives the audience a little something for everyone and then some, you can't go wrong. If you can get a chance to see the tour, definitely go and take a friend or two. It'll be an evening of music you won't soon forget.
--
John DiBiase
, 10/8/05
Until My Heart Caves In Tour 2005 Photo Gallery
click on an image for a bigger size
Kids In The Way
Sanctus Real
Superchic[k]
Pillar
Audio Adrenaline
*all photos by
John DiBiase
or Jon Gerlach, and are the property of
Jesusfreakhideout.com