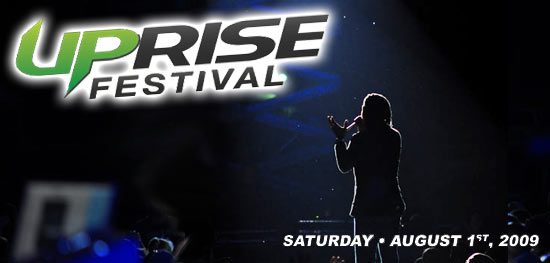 Uprise Festival
8/1/09, Shippensburg Fair Grounds in Shippensburg, PA
Uprise Festival marks the first year for Vertical Festival's new name change and date change (Vertical Fest has always been in September, Uprise moved it to August). Last year, the festival split the main stage in half to allow for "two stages," but the end result was a bit messy and not as organized as it could have been. This year, all was made well with a tighter, more streamlined schedule, a fair mix of talent, and lots of activities for music lovers and non alike.
2008 was our first year experiencing Vertical Fest, so Uprise represents our second consecutive year. It amazes me how many activities and music are featured throughout the day at the festival. For instance, an entire second side stage was set at the other end of the Shippensburg Fair Grounds for a slew of indie acts to perform during the day. For the kids, there were karaoke opportunities and inflatable games, while other activities included a video game lounge (where we spotted a group of kids playing Halo on big screen TVs), a climbing wall, skatepark, and volleyball. And if you got hungry, Starbucks was present offering FREE coffee, Turkey Hill was handing out free ice cream cups, there was a giant community free ice cream sundae, and Rita's Italian Ice was even giving away free treats. In addition to the free goodies, there were several vendors offering real food, including incredible pretzel braids and various flavored smoothies (can you tell which we ate most this year?).
This year's event started a bit earlier than last year's, so making it to the Fair Grounds in time for the first act at 10AM was bit difficult considering we had a two-plus hour drive (not to mention I'm not really a morning person). We got there while the local act, Ryan Payne Band, was reprising their appearance from last year, offering some worship covers for the festival crowd. It was sometime around 11PM that we arrived, and luckily for us, the schedule was only running about 10 minutes late, so we weren't too late to get situated and ready for the opening national act, Forefront Records pop punk band Philmont. The four piece opened with "Photosynthetic," and unfortunately experienced tech issues right from the start. Vocalist/guitarist Scotty McTaube took a moment to apologize to the audience and ask for understanding as they paused to fix the issues. Before long, they were all ready to go and broke into "The Difference." Their energizing set was a nice way to get the ball rolling for Uprise.
Manic Drive was next, bringing their rap/rock brand to the stage. The Canadian trio has always been reliable for an energetic and entertaining show, but it's clearly an acquired taste. Brothers Shawn and Michael Cavallo have served as the true faces of the group since their days as an indie act called One Cross, and both were not swayed by the intense August heat from wearing full suits on stage. Among tracks from their catalog of music, they performed the rather cheesy "New York City Gangsters," complete with goofy pre-recorded intros. It's clear the guys want to keep things lighthearted and fun, especially when, after the song "Closer," they utilized a pair of inflated "wacky wavers" via air jets on stage with them. It didn't really fit their persona, and seemed to only confuse the crowd. The heat of the Summer sun kept most of the audience anywhere but standing directly in front of the stage for most of the day at Uprise, as many folks had brought lawn chairs and sought more shaded cover to soak in the afternoon music. Following Manic Drive's performance, there was a significant stylistic change as Canada handed the baton over to Nashville for Jonny Diaz's acoustic set.
Jonny Diaz is probably the newest signed artist on the event's roster. Having released his INO Records debut earlier this year, More Beautiful You, Diaz has picked up some steam with the success of the album's title track at radio. His stripped down and personal acoustic performance was refreshing. After opening with a worshipful song, he introduced himself and played the delightfully amusing bonus track from his debut, "The Opener" - an ode to unknown newcomers that get placed before the headliners people come to see. He continued with an older indie track, "Sarah Jo," before returning to a newer cut, "Love Like You Loved," and closing with "More Beautiful You."
Former Flicker Records rock band Wavorly followed Diaz somewhere around 2pm. They soundchecked for a bit before opening with a brand new song from an upcoming 2010 album release. "Endless Day" and "Forgive and Forget" from their 2007 debut, Conquering The Fear Of Flight were next, with their first ever attempt to cover a song live following with their version of John Farnham's "You're The Voice" (which I'd first heard when Rebecca St. James covered it for her God album in 1996). They did a fairly good job with the track and then offered up another brand new song, entitled "Alone." Vocalist Dave Stovall paused to encourage the audience to support ministries like Compassion International and TOMS Shoes before closing with their worshipful ballad, "Praise & Adore (Some Live Without It)." There was a break for the "Breakout Sessions" sometime around 3PM for several different speaker engagements. We took this time to hang with some friends and grab a bite to eat (pretzel braids!!). Phil Wickham lead worship with his acoustic alone afterwards, and we caught the tail end of his set with his song "True Love" prior to the next act.
R&B/hip-hop trio Group 1 Crew stepped up next for a soundcheck and then soon opened with "iContact." As they moved into "Let It Roll," someone ushered Red Robin's suited robin mascot onto the stage to dance behind the Orlando natives. It was pretty amusing (even if it didn't look like G1C were warned this would happen!). "No Plan B" followed, but at this point, we needed to try to meet up with a couple of the Newsboys for an interview we had been attempting to orchestrate for most of the afternoon. During Group 1's set, Michael Tait and Duncan Phillips were answering a brief question and answer session with the youth leaders present at the festival. We made our way over there to meet up with them, only then having to travel back to the stage area to meet them there. After the interview, we emerged to find Group 1's set had concluded and Jonny Diaz was back on stage leading a worship set to prepare the audience for speaker Bob Lenz's message. Bob told an emotional and inspiring message about his family and how he came to know Christ, and encouraged the audience to get to know Jesus on a personal level.
After Lenz' message, The Afters did a soundcheck to get everything set for the evening's first major performance slot. When everything was good to go and they got the go-ahead, the foursome opened with a brief "We Are The Sound" intro that went right into the title track from their latest record, Never Going Back To OK. "Tonight" was next, followed by a cover song where frontman Josh Havens hopped off the stage and leaned over the barrier into the audience to encourage some crowd participation. Havens then returned to the stage and told the unique true story behind their catchy pop single, "Myspace Girl." The piano-enhanced "Keeping Me Alive" was next, followed by Havens sharing the heartbreaking story of a "picture perfect" family that divorced after thirty years, which inspired the forthcoming ballad, "Ocean Wide." Josh then took the time to explain that the band had been through an especially trying six months with the loss of their manager and friend to cancer, their drummer Jordan's friend dying suddenly (bassist Ron McClelland of StorySide:B), and an assortment of other struggles and tests. With that, The Afters surprisingly launched into a trilogy of worship covers, starting with "How Great Is Our God," and moving along into Bluetree's "God Of This City," and finally, "Mighty To Save." Before exiting the stage, they inevitably performed their smash hit "Beautiful Love," which garnered a fair amount of enthusiasm from the audience. While I understand the reasoning for performing familiar worship covers for the audience to participate with, I was disappointed they didn't play more of their own material. Their debut album, I Wish We All Could Win, had a good number of worshipful songs on there to choose from, so it would have been great to hear them perform a few of those instead. Still, The Afters remained a highlight of Uprise.
When they were done, the stage was cleared to make way for the headlining act. To my surprise, before launching into the Newsboys' set, all four members walked out on stage to formally introduce Michael Tait as the band's longtime friend and official new lead singer. The crowd cheered with acceptance, and with that, the band members assumed their spots on stage and opened with "Something Beautiful." I had last seen the Newsboys perform on March 1st in Bethlehem, PA, about a week prior to the drama of Peter leaving and Michael taking his place had begun to unfold. As a Newsboys fan since 1994's album Going Public and a dc Talk fan since about that same time with having been a late bloomer to the Free At Last era, it's been hard to digest such a marriage as Michael Tait and the Newsboys. But after talking with them earlier in the afternoon about this shift, I was all the more excited and looking forward to seeing how in the world all of this would work.
Naturally, it's weird to hear songs originally sung by a blatantly Australian vocalist now being sung by a soulful artist like Michael Tait. But with guitarist Jody Davis, keyboardist Jeff Frankenstein, and drummer Duncan Phillips all still in place to back up Tait, it oddly felt like the Newsboys still somehow. Peter Furler had spent over a decade becoming the face of the Newsboys as many of the members (except for Phillips and Frankenstein) had started to come and go -- with rotating positions after a period when Jody Davis left guitar, and then bassist Phil Joel stepping down a couple years ago as well. But this isn't the first time Newsboys have switched lead singers. Back around '97, '98, original Newsboys vocalist John James exited for Furler to step out from behind the drums to take over. But now, with both original band members no longer in the picture (except Furler remains behind the scenes to help write new material), Tait is a fairly big change from having vocalists with similar voices and Australian accents. Still, Michael Tait is an incredible performer and vocalist. As he danced and sang his way through "Wherever We Go" and "The Way We Roll," it felt like he was born for this role. I've seen Tait live before in dc Talk, where he shared the spotlight with TobyMac and Kevin Max, and then solo with Tait band, and he has always been a strong vocalist with a good stage presence, but being a Newsboys front man just seemed to suit him exceptionally well. After just a few songs, I'd been sold. Tait as the Newsboys new singer works... even if it never stopped feeling kind of odd!
For the past several years, at least since Newsboys began performing their Adoration album, they've had Matt Redman's "Blessed Be Your Name" in their set night after night. While I'm more than ready for them to trade it in for an actual Newsboys song, it's become quite the set staple for the band. But that song has always been one of Furler's signature moments where the band would extend the song for about 10 minutes to allow Furler to share an encouraging word with the audience. Tonight's wasn't much different as Tait did the exact same thing. Only this time, it was something unique from Tait's heart instead of the same thing Furler would say each time they played it. They changed things up a bit and performed "Glorious," a track from their new album In The Hands Of God, and then continued with "He Reigns." At this point, the band relocated down their catwalk to the "B Stage," where - as done previously with Furler - they would reminisce over the past decades and play fan favorites. Except, this time it was something much, much different. Tait talked about his time with dc Talk and touring with the Newsboys and getting to know them as brothers, and mentioned Newsboys favorites like "Not Ashamed" and "Shine" (and sang portions of both too, of course). But unlike at previous Newsboys shows, Tait began talking about dc Talk and his favorites of theirs and then performed a little portion of "Colored People," followed by "My Will." Then, like before, they played a longer portion of "Amazing Love," before doing some of "Turn Your Eyes Upon Jesus" as they walked back to the main stage. The Newsboys then launched into dc Talk's rendition of Charlie Peacock's original "In The Light" before returning to the Newsboys catalog with "Dance" from their most recent release (and which seemed like a great fit for Tait). To everyone's surprise -- and to many fans' glee -- they performed "Breakfast" next... which honestly seemed most bizarre out of any song they played that night to have Tait sing, but it was still a treat to hear. Tait introduced the band (which was fun) and then closed with the worship cover, "I Am Free." Tait was very interactive with their audience throughout their set, encouraging audience members to sing along, and often gave high fives to the enthusiastic fans. With the close of "I Am Free," the guys left the stage to a crowd screaming for "one more song." Before long, Tait emerged with the guys once again and said, "I must have learned about seventeen Newsboys songs when I joined the band... but I also taught them one of mine..." and as the crowd roared -- and I can't believe I'm even writing this statement -- the Newsboys broke into dc Talk's "Jesus Freak." With Tait at the helm, they did a fantastic job covering it (although no one will ever be able to play it as amazingly as dc Talk themselves), offering one of the best covers I've heard of the song. With its finish, the foursome bowed and left the stage, bringing Uprise Festival to a close.
Uprise Festival turned in a strong year this year, securing itself as one of the Summer's best one-day festivals to attend. As the fest continues to fine-tune and deliver a diverse lineup up quality music and talent new and old, I can honestly say that I look forward to many more installments of Uprise Festival!
--
John DiBiase
, 8/2/09
Uprise Fest 2009 Saturday Photo Gallery
click on an image for a bigger size
**Uprise images cropped for thumbnails**
Philmont
Manic Drive
Jonny Diaz
Tyree Sterling
Wavorly
Phil Wickham
Group 1 Crew
Bob Lenz
The Afters
Newsboys
*all photos by
John DiBiase
and are the property of
Jesusfreakhideout.com