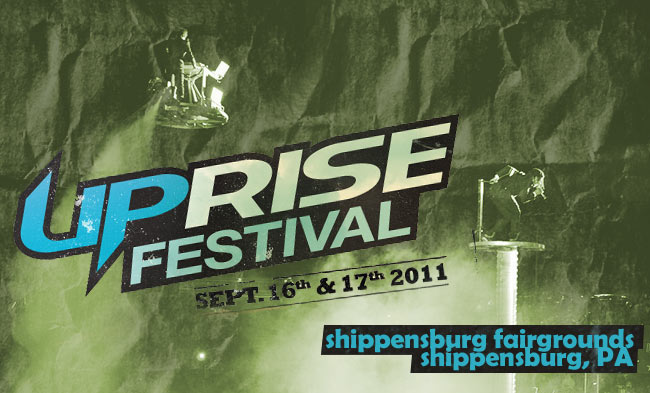 Uprise Festival 2011
9/16 - 9/17/11, at Shippensburg Fair Grounds in Shippensburg, PA
FRIDAY
Shippensburg, PA's Uprise Festival is slowly becoming one of the late-summer's coolest festivals. While not without its share of issues this year, Uprise still offers some of the best names in Christian pop and rock presented within a family friendly environment with plenty of activities for folks of all ages. From inflatable games to an art gallery tent to a large merch pavilion and lots of food vendors to choose from (not to mention FREE Starbucks coffee and RockStar energy drinks!), there's a bit of something for everyone at Uprise Festival.
This was the first year JFH had a table set up at Uprise, so we arrived on the early side on Friday to get everything ready for when the gates opened. This was also the very first year Uprise was two days long, launching its first ever Friday night portion of the fest. Unfortunately, it rained heavily the night before on Thursday, and when we arrived, Main Stage still wasn't fully built yet. This problem made it impossible for bands to soundcheck early enough and delayed the festival start by about two hours. Reilly was scheduled for 6:15, but I believe it was closer to 8 by the time they were able to open for Uprise. Afterwards, after the sun had descended, INO rock band Decyfer Down took over to deliver their brand of hard rock for the Shippensburg audience. With the delays, most sets were cut shorter, except for headliner Skillet who was allowed to play their full set. Decyfer's show was warmly received, and front man TJ Harris talked briefly about a new album the band is working on. Among selections from both of the band's releases (with and without TJ as vocalist), they performed "Fading" and closed with "Ride With Me."
Speaker Tony Nolan still had some time to share a message with the audience before Fireflight's shortened rock set launched. Displaying new drummer Adam McMillion (from Search The City), the fivesome was more than prepped and ready to deliver. Appropriately, they opened with the title track from their third record, For Those Who Wait and continued with the anthemic "Stand Up" from Unbreakable. It's amazing how a seemingly little change like a new drummer could add to the on-stage energy, but McMillion's animalistic drumming skills really beefed up the band's set. Dawn Michele was as engaging a vocalist as ever as they entered into "Fire In My Eyes" and "Desperate" from For Those Who Wait. Dawn then took a moment to talk anout contentment and doing all things through Christ's strength before aptly playing "What I've Overcome." To wrap up their set, they amped things up again for "You Gave Me A Promise" and then closed with their biggest hit to date, "Unbreakable."
After an extended set change, hard rock sensation Skillet soon ignited the stage (quite literally) in a blaze of pyro as they opened their memorable set with "Whispers In The Dark" from their career-defining album, Comatose. "Better Than Drugs" followed, and then the band hit the audience with one of their most popular songs right now, "Hero," complete with pyro throughout. Their stage setup had grown a bit, too, since I'd last seen them a year ago. The drums were perched upon their own unique platform that would later reveal just how unique they are. It was a nice change from their usual stage display and it made their show feel even bigger. Korey Cooper used a computerized vocal effect as the intro to "Comatose," and frontman John Cooper followed the song with a bold and inspiring speech about not being ashamed of Jesus. He used it as an appropriate segue into "Awake and Alive," which also featured pyro. At this point, Jen Ledger's drum set slowly slid forward into the middle of the stage and rose up into the air. It was a cool effect and a nice tough. The catchy "Those Nights" followed, which is always a crowd favorite, and Cooper did his usual filming of the audience to later post on YouTube. Cooper then talked again, this time declaring Jesus as his biggest hero, and explained the meaning behind their song "The Last Night," before performing the rock ballad. Afterwards, Ledger's drum set rose again and spun around (a la Newsboys) for a cool drum solo, before it returned to its place on stage and the band broke out in "Savior," from Collide. During this song, Skillet made full use of the catwalk as everyone (sans Ledger) took their place out in the audience on the catwalk. The emotional ballad "Lucy" followed, and then the stage went dark again, with only the creepy image of a monstrous face being illuminated. Cooper appeared amidst the beast to perform the fan favorite "Monster." The theatrics were pretty over the top, but it made for an impressive visual. The string section performed dual solos to precede the evening's finale, "Rebirthing." It was a good mix of some of the band's most popular recent hits, as they returned to performing more songs from Comatose and only the highlights from Awake. I'm still eager to see where they go next.
SATURDAY
We sought lodging overnight nearby in Chambersburg, PA and returned early the next day for a full day of performances and activities at Uprise 2011. Sadly, delays ran amuck once again. While they did try to make up the lost time, sets did have to get cut short once again. The upside to the delays is it cushioned what was otherwise a pretty loaded day of performances, but it also caused some shows to conflict with each other that otherwise wouldn't have if things had stuck to the schedule. Chasen was set to perform at 11:00, but I don't think they got rolling until later. BEC Recordings worship band The Museum was scheduled for 45 minutes later, and put on a decent modern worship set. At noon, indie folk band The Vespers performed an enchanting set on the RockStar stage. As sort of a more folk and bluegrass-based, stripped-down version of Eisley, their set was a nice midday surprise. Chris August's 12:35 Main Stage set was delayed a full thirty minutes. He opened with "You and I" and continued with "Loving You Is Easy" (complete with a humorous disclaimer), and then "Battle" before I returned to our merch table. Manafest's 1:05 set at RockStar had been cancelled due to his inability to attend, but KJ-52 followed August, while celtic punk rock band Flatfoot 56 drew a nice crowd at RockStar Stage (including a few of the Hawk Nelson boys). I caught Flatfoot performing "I Believe" along with a fun rendition of the hymn "I'll Fly Away" before catching a few minutes of KJ as he performed "Firestarter," his ode to the drink Mountain Dew, "Swagged Out With Tags Out" and "Tweezy Dance" (the latter two of which are both from his latest record, Five-Two Television). He also performed his mix of 90s tunes, which he seems to perform at most shows these days, but I would have preferred to hear more of his own songs from his vast catalog of music.
While Sidewalk Prophets were scheduled to perform at Main, I caught some lunch and the last half of Ivoryline's standout performance at the Wired Stage. The audience was thin for this show, which is truly disappointing because these guys put on one of the most passionate rock performances I'd seen in awhile. It seems less and less "popular" to mix spiritually charged messages with real rock music unless it's straight-up worship music (which is seldom "rock music"), and Ivoryline is a very refreshing act to find. By the time their set closed with "Made From Dust" from their most recent album, Vessels, the worshipful heart was intoxicating and infectious. It was difficult not to get drawn in by the band's display. But when I arrived during their set, they performed "Hearts and Minds" from their debut Like A Lion, followed by another older track, "Be Still and Breathe." I hadn't gotten into the band's music until Vessels, so I was pretty anxious to hear them get to the newer songs. At this point in the set, vocalist Jeremy Gray took a moment to speak against sex trafficking and urge people to support a ministry that the band supports called Red Thread Movement, in which buying handmade bracelets by victims of trafficking would help support the cause. "The Healing," from Vessels, was next, followed by "The Greatest Love" and the emotional closer "Made From Dust." If you have a chance to catch these guys live sometime, definitely go out and support them.
What was interesting about Emery's set over at RockStar Stage, which is where I headed soon after Ivoryline's show ended, was that vocalist Toby Morrell was absent from this show due to his wife having a baby. Substituting for vocal duties was former band member Devin Shelton, who had left the band before their most recent album We Do What We Want was recorded. Because of that, it was kind of cool to see and hear Devin perform songs he once sung on -- and songs he never has sung before in his life. While it must have been disappointing for some fans who were hoping to see Morrell perform, it was a really cool treat to have Shelton back in the saddle. When I got there, the band was performing "The Smile, The Face," and followed it with "The Butcher's Mouth," both of which were from In Shallow Seas We Sail. Afterwards, Shelton talked about the band's new album and how he wasn't on it but liked the songs. It was neat to hear him talk about the record from an outside perspective. He then introduced one of the new tracks, "Scissors," and performed it in Morrell's place. I then left and headed back over to Main where Remedy Drive was supposed to be playing, but their set was still delayed when I got there. And after some waiting around (which was frustrating because I knew I could be spending that time a bit more wisely - like watching more of Emery or manning our merch table), the Remedy Drive boys were all ready to go. Opening with "Stand Up" from their debut Daylight Is Coming, the foursome got off to an energetic start. "Something Made To Last," also from their debut, was next before they moved into a brand new, unreleased song called "Resuscitate Me." It's a cool song that makes me eager to hear what else may be coming from them soon. Their hit piano ballad "All Along" followed, for which vocalist David Zach sat behind the keys. "Don't Wait Too Long," from their 2011 independently released EP Light Makes A Way was next, followed by "Heartbeat" and another unreleased new song, "Make It Bright." The pop rock quartet then closed with the title track from their national debut, "Daylight."
Before Remedy was totally finished, I made my way over to the RockStar Stage to catch what was left of Project 86's 4:30 performance. Again, their set should not have conflicted with anyone else I'd wanted to see at their time, but the Main Stage delays pushed back Remedy Drive and I didn't want to miss them. Since Project 86 had just performed at Purple Door a month earlier, I decided the logical choice was to miss some of their show. When I arrived, they were finishing up "Last Meal." I'd assumed they would perform the same exact set as they had at Purple Door, especially since their shows have been pretty similar this year in support of their new live album, 15. However, I was surprised that the guys broke into the ominous anti-porn track, "P.S." from their 2000 release Drawing Black Lines. It's a powerful song and a nice addition to their set. Unfortunately, it didn't seem like the Uprise audience felt the same way. While some of the audience were clearly into Project's show, the audience was surprisingly on the smaller side and some people just sort of stood there and stared. "Evil (A Chorus of Resistance)" was a nice follow-up, and front man Andrew Schwab did his best to get the crowd moving. "Safe Haven" was next and then Schwab stopped to really encourage the audience to support the ministry MochaClub. It's great to see him share his heart from the stage, and he made it apparent that his recent venture into fatherhood had stirred up some passion to become a voice for this ministry. To close, they ripped into one of their most brutal rock tunes, and a personal favorite, "Sincerely, Ichabod."
By the time I got back to Main Stage, Superchick had already performed and Hawk Nelson's set was now in full swing. They were performing their Yours Mine and Ours (film) hit "Bring 'Em Out" before cutting the energy back for an acoustic set. With the sun beginning to set, it made for a cool vibe as they played "Everything You Ever Wanted" and "Take Me," both acoustically. It was somewhere around here that they were given a 5-minute warning to cut their set short, and vocalist Jason Dunn remarked that they still had a bunch of songs left. They proceeded to disregard the time slice and performed, in quick succession, "California," "Let's Dance," "Live Life Loud," and the title cut from their latest album, "Crazy Love." It was a fun and energetic performance and I'm kind of glad they didn't cut everything short despite the late schedule.
I traded Kutless' set to spend some time back at the JFH table and returned to the Main Stage area later to find that KJ was giving a message as the evening's speaker. When he was done, there was an extensive soundcheck (and a whole lot of standing around and waiting) as Jars of Clay didn't get to perform until 8:40, an hour later than their scheduled 7:35 spot. Their set was also cut short, only allowing them to play seven songs, which was unfortunate because it was one of the more fun sets of the day. The Jars guys opened with Long Fall... hit single "Two Hands" before bringing out some of their newer songs from The Shelter, including "Small Rebellions" and then the title track, which was especially powerful to hear amongst a sizable audience. Their career-defining hit "Flood" followed, and then a personal favorite, the rocker "Work" from Good Monsters. "Dead Man (Carry Me)" was a nice touch to follow it before they closed prematurely with the anthemic worship song, "We Will Follow" from Shelter. This actually made a nice segue into David Crowder*Band's worship set. I headed back to the table for a bit and returned to the stage to find the guys performing "Foreverandever Etc." It was surreal watching their show and knowing that this was David Crowder*Band's absolute last festival appearance (before their final tour this fall). The band's superior cover of John Mark McMillan's "How He Loves" was a great set addition before Crowder paused to remark on how cold the Pennsylvania night air was, which he wasn't used to being from Texas. They then broke into their "hodown" portion of their set with a boisterous performance of "I Saw The Light" and "I'll Fly Away." The upbeat praise anthems then continued with "Oh Happiness" and "O Praise Him," before the worship super group closed with the dancy "Sing Like The Saved."
One final set change ensued and this time, it was to prepare for the massive spectacle that is otherwise known as a Newsboys show. The Newsboys, for decades have been known for big performances, and as their era with Peter Furler wound down, they had begun to return to having shows with bigger production. When the transition was made over to having Michael Tait as the band's front man/vocalist, things were stripped back and kept pretty simple. It was all about the music once Tait was on board. But it didn't take long for the production to be amped up once again. Soon, platforms on large steel arms were used to lift guitarist Jody Davis and keyboardist Jeff Frankenstein into the air and over the crowd. But even before that, Tait was utilizing the "B Stage" ascending platform that Furler had been using previously for a drum solo, and Michael would fly back down to the stage while performing his previous band's anthem, "Jesus Freak." For this night, they didn't hold back. Frankenstein's and Davis's platforms were in full effect, along with Duncan Phillips's rotating drum kit. The Newsboys were fully adjusted as their newest version of themselves with Tait in place up front. The band opened with the rocker "Escape" from Born Again, and kept the newer tracks coming with "Way Beyond Myself" and "When The Boys Light Up." They then brought out "Something Beautiful," from Furler's era, which Tait has been singing since joining the band, followed by "He Reigns" which has also been a longtime fan favorite. In between those cuts, Duncan offered a signature drum solo, complete with spinning kit. "He Reigns" had ushered in the worship portion of their set, and Tait followed it with a wonderful and chilling acapella version of "Turn Your Eyes Upon Jesus" (a classic Newsboys cover), before merging it with "Mighty To Save," which was featured on Born Again and will be recycled for their upcoming worship album God's Not Dead (it would have been cooler if they had just played a new cut from that instead, though. "Might To Save" is quite played out). Tait then took some time to share from his heart (which also included him gushing about the talent displayed at the festival earlier in the day, as he sat side-stage almost all day watching the different acts perform) before performing "Born Again," and then "Miracles" (which utilized the platforms). Frankenstein then cooked up a nice dance beat before Tait sang a pair of Newsboys classics, "Shine" and "Breakfast" (which still sound a little odd without an Aussie singer), before closing with band member introductions. At the end, the band exited, but soon returned for a two-song encore which included one of their newer songs from the re-release of Born Again, "Save Your Life," and then the dc Talk original, "Jesus Freak."
Uprise Festival 2011 did not go without its downsides and pitfalls due to the many delays that happened all weekend. I didn't feel as though it ruined my festival experience, but it was disappointing to see some of my favorite artists have shortened set times. Still, Uprise offered an impressive and diverse musical lineup and 2012 doesn't look to be any different. I'll just be crossing my fingers that they'll have the technical aspects ironed out to have 2012 running as smooth as possible. It's still quickly becoming one of my favorite festivals around. Hopefully we'll see you there! For more info on Uprise, check out www.uprisefest.com.
--
John DiBiase
, 10/14/11
Uprise Festival 2011 Photo Gallery
click on an image for a bigger size
**vertical images cropped for thumbnails**
Decyfer Down: Friday, Main Stage
Fireflight: Friday, Main Stage
Skillet: Friday, Main Stage
Chasen: Saturday, Main Stage
The Museum: Saturday, Main Stage
The Vespers: Saturday, RockStar Stage
Chris August: Saturday, Main Stage
Flatfoot 56: Saturday, Main Stage
KJ-52: Saturday, Main Stage
Ivoryline: Saturday, Wired Stage
Emery: Saturday, RockStar Stage
Remedy Drive: Saturday, Main Stage
Project 86: Saturday, RockStar Stage
Hawk Nelson: Saturday, Main Stage
Jars of Clay: Saturday, Main Stage
David Crowder*Band: Saturday, Main Stage
Newsboys: Saturday, Main Stage
*all photos by John DiBiase and are the property of Jesusfreakhideout.com