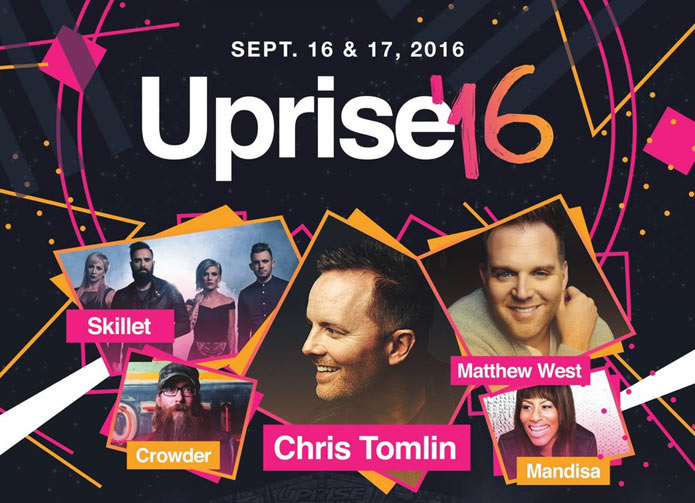 Uprise Festival 2016
9/16-17/16, at Shippensburg Fairgrounds in Shippensburg, PA
Uprise 2016 was a festival for the books. As I have been attending Uprise since 2009, it was an exciting opportunity for me to attend with JFH. Even with school in the way, I got to attend each day of the festival fully, seeing and covering most of the artists. These photos are some of my best work and I am very excited to share them!
Something very admirable about this year's festival was the extremely diverse lineup. Artists ranging from Chris Tomlin to RED, and even hip-hop artists such as KB and Social Club Misfits were present at Uprise Festival. The weather was absolutely gorgeous for a September festival in Pennsylvania. The sun was shining, there was a breeze throughout the fairgrounds, and a hum of good music was present all weekend.
Friday night was full of great artists, all varying in genres. The first act of the evening was KJ-52, and he started around 4:30. He, alongside his energetic DJ, opened the night with classic hit songs such as "Gameface" and "It's Going Down." The young adults of the crowd recognized these songs from their "good ole days" while young kids alike were vibing along to his music. KJ-52's lively performance set the mood for the rest of the festival- fast paced and full of excitement.
JJ Weeks Band was the next artist, which was a change in tempo from the previous set. They have a few hit singles that were popular around the time of the festival that they performed, gaining a good reaction from the crowd. Danny Gokey followed, with Mandisa coming on right after. Danny's set was short, but he did not disappoint. He had a set of about 7 songs, all of which kept the crowd engaged and singing along. Mandisa took things up a notch with her upbeat pop performance. If someone would have taken a glimpse at what was going on during her show that night, not knowing who Mandisa was, they might have mistaken it for a Zumba class. It was fast-paced for sure!
Matthew West, as one of the headliners for the night, came on a little later than scheduled after Mandisa. The transition between those two artists took a while, but that did not have an impact on the crowd. Looking out from the stage at all of the people who came to watch Matthew perform, I was amazed. There were grandparents sitting with their families, kids in the front row on parents' shoulders, and even teenagers singing with their friends. It truly showed how many people Matthew West's music appeals to. The set was about an hour long and was beyond impressive. During the song "Mended," the crowd was peppered with signs that said "MENDED" in red letters. People held up their phones using the flashlights, and the whole hill looked like a sea of lights illuminating the stage. The only break during his performance was when the crowd took a turn singing. For songs like "More" and "Forgiveness," the audience sang wholeheartedly, giving Matthew a chance to step back and enjoy his own little show. Matthew West is known for incorporating other peoples' stories into his music and even using it as a source of inspiration for his lyrics. That doesn't just stop at the music writing process, it carries into his performances as well. At one point in the set, a young girl named Brooke came up on stage to sing along to the song "Strong Enough." The eleven-year-old girl had been struggling with a form of cancer, and had always been inspired by that song. It was quite obvious that this moment and this song meant the world to her. Matthew's performance was full of hits and ended with a favorite among many, "Hello My Name Is."
In between Matthew West and Chris Tomlin, there was a speaker on the main stage. Cure International presented, a group that comes to Uprise Festival every year. Cure International is a nonprofit organization based in Pennsylvania. Their goal and main focus are to provide medical support to children who are suffering from neurological and orthopedic conditions. Every year, tons of people sponsor kids and make donations so that children in other countries are able to receive the medical attention that they need. Cure played a moving video on the big screens encouraging people to visit their tent throughout the weekend to get more information on how they could help.
Friday night came to a close with Chris Tomlin, which is pretty significant. This was the first time in Uprise history that he was on the lineup. Believe me when I say that the crowd was absolutely PACKED. The scheduled start time was 9:45, with Chris' set starting right around 10. For a festival such as Uprise, the demographic of people who attend is quite a wide range. I can't say I was surprised at the turnout for an artist as huge as Chris Tomlin, but the number of people that came out to hear his music was mind-blowing, to say the least. With many chart-topping albums as well as songs, it was guaranteed that everyone knew at least a handful of the songs he performed on Friday night. It wasn't a rock performance, or even an artist that appeals to every person, but wow! It was a powerful and engaging night. The set opened with hit songs "Our God" and "Whom Shall I Fear." It was pretty ironic that even though it was a worship concert, the crowd was singing along at a volume that would lead anyone to believe it was a rock show. People were dancing all around, including Tomlin himself. During the song "God's Great Dance Floor," Chris spent more time in the air jumping around than he did on the ground. The set was full of bright, flashing lights and loud drums, which just added to the excitement. The ability that he had to switch on a dime from an upbeat song to a worshipful, slow song is deserving of recognition. "Amazing Grace" was played with the chorus being repeated many, many times. You could truly feel Chris Tomlin's heart during that song--nothing but passion. His performance went on for over an hour, and came to a close with the song "Good Good Father." Overall, I think it was an awesome choice to have a worship artist be a headliner for the opening night. It was most definitely a success.
SATURDAY
Saturday was not only an incredibly long day, it was a day chock-full of artists. This year, there were four stages at Uprise; Artesian Well, Hip-hop, Rockstar, and the Main Stage. Starting at 10 am and going on past 10:30 pm, over 30 artists and bands performed throughout the day. To say that Saturday was busy would be an understatement. Myself, along with as I can imagine many others, struggled with deciding who to see at what time since many of the schedules overlapped. I often opted for the hip-hop stage since I am familiar with many of the people who performed there this year and was able to get phenomenal photos from that stage.
The first performance I caught of the day was pop rock band Finding Favour, who played on the main stage. Prior to Uprise, I had only heard one song of theirs, "Cast My Cares." Coincidentally, that is the song they closed with and that got the most reaction from the crowd. At this point in the day, around noon, the sun is hot and the bigger artists of the day hadn't started to come on. That showed at the turnout for the first few artists at the main stage. Overall, Finding Favour put on a good show, however, I think the sun and how early their set was had an impact on the turnout.
I took a trip over to the hip-hop stage around 12:30 and walked into Aaron Kolenc's performance. I am pretty familiar with most CHH (Christian Hip Hop) artists, but I had never heard of Aaron before his performance. The crowd was small and not many people knew the words to his songs, but he still managed to get the crowd jumping and interacting. He rapped songs off of his only EP, DNA.
Thi'sl was next up on the hip-hop stage and I was thoroughly impressed with how many of his die-hard fans came out to support him. Thi'sl had an album that released earlier in the year and performed a handful of songs off of it, such as "Real Live Forever" and "Redemption." A lot of his fans were gained through his guest appearances on songs from artists such as Trip Lee and Lecrae. I have nothing but kind things to say about Thi'sl. He not only put on a good show for everyone, but he took the time to make sure he met every single person that stuck around to meet him.
The Rockstar Stage ended up having a schedule that changed quite frequently. I was able to catch a few songs by the band Gideon. As always, the crowd at the Rockstar Stage was energetic, to say the least. Although I didn't recognize the band and wasn't able to recognize any of their songs, I saw many teenagers and young adults representing their merchandise throughout the weekend of the festival.
I made a trip back over to the main stage to watch Stars Go Dim perform. I saw this band for the first time at the Winter Jam earlier in the year and was just as impressed with their performance the second time around. As they are becoming a popular pop group in the Christian music scene, there were a good number of kids and teenagers surrounding the stage who were singing along to their songs. The lead member of the band, Chris Cleveland, was extremely energetic and shook hands with lots of people who were at the front of the stage. The band closed out their set with their hit, "You Are Loved."
Disciple was the next band to go on, this year performing on the main stage! Disciple is a band that has been on the Uprise lineup for many years in the past. However, they were usually featured on the Rockstar stage. Their set kicked off with "The Name," a song that they start as a ballad and end as a full-out rock song. It was pretty amazing to see thousands of fans in the crowd rocking out wholeheartedly in the afternoon sun amidst high temperatures. (But I suppose they did have the breeze from all of the head banging and hair flipping that took place.) Uprise is in September and Disciple had a record coming out in October, called Long Live The Rebels. They performed a song from the new album for the first time, called "Underdog Fight Song." The crowd went absolutely ballistic at the opportunity to hear an unreleased song. As someone who isn't too into the rock scene, I always enjoy watching Disciple put on a show. It's been neat seeing their progress and growth over the many years that they have been a part of Uprise Festival.
At this point in the day is where the hard decisions were made on which stage to go to. So many amazing artists performing at the same time- it's a struggle! I went back over to the hip-hop stage and watched Canon perform. Canon is a relatively new artist in the rap scene compared to veterans such as Lecrae and Sho Baraka. He performed a handful of popular songs, such as "Motivation" and "Take It All Away." Canon interacted with the crowd often and the fans absolutely loved it. The design of the hip-hop stage is unique in that it is almost level with the ground, giving fans and artists little to no barrier between each other. During Canon's performance, he definitely took advantage of that!
Up next on the hip-hop stage was a newly signed Reach Records artist, Gawvi. In the Christian rap industry, Gawvi is a huge influencer. He has worked on the production of numerous chart-topping songs for Andy Mineo, Trip Lee, and Lecrae. Gawvi had released two EP's within two months prior to Uprise, Lost in Hue and Holding Hue. During his set, he not only performed his own songs but songs he had produced for other rappers. Songs like "Late Nights" and "Manolo" had the crowd raging with enthusiasm. The stage was quite literally shaking from all of the bass and jumping around, so much so that his Macbook fell off of the stage while he was performing! (Oops!)
Immediately after Gawvi, the rap group Social Club Misfits took the stage. Social Club Misfits, formally known as just Social Club, is quite the interesting duo. Their motto and brand revolve around being different and accepting the term "misfit." Up until 2016, this group had been independent and were not signed to a label. However, they did sign to the extremely well-known Capitol CMG label in April of 2016. This was a bold move, and their fans all handled the change graciously. SCM is made up of two guys, Marty and Fern. They have produced albums together as well as independent pieces. During their performance, hit songs "Courage" and "Marriage Goals" were played. Fans did not stop jumping, and the energy throughout their set blew me away. Marty and Fern are two of the most authentic and genuine people in the Christian music industry, and I am so happy that they were able to perform at Uprise this year. Their friendliness and passion to get to know the people who support them always inspires me.
After seeing many sets at the hip-hop stage, I ventured back to the main stage just in time to watch Family Force 5. In case I would've gotten lost on my way there, I would've heard them from miles away due to their loud clothing. As always, the group was decked out in bold prints and neon colors. Out of all of the names on Christian festival lineups, I could swear to it that Family Force 5 draws the biggest crowds. It shocks me every single time! The whole hill was full of people gathering to watch their show. They performed "Wobble" and "Chainsaw," which had the crowd moving in sync, doing the dances along to the songs. Talk about a party! FF5 closed with "Cray Button," which I could tell from the crowd's reaction, is a widespread favorite. While Family Force 5 isn't necessarily my cup of tea, they do put on one heck of a show!
Back over to the hip-hop stage I went, this time to watch KB. Now I have only been following the CHH industry for 4 to 5 years, but in that period of time, my respect and love for KB has continuously grown. KB is another Reach Records artist who was also performing for the first time at Uprise Fest. He has put out 3 albums/EP's and they are all meticulously crafted records. To start out the set, he opened with classic songs off of his older albums. "Church Clap" and "Tear It Down" set the mood for the rest of the performance. Just a month prior to the festival, KB released a single titled "Tempo." This song is catchy and became popular almost instantly. The crowd, along with myself, was beyond ecstatic to hear "Tempo" performed so early after being released. His set was full of intense lasers and thick smoke, leaving nothing to be desired from the fans. KB's high level of energy is something to be admired--so much cardio and rapping all at once! One of KB's songs from his newest album features Mattie Montgomery, formerly of the band For Today. Since For Today was also playing at Uprise, they were able to perform the hit "I Believe" together on stage. Their mix of rock and rap together is one-of-a-kind and it was a truly phenomenal experience to see the song done live.
Given that KB was the last rapper of the night, I headed back over to the main stage. Crowder was the last entertainer of the day before the headliner went on. To say that Crowder is a single artist would be a complete lie. To see just how many people play in his band was insane and blew me away! There were people playing instruments I didn't even know existed. He opened up with songs "Lift Your Head Weary Sinner" and "I Am," both good choices to kick off his set. Throughout the night, banjos were strummed and feet were stomping. The mood of the performance varied between every song and I think that is something that kept the crowd hooked. One minute, "How He Loves" was being played and the next, everyone was dancing to "Run Devil Run." Crowder has a distinct sound, but I think most can appreciate and enjoy his show. With an entertaining performance, he was a surprisingly impressive opener for Skillet.
There usually is not a year of Uprise that goes by without Skillet performing at some point. For some people, it is almost expected to see them perform every year. To close out a two-day festival is quite the responsibility, but Skillet went above and beyond on Saturday night. While classic songs are always fun to see live, new music is even better. Skillet released their latest album, Unleashed in August, just over a month before their performance at Uprise. They opened with "Invincible," which had the crowd buzzing with excitement. Bright screens flashed behind all of the band members with lyrics and videos to go along with most of their songs. They also performed old fan-favorites such as "Hero" and "Those Nights." Jen Ledger, the band's iconic drummer, joined vocalist John Cooper at the front of the stage and sang a few songs with him. Jen is one of my all time favorite musicians; her voice is so unique and adds so much to Skillet's sound! John and Korey shared many moments rocking out together as well; John on bass and Korey on keys. This year their show used a lot of colorful lights and smoke, which made photographing their set so much fun! Skillet's special effects always coordinate with the mood of the song being played, that is one of many things that makes watching their shows so enjoyable. They closed out the festival around 10:15, leaving festival goers with a bright memory of pyrotechnics and good rock-n-roll. Skillet is one of the best bands in the business and their shows never disappoint.
I have been going to Uprise for 7 or 8 years and it still stands to be my favorite Christian music festival. Uprise 2016 did not disappoint to provide good memories and good music. The lineup is always stellar, providing an artist that appeals to anyone and everyone. The two days are jam-packed with wonderful music, and it is definitely an event that I will never miss.
For information on Uprise 2017, check out www.uprisefest.com!
--
Rebecca Fickel
Uprise 2016 Photo Gallery
click on an image for a bigger size
**vertical images cropped for thumbnails**
KJ-52
JJ Weeks Band
Danny Gokey
Mandisa
Matthew West
Chris Tomlin
Finding Favour
Aaron Kolenc
Disciple
Canon
Gawvi
Social Club Misfits
Family Force 5
KB
Crowder
Skillet
*all photos by Rebecca Fickel and are the property of the photographer and Jesusfreakhideout.com