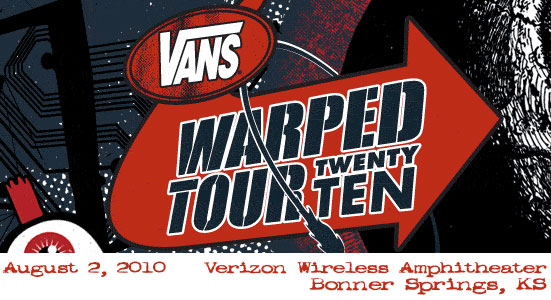 Vans Warped Tour 2010
8/2/10, at Verizon Wireless Amphitheater in Bonner Springs, KS
Amongst other things, summertime means awesome tours and music festivals. Of all of the staple festivals, Vans Warped Tour is considered to be one of the elites. It always features some of the top mainstream bands in the punk and metal genres and there's also usually a handful of Christian market bands that get the opportunity to play for mostly unchurched crowds. Family Force 5, The Classic Crime, Anberlin, Underoath and Maylene and the Sons of Disaster are just a few examples of Christian artists that have had spots on Warped Tour in years past. At the Bonner Springs, Kansas, stop of the 2010 Warped Tour, there were five Christian market artists present: Confide, Haste the Day, Poema, Flatfoot 56 and Deas Vail.
This was my first Warped Tour, as it's never really been something of interest for me in the past. However, this year, I was a part of the Tooth & Nail street team (yes, Tooth & Nail's presence was there, despite only two of its artists having a spot on the tour). Due to the street teaming, I didn't catch a lot of the action (nor did I have too much of an idea of what bands were playing when until later in the day). But I happened upon Confide's 11:00-ish set, coming in during their performance of "Now or Never" from their latest album, Recover. They were playing amazingly, with the crowd surprisingly riled up for such an early set. They finished the song and lead vocalist Ross Kenyon said "God bless you guys!" and that was it. So, sadly, I missed all of Confide's performance save for the last song. So, having to judge by that alone, Confide did a fantastic job at this year's Warped Tour. Unfortunately, Kansas in the summer isn't a prime time to have a completely outdoors event, as the sun beats down on anyone, causing exhaustion and near-dehydration to run rampant (especially with Sandstone Amphitheater charging four stinkin' dollars for a bottle of water or Gatorade - and that's not including the tip that all the vendors ask for... talk about highway robbery). So, walking around the amphitheater passing out fliers and trying to find other bands that caught my attention was more of a chore than it would usually be. As much as I hate being rained on, I was almost begging for the traditional Warped Tour downpour I've heard about for the last two summers. I came across a breast cancer awareness tent called the Girlz Garage. I remembered talking to Poema at a show a couple months prior, and remembered they were going to be playing the Girlz Garage, so I stopped in to say "hi." Vocalist/pianist Shealeen Puckett told me that they were going to be playing an acoustic set there at 3:00, so I put it on my schedule.
As I walked up the large hill to get stuff I left in my car, I was about drained, yet relieved as I came back in to see that the stage by the entrance was being decimated by Solid State entity Haste the Day. Having not been a huge fan of them in the past, I was impressed with their set. They looked like they were hot and ready to be done with their set, but they kept going regardless. The crowd was bouncing beach balls around (a summertime festival requirement it seems) and having a great time, while there seemed to be some new members playing along with the group. Vocalist Stephen Keech told the crowd that they believe in a God who loves us all despite whatever we've done, to which some cheered, and others mocked (from what it sounded like). They concluded their set with an older song, "Burning Bridges" (from the album of the same name), much to the audience's approval. While they were playing, a band called Reverend Peyton's Big D*mn Band was setting up next to them, looking...interesting. I was tempted to stay and check them out, but I had more duties with Tooth & Nail to perform. So I went about, covering at the merch booth and passing out more fliers until 3:00, when Poema was getting set up in the Girlz Garage. They were sans piano, due to an amp problem, but they still sounded good with Elle Puckett on her acoustic guitar, and their live band Jake and Christian, with Shealeen just providing her vocals. It was a short set, as another band was poised to start their set shortly after at a nearby stage, no doubt drowning out the acoustic Poema set. They started with "2 AM," sounding as good as ever. They followed it up with "Echo Off The Sky," then asked if anyone wanted to hear a particular song. I thought "Blue Sweater" would be good, which someone then shouted out to them. So they played it next, and concluded their short set with a new song "Boys and Bugs." With about twenty or so seconds left of "Boys and Bugs," the band at the nearby Kevin Says... Stage started their loud and raucous set.
Little did I know (until I heard the songs) that that band just so happened to be Chicago, Illinois, Celtic punk rock band, Flatfoot 56. Despite just having released their newest album, Black Thorn, to rave reviews from media sources like Alternative Press, I was a little surprised that they were playing Warped, and a little more surprised that they had as big of a crowd as they did. Surprised, yet pleased. They put on an amazing show, with some songs from Black Thorn (like "Smoke Blower") but a lot more from their national debut, Knuckles Up (including the title track, "The Rotten Hand," and "Chi-Town Beat Down"). The crowd was really into it, with several people sporting legitimate tall mohawks and liberty spikes that were excited for a real punk rock band to be playing. Several times the band encouraged the crowd to make a circle pit in the middle of the floor. Tobin Bawinkel, who is one tall glass of water, said "Everyone does circle pits now, but let's show them that we had it first!" It was mentioned that this was the last Warped date for Flatfoot this year, and Tobin said "So, since it's the last date for us this year, we're gonna play a song we haven't played yet on this tour, 'cause I think it's appropriate. It was on the soundtrack for the movie O Brother Where Art Thou?" to which they played a punk rocked version of "I'll Fly Away." Keeping with the message and theme of that song, they ended their set with their version of "Amazing Grace." I was glad to see that they were pretty bold about where they stand.
Sadly, I didn't get a chance to check out Deas Vail's show, which I was looking forward to. I did check out a few other bands (and I heard some from a distance). A lot of mainstream bands like Attack! Attack!, Whitechapel and Set Your Goals (just a few I could hear from the Tooth & Nail booth) sounded great with good song structuring and fantastic instrumentation, yet in between songs, there were so many f-bombs that it was nearly unbearable. A lot of the profanities weren't even the ones they use to get a point across, but ones they use in a misguided attempt to sound cool. A combination of that and all the shirts with harsh profanities on them (not to mention the girls in bikinis and the occasional bra...and the dudes in biker shorts and nothing else?) made for a bit of an unappealing day. Warped is almost over for this year, but if you went this year, I hope you checked out the great performances from Haste the Day, Poema and Flatfoot 56. I also enjoyed Truth being there teaching people about the dangers of tobacco (despite the fact they didn't really teach anybody anything there, but gave away shirts and bracelets and other things that had cool facts on them. And despite the fact that their van was playing a lot of Lady Gaga, Ke$ha, 3OH!3, Miley Cyrus and other music that just about made me sick to my stomach). So while Warped was (and always is) littered with a lot of filth, there's also some great stuff to check out there. I don't necessarily recommend it to anyone who only enjoys Christian music, though. But if you bear through it all, there's some fun times to be had (just remember to bring plenty of money for all the water you'll need to drink).
-- written by
Scott Fryberger
, 8/3/10