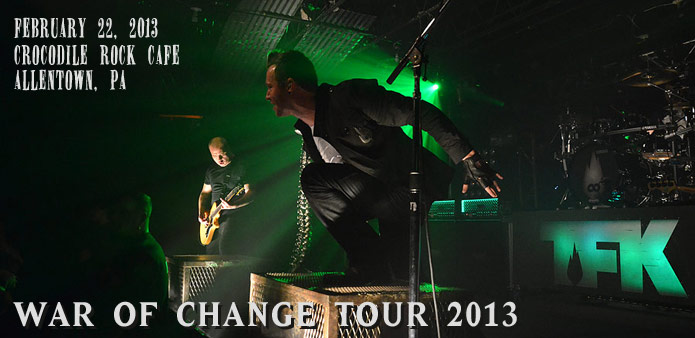 War Of Change Tour
Thousand Foot Krutch, Love and Death, The Letter Black, The Wedding
2/22/13, at Crocodile Rock in Allentown, PA
If there's one club venue in my neck of the woods that has been home to many rock shows for as long as I can remember, it's Crocodile Rock in Allentown, Pennsylvania. It's largely known for being a bar (with a pizzeria attached to it) where many big mainstream rock tours are showcased. The buzz in our area lately, however, has been surrounding the fact that Croc Rock just lost its liquor license...no longer qualifying it as a bar. This could probably be a kiss of death for the venue with its mainstream shows, but for more Christian-market-centric tours like TFK's War of Change Tour, it could be good news. The loss of the club's license means all shows will be all-ages now.
On a freezing Friday night in February, the second night of the War of Change Tour rolled into Allentown. The doors opened around 7pm, letting the lines of show-goers trickle in off the street. But the audience really didn't have to wait too long for the music to get started as Tooth & Nail Records rock act The Wedding took the stage right around 7:30. The Wedding has been around for quite some time now, having changed lead singers a few years ago and finally earning some wider-spread attention that lead to their signing with T&N last year. And only about a month after that announcement, the band released their first full-length album with singer Matt Shelton (formerly of LetterKills), titled No Direction. They opened fiercely with "Heartbreak In Melody," with Shelton being a flurry of energy on stage -- often hopping off the stage to lean on the barrier into the audience and get the crowd going. Shelton then encouraged the audience to get a circle pit moving as they launched "The Lesser Worth" and followed it up with the more tame title track from their latest album, No Direction. The delicious funky guitar lick from "Kill Any Excuse" was a sweet sound to hear drifting from the stage as the guys kept the rock coming. And finally, Shelton hopped into the crowd as they performed their closer "In The End." It was an energetic and frenetic show that worked well as a great night starter.
Another Tooth & Nail act, the female-fronted The Letter Black, were next. The set change time between the bands was probably a little more lengthy than you might expect, but the bands were doing their own gear changes (and I'm sure as the tour progresses, they'll pick the pace up a bit). But The Letter Black was the second rock act of the night, stepping up the rock intensity and going for a more common edgy rock sound (a la Skillet). The crowd seemed to dig The Letter Black, and this was my second time seeing them live, but I honestly don't see much of the appeal. I previously saw the band on Skillet's "Awake and Alive" Tour several years ago and wasn't too thrilled with that set from them, but there was clearly some improvement in the time since then. I do enjoy Sarah Anthony's stage presence; I think she's engaging enough, but much like Ariel Bloomer from Icon For Hire, Sarah tends to deliberately squeak her voice after nearly every line she sings and it just doesn't sound appealing (that and her screams don't really fit either). I think Sarah could have a stronger vocal delivery, but I'm unsure why she chooses to sing that way. Regardless, much of the audience seemed to enjoy their set, which featured songs from their debut and what I assume might be on their forthcoming sophomore album. But the Allentown audience really came alive with the next band...
If you're new to Christian rock music, the band name "Korn" probably isn't associated with what you'd expect from the genre. However, ever since the band's own Brian "Head" Welch came to know Jesus, Head has been very active in the Christian scene. As a solo artist, he assembled a live backup band that supported him when he toured his debut Save Me From Myself. But the band grew pretty tight together and Head deemed it fitting to just form an official band together, named Love and Death. The band recently released their Tooth & Nail Records debut, Between Here and Lost, which features that gothic metal Korn sound, but with a distinctly more Christ-centered vision. Parents not knowing Head's faith would probably find the quirky Love and Death set a bit unsettling, but it's clear that Head's past pursuits attracted audience members of all faiths this evening, and that alone was exciting to see. Love and Death opened with "Paralyzed" and then "Chemicals," with an energetic and dark performance. Head's microphone stand was constructed of car parts, but it fell apart early on in the set and he later addressed it between songs, saying he'd just get it welded back together while on tour. "Meltdown" was next, and then Head donned a red DEVO hat for the band's unique cover of the 80's classic "Whip It." Brian talked to the Allentown audience again and then they performed "The Abandoning." Brian then talked about the band and how Love and Death was formed, before dedicating the next song to his brothers in Korn. I didn't recongize the tune, and it was mostly instrumental, but I could only assume it was a Korn cover of sorts. From the likes of the lyrics, it did appear to be the Korn song, "Blind." Following the end of the song, the band exited for a pretty lengthy set change to ensue.
The long set change proved worth it, however. My biggest beef with Croc Rock is it's an exceptionally dark venue. (That's fine for ambience and such, but when you're trying to take live concert photos, it can be really hindering [also, unless you're close to the stage, it's more difficult to see what's going on up there.]) But when Thousand Foot Krutch took the spotlight, they were met with intense backlighting that was all part of their stage setup. While Mat Kearney's October 2011 set there had a nice backlighting as well, TFK's blew it away. It was easily the best stage setup I've ever seen at Croc Rock, and this includes having seen sets from Lifehouse, Kearney, Family Force 5, Supertones, Relient K, The Fold and many more at this venue. TFK opened fiercely with "Let The Sparks Fly" with frontman Trevor McNevan donning a long sleeve TFK flame logo jacket and moving energetically around the stage. "Bounce" was next, followed by new song "Wicked" and fan favorite "Falls Apart," before he took a moment to talk to the audience about staying true to their beliefs and not backing down. The band then launched into the slower "Be Somebody" before kicking up the rock again for their new album's title track, "The End Is Where We Begin," "Courtesy Call" and "We Are." At this point, McNevan took a seat on a stool with his guitarist Andrew Welch (formerly of Disciple), to talk a bit to the audience. Here, he shared from his heart that he, just a week or two prior to this show, had suddenly felt excruciating pain in his back (like it "shattered") and later found out from his doctor that it was supposedly a degenerative disease that could land him in a wheel chair. He sought prayer support and within a few days found that he'd been "completely healed." He gave all the gratitude and glory to God for this and it was a really powerful moment in the show. Given that the audience was clearly a mix of faiths, it was an admirable and inspiring moment in the set from McNevan. Andrew and Trevor then took this moment to perform the worshipful "So Far Gone" in this short acoustic interlude.
The band's popular single "War of Change" was next, and was followed by another fan favorite, "Rawkfist." The lights behind the band spelled out key words for several of the songs, including "Rawk" and "Fist" for this particular song. It was a nice effect and it made the backdrop feel more unique than just standard lighting. To round out the set at a dozen songs, the guys closed with another new one, the fun and funky rocker "Light Up The Sky," and left the stage. But the audience wanted more and the band was ready and willing. They came back for not one, or two, but three more songs, starting with "Move" before going into the old school fan favorite "Puppet" from their debut album, and then "Fire It Up" (which included a blazing guitar solo from Andrew Welch). When all was said and done, it was a pretty solid night of rock music (well, for the most part), and Thousand Foot Krutch offered up a really excellent set list of energetic rock songs. If you're a fan of any of the artists on the bill, I definitely recommend checking out this tour!
--
John DiBiase
, 2/27/13
Thousand Foot Krutch Set List

01. Let The Sparks Fly
02. Bounce
03. Wicked
04. Falls Apart
05. Be Somebody
06. The End Is Where We Begin
07. Courtesy Call
08. We Are
09. So Far Gone
10. War Of Change
11. Rawkfist
12. Light Up The Sky

Encore
13. Move
14. Puppet
15. Fire It Up
War Of Change Tour
click on an image for a bigger size
**vertical images cropped for thumbnails**
The Wedding
The Letter Black
Love and Death
Thousand Foot Krutch
*all photos by John DiBiase and are the property of Jesusfreakhideout.com