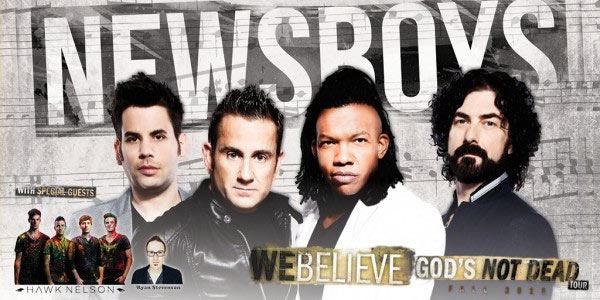 We Believe God's Not Dead Tour
10/24/15, at Ozark Civic Center in Ozark, AL
I had the opportunity to attend the We Believe God's Not Dead Tour featuring Newsboys, Hawk Nelson, and Ryan Stevenson and was looking forward to seeing all of the artists. It featured two of the current biggest names in Christian Music and Ryan Stevenson as an opener. Even with not being familiar with the opening artist prior to hearing about the concert, my expectations for the show were greatly exceeded, with Hawk Nelson stealing the show.
Ryan Stevenson opened up the show with his 3-piece band in a setup that is standard of opening acts with no big production with lights or video. As someone who didn't know what to expect, I was very surprised with the performance. He started out singing "Fresh Start," the title track off of his latest album, one that, as he describes it, has an acoustic pop sound to it. He then did a cover of TobyMac's "Speak Life," a song that he helped write with Toby. From there, he and his band went to "All Yours" from Fresh Start. He then slowed things down with "Holding Nothing Back" off of his EP of the same name. His final song of the five song set list was "Eye of the Storm," another off of his latest album. It was a fitting, if not slower, last song which speaks off the reliability of Jesus through anything. Ryan and his band did an amazing job as openers, and with their talent, I'm sure they'll be moving up in CCM popularity greatly.
Hawk Nelson followed Ryan Stevenson up, and they were amazing to say the least. I had only seen them once before, last year. Along with a new production setup and a new album, Diamonds, to add to their set list, Jonathan Steingard (guitarist and lead singer), along with bandmates Daniel Biro ( bass guitarist) David Niacaris (drummer) and Micah Kuiper (lead guitarist), proved they belong with other big name Christian artists. They opened with "Just Getting Started," a fitting first song, and one off of their latest album. Then they went to "Words," their first big single since starting off with a new sound and front man with the album Made. From there they went back to the newest album with "Thank God for Something," one of my favorites because it touches on the lesson of being grateful with that you have. They stuck with Diamonds for the song "Live like You're Loved" and had Instagram pics from users playing on the screen above the stage, which was a nice touch that allowed fans to be a part of the production. After that, they had a cool video of the ever popular scene from the movie This Is Spinal Tap, with one of the characters asking if the amp can go to 11, a nice segue into the song "Elevator." Steingard encouraged everyone to jump as high as they could and gave whoever jumped highest a CD of Diamonds, a nice incentive if one was needed to get the crowd moving. Things slowed down from there with the latest single of theirs, "Drops in the Ocean," with a lyric video playing and Jon going into the crowd and singing, which is a great way to engage the fans. Last up was the title track, "Diamonds," a song that speaks to how trials are God's way of shaping us to be better. During the final song, they had bubble machines going, and along with the multi-color lighted letters on stage spelling H-A-W-K, it made for a fitting end to a performance that stole the show. I'm already looking forward to seeing what Hawk Nelson does the next time I see them.
Last up was Newsboys, and after a cool countdown that featured dubstep type music, they came on full force with "Restart," the title track from their second-latest album. Following that up, they stuck with the same album with "Fishers of Men, "and then went into "That's How You Change the World." Up next was "Your Love Never Fails," off of the 2011 album God's Not Dead, with a lyric video playing on the screen. Michael then took a few minutes to speak about their most popular song, "God's Not Dead," and how a woman stopped a potential robbery by blasting the song through her car radio, making the would-be thief run away. I thought it was a nice story and a little tease for which song was coming next, which ended up being "Live with Abandon," off of the album Restart. It may not have been what some audience members were expecting to hear following the story, but it was fitting given the lyrics of the song. After that was the Newsboys classic "He Reigns" followed by a prayer lead by Michael Tait. A trailer for God's Not Dead 2 was then shown, leading up to the Newsboys' latest single and theme song for the movie, "Guilty."
A testimony was next, in which lead singer Michael Tait spoke on how earthly possessions can't be taken to the grave. He then quoted 1 John 1:9 and invited anyone to say it along with him. "We Believe," an anthem-like song off of Restart played next, with an impressive laser light show and audience sing along that's always impactful to see. The song choices remained slow for "The King is Coming," from the album God's Not Dead, before picking back up with the energetic, and one of my favorites, "Born Again," off of the 2010 album of the same name. Then a great surprise came with the yet-to-be-released song entitled "Crazy" which is going to be on their next album, out in 2016. Of course, for anyone who is familiar with the Newsboys and their show and band members, it wouldn't be the same if DC Talk's "Jesus Freak" wasn't performed. It's always one of the biggest highlights of their set, with drummer Duncan Phillips spinning around during part of the song and Ryan Stevenson joining Michael Tait on stage to co-sing. It was a great choice as a last song prior to the 2-song encore. The entire band left the stage, allowing the crowd to chant "God's Not Dead!" several times before a video played some of the highlights of the first movie and the band going back on stage to perform the song. Much to my surprise, it wasn't their last song, however, as they played the beautiful "Revelation Song," a fitting last song as the entire night was ultimately made to worship Jesus. The video screens were made to look like stained glass during the song, adding to the church-like atmosphere of the arena. The Newsboys' entire 14-song set list, performance by Michael Tait, Duncan Phillips, guitarist Jody Davis and Keyboardist/Director Jeff Frankenstein, along with their production consisting of laser lights and a vivid and colorful video board was very fitting of their sound and popularity in the Christian Music community.
The arena in which the concert was held was very appropriate for the concert, with the only issue being minor echoing due to the walls being made of concrete with little sound absorption. Everyone who attended was given a great show with great production, bands, and views from no matter where they sat. All three of the artists put together an amazing show, with Ryan Stevenson showing a promising future, Hawk Nelson winning the night with great stage presence and confirming their right to be where they are musically, and Newsboys not taking any steps back on their place as one of the biggest and best shows Christian Music has to offer.
--
John Breuer
, 11/1/15
Ryan Stevenson Set List



Fresh Start
Speak Life
All Yours
Holding Nothing Back
Eye of the Storm

Hawk Nelson Set List



Just Getting Started
Words
Thank God for Something
Live like You're Loved
Elevator
Drops in the Ocean
Diamonds
Newsboys Set List
Restart
Fishers of Men
That's How You Change the World
Your Love Never Fails
Live with Abandon
He Reigns
Guilty
We Believe
The King is Coming
Born Again
Crazy
Jesus Freak
God's Not Dead
Revelation Song
We Believe God's Not Dead Tour 2015 Photo Gallery
click on an image for a bigger size
**vertical images cropped for thumbnails**
Ryan Stevenson
Hawk Nelson
Newsboys
*all photos by John Breuer and are the property of the photographer and Jesusfreakhideout.com