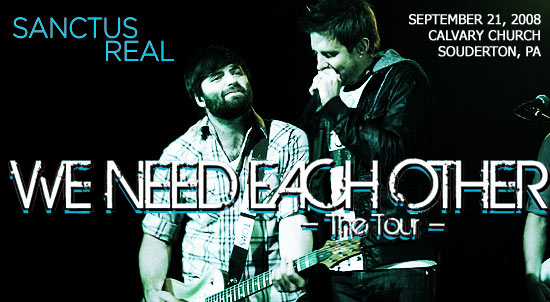 Sanctus Real, Tenth Avenue North, VOTA
9/21/08, at Calvary Church in Souderton, PA
We Need Each Other The Tour brings Toledo, Ohio rock band Sanctus Real back into the headlining slot after opening for Third Day in the Spring and Steven Curtis Chapman at the end of last year. Joining them for this run are newcomers Tenth Avenue North and, newly signed to INO Records and appropriately renamed (from Casting Pearls), VOTA. Also joining them is speaker Sammy A with the goal to encourage those in attendance to put their faith into action and help fight poverty to change our world.
On this particular stop on We Need Each Other The Tour, sponsors 1 Way Concerts (www.1wayconcerts.org) offered a special ticket that allowed fans who hold this unique ticket to get into the show and secure a seat earlier than other ticket holders, as well as get a special question and answer session with Sanctus Real before the show. A couple hundred people took advantage of the arrangement and piled into the Calvary Church sanctuary about a half hour or so before showtime. Time was a little bit tight, but when the Sanctus boys came out, fans were able to ask them questions like, "How did you get saved?" or "Are any of you married and do any of you have children?" One lucky fan even asked if the group was going to play their version of U2's "Beautiful Day" and they agreed to (and later dedicated it to her during the show). After the questioning completed, there was a short meet and greet which was sort of a mad rush on the guys, but they handled it well and treated the crowd with grace.
When gametime arrived, VOTA took the stage first. The stage setup was rather homey -- Sanctus had a couple throw rugs laid out for them which they shared with the opening acts, while lighting was kept to just a framing rig across the back and down the sides -- no big screens, no elaborate setups. VOTA were a nice surprise as an opener. The foursome seemingly disappeared for awhile after the release of their self-titled debut on Inpop Records as "Casting Pearls" a few years back, and around the time that Casting Crowns began getting immense amounts of attention. While, musically, VOTA may sound like many other fast pop/rock bands, it's Bryan Olesen's incredible vocals that help these guys stand apart from everyone else. And Olesen, who also turned in a couple-year stint as the guitarist for the Newsboys while putting his band on hold, has great stage presence as a front man. The band opened with "Alright" from their CP debut, but filled the rest of their set with new VOTA tracks. After "Alright," they launched into "Hard To Believe" and then "Free To Fail," which Olesen used as a chance to talk about the Apostle Paul's declaration of himself as the worst of sinners, yet God used him for incredible things. Next they performed "Honestly" and "Love's Taken Over" before talking about the ministry Food For The Hungry and urged listeners to support them. With that, they ironically closed with the song "Not Finished."
After a short set change, Reunion Records worship act Tenth Avenue North stepped up. Their soft and slow set was a bit of sudden stop after VOTA revved up the audience. Their set was hardly upbeat, so while their style was closer to some of Sanctus Real's slower offerings, they just didn't have much unique about their show or sound to set them apart from like acts. They opened with "Rain" and moved into "Beloved" and "Satisfy," with vocalist Mike Donehey pausing to reflect (a little dramatically) on the thought of how he was reminded while viewing nature that all we ever need is Jesus. "By Your Side" was next, and soon the group closed with their most known track, "Love Is Here," much to the excitement of fans in attendance.
Despite Tenth Ave's set being an energy killer, their worshipful mood prepared our hearts for speaker Sammy Adebiyi (AKA "Sammy A"). Sammy got real and candid with the Souderton audience, breaking down the earth's population into a 1% stastic of where we all fit into society and how God has blessed us to be able to bless the poor and less fortunate. He then plugged the Mocha Club ministry, which enables a donation of $7 a month to give clean water to 7 Africans for a year, feed an African for a month, and still help others. Sammy helped me, personally, realize just how much we truly take for granted as Americans.
After another break, Sanctus Real stepped out - much to my surprise - to the sound of the title track from their previous album, The Face Of Love. It's a beautiful rock ballad with a wonderful worshipful heart (and without being cliche), but it seemed like a rather mellow song to open with... especially when it's not even on the album the tour is named after! But next up was their cover of U2's "Beautiful Day" to pump up the enthusiastic audience. And an old fan favorite, "Say It Loud" was a nice surprise that went over well with the crowd, followed by front man Matt Hammitt's introduction of each Sanctus member. "Alone" was next, nicely succeeded by "The Fight Song" and then their new classic, "I'm Not Alright." Hammitt addressed the crowd again before "Don't Give Up" and then announced the next song, "Eternal," as being written as sort of an answer to it. Sanctus called for a bit of singalong participation with "Eternal" and then went into "Whatever You're Doing (Something Heavenly)." Hammitt dedicated the next song, "Lay Down My Guns" to the service men and women, and followed it immediately with a wonderful surprise acoustic performance of the otherwise rocker "Closer," for which the band left the stage during, leaving Hammitt alone with his guitar and mic to lead the audience. It was a beautifully dramatic moment and one that connected well with the fans familiar with the song. The rest of the guys came back out after the song to perform their original worship anthem, "Sing," to close their set.
At this point, Sammy A came back out to announce an estimate of how many Africans the Souderton audience is helping by who signed up for the Mocha Club before Sanctus' set. To celebrate, Pete and Dan from Sanctus, along with the Tenth Avenue North guys came out and did a silly dance to a funky remix of "Turn On The Lights" and then ran off stage again. When Sammy finished, the lights went out again and the band presented their encore, opening with the real album version of "Turn On The Lights." The edgy rocker was easily one of the set highlights, and it was followed up with "Everything About You," and finished nicely with the title track of their newest album - and the title of the tour - "We Need Each Other." As the song drew to a close, all members of the previous acts -- Sammy included -- joined the band on stage as they hugged the Sanctus guys and sang along with the chorus.
It was great to see Sanctus Real in the headlining spot again. With four full-length albums under their belts, there's a wealth of good music to draw from, and the night's set list was a pretty diverse and intriguing mix. I hate to say it, but Tenth Avenue's rather bland set may be the only real weakness to the evening -- but Sanctus would be hard pressed to round up as strong of a tour as the ones they previously have been a part of. It's especially tough to top a teaming of DecembeRadio, Sanctus Real, and Third Day. Still in all, We Need Each Other The Tour remains a success and well worth checking out at a city near you this Fall!
--
John DiBiase
, 10/3/08
We Need Each Other The Tour 2008 Photo Gallery
click on an image for a bigger size
**vertical images cropped for thumbnails**
VOTA
Tenth Avenue North
Sammy A
Sanctus Real
*all photos by
John DiBiase
and are the property of
Jesusfreakhideout.com