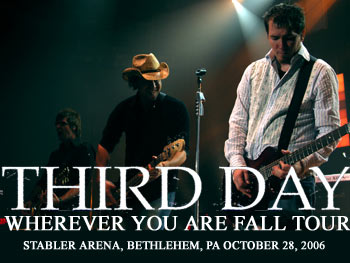 Third Day, David Crowder*Band
10/28/06, at Stabler Arena, Bethlehem, PA
Third Day's successful Spring Wherever You Are Tour returns this Fall for a second run, bringing back a promising night of rock, worship and everything in between. Adding newcomers, and personal favorites of Third Day, HyperStatic Union to the billing, the evening's lineup of music was only strengthened - and a stop in our hometown was a nobrainer when it came to attending again.
The April 1st show in Nashville we attended first landed us with nosebleed seats and later in a room which made it near impossible to hear the show clearly. The end result felt impersonal and disconnected. This time around, with floor seats and a chance to meet the artists before the show, it was easier to connect with the bands and be drawn in by the strong performances. The evening opened with HyperStatic Union, a funk-pop band that proved with even its opener "Lifegiver" that their live show vastly out-shines their average debut record of the same name. The band's stage presence and interaction with the audience helped aid in the enjoyability of their set, and I found myself liking it much more than I was expecting to. After a couple of their own songs, including their radio single "Praying For Sunny Days," they ended with their own take on Stevie Wonder's "Superstition," which especially hit home with the older audience participants.
A brief set change preceded my first true David Crowder Band experience with all distractions aside. While I herald Crowder as one of the most respectable worship leaders around, I can't say I've been a significant fan of their work... until now. Growing up, there have been some shows that have converted me entirely from a non or casual listener to a full-on fan, and I can say Crowder has the kind of show that is prone to conversion (and not just the spiritual kind). Crowder has, in recent years, grown from a worship leader to a ground breaking artist in the genre. And hearing selections from his latest full-length release, A Collision, live confirm that this band has so much to bring to worship music, let alone the altar.
The dimly lit stage featured an incredibly large sheet backdrop to host projected lyrics, and as a subtle instrumental intro to their set began to build, the lights slowly illuminated the players on stage as they opened with "Here Is Our King." Crowder, sporting his usually wild hair and prominent goatee, offers a fantastic stage presence. Always addressing the audience -- sometimes even stopping mid-song to do so -- created this living room personableness that isn't present in a lot of performers. And since Crowder's craft is worship music with a sincere knowledge for artistic intent, the worship is passionate, intimate, and unique. The Crowder Band is not your run-of-the-mill conference praise team. David has a truly strong vocal talent that is missing from the majority of worship leaders, and a sense for simple lyrics mixed with deeper imagery and even wit to weave unique songs from sometimes familiar praise-style choruses. Crowder knows how to work an audience, make them feel comfortable, and even get the least-likely participant to dance in their seat. The DCB is all about variety -- especially when you see the violinist go from his stringed instrument over to scratching vinyl on turntables and back to the violin. Even when the group breaks into a full-on hoedown with "I Saw The Light," it doesn't seem strange or even displeasing to the non-country fan. You're just made to feel like you're amongst friends. Worship hasn't been this fun since a youth retreat.
DCB mixed old and new favorites, moving from "There Is No One Like You," to the ridiculously catchy "Foreverandever Etc," which featured Crowder picking up a keytar and reminiscing about the 80s - which inspired guitarist Jack Parker to break into a short tune of the Super Mario Bros. theme on the keyboard. David encouraged a hoedown for "I Saw The Light," following it up with the worshipful "Wholly Yours" and the intense "rock opera" of "You Are My Joy." The more straightforward worship of "O Praise Him" preceded the sing-a-long qualities of "Sing Like The Saved," which had Crowder encouraging everyone to join hands and dance. It was neat to see how fast people dropped their guard to dance alongside complete strangers.
Immediately following DCB, Third Day's bassist Tai Anderson came out to share with the audience about Invisible Children, a documentary that reveals the horrors of children being kidnapped and forced to fight in wars in Uganda. Anderson introduced some footage that was taken when he visited the children with World Vision last year, and urged everyone to consider supporting World Vision in the fight. I really appreciate the fact that Third Day is a band not afraid to get their hands dirty and support causes Christians should be helping with.
Following Tai's message, a fifteen minute intermission ensued. Then the lights dimmed, and the classic theme from the 80's television series Knight Rider sounded in the arena as a red light raced back and forth on the stage, mimicking the popular car K.I.T.T. from the show. The theme concluded and the lights popped on to illuminate the band as they broke into "I Got A Feeling." It was immediately noticeable that Third Day was making use of the entire stage, while the opening acts only used part of it. Tiered lighted screens set in the midground of the stage while a screen of tiny lights set as the backdrop, changing per song, even sometimes forming images or words in the lights. While some might think it to be unnecessarily showy to see such a presentation, it works more as an accent for Third Day's set and not what it's about. The guys visibly have fun on stage and it's the real charm of their show. They interact with each other often, goof off, and engage the audience in ways few bands do anymore. The show kept a rock-oriented feel for most of its start, moving from the opener to "Took My Place," "Keep On Shinin'," "I Can Feel It," and on to their classic, "Consuming Fire." The band took a more worshipful turn for "Show Me Your Glory" before slowing things down considerably for the sobering "Thief."

From there, the band brought out their acoustics, stools, and even a tiny stand-up drumset for an acoustic spot. They opened with "Sing A Song," before pausing to offer the Bethlehem crowd a special treat. Frontman Mac Powell admitted that because the band was performing in Bethlehem, they felt it appropriate to sing their new, original Christmas song, "Born In Bethlehem" for one of the first times live. And although Powell slipped up on one of the verses, the song became a real highlight and a special live show moment. They ended the acoustic set with "Mountain Of God," and moved into the hymn "Blessed Assurance" with just Brad and Mark on guitars with Mac singing. Before the song ended, the lights flashed back on and the whole band joined in for a grand finish. Third Day kept the worshipful spirit alive with "You Are So Good To Me," and returned to the more rocking tracks "Come On Back To Me" and "Tunnel." Their current touring keyboardist, Scotty Willbanks, offered an impressive piano solo that lead into the anthemic "I Believe," preceding a heartfelt message about hope that ended in Mac leading the audience in prayer. Although Powell insisted he didn't mean to bring the mood down by talking about struggles and hope through them, the tone did change, but it also prepared everyone's hearts more appropriately for their hit "Cry Out To Jesus" and their closer, "God Of Wonders."

Although an encore would appear inevitable, seventeen songs is a generous setlist no matter how you look at it. So when the house lights didn't come back on after their set, and the audience remained cheering, Third Day returned to the stage for the live favorite "Come Together" and their popular cover of Rich Mullins' "Creed."

The Allen Arena show in April was good, and I've seen Third Day on tour many times before, but there seemed to be something extra special about this Wherever You Are Tour lineup and the batch of songs performed. Fans of relevant modern worship and solid pop/rock music will find a lot to like about this tour. And if you happen to miss this second leg of the tour, check out the bands individually next time they hit your town.

-- John DiBiase, 11/2/06

Third Day Set List
01. I Got A Feeling
02. Took My Place
03. Keep On Shinin'
04. I Can Feel It
05. Consuming Fire
06. Show Me Your Glory
07. Thief
08. Sing A Song
09. Born In Bethlehem
10. Mountain Of God
11. Blessed Assurance
12. You Are So Good To Me
13. Come On Back To Me
14. Tunnel
15. I Believe
16. Cry Out To Jesus
17. God Of Wonders
Encore:
18. Come Together
19. Creed


Wherever You Are Fall Tour Photo Gallery

click on an image for a bigger size

HyperStatic Union

David Crowder*Band

Third Day

*all photos by John DiBiase or Amy DiBiase and are the property of Jesusfreakhideout.com