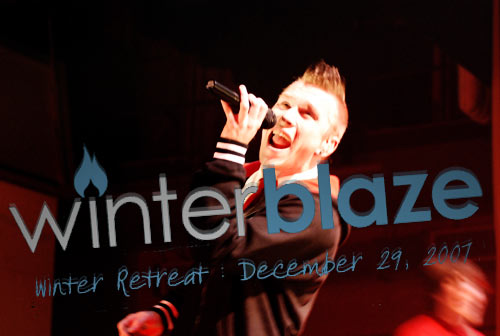 Winter Blaze 2007
12/29/07, at Shippensburg University in Shippensburg, PA
It may seem like risky business to stage an all-day festival right after Christmas and a mere two days before the new year, however, the folks behind Winter Blaze did just that, with the intentions to take 2007 out with a bang, praising Jesus all the way.
The Winter Blaze events began around noon with a handful of local and indie acts like Next 2 Nothing, Ryan Payne Band, and Blushing Well. Renowned speakers Justin Lookadoo and artist Eric Timm were also in attendance to deliver messages throughout the course of the day. We arrived well after the event's start, as rock act Blushing Well was performing before the fest took a break for Lookadoo and Timm to share.
Even on the day of Winter Blaze itself, the event's website offered information concerning bands in attendance that wasn't reflected at the actual event. For example, multiple sources listed The Send and Cool Hand Luke among the artists performing, however, when the fest announced that Rush Of Fools was added to the lineup just the day before, no cancellations were mentioned. When we arrived, the schedule we received made no mention of The Send or Cool Hand Luke.
Around 4pm, new pop act Rush Of Fools filled in their freshly-inked spot. While the audience seemed to enjoy their worshipful set, their live show seemed just as underwhelming as their debut record. They performed their most recognizable songs from the album, including their hit single, "Undo," but I still couldn't shake the feeling that their sound was so familiar that the band had little about them to define them as anything unique or original. Dinner time followed their set, which allowed all in attendance to either grab some fresh food off the grill for a few bucks from the Winter Blaze folks, or head off-campus to get a quick bite. We made sure we were back in the Shippensburg University Auditorium lobby in time for DecembeRadio's set by 5:30pm, but the doors remained locked to the public for at least an extra half hour.
The rock quartet from Virginia, DecembeRadio, took the stage by force with their rocking opener, "Table." Sadly, from the beginning, the guys experienced all kinds of technical glitches - from faulty microphones to buzzing stage monitors. The band did their very best under the circumstances, grinning and bearing it through their brief seven-song set. They pushed on through "Love Found Me (Love's Got A Hold)" and a cover of Kansas' "Carry On My Wayward Son," which soon gave way to their newest single, "Find You Waiting." As vocalist Josh Reedy battled mic issues, the band rocked a cover of Lenny Kravitz' "Are You Gonna Go My Way," then performed the worshipful "Live and Breathe," and closed with their hit "Drifter." Despite their technical difficulties, the DecembeRadio guys gave it their all and were good sports about the problems. Hopefully those in attendance will get a chance to seem them live again under better conditions.
To make sure the technical problems wouldn't repeat for the closing acts, a lengthy delay followed the DR set. Once most of the kinks had been worked out, a Christmas inflatable penguin and snowman were raised towards the back of the stage for Stellar Kart's performance. Fresh off their Punk The Halls Tour, the band decided that it was close enough to Christmas still to perform the same set, and it resulted in a fun time for this year's Winter Blaze audience. While Stellar Kart's pop/punk sound isn't exactly the top brand you can listen to in the Christian market, they clearly put on an entertaining show. In fact, their extended set this particular night was especially fun to watch. The foursome opened with fast and poppy tracks like "Activate" and "Procrastinate," tossed in their adequate cover of Bon Jovi's "Living On a Prayer," and slowed it down a bit for "Me and Jesus" and "Hold On To Me." At this point, the guys candidly announced their junior album release, Expect The Impossible, in February and played a new cut entitled, "The Right One," before breaking for "Spending Time With You," and then playing another new one called "Jesus Loves You." At this point, their set turned especially unpredictable and the quartet launched into an impressive instrumental rendition of "Carol Of The Bells," in which "snow" machines shot out suds into the audience for effect. "Student Driver" followed, and the guys then began discussing playing a Christmas tune. Bassist Brian Calacara candidly argued that it was too late after Christmas to perform a Christmas song and stormed off the stage. Frontman Adam Agee replaced Calacara with a plastic Santa lawn ornament and he, along with guitarist Cody Pellerin donned Christmas hats to make the mood complete. The now-threesome proceeded to launch into "Santa Clause Is Coming To Town." Soon after the song's start, Brian came running out on stage in a full Santa outfit and ran into the audience. It became an evening highlight. The brief and silly "Tree Climber" followed, with their set closer, "Life Is Good" close behind.
Another set change followed, and as they continued to work some kinks out of the sound setup, artist/speaker Eric Timm came back out to paint a picture and use it as a guide to drive home an impactful message about how we can repaint the image of Jesus that the world misrepresents Him as. After Timm shared about Compassion International, he exited the stage and Justin Lookadoo came out to give an inspiring message about experiences versus commitments (using his experiences with skydiving as an example), and how that pertains to the Christian life.
The set change and sound check for John Reuben continued after the pair of speakers had left, and it would be after 9pm before Reuben and his band of two would get to start. A John Reuben show is one of the most entertaining sets of its kind. Reuben's a phenomenal entertainer who knows how to get even non-hip hop fans involved in his shows. He opened quickly with "Trying Too Hard" and then "Universal" from his latest release, Word Of Mouth, before breaking out his old school hit "Do Not." A new favorite, "Make Money Money" was next, which Reuben dragged out by inserting an excerpt from a fable from The ÆSOP for Children about a grasshopper who rather make music than store up food for his survival. Reuben then dropped in a piece of lyric from "Cool The Underdog" before closing the set highlight and moving on to "Nuisance" and the party friendly "Good Evening." "Word Of Mouth" was next, followed by "Thank You." But to end his consistently delectable set on a memorable note, Reuben closed with "Doin," encouraging the audience that if they didn't give him their all for the track, that he'd never leave the stage for Hawk Nelson to play next.
But after one last stage setup change, Canadian pop/punk rockers Hawk Nelson kicked their set wide open with a brief cover of Audio Adrenaline's "Clap Your Hands" (complete with smoke jets), and segued perfectly into "The One Thing I Have Left." Another cut from Smile, It's the End of the World followed, "The Show," before the boys revisited the title cut from their debut Letters To The President. The more serious rock ballad "Everything You Ever Wanted" came next, with the upbeat "Every Little Thing" close behind. The guys invited a young fan on stage to help perform the kazoo duet during "Hello," and moved quickly into their cover of The Cars' "Just What I Needed." The Hawk staple "California" preceded the debut of a brand new cut from their forthcoming April release, Hawk Nelson Is My Friend, entitled "Friend Like That," and the guys gave a little shout out to the Winter Blaze promoters as well as yours truly (JFH that is - thanks guys!) before closing with their Yours, Mine, and Ours contribution, "Bring 'Em Out." It's great to see how this four-piece rock act has matured into headliner status in just a couple of years. Great things can be expected from Hawk Nelson in the near future.
Compared to the lengthy set that Stellar Kart seemed to have, the closing sets felt much more rushed and abbreviated. By the time Hawk's set was finished, it was probably around 11:30pm, an hour and a half later than the night was scheduled to end. Regardless of the technical problems and blunders, the night was far from a disappointment. With meaningful messages from both Lookadoo and Timm to take home to ponder afterwards, there was offered a variety of music as well. I'm sure all the kinks will be worked out for the 2008 Winter Blaze, and we hope to return again some time and perhaps even see you there!
-- written by
John DiBiase
, 1/4/08
Winter Blaze 2007 Photo Gallery
click on an image for a bigger size
Rush Of Fools
DecembeRadio
Stellar Kart
Eric Timm (artist/speaker)
Justin Lookadoo (speaker)
John Reuben
Hawk Nelson
*all photos by
John DiBiase
and are the property of
Jesusfreakhideout.com