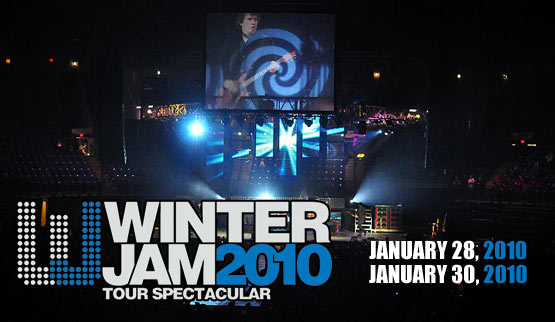 Third Day, Newsboys, Tenth Avenue North, Fireflight, Newsong, Revive, Sidewalk Prophets, Robert Pierre, Tony Nolan (Speaker)
1/28/10, at Sovereign Center in Reading, PA // 1/30/10, at Bryce Jordan Center in State College, PA
Winter Jam is a huge annual touring event that has been running for fourteen years. Hosted by Adult Contemporary/ Gospel act Newsong, it's a tour that boasts the biggest and best talent in Christian music today. While, of course, that's a debatable claim, the tour does indeed offer some strong talent amidst its generous lineup.
Speaking of generous, while the tour does boast eight artists plus a speaker, the ticket price is a steal at just $10 a ticket. The downside, however, is that the only way to secure a ticket is to buy them at the door. There's no "will call," and no way to reserve a ticket ahead of time. You simply need to show up early and wait at the door. The good news is that most venues hold upwards of 10,000 people, so fans have a good shot at getting in. The drawback, however, is that this is WINTER Jam... so especially those on the East Coast can expect to freeze their fannies while they wait for the doors to open.
The Winter Jam pre-show offers some of the younger and newer CCM talent. These three artists are more of the daytime radio friendly CCM fair. New Zealand's pop rock worship foursome Revive (now featuring former Nevertheless guitarist AJ Cheek on the road with them) kicked off the pre-show. They made for a decent start for the night. The house lights remained on during the entire pre-show festivities, allowing people time to make their way inside and find their seats before the main event launched. After the group played a couple cuts from their debut release, Chorus of the Saints, including the self-titled track, the band exited the stage to allow teenage pop artist Robert Pierre to follow-up. Robert is a strange pick for such a tour, but is most likely added to appeal to the younger teens and tweens in attendance. Along with some selections from his latest record, Identity, the singer closed his set with a strange almost drumline instrumental piece where Pierre was supported by drums all around him as they synchronized playing together, while the vocalist blew a whistle throughout the segment's duration. After the teen and his band left, new Word Records pop band Sidewalk Prophets continued the strange set choices by opening their three-song performance with a cover of Michael Jackson's "Man in the Mirror." While vocalist David Frey did an acceptable Jackson vocal impression, it seemed like an odd way to begin the set of a fairly unknown act. The pop quartet then worked the MJ cover right into the band's own "Just Might Change Your Life," before closing with "The Words I Would Say" - both tracks being from their debut album, These Simple Truths. The trio of artists weren't the strongest way to kick-off the night, but they made for an adequate pre-show.
After Sidewalk had finished their brief set, the lights dimmed, and a video announcing Winter Jam displayed on the screens above the stage before the bold sounds of Fireflight's official event-opening performance began. The hard rock band was a stark - and welcomed - contrast to the pre-show performances with their strong and commanding stage presence. The rock quintet opened with "Stand Up" from their hit album, Unbreakable. Lead vocalist Dawn Michele knew how to engage the audience with her enchanting personality, while her bandmates brought an energetic rock persona forward. From there, the band launched into two brand new songs - "Desperate" and "For Those Who Wait" from the upcoming album of the same title - before closing with what is probably their most popular and most recognizable song to date, "Unbreakable." It was a great way to kick off the night and a highlight set as well.
To throw a complete curve to the audience, and to mix up the styles even more, Gospel act Newsong was next. While Fireflight was indeed a choice for the younger percentage of the audience, it's Newsong who certainly appealed to the parents and adults in attendance. Still, regardless of your musical preferences, Newsong put on a solid soulful and worshipful show, with plenty of interaction with the crowd and spectacle from the stage. A large catwalk extended from the stage into the audience - the same one that the Newsboys have had on tour with them since the successful GO Tour a few years back. Newsong's Russ Lee utilized it quite a bit as the band was the first act of the night to start using the catwalk. Gigantic balloons were tossed into the crowd for Newsong's opener, and were soon seemingly as quickly popped and deflated as they were released to the audience. "1000 Steps" was next, followed by the title track from their latest album, Give Yourself Away. And as the band transitioned the new tune into a cover of U2's "In The Name Of Love," a huge burst of streamers blasted into the audience. It seemed like Newsong was trying to make up for any kind of stylistic barriers their music might have with a young audience with spectacle and performance. It worked for the most part, too, because I found that, although that's not my preferred style of music, I had to admit that these guys knew how to entertain and engage their audience. They concluded with a rousing performance of "Arise My Love," which really seemed to excite the crowd, and then exited the stage. After an advertisement for Nashville's Camp Electric, Eddie Carswell, the evening's emcee, and one of Newsong's own, came back into the spotlight to promote another sponsor, a new film called Letters To God. Because of the ticket price being so low, it was obvious that the tour needed a great deal of sponsors, but this also meant that advertisements for things were everywhere. Whether they were in the form of sponsor tables and banners out in the lobby, or sponsors were coming up and speaking before the audience, or it was just one of the many video ads displayed on the jumbotrons above stage, the ads got to be a little excessive. But, I suppose it's bearable for just $10 admittance to a massive show.
Now, before I go any further, I must explain that I had attended the January 28th performance in Reading, PA, with full intentions to review the event. However, interviews and schedule mixups kept that from happening, and the only artists I ended up seeing that Thursday were part of Newsong and all of Newsboys and Third Day. Because of this, we went back to the tour two days later in State College, PA. What I was surprised to find was that both Newsboys AND Third Day changed their sets up a little the second night. So after Newsong, followed by a brief break with announcements and such, the newly "reborn" Newsboys were up next. Their set opened with an instrumental nod to the song "Glorious" before they full-on opened with "Something Beautiful" from the album GO. Thursday's performance was my third time experiencing the new version of the Newsboys with Michael Tait in Furler's shoes. While it's a little still tough to digest this as being "Newsboys," Tait is visibly more comfortable in the role now -- something that becomes more and more evident with each show I've seen from this team. "Something Beautiful" was followed by another cut from GO, "Wherever We Go." And while these are Furler-fronted songs, they both work with Tait's lead. It's obvious that they've picked songs that work well enough with Michael's vocals and stage presence, and it would be strange for them to stop classic, Furler Newsboys tracks cold turkey. But where the new incarnation of the Newsboys really thrives (no pun intended), is in their new songs that were written since the singer change. "Born Again," the title track from their forthcoming first album since Tait took over, is a rocking anthem that is all about personal change, as well as addresses Tait's involvement as well. It's a great song and one that fits Michael's vocals and lead perfectly. It translates awesomely live as well (I could see them opening with this in the near future). From here, the boys took a trip back to the worshipful "He Reigns," which also works with Michael's lead because the heart of the song remains the same. Afterwards, on Thursday, Michael performed a beautiful version of "Turn Your Eyes Upon Jesus" which was a complete surprise. However, on Saturday, he performed their first single from the new material, the ballad, "I'll Be," which also sounded great live. Another new song, "When The Boys Light Up," was next - a classic Newsboys party song. It's the kind of song you could hear Peter helm, but with it being a new track written for Michael, Tait performs it as his own. From there, Tait introduced some "old school" Newsboys, and performed some of "Shine," mixed into "Breakfast." A great deal of confetti shot into the audience from large jets on either side of the stage, causing it to rain down over the crowd (classic Newsboys stage tricks!). "Dance," from In The Hands Of God followed, before Michael shared from his heart about ministry in Baja and then closed with a rocking cover of dc Talk's "Jesus Freak." While TobyMac still performs the song live as well, Toby has changed it up a bit too much in recent years, and it has been sounding the best coming from Tait and the Newsboys as of late. Before the song's end, Michael, utilizing the Newsboys' catwalk, grabbed a rope hanging from the ceiling and began to rise on the B Stage platform into the air - complete with a dry ice cloud (It's the same stage Peter used to rise up on while doing the dueling drums segment with Duncan Phillips). Tait then leapt from the raised stage down to the platform to finish the song. It was a pretty effective surprise, and a nice Newsboys-esque spin to the show.
Speaker Tony Nolan was next, giving an inspirational pep talk to the audience. Following an intermission, Tenth Avenue North performed a worshipful set. When I saw them on tour with Sanctus Real last year, their set was relatively sterile. There wasn't much of a stage presence and the music leaned towards a more mellow feel (not that there's anything wrong with that). But this time, the guys had a much more upbeat and engaging show. While their songs are still relatively common for the genre, their set was much stronger this time around. Tenth Ave opened with "Love is Here," and moved into "Break Me Down" and "Hold My Heart," before closing with their hit, "By Your Side."
Tonly Nolan returned to encourage the audience to give a love offering for the event. I could understand most events doing that if there weren't many sponsors and the price was so low, but it seemed a little odd that it was being done on top of it all. Robert Pierre then came back out to perform a song during the offering, but it wasn't really the best match for the moment. Shortly afterwards, the evening's headlining event was up.
Thursday's performance from Third Day was the first of an apparent significant set change for the guys. They were doing a more rock-based show at previous dates and wanted to try out a focus on worship this evening. On Saturday, the set had been changed up a bit more, and was more upbeat, giving a much more energetic spin this time. With that said, for both nights, the band opened with "Tunnel" from Wherever You Are. It's not one of the band's strongest opening tracks, but it sounds great live and it's certainly an encouraging song. "Sing A Song" was next, a personal favorite of their worship offerings, and then they moved into Rich Mullins' "Creed," a track they've been performing live for many years now. But from here is where the nights differed. On Thursday, "King Of Glory," from the first Offerings album followed next. It's undoubtedly a mellow effort, and they then followed that by all four members walking down the catwalk to the B Stage for an acoustic medley of "Your Love Oh Lord," "Nothing But The Blood," and "Show Me Your Glory." Front man Mac Powell then shared a bit with the audience from his heart, and sang a portion of "Cry Out To Jesus" as the rest of the band left the B Stage and returned to the main stage. On Saturday, instead of "King..." Mac was joined by Fireflight's Dawn Michele over on the B Stage while the rest of Third Day remained at the main stage, for the duet "Born Again" from their latest album, Revelation. It was a fantastic set moment, one they didn't do on Thursday because Dawn had been suffering from a cold. After Dawn left the stage, Mac remained at the B Stage to share from his heart once again, leading into "Cry Out To Jesus." On both nights, when they returned to the main stage, "Call My Name" from Revelation was next - their hit single and a highlight from their latest record. On Saturday, "Call..." was followed by the rocker "The Otherside," another standout track from that album. While, on the Music Builds Tour in Fall, 2008, the band enlisted the help of Robert Randolph to perform the pedal steel guitar live for that segment, Third Day's own Mark Lee took a seat to fill in for that portion this time around. The track was a fun addition to the set, and then both nights the rest of their set remained the same. The popular worship song "God Of Wonders" was next, and Revive's Dave Hanbury came back out to sing the song along with Powell. Their set then drew to a close with the title track from their record Revelation (yet another highlight from the album!), and Powell lead the audience in a few choruses of "Agnus Dei" before walking off the stage to conclude the night.
My first Winter Jam experience was a fun one, and I'm hoping this tour will roll back into Eastern, PA, territory again in the future. It's a good mix of styles for anyone interested in getting a taste of what Christian music is doing these days, even if it isn't the truest possible representation of the industry's very best (being that the selection of new talent wasn't really the best up-and-coming out there). At $10 a seat, it's tough to go wrong, and it's the perfect event for youth groups and families looking for a reasonably priced outing. I look forward to seeing what Winter Jam 2011 will offer.
--
John DiBiase
, 2/4/10
Winter Jam 2010 Photo Gallery
click on an image for a bigger size
**vertical images cropped for thumbnails**
Revive:
Robert Pierre:
Sidewalk Prophets:
Fireflight:
Newsong:
Newsboys:
Tony Nolan:
Tenth Avenue North:
Third Day:
*all photos by
John DiBiase
and are the property of
Jesusfreakhideout.com