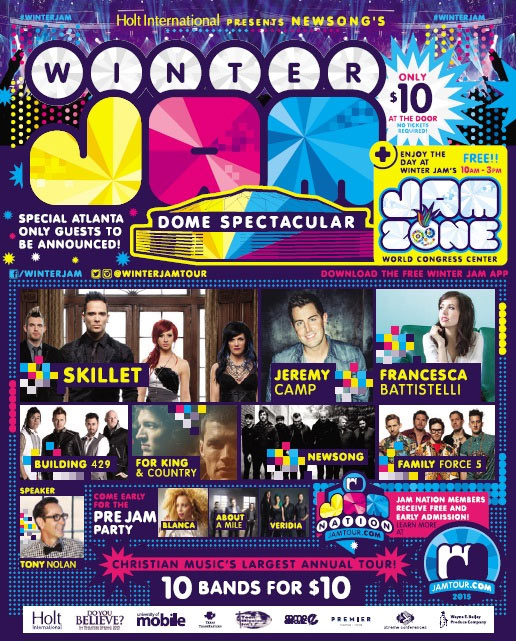 Winter Jam 2015
Skillet, Francesca Battistelli, Jeremy Camp, Building 429, Family Force 5, NewSong, for King & Country, Blanca, Veridia, About a Mile
2/7/15, at the Georgia Dome in Atlanta, GA
By many standards, this is the year Winter Jam officially became an adult. Twenty-one years ago, back when Christian musicians played almost exclusively in churches, a group called NewSong decided to play an arena event in Greenville, SC. They didn't sell advance tickets, so they had no idea how many would come. They expected a few loyal fans, and were overwhelmed by the thousands who showed up.
Unwittingly, the band had developed a template for the future, for their own annual winter tour and many others to follow. It's a template that stretches the faith of all involved, since even today, on any given night, no one has a clue how many people will show up. The truism still holds, though: when we step out in faith, God has a way of stepping in.
The Winter Jam stop in Atlanta is a good example. Years ago, it expanded to the Arena at Gwinnett Center, a suburban minor-league sports and concert venue with a capacity of 13,000. Not only did the event sell out, but thousands were turned away. The tour then stepped up to Philips Arena, the home of the Atlanta Hawks, with a capacity of over 18,000. Lines circled downtown blocks, and once again, people were turned away. Now, the tour visits the Georgia Dome, the largest venue in the largest city in the South. Winter Jam is a very big deal.
If the tour's February 7th stop at the Dome is any indication, its long history is evident in several areas. First, it's run remarkably well. Switching among acts is quick and efficient. A remote stage enables quick transitions, with minimal downtime. An example: while NewSong performed in the round in the center of the floor, roadies on the main stage opened CO2 cylinders and installed trampolines on the main stage. Which leads to another observation: while it has aged, Winter Jam has very deliberately remained vibrant. Choosing bands that use, for example, said trampolines (Family Force 5) gives the event some necessary punch and relevance. While the acts are a bit of a litmus test dividing those who lean toward "Arise My Love" over "Rise," the truth is that the sets are short enough and the lineup varied enough that all come away feeling like at least part of the night was meant for them.
An "early entrance" ticketing tier meant the floor was mostly full by the time the doors opened at 5:00, when 30,000 streamed down the aisles like floodwaters through a crack in a levee. Though the official concert started at 6, several "pre-Jam" artists greeted fans from the moment they scrambled for seats. About a Mile, a trio of brothers from Pittsburgh, brought boundless enthusiasm and a great cover of "Jesus Freak." Veridia showcased Deena Jakoub's powerhouse vocals with a rock edge, while Blanca, now solo, brought more soaring vocals over a funk groove.
A countdown ushered the official 6:00 start and current CCM wunderkinds for King & Country. The Smallbone brothers delivered a frenetic fifteen minutes punctuated with their now-familiar non-stop percussion played simultaneously by several band members. They've developed a tight live set loaded with familiar radio singles, and they closed with Joel atop a huge stepladder in an odd sort of vintage "get the singer up in the air without a flying harness or hydraulic stage" moment.
NewSong followed on the remote center-of-house stage. They performed the aforementioned "Arise" as only they can, with seat-shaking vocal power, while a sketch of the face of Christ was slowly drawn on the screen above the main stage. I wondered ahead of time if the near-ubiquitous "Oceans" would find its way into anyone's set, and sure enough, the bridge became a vocal interlude played by NewSong and sung by Skillet's Jen Ledger.
The trampolines were then put to use by Family Force 5, but only after Crouton doffed his resplendent multi-colored LED airport-runway-landing-lights jacket. Typical of FF5, the set was a confusing, delirious, hypertonic quarter hour of mayhem, and I loved it. They're seemingly always right on the edge of disaster, which means fans can't take their eyes off the stage. Earlier in the tour, a backflipping band member nearly sidelined Crouton when he landed on him. Another night, Veridia's Deena, leading a train of giant-balloon-holding guests on stage to push the Cray Button, was knocked over backwards by a guitar tech. And on this stop, a bit of excessive chainsawing pulled the handle right off one of the (hopefully fake) lumberjack props. Of all bands, this is the one that likes it about as far "out there" as they can get.
Ceiling-to-floor banners and Jason Roy's Tin Man silver suit meant Building 429 were next. Roy's silver was eventually outmatched by the biggest disco ball I've ever seen. Roy took a turn on the drums, Blanca took a turn on vocals, sunglasses and drumsticks were tossed to ravenous fans, and audience cell phones held aloft during "Where I Belong" reminded me that no matter how cliché it has now become, 30,000 lit cell phones are an extraordinary sight.
Sadie Robertson provided a brief interlude and an unexpected prom dress fashion show before Jeremy Camp took the stage. He, of the dozens of radio hits, didn't shy away from new material from his latest, including a self-described "swamp revival" for "Can't Be Moved." An eventual solo acoustic medley satisfied the singalong crowd and highlighted Camp's pervasive discography: "There Will Be a Day," "Walk by Faith" and "Overcome" were highlights.
Francesca Battistelli and a six-piece band followed with a clever cover of American Authors' "Best Day of My Life" and a few remarkably prolific bubble machines. Franny made good use of the big screen, personalizing "He Knows My Name" with the names of others, symbolizing her work with the Mercy Project. The image was powerful. As the artist in lights sang, "I don't need my name in lights, I'm famous in my Father's eyes," the names of those unknown to the masses became special, and the love shown to them gave them a visual testimony through a simple display of their names. Moments later, Battistelli herself became a bit emotional. As she led the crowd in singing her new worship song "Holy Spirit," she took out her ear monitor to better hear the powerful collective voice and was, like many in the crowd, overcome.
Finally, after almost five hours of music, messages from evangelist Tony Nolan, and a call to help the ministry to orphans of Holt International, headliners Skillet brought their litmus test to the masses. I love that Skillet brings so many rock concert archetypes to their stage: elevating platforms, pyro, spinning drum kits, velvet trench coats, and even big swirly spark machines! To their credit, their show is good enough that it doesn't rely on these accoutrements. Yes, they're gimmicks, but they're more "value added" than essential. And they're loads of fun. The band even eschewed the bombast for a self-deprecating in-the-round bit with nerdy glasses and banjo, if you can believe it. And they preached too, with John declaring, "We live in America! Why are we so embarrassed to admit that we follow Him?" The frenzied set - and the packed evening - closed with help from Jeremy Camp and for King & Country on "Monster."
As well-oiled as Winter Jam is, there were a few glitches along the way, including some sound clipping and a couple of videos that seemed like they weren't working quite as intended. Heavier acts like Skillet pushed the limits of the acoustics in the Dome - electric guitar seemed to suffer the most - but that's probably unavoidable in the cavernous venue, the largest of the entire tour. It's really fitting, anyway. Winter Jam is 21 years old. It has the occasional kinks to work out, but it's in the prime of its life, and it has a bright future to look forward to.
--
Mark D. Geil
, 2/24/15
Winter Jam 2015 Photo Gallery
click on an image for a bigger size
**vertical images cropped for thumbnails**
for King & Country
Newsong
Family Force 5
Building 429
Jeremy Camp
Francesca Battistelli
Skillet
*all photos by Mark D. Geil and are the property of the photographer and Jesusfreakhideout.com