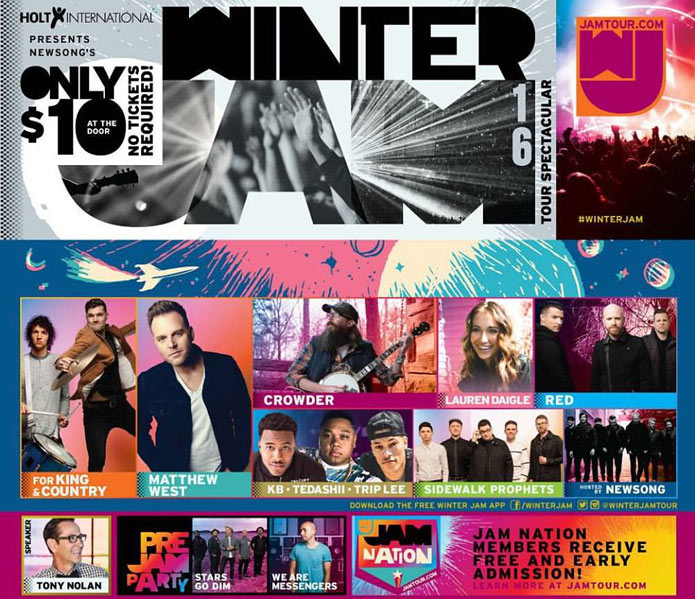 Winter Jam Tour 2016
1/30/16, at Consol Energy Center in Pittsburgh, PA
Winter Jam time has come again and this time they are boasting one of the best lineups in recent memory. While the mix of rock, hip hop, worship, and contemporary is still very much present, this year's lineup seemed to flow a lot nicer.
The night kicked off with newcomers We Are Messengers. While the few opening slots are notoriously short sets, what impressed me most about these guys is how big of an impact they made with just three songs. Their sound is radio-friendly, anthemic, with mixes of rock and contemporary, and a pinch of Rend Collective. With a night of incredible performances and moments, I still found myself thinking about We Are Messengers as a band to keep my eye on. Their debut album is now available for preorder on iTunes. Quickly following We Are Messengers were the guys of Stars Go Dim. By now, you've no doubt heard their hit "You Are Loved" on the radio. This is a good representation of the band. It's very slick mainstream pop that is fun to listen to, but even more fun to see live. Another short high-energy, memorable set.
The 116 clique was well represented next with Tedashii, Trip Lee, and KB. I won't pretend like I have a great knowledge of hip hop, but all three sounded great and displayed a lot of passion with their lyrics. I've photographed Tedashii a number of times in the past and I'm always impressed with him. KB brought some serious energy that had the crowd moving, which was a great setup for the rest of the night. Most memorable, perhaps, was the opening chords of Journey's "Don't Stop Believin" playing before heading into KB's hit "I Believe."
Grammy-nominated newcomer Lauren Daigle took the stage next with a four-song set of tracks from her debut album, wrapping up with mega-hit "How Can It Be?" This was a nice change of pace that provided the first more worshipful moments of the night, complete with soaring vocals from the talented songstress.
Sidewalk Prophets took the stage next with a surprisingly rock-centric performance. Impressively, they forwent a performance of the huge contemporary hits from their last album in favor of Something Different (see what I did there?). They opened with the soaring "Prodigal" and finished their 15-minute set with "Something Different," complete with a crazy rock scream by lead singer Dave Frey.
With another short set, tour founders NewSong took the stage. They opened with a classic of theirs, "Don't It Make You Want To Go Home" and a brief devotional. The band in my opinion has never sounded better. They rounded out their three-song performance with "Hallelujah" and "Arise My Love."
At this point, the night seemed to be flying by with a quick turnover between acts. Thankfully, the final four performances would be a little more lengthy. Matthew West took the stage, opening with "Do Something," before heading into "Day One," complete with a confetti blast showering the floor seats. He went all throughout the audience while belting out his well-known standard "Hello My Name Is," finishing up the song back on stage accompanied by a little girl he plucked from the audience. Finishing out his set was the powerful "Grace Wins," complete with short devotional and prayer to end the song. This provided one of the most emotional moments of the night, and I doubt there was a soul in house that didn't feel something during this presentation.
Red was next, taking theatrics and pyro to a new level as they rocked through a four-song set that included "Feed The Machine," "Take Me Over" and "Breathe Into Me." The band, adorned in special face paint, surrounded by black cut out trees that would spray pyro in circles during their performance, offered the heaviest part of the night, and seemed a tad divisive among the concert goers that I've spoken to. At the very least, Red was certainly memorable.
My personal favorite, Crowder, was up next, complete with a front porch and Kenny Rodgers the Artic Fox looking on. Crowder played a blistering 25-minute set, reminiscent of his latest live EP, complete with Tedashii joining in on the festivities to blaze lyrics in the bridge of "Lift Your Head Weary Sinner." Folktronica dominated the set, with all the songs, except for "How He Loves," coming from the Neon Steeple album. And of course, it wouldn't be a Crowder performance without leaving the stage post-hoe-down.
Moving up this year from their middle-of-the-night position last year was headliners for KING & COUNTRY. I've said in prior reviews of the Aussie boys, and it still holds true: fK&C have the best live show in Christian music. Their 35-minute set was dominated by songs from 2014's stellar RUN WILD. LIVE FREE. LOVE STRONG., but included a few surprises, such as a brief rendition of "Messengers" (from Lecrae's Anomaly). Much like Matthew West before them, fK&C (all band members) ventured into the audience to give the back half of the venue just as much of a show as the lucky ones in the first few rows. Perhaps the standout of the set was their newest track, "Priceless," which found Joel Smallbone explaining the inspiration behind the song and the creed of the band in general.
Unlike last year, the Consol Energy Center in Pittsburgh was packed to the gills for Winter Jam -- even the seats behind the stage. I think that's thanks to the stellar lineup that was presented this year. As with every year, there's something for everyone, but this year seemed to have mostly everything for everyone. And at $10 a pop, there's absolutely nothing to complain about. As Russ Lee explained, "10 bands for $10. You just watched Crowder for $1!"
--
B.J. Smith
, 2/10/16
Winter Jam Tour 2016 2016 Photo Gallery
click on an image for a bigger size
**vertical images cropped for thumbnails**
We Are The Messengers
Stars Go Dim
116 Clique
Lauren Daigle
Tony Nolan
NewSong
Sidewalk Prophets
Matthew West
Red
Crowder
for King & Country
*all photos by BJ Smith and are the property of the photographer and Jesusfreakhideout.com