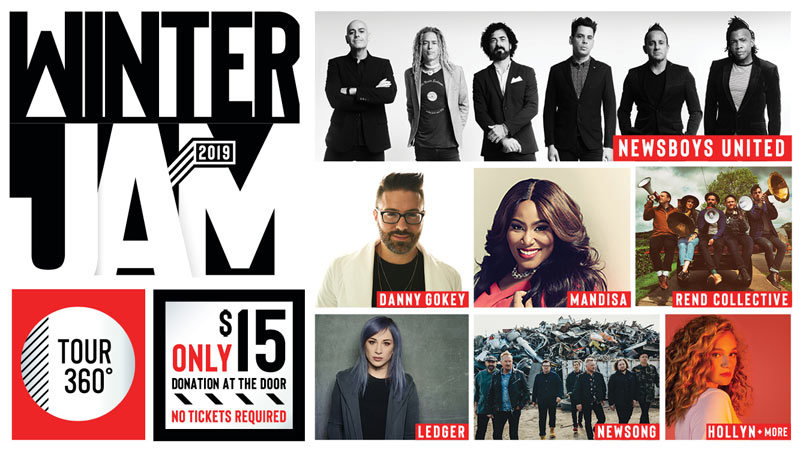 Winter Jam Tour 2019
2/15/19, at PPG Paints Arena in Pittsburgh, PA
It's that time of year again as Winter Jam rolls though Pittsburgh at the mid-way point of their marathon journey. This year boasts one of the strongest lineups in recent memory, with a new feature they are branding as "Tour 360." Before I get into the praise, let's get a little constructive criticism out of the way first.
It may solely be a personal preference, but I did not enjoy the "Tour 360" feature. For those unaware, "Tour 360" basically means that there is now a massive stage in the center of the arena, with the audience encamped 360 degrees around said stage. In theory, it's a great idea. It brings everyone in the building closer to the acts. In practice, it wasn't quite pulled off. Due to the nature of the audience being circled around the performers, half of the audience will always be watching someone's back. This is more egregiously apparent with solo acts. With bands, "Tour 360" works pretty well. Actually, with Newsboys United, I would go so far as to say that it was a strength. But with most of the acts, I was left wishing I could see more of what was going on - a sentiment that stands in direct opposition of the purpose of "Tour 360."
My usual criticism of acts not having enough time to perform still holds true - an unavoidable fact of life when so many performers are contained within one tour. I understand the economics and positives in cramming a lot of various acts from different genres on to one bill - and I respect the intentional outreach of it all. Still, I often found myself wanting more. Just as I would begin settling into a performers set list, the show would be over. This was never more glaringly apparent to me than in Rend Collective's set. They ended just as quickly as they began, and I was left going over the sheer number of incredible songs I wish I could have seen performed. Winter Jam is perhaps best viewed as a number of appetizers, and one decently portioned meal at the end. Still, I would personally love to see three or four big acts in total, being given a full amount of time. But I may be in the minority there.
Now on to the good stuff.
The performances this year (while short) were fantastic. During the "Pre-Jam Party" were were treated to Manic Drive, Ty Brasel, and Dan Bremnes (in his second consecutive year with WJ). The only one I was unfamiliar with was Brasel, who has a sort of Christian mumble rap vibe that I'm sure would be a hit with the youth nowadays.
Hollyn kicked off the main show, with a mix of her high energy pop music and some quieter moments. Tour founders Newsong took the stage after, playing a number of their most popular hits, and a new song called "Just Jesus" that was a huge hit in the arena. They were momentarily joined on stage by Ty Brasel and a gospel choir in one of the more memorable moments of the evening.
Ledger [literally] arrived on a chariot, that was sadly not horse-drawn, but impressive nonetheless. This was my first time witnessing Ledger live, and I am totally sold. Not that I wasn't sold before tonight, as Jen Ledger's vocals have always been my favorite aspect of Skillet, but her raucous set of rock numbers with just the right tinge of pop gave the crowd a burst of energy and the building was alive!
Mandisa took the stage next, and saw to it that not a single face had anything less than a wide grin through her set of hits. As Russ Lee would put it best, "you can't be depressed while listening to Mandisa. It's impossible." She would be joined in her finale by Danny Gokey playing the role of TobyMac for her poignant call to action, "Bleed the Same."
After a brief intermission, Danny Gokey returned for his own set. On a side note, Gokey looks strikingly like Robert Downey Jr., particularly in the sunglasses he was rocking on this night. I couldn't get it out of my head. Gokey performed a smooth set - a mix of crooner and dance party, although occasionally bringing things down for songs like "Tell Your Heart to Beat Again." Impressively, in two of his numbers, he would go fluent Espanol for a verse or two.
The fine folks of Rend Collective took the stage next, with one upbeat banger after another. The worship pandas made a welcome appearance, as did Rend staples like bubbles and streamers. As mentioned before, I really wish more time was allotted for Rend Collective. I've experienced their live shows a number of times in the past and they are incredible.
Headlining WinterJam this year is the Newsboys. But not just the Newsboys - Newsboys United! This was my first time seeing Peter Furler and Phil Joel back performing with the band, and expectations were high. The Newsboys kicked off the show sans-Furler and Joel, which initially was disappointing, although it would pay off in a big way. Performing truncated versions of "Born Again," "Change the World," and "Abandon" gave way to the highlight of the night for me. The opening chords of "He Reigns" saw Phil Joel make his way to the stage and embrace Michael Tait, both brandishing ear-to-ear smiles. After performing a few moments together, Peter Furler made his way to the stage to a massive roar from the crowd. Tait and Furler sang together before each made their way to separate parts of the 360 degree stage, and it was on! It sounds simple on paper, but the atmosphere for those entrances and the entirety of the rest of the set was indescribable. It was one of the most memorable moments I've ever experienced while covering Christian music. The Newsboys felt reinvigorated. I have enjoyed Tait-era Newsboys, but this was different. Having a number of the various incarnations present and united - it was a breath of fresh air. Fresh, electrifying air. More importantly, every member of the band seemed to be having the time of their lives.
Minor gripes aside, I'll never not recommend Winter Jam. It is quite simply the best value in Christian music - by a wide margin. Diverse acts, speakers, and some downright cool moments. They are halfway through the tour, so be sure to check out a stop before it's too late!
--
B.J. Smith
, 2/20/19
Winter Jam Tour 2019 Photo Gallery
click on an image for a bigger size
**vertical images cropped for thumbnails**
Manic Drive
Ty Brasel
Dan Bremnes
Hollyn
NewSong
Ledger
Mandisa
Danny Gokey
Rend Collective
Newsboys
*all photos by BJ Smith and are the property of the photographer and Jesusfreakhideout.com