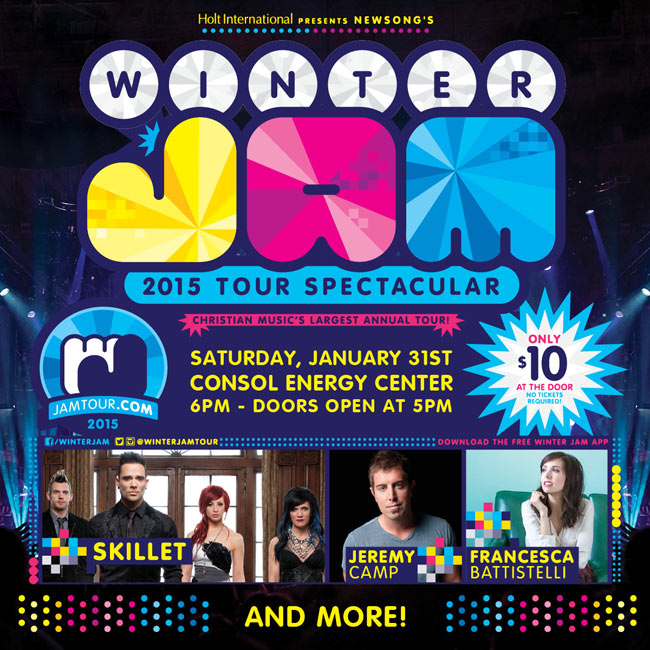 Winter Jam 2015
Skillet, Francesca Battistelli, Jeremy Camp, Building 429, Family Force 5, NewSong, for King & Country, Blanca, Veridia, About a Mile
1/31/15, at CONSOL Energy Center in Pittsburgh, PA
The long-standing yearly tradition of Winter Jam began earlier this month, and I was fortunate enough to attend the 17th of 47 shows on this huge tour spectacular, emanating from my home city of Pittsburgh.
The show started promptly at 6pm and emerging band Veridia began as many were still filing into the arena. I unfortunately missed most of this set and the next, Pittsburgh native trio About A Mile, while sorting out my photo credentials. However, the music rang through the Consol Energy Center and I have to say I was impressed. The opening spots of Winter Jam shine a brilliant spotlight on these lesser known bands, and can be veritable star makers. Veridia mixes a rock sound with hints of dub-step into a formidable package, while About A Mile sounds more like traditional CCM. Both were impressive from what I was able to hear, and hopefully have a bright future ahead of themselves.
Next up with a short set was former Group 1 Crew member turned solo act, Blanca. Blanca, displaying a nice blend of crowd-pleasing pop/R&B, was here with a few new tunes in support of her forthcoming debut solo album. While I wasn't familiar with any particular tracks, I can say that she put on a high energy, inspired show that had the crowd on its feet.
With so many huge acts on one bill, most sets ranged about 15-20 minutes. As you might expect with the limited time constraints, most set lists were confined to "the hits." This is a tad disappointing but understandable, especially when you consider the level of talent present and the ridiculous affordability of the ticket.
for KING & COUNTRY took the stage next, and while it's my third time photographing them in merely six months, I have to say it never gets old. They have the best live show in all of CCM, in my humble opinion. As with most sets tonight, the band's was truncated down to a few hits to accommodate the sheer amount of talent billed on the tour tonight. fK&C opened with their huge single from last year, "Fix My Eyes." The guys then spread out and headed into the various corners of the arena to perform standout track "No Turning Back," illuminated by solo spotlights singing with the crowd. They closed up their set with the smash "Proof Of Your Love" that saw front man Joel Smallbone climb atop a 20ft ladder to finish out the song.
Tour founders NewSong took the circular stage in the middle of the arena to play tracks from their 18th and most recent studio album, Swallow The Ocean. Included in the set list was their current single "Faithful," a twangy upbeat worship song akin to the current Americana/Folk movement. Perhaps the highlight of this set was when the guys of NewSong were joined by Jen Ledger of Skillet to perform a cover of the UNITED mega hit "Oceans."
Closing out the first half of the night was the ever-rowdy Family Force 5. While the set wasn't that long, they optimized every second by bringing a complete party atmosphere in stark contrast to the earnest worship of the prior performers. FF5 opened up with "BZRK," trampolines and all. The band also performed "Let It Be Love" from their newest release, followed by fan favorites "Chainsaw" and "Cray Button." When the "Cray Button" was indeed hit, a mass of people hit the stage to bring the first half of Winter Jam to a close as our guest speaker, Tony Nolan took center stage.
Tony spoke for about twenty minutes in support of his newest book, "GASP! You Will Spend Forever Somewhere: How to Make Sure It's Heaven." It was refreshing to hear someone speak to the masses about the realities of Heaven and Hell, as the latter part is something that is all too often incontinently omitted from popular ministers nowadays. Tony has a unique and touching testimony, and I encourage everyone to seek him out as his talk was a blessing.
Building 429 then took the stage for a high energy set to get the crowd back into the performance atmosphere. Among the hits was the crowd pleasing anthem "We Won't Be Shaken." It was quite the site seeing 20,000 people singing those very words. Front man Jason Roy has a way with the audience, and is a commanding presence in the midst of these anthemic worship songs. Other favorites performed were "Set A Fire," "Where I Belong" and "Wrecking Ball" with a surprise reappearance of Blanca.
In a sharp contrast, Francesca Battistelli was up next, opening with "Write Your Story." From that, she quickly segued into a cover of American Authors' "Best Day Of My Life." It was a neat little moment and the two songs blended together perfectly. Next up was current hit "He Knows My Name," complete with a huge blanket of bubbles! While seemingly shorter than some of the other sets, the crowd loved Battistelli and really responded to her performance.
In an unadvertised surprise, former Flyleaf front woman Lacey Sturm and husband Joshua came out to engage the crowd and introduce our headliner, Skillet!
The band kicked off a rocking set with "Not Gonna Die," complete with pyro galore. A video played of many known Christian names speaking as to what they are sick of (i.e. human trafficking, various injustices) before the band broke into their track off of the latest album (Rise), "Sick Of It." The entire crowd was buzzing as Skillet ran through their many hits, but also as John Cooper took pauses between songs to speak about how we as Christians shouldn't be ashamed of the gospel. During "Hero," John and Jen Ledger journeyed into the audience on mobile platforms and performed all around the venue. Skillet was also joined by Jeremy Camp and for KING & COUNTRY for their smash "Monster," before closing out the night with "Rebirthing." As the headliner, Skillet had significantly more time than previous performers, but they sure put on a show and was a great way to cap off the entire night.
While some of the sets were shorter than ideal, and advertising was rampant in between performers, Winter Jam once again proves to be the best bargain in live Christian music. For a mere $10, you can see some of the biggest and best names in the game all in one venue. The quality and diversity of performers is unmatched, and going out of your way to catch this massive tour is a no-brainer.
--
BJ Smith
, 2/3/15
Winter Jam 2015 Photo Gallery
click on an image for a bigger size
**vertical images cropped for thumbnails**
Veridia
About A Mile
Blanca
for King & Country
Newsong
Family Force 5
Building 429
Jeremy Camp
Francesca Battistelli
Lacey Sturm
Skillet
*all photos by BJ Smith and are the property of the photographer and Jesusfreakhideout.com