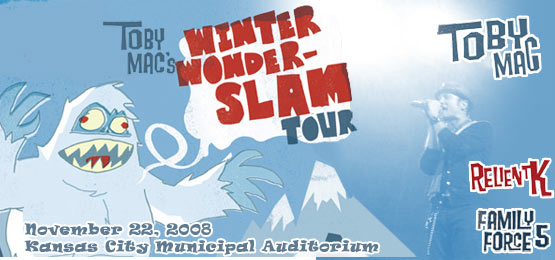 Winter Wonder Slam: TobyMac, Relient K, Family Force 5, B.Reith
11/22/08, at the Kansas City Municipal Auditorium in Kansas City, KS
I don't remember the last time I went to a show without any problems arising. That includes the Kansas City stop on this year's Winter Wonder Slam Tour. The directions I had gave a shorter driving time than what it really was (added to the fact that the show decided to start early), and I ended up completely missing the opening act, newcomer B.Reith. What I had heard of him on MySpace hadn't been too impressive, but I was hoping to catch his show to see if maybe it his live performance was better than the audio. But we got there as GabeReal - from the Diverse Citizens - emceed for a little interlude, and introduced a charity they were promoting on the tour, The Cure International, which raises money for disabled children in third world countries. During the video, the stage crew set up for the night's next performers, Family Force 5.
The crunk/dance rockers took the stage and immediately got the crowd rowdy with "Fever." It was my first time seeing the Family in over a year, so it was good to see that they were still as fun and energetic as before. With not much talking in between the songs, they jumped right into "Drama Queen," then turned it up with the Dance or Die rocker "D-I-E 4 Y-O-U." Vocalist Soul Glow Activatur encouraged everyone to start snapping their fingers, following his rhythm, and the enchanting synthesizers for "Radiator" started up (my personal favorite from Dance or Die). The sound was perfect throughout, as they then moved into a medley of sorts - though only two songs, so I guess it's not really a medley. They started out with a chant of "Hold up, wait a minute, put a little love in it!" and then played all through "Love Addict" up until the second chorus, where it changed to "Grandma, she got run over, she got run over by a reindeer, y'all." Pulling out their Christmas single from a couple years back was a nice touch, and fitting for the Christmas-themed tour. After a verse of "Grandma," they went back to the bridge of "Love Addict" and finished the song. Their very short set was concluded with "Get Your Back Off The Wall" and then "Earthquake." I was slightly disappointed. Not at their choice of songs, or their performance (which is always completely beautiful, especially with the addition of Nadaddy's Family Force 5000 machine), but at the shortness of their set. Only seven songs (eight if you count the "Love Addict"/"Grandma" thing), and they didn't do some of my favorite songs from their collection, like "How In The World," "Dance or Die," "Supersonic," or "I Love You To Death." Even so, a stellar performance from the Family.
Another interlude followed as the next band on the bill, pop/punk giants Relient K, got all their equipment set up. When they were ready, they got the crowd all excited as they pulled out an oldie to start off with, "Sadie Hawkins Dance." I was really hoping for something from their self-titled debut (which remains my favorite Relient K album to this day), knowing that they never play anything from that album, but I was still pleased with what they gave us. So with the exception of their debut, Relient K played songs from all of their full-lengths, starting off with selections from Mmhmm - "Be My Escape" and "High of 75" - and then two from their critically-acclaimed Two Lefts Don't Make A Right, But Three Do - "Chapstick, Chapped Lips and Things Like Chemistry" and "Mood Rings," much to the enjoyment of the crowd (especially the very loud, screaming teenage girls behind us). Much like FF5's set, the guys didn't talk much between songs, but instead just played song after song (Although, Matt Thiessen did take a second to tell us that the next song would be from their latest full-length, Five Score and Seven Years Ago, and that it was entitled "I Need You"). Thiessen utilized two microphones to give the necessary effects to his vocals like you hear on the album, which made it sound very close to the recording. Again, since the tour is Christmas-themed (and Relient K is infamous for having released, re-released, and RE-re-released a Christmas album), it's only fitting that they would play some of their Christmas songs. So after "I Need You" (and the Peanuts Christmas song "Christmas Time Is Here" playing through the speakers), the guys played my favorite Christmas carol, "O Holy Night," followed by a Relient K original, the heartfelt "I Celebrate The Day." Thiessen then brought our attention to the big screens up front, which had an animation of a snow-covered field and a log cabin on it. A log cabin in which, he said, he himself lived in, as a cute little bunny. They then played their latest Christmas single, "Sleigh Ride," while Family Force 5's Xanadu came out and stared throwing candy canes to the audience and hanging them on Thiessen's keyboard. But what was cool was that, not only did they play the song, they played it alongside their music video for it on the screens. It's not something that you see very often, so I was kind of impressed by it. They then announced the next song would be their last one of the night, first saying that they were glad that Family Force 5 was no longer playing, and that it would be a tribute to them being done for the night. You know that Subway commercial that says "5, 5 dollar, 5 dollar footlong?" Well, they played that (spot on, might I add), and instead sang "5, Family Force, Family Force 5's done." But then their real last song of the night ended up being "Who I Am Hates Who I've Been," making for a much better show than the last time I saw them, with Mae and Sherwood last year. It was also nice to see that they were a bit more open about their faith this time around.
It came time for an intermission. This was the time when my next problem occurred with photo access. So, for TobyMac's set, I had to take pictures only from my seats near the back. I headed back to my seat in time for a video plugging TobyMac's merch booth (again, something I've never seen, and kinda unnecessary for an artist like TobyMac, whose fans will undoubtedly spend money on his merch table after the show, if they hadn't already spent some). The lights then went out, and after a minute, a blacklight shone on the frontman of the headliner, TobyMac himself, as they started out with "Burn For You." Toby - famous for his insanely fun and energetic live show - tore through hot singles like "Catchafire (Whoopsi-Daisy)," "The Slam," and newer song "No Ordinary Love," leading right into "J-Train," another song featuring a big time artist, Kirk Franklin. Of course, neither Kirk Franklin nor T-Bone (who appeared on "The Slam") was able to be at the show to perform their respective parts, but it would've been quite the sight to see them all on one stage together. Two of his biggest songs in his solo career were next, "Gone" and "Irene." By this time, I had noticed that every song thus far had been ended rather abruptly with the lights shutting off, obviously for dramatic effect - though the effect had gotten kinda worn at that point. The guys struck up another song (though I can't exactly remember which one), which then transitioned into "Boomin'" (from Portable Sounds). Some softer lights came back on afterwards, and keyboardist, D-Dub, played some soft, ambient background music while Toby gave the obligatory shout outs to the other tourmates, with the crowd cheering louder and louder after each name was dropped. Toby went on to share a story about when he was a kid, and he came across some of his father's business cards, which displayed the Bible verse that asks what good it is for a man to gain the whole world, yet lose his soul. He then said that a few years ago, he was reminded of that time and that verse, and it inspired him to write the song they were about to play, Portable Sounds album closer "Lose My Soul," which led directly into a slow and peaceful rendition of "Oh Come Let Us Adore Him." Next, TobyMac and crew decided that it was time for the low-key portion of the show to be done and over with, and they started up with "Diverse City," then stopped a few seconds later (something they've done more recently as sort of a staged mess-up), and then they started it back up again, flawlessly. "I'm For You" followed, as did "One World," which led into the TobyMac live show staple: the old school medley. This night's medley was only three songs, "Rollercoaster," "That's The Way I Like It," and "We Are Family." The lights went out once more, signaling the alleged end of the show. But with the loud and raucous cheering, accompanied by the barrage of cell phones waving around, almost lighting up the whole arena, you know it couldn't be the end just yet. The big screens lit up, displaying a portion from the Peanuts Christmas special again. The most famous part in the entire episode, with the gang laughing at Charlie Brown's wimpy tree. Charlie asked "Isn't there anyone who can tell me what Christmas is really about?!" only to hear Linus calmly quote from the Book of Luke about the birth of Jesus. The entire arena filled with loud cheering and excitement, as Toby and gang came back and played their hit single, "Made To Love." Toby then offered up a heartfelt prayer, and encouragement to everyone there. They ended their set with the dc Talk classic, "Jesus Freak," and once more, the lights went out.
But again, it wasn't quite the end. Toby said "You know, we were supposed to end there, but we got a little bit more for you." He invited all the other bands on the tour to come out and join him on the stage, as Toby's band hit the crowd with some upbeat punky kinda rock. As the stage filled with all the bands and some crew members, Toby started singing "Winter Wonderland," only instead of "wonderland" he said "wonderslam." Kinda cheesy, but fun at the same time. Confetti was shooting up into the air and slowly floating down everywhere as all the band members were running around and high-fiving audience members. And there was even one guy riding a bike (I don't remember who), and Soul Glow Activatur jumping on a trampoline. It was a lot of fun, and a great way to end the night. Winter Wonder Slam 2008 turned out to be a fantastic show. Though I admit that I really only went to see Family Force 5 (how can I put this delicately? I can't say that the line up is really mediocre, but it would be nice to see more non-heavyweights on the next run). But all the bands displayed themselves at the top of their games, and made it very much worth the ticket prices. This year's Wonder Slam was a step up from 2007's, so hopefully next year that trend will continue, and Winter Wonder Slam 2009 will be even better!
--
Scott Fryberger
, 11/30/08
Winter Wonder Slam 2008 Tour Photo Gallery
click on an image for a bigger size
**vertical images cropped for thumbnails**
B.Reith
Family Force 5
Relient K
TobyMac
*photos by
Stephanie Carr
are marked, all other photos by Scott Fryberger and are the property of the photographer and
Jesusfreakhideout.com