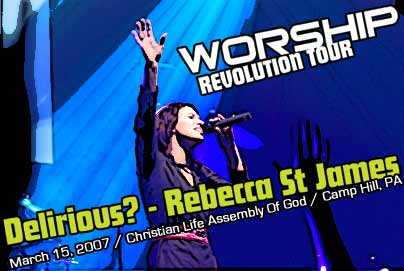 Delirious?, Rebecca St. James, Vicky Beeching
3/15/07, at Christian Life Assembly Of God Church, Camp Hill, PA
Most tours that get a catchy little title are named for the headlining act's latest album and ultimately have little to do with the actual evening's events. The Worship Revolution Tour, however, does not fit this format. With a distinct focus on worship music with worshipping hearts, The Worship Revolution Tour bands together three prominent figures in modern worship - Delirious?, Rebecca St. James, and Vicky Beeching.
On Thursday night, March 15th, a pretty packed house filled the spacious Christian Life Assembly Of God sanctuary, ready to worship God. The show didn't start til around 7:30pm, which seemed late for a weeknight show, but everything seemed to move quite fast and fluid. London native Vicky Beeching opened first, utilizing members of Rebecca St. James' backup band as her own accompaniment. Beeching started with the title track from her Sparrow Records debut Yesterday, Today, & Forever, and proceeded with two new cuts from her forthcoming album Painting The Invisible, "Join The Song" and "Great Is Your Glory." Beeching greeted the audience in between songs and joked about her British accent and current Nashville residency, which made for a more personal experience between the listener and the audience. Beeching then closed her short set with her version of Chris Tomlin's "How Great Is Our God."
Surprisingly, without a break between sets, Beeching announced Rebecca St. James and within seconds her full band was out on stage and a slowly building musical intro for her hit "Alive" began. St. James emerged, microphone in hand, ready to engage the audience in worship. "Alive" was a great way to pump up the crowd, before leading the audience in the chorus-driven "Lamb Of God." For Beeching's set, a large screen behind her displayed lyrics for the audience to sing along too. For St. James, only a few songs called for this, but it was the ideal way to invite the audience to worship along with the artist if they weren't familiar with the songs played. The funky "Thank You" was next, which gave RSJ a chance to fill in for TobyMac's guest vocal that appears on the album version of the song, and it was fun to see her give a little rapping a shot. Although she did just fine, she followed it up with an apology before sharing her heart about a friend who she'd gone to school with and learned had fallen away from God years later. This lead into an acoustic version of "You Are Loved," which was written as something she wished she could say to her friend to encourage them. A newer, less electronic-pop rendition of "Wait For Me" was next, which included the music video for the song playing on the screen behind Rebecca and her band. At the close of the song, St. James introduced her longtime backup vocalist Charmaine and exited the stage, along with most of her band, to leave Charmaine to perform an acoustic song of her own. With a new record being a longtime coming for the aspiring solo artist, Charmaine performed a new song for the listeners, entitled "Save The Day." Rebecca and band then came back for a wonderful cover of Chris Tomlin's "Forever," followed by "Breathe," and the evening highlight "Take All Of Me." The emotional "Forgive Me" preceded her set closer, Matt Redman's "Blessed Be Your Name," and Rebecca then took an extended period of time to share about Compassion International. She talked about her experiences visiting her sponsored child, cited 1 Corinthians 15:58, and urged the audience to join her in sponsoring a child themselves. An intermission followed to allow people to check out the Compassion table in the church lobby, and for preparations for the closing act to begin.
When the lights dimmed again, the sound of a siren blared throughout the auditorium. UK residents Delirious? casually stepped out onto the stage and began the opening music to "Here I Am Send Me," exciting the crowd. Their set opened powerfully with a trio of rousing anthems, moving on with "Rain Down" and then the funky "Solid Rock." Despite the lengthy time slot Delirious? had, they didn't spend the time diversifying their song list too much. As they proceeded with "Now Is The Time," the guys seemed to begin dragging each song out quite long, in this particular case with Martin Smith pausing to speak during the song before continuing it further. In some cases, however, dragging out the moment only seemed to bolster the worshipful setting. Most of their set was filled with selections from their most recent album, The Mission Bell and "Miracle Maker" was next. The brought back a few classics as well, inserting the legendary "I Could Sing Of Your Love Forever," and the rousing "History Maker," which featured really creative video footage displayed behind the band that showed the lyrics as headlines on proverbial newspapers. For "Majesty (Here I Am)," Rebecca St. James returned to the stage to sing along with the guys, and left for when the band closed with "Our God Reigns." Although their performance didn't feel brief, it was surprising to note that not even ten songs had been played before they left the stage. But an encore was inevitable, and Delirious? came back for just one more song, ending almost as upbeat as they began with "Paint The Town Red."
The Worship Revolution Tour is a wonderful evening of modern worship in a contemporary packaging. Those less likely to enjoy a Passion Band or Hillsong performance may find a lot to like about the Beeching/St. James/Delirious? teaming. While I was a bit disappointed that St. James didn't play all that much of her own material or that Delirious? hadn't played more songs, the evening's presentation was wonderful and the performances masterful as the focus was less about promoting their latest songs than it was about worshipping God. The Worship Revolution Tour is a great experience for those looking for an evening of entertainment and a chance to worship loudly with their fellow believers.
--
John DiBiase
, 3/17/07
The Worship Revolution Tour Photo Gallery
click on an image for a bigger size
Vicky Beeching
Rebecca St. James
Charmaine
Delirious?
*all photos by
John DiBiase
and are the property of
Jesusfreakhideout.com