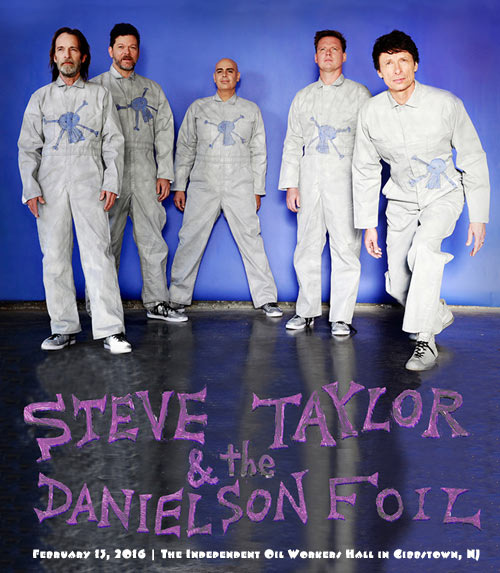 Wow To The Live-ness Recording Party
Steve Taylor & the Danielson Foil, Danielson, Ortolan
2/13/16, at The Independent Oil Workers Hall in Gibbstown, NJ

It can be tough when you're late to the party. While this review is of a party, I'm figuratively speaking in regards to when you become a fan of an artist just a wee bit too late. I'm pretty sure the album that won me over to Steve Taylor was actually Liver, his 1995 live album. And, coincidentally, the album had been recorded in full at the LMHS Fine Arts Center on October 22, 1994 -- just 6 days after I had seen my first real concert at that very venue, Audio Adrenaline (with a brand new artist called Out of Eden!). If my memory serves me right, it would be the music video for the live version of "On The Fritz" from that album that would eventually win me over to Taylor's music. Steve soon stopped touring after that but played a rare show at Creation East 2003... which also happened to be when our honeymoon was (So, we missed it!). Fast forward another eleven years and I finally got to see Steve live in concert for the first time, almost two full decades after he recorded Liver.
But things have a way of evening out, and God is a God of second chances, so there was added significance to getting to attend another live Steve Taylor concert recording -- and in "the Greater Philadelphia area," no less. As a special event for Kickstarter backers and diehard fans of Taylor and his band, February 13, 2016 marked a fun experience for those in attendance, as Steve Taylor & the Danielson Foil (a collaboration of Steve Taylor and the Perfect Foil with Danielson) hosted a night to remember in the quiet, small New Jersey town of Gibbstown.
As we entered The Independent Oil Workers Hall around 7:00pm on this especially frigid winter night, we were handed a print-out sheet of a "Liturgy" that we would be reciting with Steve during the concert. It was riddled with the wit and silliness we've come to expect from Taylor, and I was eager to see how it would come into play during the show. The night kicked off sometime after 7:30 with a local act called Ortolan, a female-fronted folk rock band that offered a bit of an Eisley feel with a little more blues and 50's rock mixed in. The vocals were soothing and entrancing; it was such a lovely way to kick off the night. The foursome -- which comprised of three girls (two who are sisters) and one guy -- played cuts from their most recent album, Covered In Black, and one cover song in honor of Valentine's Day, and then left the stage. Definitely check them out if you appreciate artists like Eisley and The Vespers.
To kick off the official festivities, Daniel Smith and his wife came out to perform as Danielson. Danielson / Danielson Familye (etc) are a group I've always been aware of, but not one I found to be my usual brand of music. They're quite the acquired taste--especially with Daniel Smith's high and often dissonant vocals--but their quirkiness and bizarre music has long had a certain charm to it. Still, to see it live isn't necessarily going to make it suddenly click with you, and the duo's bizarre offerings of "Southern Paws," "Body English," "Grow Up" and "Rubbernecker" were... interesting to say the least, but you just might leave the experience with a bit more understanding. After the opener of "Southern Paws," Peter Furler and John Mark Painter joined the twosome on drums and bass, respectively, for "Body English." Then, when "Grow Up" followed, Jimmy Abegg joined the foursome on guitar. So by the time "Rubbernecker" had concluded, the band had melded it into Steve Taylor & The Perfect Foil's "Rubberneck," and Taylor stepped out on stage to join the group for his portion of the set (and Dan's wife made her exit).
After "Rubberneck," Taylor paused to greet the crowd and ask them to take out their sheets to recite the "liturgy" with him. This then served as the intro to the Wow to the Deadness full EP performance from start to finish. It was cool to hear these songs performed live--for my first time--and you could tell everyone in the band was concentrating more fiercely on their performances to make sure they nail it on one take for the recording. Still, Steve completely forgot the second verse to "The Dust Patrol," but they plowed ahead regardless. After the song, Steve joked that if the second verse magically appears on the live album sung correctly, he doesn't know what happened.
Following the EP tracks, the band busted out a Steve Taylor classic in "I Wanna Be A Clone," and then performed one of my personal favorites, "The Lament Of Desmond R.G. Underwood-Fredrick IV," from his 1993 record Squint. A series of cuts from their 2014 album, Goliath, followed--"Moonshot," "Standing In Line" and "Double Negative"--and then Steve introduced their updated version of "Am I In Sync?" before the band launched into the fan favorite from his 1984 record, Meltdown. Afterwards, Steve took a moment to talk to the audience about how he'd promised them surprises and treats, and that one surprise was up next. At that point, one of the audience members turned to the woman next to him and proposed (!) as fans and the band looked on. Thankfully she said "yes," and the band went back to playing music with "Only A Ride." "Goliath," the especially excellent "Comedian," "Moshing Floor" and the hilarious "Cash Cow" all followed, and then Danielson returned for one last song, with Daniel inviting his father Lenny Smith on stage to sing along to "Did I Step On Your Trumpet." It was a rather crazy and bizarre offering, but it was neat to see the Danielson Familye unite once more.
Steve returned for "The Finish Line," and then before they could start the next song, Jimmy stopped them and insisted that he wanted to try a new guitar intro. Steve seemed genuinely surprised and admitted it was new to the band as well. After giving the guitar lick a shot, Steve approved and asked him to play it again for the recording, and then the band launched into the ballad "Hero." With that, the show was over, but Steve asked if they all could try "The Dust Patrol" once more for the live recording, and the band went through the fast and furious track once again before calling it a night. The rest of the night featured pizza, refreshments, a "Wow To The Deadness" themed cake and cupcakes (and purple Kool-Aid) and a lot of mingling. It was an event to remember and one we were thrilled and thankful for being a part of.
If you're a fan of either Steve Taylor's music or the quirky nature of Danielson, you'll want to check out Steve Taylor & The Danielson Foil's new EP (which is out now -- on CD, digital and vinyl). And be on the lookout for the live recording from this evening of Wow to the Live-ness to be available real soon.
--
John DiBiase
, 2/18/16
Steve Taylor & The Danielson Foil Set List
Southern Paws (Danielson)
body English (Danielson)
Grow Up (Danielson)
Rubbernecker (Danielson) / Rubberneck (Steve Taylor)
(Liturgy) / Wow To The Deadness
Wait Up Downstep
The Dust Patrol
Nonchalant
A Muse
Drats
I Wanna Be A Clone
The Lament Of Desmond R.G. Underwood-Fredrick IV
Moonshot
Standing In Line
Double Negative
Am I In Sync?
Only A Ride
Goliath
Comedian
Moshing Floor
Cash Cow
Did I Step On Your Trumpet (Danielson)
Finish Line
Hero
The Dust Patrol (Re-do)
Wow To The Live-ness Recording Party 2016 Photo Gallery
click on an image for a bigger size
**vertical images cropped for thumbnails**
Steve Taylor & the Danielson Foil
*all photos by John DiBiase and are the property of the photographer and Jesusfreakhideout.com