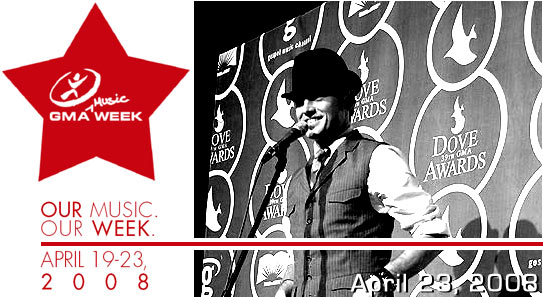 Wednesday is pretty much the climax of GMA Music Week. It's what everything leads up to -- the night of the Dove Awards ceremony. Now, while the Doves are far from perfect (or even - dare I say it - fair), it still is the big night for the most popular artists in CCM to get their recognition.
For the first time since we started attending the Doves in the press room, I decided to provide a bit of minute-by-minute blogging from the Dove Awards press room, commenting on the categories - who was winning, who I wanted to see win - and when we couldn't exactly hear what was going on in the ceremony, I commented on what was happening in the press room. Below is that transcript ordered chronologically (and slightly "beefed up" with some previously unfinished thoughts)...
HEY GUYS! - John here in Nashville, TN reporting live from the Dove Awards press room. The pre-show is going on right now and since the awards are being shown live this year, they've split some nominations off into the pre-show and reserved the biggest categories for the actual show.

Being in the press room has its ups and downs - we won't get to hear the whole event as it happens because of the sound being dropped when a presenter or award winner comes in to speak to us and answer questions. But so far, we've heard the winners for Record Packaging, Rock Song of the Year, and Hip Hop Song. David Crowder snagged the Dove for Record Packaging with Remedy, but with all the Tooth & Nail Record projects with wicked designs like Project 86's Rival Factions, Anberlin's Cities or even The Fold's Secrets Keep You Sick (among others), Remedy was not the best pick. but most likely just the popular pick. I would have loved to have seen Project 86 get that one. (And it's sad to think some day we probably won't even have that category with everything going digital, but that's a whole 'nother topic).

4:57pm - Reunion's newcomers Tenth Avenue North are performing right now live. It's a little strange to have a new act without a single record officially out yet to be performing for the Doves (especially when they won't be up for New Artist til NEXT year), but they fit fine with the radio pop friendly crowds. It'll be interesting to see where these guys go from here... Skillet won Rock Song with "Comatose" and John and Korie Cooper accepted the award. Absolutely ridiculously funny. Cooper jested about their losing streak at the Doves before pretending to accept a phone call during his acceptance speech, then crying out "That was GOD and He wanted me to tell you to buy the Skillet record!!!" Fabulous. Comedian Nazareth is MCing tonight and doing a hit and miss job, but he's still knocked a few of the jokes out of the park.

5:03pm - Long Form video is up, being announced by singer Warren Barfield. You all know I would love to see Audio Adrenaline take this one home.... AND THEY DID! Woohoo! Definitely great to see the guys take something home for their final project. Sadly, the band wasn't here to accept it but someone from the label did. Oh, and for Hip-Hop Song, T-Bone won the popular vote for "Name-Droppin'." It's a cool song -- but would love to see John Reuben get recognized sometime... oh well. Glory Revealed just won its second award for the project, this time winning for Collaboration. Definitely entertaining watching the presenters (which included Barfield) reading a ridiculous list of names for each project nominated.

5:13pm - Skillet's back here answering questions in the press room and it's fantastic to see the band finally winning something after about 20 tries. These guys definitely have earned it!

5:25pm - Mr. Mac Powell (of Third Day for the shameful few who don't know who that is) and author David Nasser just came in to talk about their project Glory Revealed. Skillet was in here for a crazy long time but it will most likely be a press room highlight for the night. On the monitor we can see the pre-show continuing (we don't have sound), and PureNRG, The Rubyz, and Bible Man (?!) are presenting awards for the childrens categories (and it looks like VeggieTales won something). Mac and Nasser are still talking about Glory Revealed and have mentioned that a second Glory Revealed is coming.... hmm. The original was cool - not really City On A Hill cool, but I'm not sure we need a run of Glory Revealed installments.

5:33pm - SCC just joined Mac and Nasser and admitted to the press that he just accidentally accepted a Dove Award he didn't win for the SCORE for the film Amazing Grace which he had nothing to do with (he had a song on the compilation for the film). Just another reason to love Steven Curtis Chapman.

5:40pm - Newcomers Tenth Avenue North are in the press room now talking about their live performance and upcoming record... The group cited musical influences and dropped names like Jars and Justin McRoberts and Jon Foreman. Very cool. Their debut drops May 20th.

5:47pm - Some VeggieTales folks are here now... Mike "Larry the Cucumber" Nawrocki and a producer who won for their Christian Hits project. Amy (that is - "my Amy") asked a question about their Christian Hits cover project... Hopefully we can get the snippet up here sometime. We definitely wish there were more Christian entertainment media like these guys. As a side note - we don't have sound back here, but Disciple just accepted an award. Glad to see the guys get recognized for something.

5:52pm - Smitty is back now for winning for his Christmas project. Would love to have seen Jars of Clay be recognized for their Christmas Songs record, but Michael W. Smith's third effort was definitely a strong production nonetheless. On the show, Phil Wickham is performing right now.

6:01pm - Comedian/singer Mark Lowry's here now talking to us, after winning for his hymns project. First time I'm hearing or seeing Mark in the flesh. Definitely a pleasure. I used to get his comedy CDs and VHS tapes back in the day (anyone remember his parodies "The Date Adventure" or "Baby, Baby, Why Not Me?" Pure gold.) Leeland is presenting at the show as he speaks.

6:08pm - Producer of the Year is up and we finally get to hear it (if the audio sustains)... and IAN ESKELIN finally wins!! He's definitely earned it with all the pop and rock records he's worked on recently. I'm honestly surprised Ed Cash didn't win again... Meanwhile, Group 1 Crew who won for Hip Hop album just came back here. Glad to see these guys get props in the industry.

6:15pm - Just asked G1C about their second record coming out this summer. They shared a bit about the project - titled Ordinary Dreamer, coming out July 22.

6:18pm - Gospel Winner Jonathan Butler is back here sharing about his music and Gospel career. Meanwhile, Casting Crowns looks to have stolen away yet another award (no surprise). Not entirely sure which category it was, but Newsboys' Go Remixed was one of the nominees. On the monitor as I type, BarlowGirl and John Reuben have presented Larry Goss with an award... wish we knew what for! :)

6:22pm - Looks like Cindy Morgan snagged a win! Nice to see some classic CCM talent still winning some awards. Ian Eskelin is back in the press room now. About time he won for producer. He just told us that he plans to work on the next All Star United album next month. ....Music to our ears! Eskelin was asked about encouragement for new artists and it was cool to hear him encourage to not be afraid to sing about Jesus.

6:28pm - Disciple is back here now. Awesome to hear they won for Rock Album with Scars Remain. Front man Kevin Young just shared his appreciation for classic Christian rock bands (like White Heart, Petra, Stryper) and that they're honored to win for it.

6:39pm - Looks like the pre-show's over. Our monitor is blank at the moment as we get some of the artists continuing to trickle in and out to field our questions...

6:42pm - T-Bone who won for rap song and Mark Stuart from Audio Adrenaline just came back here... great to see Stuart again. Mark just announced that the Hands and Feet Project will be starting an orphanage in Nicaragua! Awesome. Please support these guys! www.handsandfeetproject.org. Stuart's voice sounds a lot better. Mark just said if his voice continues to improve, he and T-Bone just might collaborate sometime. That'd be pretty interesting to see happen.

6:49pm - Cindy Morgan is now back here. She won for country song and songwriter! Definitely huge. Cindy was just asked about her new indie record. She's got a digital record called Beautiful Bird releasing on May 20th.

6:58pm - We had a mini-lull in the artists back here after Cindy. Now Ricky Skaggs and The Whites are here for winning for Blue Grass album. Amy asked an interesting question about how they feel about David Crowder bringing blue grass to contemporary listeners. It looks like the Dove Awards' main ceremony has begun. Seems they're kicking it off with pieces of performances from the new artists - starting immediately with 33Miles and right to Mandisa, Dewayne Woods, and now Group 1 Crew who just walked out on stage and started singing. As far as I know, this is the first time they've done sort of a montage like this. And now they've jumped to Brandon Heath standing with his acoustic in the middle of the center aisle in the audience - and then right back to the stage for pop radio's favorite kids Rush Of Fools (Austins Bridge was among the nominees as well, but I must have missed them...?). Now the list of performers are flashing by..... which makes me wonder how in the world they're going to fit all these bands and artists into one 2-hour show...

7:05pm - Wish we had sound in here. Aaron Shust and Jeremy Camp are the first presenters, while Ricky Skaggs and friends are still back here in the press room. Apparently, Camp and Shust are presenting New Artist of the Year right off the bat... so it should be interesting to see who it is. And the winner? Suprisingly Brandon Heath!! I would have been unpleasantly NOT surprised if it was Rush Of Fools (they're highly overrated), but I'll take Brandon. Would have liked to see Group 1 Crew take it home though... Still baffled by the new artists that WEREN'T even nominated - like The Almost or Jackson Waters... Meanwhile, comedian Nazareth is now back here talking about his comedy.

7:14pm - The Isaacs are here in the press room talking about their win for Country album after being primarily bluegrass in the past. Natalie Grant is on stage with Wynonna performing during the show...

7:18pm - Skillet is presenting along with Jolisa (spelling?) for Male Vocalist of the Year. Should be interesting. Here's hoping for Jon Foreman or Toby... but there's indeed stiff competition. And the Dove Award goes to... Chris Tomlin! .......Surprised?

7:27pm - Wynonna just came back stage. Looks like a commercial break during the show... She's getting a lot of "Are you going Christian now??" kind of questions but she's passionate about bringing the message to the unchurched. Very cool. Looks like "New Artist of the Year" Brandon Heath is on deck for this room... while the show goes on with Female Vocalist of the Year gets set...

7:32pm - Female Vocalist of the Year?? Natalie Grant! Natalie looks quite surprised, but it's not the first time. This marks Natalie's third consecutive win! Wynonna offers a heartfelt "You go girl!" from the press room stage... Up next, Casting Crowns is performing.

7:42pm - New Artist of the Year Brandon Heath is now back here while the Gospel Music Channel hosts (which includes artist Matthew West) talks to Natalie Grant. Amy asked Brandon about the toughest part of going from songwriter to singer/songwriter and it's great to hear his heart on it. She also asked if he has advice for his successor next year and he humbly said it's something that shouldn't be taken lightly...

7:50pm - Time for the Group of the Year award... VERY diverse group this year, with a probable predictable win ahead. But it'd be great to see Crowder get it.... but of course Casting Crowns gets it. And the popular vote strikes again! After Crowns' acceptance speech, Tomlin announces "Compassionart" with a video link to Martin Smith and Darlene Zschech to talk about the ministry and collaboration... I'm eager to hear what this project sounds like. Female Vocalist of the Year Natalie Grant just came back here for the press....

7:59pm - Having internet connection issues here, so if I disappear - it's been fun! But Natalie's still back here. It's cool to hear her reflections on her career. The sound was off on the live performance, but it looks like they had a pretty big entourage of performers - from Michael W. Smith to Tomlin and Chapman - which marks the debut of the first Compassionart recording!

8:10pm - Steven Curtis Chapman and Paul Baloche are in the press room discussing Compassionart and how the proceeds of the songs and project, which will release later this year, will benefit the needy - especially Africa and Uganda. Meanwhile, Israel Houghton has snagged himself a Dove... and David Crowder is now performing (give us sound!!)

8:20pm - David Crowder's performance looked cool -- stage hands brought out fake grass and a sky backdrop and such to form an outdoor setting. Looked fun, but we the press didn't get to hear it. Right now, Trinitee 5:7 is sharing with us...

8:22pm - TobyMac just strutted his stuff out on stage to honor the legendary Larry Norman. Trinitee is still here, so we can't hear it. :(

8:28pm - Point Of Grace is performing now. Trinitee just left. Those gals are definite charmers. Pastor Marvin Sapp just entered...

8:36pm - Song of the Year's up! Stiff competition indeed. Leeland's "Tears Of The Saints" is one of my hopefuls... however, somehow Casting Crowns takes another award, this time for "East To West." Not much of a surprise, but a significant disappointment. Oh well...

8:40pm - Jon Foreman of Switchfoot just started singing from within the audience... looks like they're performing the band's new song "This Is Home" from the upcoming Narnia flick. Wish we could hear it!! Thankfully, we had the pleasure of Switchfoot performing the song Monday night at the Wildhorse as a preview of the Summer "Music Builds" Tour...

8:44pm - A video for Third Day's new single "Call My Name" just came on. We still have no sound, but this is a killer song. Can't wait for their new record Revelation on July 29th. Sounds like it could be their best record yet! Israel Houghton just joined us here in the press room...

8:48pm - Short Form Video of the Year is up now. Kind of surprised it's being left for so late. But should be a good one. The Family Force 5 video is my pick, but I love the Switchfoot video for "Awakening" and even TobyMac's "Boomin"... but TFK's "Falls Apart" is just plain too creepy, ha! Winner is..... TobyMac! I'll take it. Definitely dig that song and, although I don't think it's the best video of the bunch, it's still a good one.

8:51pm - With the awards winding down, we probably won't get our sound back, but Michael W. Smith and Amy Grant are together on stage. Definitely a nice throwback moment. Israel's still here. He shared his testimony as well as his inspiration for his work. It's no surprise why people follow him...

8:55pm - An American Idol trio, which includes Chris Sligh and Mandisa (sorry kids, don't know the bald guy since I don't watch the show) - just joined Amy and Michael on stage. Meanwhile, Gospel singer Regina Bell just joined us and is sharing about her upcoming album Love Forever Shines...

9:04pm - Lights out! Uh... Did we miss Artist of the Year? Hmmm...

9:07pm - Ah, show's back on -- Sandi Patty and Mark Lowry are at the mic. I guess the show's running a bit overtime (not a surprise considering the 5,000 artists who were billed to play tonight. Ah, they're presenting Artist of the Year. Good deal. And the winner is... TobyMac! That's a huge surprise but deserved! (duh, we're "Jesus Freak" Hideout). Chris Tomlin took it the past two years, but now it's Toby time. Congrats to him!

9:13pm - Michael Junior is back here waking us up a bit by being ridiculously funny. On stage, it looks like Ricky Skaggs and The Whites are rockin' it. Sweet - Switchfoot's on deck...

9:16pm - OK, maybe Switchfoot isn't on deck? But Michael Jr. mentioned his Funny For A Reason record which I'll be sure to check out...

9:24pm - The credits are rolling! And so ends the 39th Dove Awards! Switchfoot just walked in the press room to talk to us.

9:29pm - Switchfoot talked a bit about their upcoming record which they hope to possibly get done by the end of the year. They described it as a record that will best represent the five guys in the band better than any previous release. We also asked them about the upcoming "Music Builds" Tour (see our news for more on that) and it was cool to hear what inspired it and what they hope to do with it...

9:41pm - American Idol trio Chris Sligh, Mandisa, and Phil Stacey are back here now. Things are getting pretty loud and busy back here as TobyMac is on his way... Who of course scored Doves for Artist of the Year, Short Form Video, and probably more...

9:53pm - Artists are still coming in... Point Of Grace is here, having won a Dove for their song "How You Live," which they also played live. The whole press area is still buzzing. This could be another late Doves night! :)

10:00pm - Male Vocalist of the Year Chris Tomlin is now up at the mic, sharing about the origins of his version of "Amazing Grace (My Chains Are Gone)." He also just announced a 14-country world tour, an experience he's never done before... Casting Crowns is now up for the seven awards they've won (including Group of the Year for the fourth year in a row [?!])... Hall mentioned a Christmas tour that starts in November with a series of artists, including PureNRG, Michael English... Does this mean a Christmas album from Casting is coming? (I guess we can just give them next year's Christmas album award right now if that's the case, huh?)

10:19pm - David Crowder Band have been talking about their performance tonight, as well as talked about the upcoming DCB live DVD coming out August 19th... Now The Hoppers are in the spotlight...

10:23pm - Things are still buzzing a bit back here but it's beginning to wind down. I'm going to sign off, but thanks for reading along with our experience of the 39th GMA Dove Awards! We're heading to Rocketown in Nashville for the Rock'N'Relief event there... g'night everybody!
Let's pick up where I left off, shall we? We arrived at Rocketown rather late in the evening, probably closer to 11, and just hung out and talked with some friends to sort of wind down from working all day just sitting in a press room chair. The Wedding performed below us downstairs as we hung out upstairs for awhile, but it was the announcement of Wavorly's show that motivated us to make our way to the stage area. See, we'd missed them at the Flicker GMA showcase last year, and then again on the Southern Hospitality Tour in November of last year, so we were pretty determined to see them this time. I even went on strike a bit for the night to not take any notes during their set and just stand there to enjoy Wavorly's set. They put on quite a solid show. I enjoyed their stage presence and interaction. Despite a small audience, it was a solid performance.
The Rock'N'Relief event at Rocketown was something a group of music fans put together to help benefit The Hands & Feet Project and give people a Dove Awards after-party alternative to the "official" Dove Awards After Party that was expecting anyone who wanted to spend the petty cash to drop $50.00 a ticket (that's per person) to get in. Now, if you've payed for tickets for the Awards ceremony and perhaps have flown into Nashville for GMA Week and then put up the money to stay in a hotel, are you really going to want to drop 50 more bucks for some "official" after party to schmooze with whatever artist scored a Dove and decided to attend the gig? C'mon GMA... that's not cool. The Rock'N'Relief seemed like a no-brainer and boasted a good assortment of musical talent, which we'd also missed most of having been in the press room so late, but we still were able to see Wavorly and closers, This Beautiful Republic. While I'm not sure of the financial success of the event, I was happy to see some folks make the effort to support not only a good cause, but to not simply seek to drain some more cash from GMA Week attenders' pockets.
After Wavorly's energetic and impressive set, Forefront Records rockers This Beautiful Republic followed. These guys are another band I'd never seen live before (Well, I came in at the last maybe 30 seconds of their set at Exit/In last GMA... that doesn't count), and I was eager to finally see their show. I was also surprised how much more aggressive their sound is live than on their recordings. On disc, their album is mostly polished, radio-friendly stuff. Live, you'd almost think you were watching one of Tooth & Nail's latest signings -- definitely not something bearing the Forefront name (well... the "Forefront" that doesn't have Skillet or Grammatrain on their roster anymore). The guys mixed up cuts from their debut Even Heroes Need A Parachute and their to-be-titled upcoming sophomore release, ending their set with one of their more well-known songs. As soon as their set ended, I found it pretty cool to see vocalist Ben Olin hop right off the stage and into the crowd to mingle with the now-quite-small attendance. It was a bit of a testament to the intimacy that this show displayed.
We hung around Rocketown for a little while before calling it a night, but it brought a fine end to another GMA Music Week. And with that, I hope you've enjoyed this year's coverage as well as the accompanying photos and hopefully I'll be back right here for next year's festivities.
So, until next year...
--
John DiBiase
, 5/10/08
GMA Week: Wednesday Photo Gallery
click on an image for a bigger size
Larry Goss -- GMA Dove Awards
Skillet
-- GMA Dove Awards
Glory Revealed: Mac Powell / David Nasser
-- GMA Dove Awards
Tenth Avenue North
-- GMA Dove Awards
VeggieTales
-- GMA Dove Awards
Michael W. Smith
-- GMA Dove Awards
Mark Lowry -- GMA Dove Awards
Group1Crew
-- GMA Dove Awards
Jonathan Butler
-- GMA Dove Awards
Ian Eskelin
-- GMA Dove Awards
Disciple
-- GMA Dove Awards
T-Bone and Mark Stuart of Audio Adrenaline
-- GMA Dove Awards
Cindy Morgan
-- GMA Dove Awards
Nazareth
-- GMA Dove Awards
Wynonna
-- GMA Dove Awards
Brandon Heath
-- GMA Dove Awards
Natalie Grant -- GMA Dove Awards
Compassionart: Steven Curtis Chapman, Paul Baloche
-- GMA Dove Awards
Trinitee 5:7
-- GMA Dove Awards
Marvin Sapp
-- GMA Dove Awards
Israel Houghton
-- GMA Dove Awards
Anita Renfroe
-- GMA Dove Awards
Switchfoot
-- GMA Dove Awards, Winner for Rock Album Of The Year
Phil Stacey, Chris Sligh, Mandisa
-- GMA Dove Awards
TobyMac
-- GMA Dove Awards
Point Of Grace
-- GMA Dove Awards
Chris Tomlin
-- GMA Dove Awards
Casting Crowns
-- GMA Dove Awards
David Crowder Band
-- GMA Dove Awards
Wavorly
-- Rock N Relief
This Beautiful Republic
-- Rock N Relief
*all photos by
John DiBiase
and are the property of
Jesusfreakhideout.com
GMA Week 2008 Review: Main | Sunday | Monday | Tuesday | Wednesday