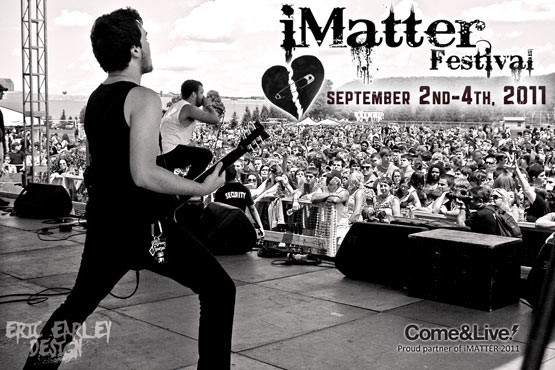 iMatter Festival
9/2 - 9/3/11, at Eldridge Park in Elmira, NY
Elmira, NY is home to the iMatter Festival, a two-day musical event that heavily focuses on the importance of love and speaks a direct message of anti-suicide to today's youth. The festival itself has been going for a handful of years, but this was my first time experiencing iMatter.
Friday night was dubbed "hip-hop night," but actually opened with a worship band called Ocean & Vessels and later reggae-infused artist Benjah. Then the hip-hop began when Flame came on. The rapper put on an exciting show while doing fan favorite tracks as "Go Buck," Tonight," and "Joyful Noise." He also shared the stage with V. Rose for a few songs and the two collaborated wonderfully. V. Rose is another artist on Flame's record company and her power pop style should garner her some recognition soon enough. After a quick break, the headliner of "hip-hop night" was set to come on: Trip Lee. Trip followed and did rappers all over justice with his set. He played "Superstar," "No Worries," Snitch," and "Covenant Eyes," leaving the crowd needing just a little more before the night's end. Then Trip broke out in the ever popular "Jesus Musik" to make the night of hip-hop perfect. Both he and Flame were great in between songs, explaining the love of Jesus and the things that really matter in life.
Saturday was filled with metal and the entire day was heavy, heavy, heavy. Double bass, uber growls, and wicked fast guitars played all day from bands like To Speak Of Wolves, Texas In July, Impending Doom, and A Plea For Purging. The whole day was filled with dust floating up from the ground, due to the teenagers and mosh pits. Near the end of the night, Emery started to set up... and then the lightning came. After what seemed like forever, the crew decided that Emery could play and they broke into the very fitting "I Never Got To See The West Coast," and then that blasted lightning came again. So, after a thirty minute wait, the crowd finally got to see Emery play an amazing set. They mixed it up with tracks old and new: "The Cheval Glass," The Curse Of Perfect Days," "Studying Politics" and "Walls." The night was perfect and I could have gone home, but we still had one more show to go: August Burns Red. The day that began heavy ended the exact same way and, although I'm not a fan of the band, ABR put on a great and exciting set. If you're a fan of hardcore, then you would have loved this weekend, but if you're more into hip hop or not-so-heavy rock, then you may have felt like me who was just waiting for Trip Lee and Emery to hit the stage.
--
Kevin Hoskins
, 9/7/11
**Header image courtesy of imatterfest.org