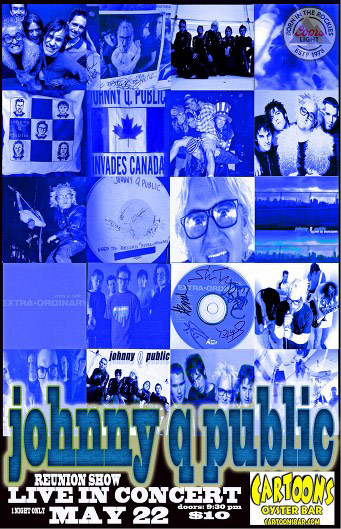 johnny Q. public Reunion Show
5/22/15, at Cartoons in Springfield, MO
Twenty years ago, a new band in CCM dropped a landmark album, Extra*Ordinary, on the masses, via Gotee Records. Even if you donít own this incredible album, you are aware of its influence and sound. Remember Jesus Freak, the dc Talk song? Two of the songís three guitarists are Oran Thornton and Shawn Turner - these are the guitarists for Johnny Q. Public. The full line-up for the 2015 reunion show was Oran Thornton, Shawn Turner and Brad Barnerd on guitar; Ken Bassham and Stretch on bass; Brian DuVall and Nate McCorkle on drums; and Dan Fritz on vocals.
Extra*Ordinary launched the band into new territory. They toured with the likes of Petra, Whiteheart, johnny Q. public, Bleach, Dakoda Motor Co, etc. Their success was built on the strength of JQP staples: a three-guitar attack, post grunge assault, droning and wailing guitars, edgy and introspective lyrics, and incredible vocals. You owe it to yourself to grab Extra*Ordinary and their follow-up, Welcome to Earth.
Fast forward to 2015. JQP is no longer an active band. However, in just three weeks' time, they miraculously pulled together a one-night-only reunion show in Springfield, MO--where it had all started--on Friday, May 22, 2015. The show was held at a small club called Cartoons. What made this show interesting is that they brought back all the line-up changes and rotating touring members. It made for a captivating and very entertaining evening.
Because another band was playing late, JQP did not take the stage until about 11pm. The song "Jesus Freak" played loudly just before the band took the stage. The crowd of JQP enthusiasts began to cheer as the Extra*Ordinary line-up took the stage. After a short greeting, they tore through "Violet," a fan favorite. "Violet" was the perfect opener, as it was a direct nod to the true JQP fan and it's a great rock song. Front man Dan Fritz, who dyed his hair bleach blonde back in the day, wore a bright platinum wig for the opening song, just for kicks. The guy's still got it. Dan is one of rock's underrated vocalists. He has an accessible rock voice, yet it is very unique with a fantastic tone. He knows his range and makes great use of it. He doesn't sound like 80's hair-metal bands and yet he doesn't sound like a typical grunge singer either. Dan possesses a great voice and is perfect for this unique music under the JQP moniker.
One of the first things you notice when JQP is playing is that they are loud and very good live. Johnny Q. Public has a very full sound live, with intricate layers of sounds, crunchy guitars and swirling solos. No keyboards were used at all. Just listen to the breakdown of "Black Ice" and that's a great example of what I mean.


"Black Ice"
Speaking of "Black Ice," this was song two of the night. All the elements that make this song special were present live--the brutal chorus, the brilliant three-guitar bridge, and of course masterful song construction. Next up was the deep track, "Big Top." After that, they followed with "Readers Digest," a Larry Norman cover. For this song, they added a bluesy element between each verse with a rendition of Chuck Berry's "Johnny B. Goode." They really made this mash-up work, throwing something unexpected to the audience. Where the studio version was a straightforward cover, the live version kept the spirit of the song with a heavy dose of extra fun.
Standout song "As I Pray" was next. A long time fan favorite, "As I Pray" tells the story of Jesus in the Garden before His crucifixion. The ferocity of this song serves a purpose; it's not just a rocker to get the crowd going, it's a passionate song. You can almost feel the atmosphere around the emotions in the garden 2000 years ago. "As I Pray" has a unique construction for a hard rock song; it descends chords when describing the tensions and warnings of Christ, and builds up for the explosive and hopeful chorus.


"As I Pray"
Next up was "Women of Zion," the fast and intense "Why," and the Bob Dylan cover, "Serve Somebody." This concluded the set intended to showcase Extra*Ordinary - at least for the moment.
In 2000, JQP released the well reviewed Welcome To Earth. Though it didn't receive the attention of their debut, it was a brilliant record in its own right. No JQP concert would be complete without its standout tracks performed live. Dan Fritz and company tore through such tracks as the album opener "Sliver," the hard-driving "Already Gone," the fun "Hey Johnny," "What Am I," and the ballad "Beautiful Face." These are great songs live. At this point, the concert was well past midnight and the band wasn't slowing down. Each song was played with 100% effort, nothing held back.
Johnny Q. Public returned to the Extra*Ordinary album to close out the show with the hard driving "Preacher's Kid." Last year, I had the pleasure of having dinner with Dan Fritz and his wife and he told me, with great conviction, the story behind this song. The song is true and seems to hold a special place in Dan's memory. All the lyrics were based on the actual events of the song, and the young man's name really was Aaron. The song was delivered with passion, serving as a great moment of the night.
Up next was Johnny Q. Public's biggest radio hit, "Body Be." The crowd lit up when the familiar strains of the super-recognizable guitar riffs echoed through the club. "Body Be" has a great sound live and the band seemed to have a lot of fun delivering this classic in the middle of the night to the pumped JQP enthusiasts.


"Scream"
To close out the night, the band performed "Scream," another standout track. Only this time, "Scream" was delivered with a twist. They turned the song into a nine-minute snarly rocker for the perfect concert closer. For half the song, the band gathered around the drummer and performed the song together as a band of brothers. One singer, three guitarists and two bassists giving the crowd, and themselves, something to remember forever, one last time.
--
Reuben Smith
, 5/30/15
johnny Q. public Set List

01. Violet
02. Black Ice
03. Big Top
04. Readers Digest
05. As I Pray
06. Women Of Zion
07. Know
08. Why
09. Serve Somebody
10. Sliver
11. Already Gone
12. Move
13. Hey Johnny
14. What Am I
15. Beautiful Face
16. Preachers Kid
17. Body Be
18. Scream

johnny Q. public Reunion Photo Gallery
click on an image for a bigger size
**vertical images cropped for thumbnails**
johnny Q. public -- Photos by Reuben Smith
johnny Q. public -- Photos by Mike McQuerter (Facebook Page)
More johnny Q. public Videos by Reuben Smith




"Preacher's Kid"






"Body Be"






"Why"






"Reader's Digest"



*all photos by Reuben Smith or Mike McQuerter and are used by permission.