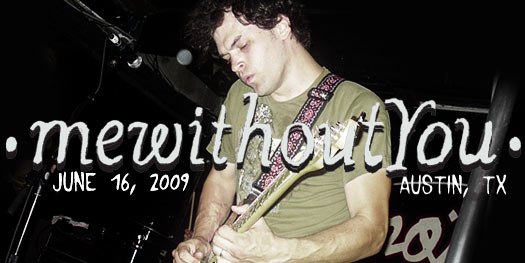 mewithoutYou
6/16/09, at Emo's in Austin, Texas
Nashville may be the music capital of the world, but Austin, Texas, is not far behind. The Lone Star State's capital city hosts the annual, gigantic music festival South By Southwest, which brings in people from all over the world to come and hear their favorite bands and to discover new ones. In addition, you can walk down parts of 6th Street in downtown Austin and see music stores and concert venues all over the place. One of these venues is a place called Emo's. Emo's is known for hosting shows all the time, some of which have free admission. They've even hosted several Christian bands, such as Family Force 5, August Burns Red, Emery, and more. On this night, there were two shows going on, as is common at Emo's, one on their indoor stage with some independent artists I'm not too familiar with, and the outdoor stage, musical masterminds mewithoutYou with some very surprisingly talented opening bands.
I had found out earlier in the night (and it was announced to the crowd as well before the show started) that mewithoutYou's bus had broken down in Dallas, a good 4 or 5 hours away from the venue. So to give them time to get things fixed and actually get there, the opening band's set started a little bit later than expected, generating more anticipation for their sound. Bear Colony opened, a relatively unknown four-man crew, playing some pretty good indie music that set the tone for the evening. Although, the sound was somewhat unexpected. The frontman - lead vocalist and guitarist - was a pretty big guy with cut-off sleeves and tattoos (and disgustingly brought out a couple of tall boy beer cans on the stage with him). In addition, the bassist wore no shirt and had long, wavy hair. The two of them together made them look like this could be a hard rock or hardcore band. Then again, there was a keyboardist present, as well as a drummer that didn't really have any sort of stereotypical look. But, of course, you can't judge a book by its cover, or a band by its appearance. And they put on a really good show. My favorite part of the performance may have been the keyboardist, because he was jamming the whole time. He was crazy with the keys, even to the point of almost knocking his keyboard off the stand on several occasions. The only problem, really - besides the beer cans, which to me is a little distasteful - were the vocals. The lead singer has a nice set of pipes, but he kept his mouth a little too far from the microphone for the majority of their set. Had he brought his mouth up (or the mic down) just a little bit more, we would've heard him better and it would've improved upon the set. However, still a pretty good show.
Bear Colony's show was good enough that I honestly wondered if the next band could improve upon it. Of course, I knew it was no match for the night's headliners, but I wasn't sure if the second band could beat them. Another somewhat unknown band, The Dear Hunter, had an interesting setup. There were three keyboards standing at the front of the stage (that in itself is one of the more interesting setups I've seen). As the band came out and the set progressed, it turned out that there were three electric guitarists (two of whom also jammed on two of the keyboards), an acoustic guitarist (who also doubled as a keyboardist), and then a bassist and drummer. The music was similar to Bear Colony's, but to my surprise, a little better and more catchy. I know "indie" and "catchy" don't always go together, but Dear Hunter's songs kept the audience entertained and wanting more. About three or four songs in, all of the band members put down their instruments, the drummer came up to the front with a shaker in his hand, and the bassist traded in his bass for a banjo. All of them, excluding the banjoist, contributed their vocals for the group vocals the song required. The song was very folksy, and if someone told me it was on the soundtrack for O Brother, Where Art Thou?, I would be apt to believe them. With it getting so late into the evening, I thought they would play maybe one or two more songs after the folky one (at the most), but they played somewhere around five or six more after that. A pretty long set for an unknown, indie opener, but a great one. After their set ended, but before mewithoutYou's began, everyone surrounding me in the audience talked and talked about how great The Dear Hunter was.
Much to everyone's happiness, the headliners had arrived on time, and got all their equipment set up. Before mewithoutYou even started their amazing show, the audience got to enjoy hearing their soundcheck. The soundman asked guitarist Mike Weiss to play to make sure they had good sound coming out of it, and he played the opening riff from Pearl Jam's "Alive." In similar fashion, when asked to play his bass, Greg Jehanian played the bass line from Michael Jackson's "Billie Jean." It was cool to hear them play a small portion of someone else's songs, as mewithoutYou - to my knowledge - is not one to do cover songs in concert (Interesting little tidbit of information: both "Alive" as well as "Billie Jean" came on the radio at some point during the drive home that night). But the soundcheck went well, and mewithoutYou made their way onto the stage, to an overwhelming applause from the audience.
As everyone wondered what song they would start off with, lead vocalist Aaron Weiss grabbed the mic and screamed "I wrote a four-word letter!" A good start to the show, using one of the more popular songs from their repertoir. Aaron's signature dancing and prancing was in full swing as he talked, screamed and yelled his way through the song. This was definitely a mewithoutYou performance. As the set went on, they pleased the fans' eardrums with new and old songs alike (though, unfortunately, nothing was used from their Tooth & Nail debut [A-->B] Life). In addition to "Four-Word Letter, pt. 2," they featured "Tie Me Up! Untie Me!," fan-favorite "January 1979," and "Son of a Widow," which I have heard them play live before, and I can't really understand why they play it live so much. Besides the fact that it's not one of my favorites, it's really slow and almost drags the show down. mewithoutYou also treated us to some songs from their incredible 2006 album, Brother, Sister, such as "Messes of Men," "A Glass Can Only Spill What It Contains," and "O' Porcupine." But it was really the newer stuff I was more interested in hearing. Yes, there are a bunch of older mwY songs I wanted to hear live as well, but this being my first encounter with the band since they even started playing the newer stuff live, I wanted to hear as much as possible from It's All Crazy! It's All False! It's All A Dream! It's Alright. They ended up playing nearly every song from that album. Album opener "Every Thought A Thought of You" came up early in the set, with Aaron jumping over to the keyboard for the entirety of the song. He also played acoustic guitar for tracks like "The Angel of Death Came To David's Room," "Timothy Hay," the exciting "Bullet To Binary, pt. 2" and a personal favorite of mine, "The King Beetle on a Coconut Estate." Aaron's musical abilities didn't stop there, as he also donned a trumpet at one point, as well as an accordion at another. As the band's final song ended, and they left the stage, the "One more song!" chant started up and went on for a few minutes before the band actually came back out. The band's encore hit hard with the rocker "Wolf Am I! (and Shadow)," which was followed by what everyone knew would make the most perfect ending song ever for a mewithoutYou show, "Allah, Allah, Allah." However, they didn't stop there, as was completely expected, and they finished off the encore with Brother, Sister's closing track, "In A Sweater Poorly Knit" (the next best choice for a closing song).
It was a much better night than expected. Obviously, mewithoutYou's performance was not in question, as I - and everyone present - knew full well that their show would be as impressive as always. The openers were what I was concerned about. It's hard to be totally excited when going to a show with some unknown bands playing. If you've never heard them, you don't know what to expect. They could be completely terrible, or really good - or somewhere in between, even. Fortunately for this night, mewithoutYou had some good backing with some very talented indie bands, who, if they play their cards right, could end up being pretty big in the music scene. A band that opened for mewithoutYou a couple years ago, called Manchester Orchestra, wasn't heard of then, but are now getting huge attention on mainstream alternative rock stations. So there's much potential for Dear Hunter and Bear Colony. A cool venue too, as being outside allowed some of the cooler nighttime air to be a little refreshing to the hot, sweaty bodies huddling real close together. And they had free water, which was a relief, given that most bars charge people somewhere around two dollars for a small bottle. Of course, the lingering smell of cigarettes by five or six people standing next to me (as well as the disgusting smell of marijuana coming from somewhere behind me) made it uncomfortable, as it was a little hard to breathe. Sadly, that's not uncommon in a bar setting, but still inappropriate, and it makes it hard for me to recommend going to Emo's for any kind of show. But other than that, it was a great show at an okay venue. mewithoutYou is still on tour, so make sure to hit them up whenever they come to your area.
--
Scott Fryberger
, 7/1/09
mewithoutYou 2009 Photo Gallery
click on an image for a bigger size
**vertical images cropped for thumbnails**
mewithoutYou
*all photos by
Scott Fryberger
and are the property of
Jesusfreakhideout.com
and the photographer.