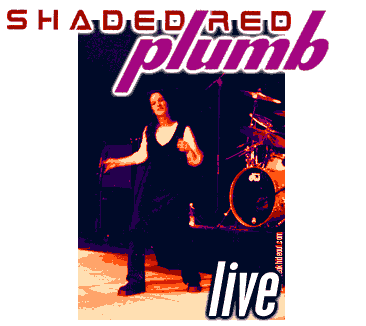 Plumb & Shaded Red
9/15/00, Grantham, PA at Messiah College
When going to a concert that's more than an hour away, some rules apply... 1: Make sure you have easy-to-follow directions on how to get there. And 2: Make sure you leave enough time to allow traffic to set you back an hour... Living two hour from Messiah College didn't seem like a real big deal to us. But I thought I had the system beat when I decided to leave 2 hours earlier than needed to get there with time to spare. Reality came unwantingly knocking at more door when we left at least an hour later than I wanted to, and reality sunk its fist for a sucker punch to my gut when we hit bumper-to-bumper traffic that kept us without motion and set us back another hour. But that was our cushion hour-- our safety hour, our comfort hour. The concert was scheduled to start at 8pm. We got there will literally only a couple minutes to spare. In fact, by the time we made it to the stage to watch the show, the thought was entering the mind of the evening's announcer to step on stage and get the party started.
With all complaints aside, Shaded Red made their entrance with an intro tune I didn't recognize, before moving ever so wonderfully into my personal favorite, "Hello." The Roberts brothers and their drummer Luke seemed more than ready to put on a good, entertaining show. And they did just that. The younger of the brothers, Jon Roberts, set aside the bass for a moment and picked up his trumpet for "Revolution." The band already began trying to get the crowd going with Jon encouraging the crowd to dance. Another great song, "Innocence," followed. "One Year Away" was another great follow-up. At one point, Jamie Roberts addressed the crowd and offered a contest. For a free worship CD that they were selling (non-Shaded Red), they had to guess a song the band would play a couple bars of. The first tune I didn't recognize, but when they did it again, the band belted out the beginning verses of Vanilla Ice's "Ice Ice Baby." Even after the band stopped, the crowd kept singing the song. In amazement, Jamie joked, "All those people that just sang all that-- be afraid of them!"
The band played a couple new songs. The first was the very catchy, "Run to Me." Jamie kept having problems with his guitar throughout the night (began during "Innocence"), and the problem plagued him once again during "Run to Me." Once the problem was fixed, Jamie called for the song to be done over and they played it again. Towards the end of the song, the band just stopped it and took a long goofy interlude. Then Jon said, "We're going to finish the song, but we want all of you to run in place imagining you were running to us from across the room." At one point, Jon and Jamie even ran to each other in slow motion as they played. The brothers were cutting up all night. It wasn't long before Jon was having problems with his bass and he made a big dramatic scene about crying over his bass having "no power." It was too easy to forget you were watching a concert and not a comedy flick.
After playing a worthy cover of the praise song "Open the Eyes of My Heart," the boys got serious for some time to talk about the untimely death of their father this past April on Jamie's birthday. He used the moving story to illustrate God's love for us and used the story to lead into an emotional rendition of "When God Ran." By the time Shaded Red left the stage, we had seen a very satisfying show that would definitely stick with us. But the night wasn't over yet-- there was Tiffany and Co.
After a set change, and instructions from the college to step back from the stage considerably, Plumb took the stage to the intro of a recording of "Send Angels." They opened up with an energy flowing through "Solace." Tiffany Arbuckle came out wearing a black dress over a white shirt and a red cape-like robe. Her relatively new musicians with her add such a stage presence and such musical excellence that easily catapult Plumb to being one of the best live shows currently around. An oldie but a goodie, "Who Am I" followed, before Tiffany went through a series of new songs including "Lie Low," the crowd favorite, "Stranded," "Candycoatedwaterdrops," the groove-laced "Phobic," and "Here With Me." Tiffany introduced "Candycoatedwaterdrops" with an explanation of the song and album name. Clearing up apparent confusion with people, she explained that candy coated water drops are basically "candy coated nothing," and how as Christians we're not supposed to be like that. So the song basically talks against it. As they began "Worlds Collide," Tiffany invited the audience close to the stage (unaware of the college's orders to stand back). Once the crowd approached, me and my comrades (in this case Kevin and Amy) noticed that Plumb visibly got into the music more and really seemed more alive. They proceeded to play an acoustic version of "Crazy," and slow things down a bit. Explaining that the next song was inspired by a young girl with an eating disorder, Tiffany moved right in to "Pennyless." Another slow and serious song, "Damaged," followed, which was about being abused in any way.
A passionate rendition of "Endure" followed before closing the night out with the popular hard rocker about the end of the world, "Late Great Planet Earth." With the close of the song, the band left the stage and left the crowd wanting more. With only a brief time off stage, Plumb came back out to play "Crazy" the way fans know and have come to love. After an excellent performance, the artists mingled with the fans in the lobby for the perfect ending to a perfect show.
Concert Photo Gallery
click on an image for a bigger size
Shaded Red
Plumb
*all photos by
John
or
Amy
and are the property of
Jesusfreakhideout.com