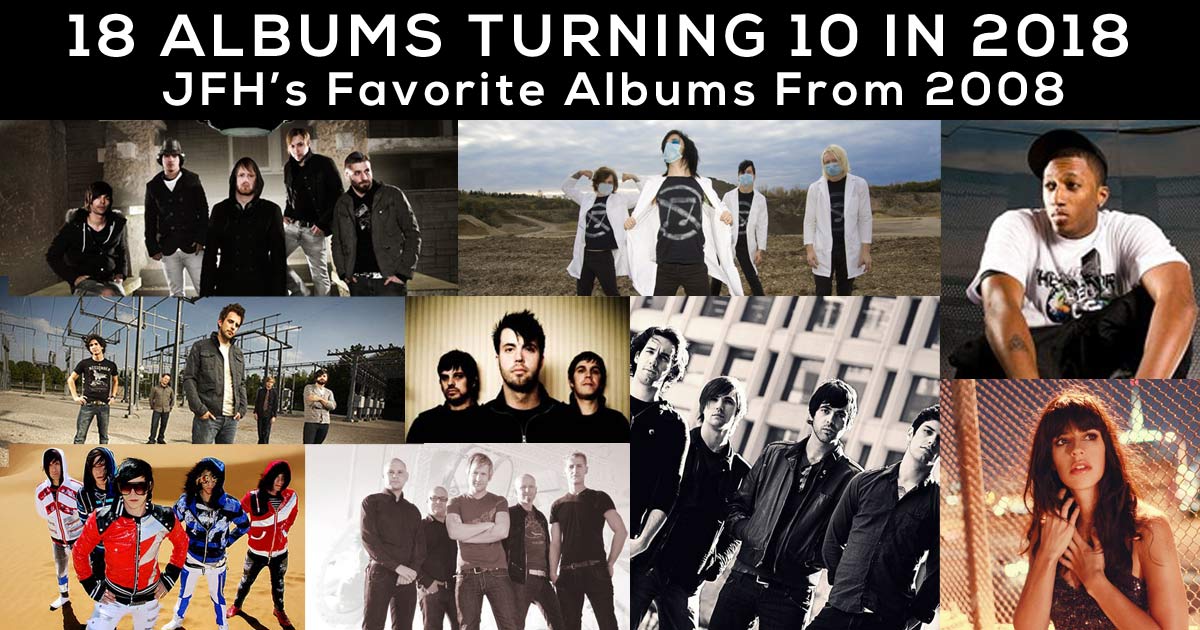 While looking over the list of albums from 2008 to consider for our "10 Years Later" blog post earlier this year (2018) there were just too many fantastic albums from that year to just pick a couple to highlight. So in honor the ten year anniversary of a great year in music, the JFH staff voted on their favorite albums from 2008! The JFH staff take a nostalgic look back at these 18 albums and how these albums hold up 10 years later. Several artists even jumped in to share stories about the album and what it means to them now ten years later!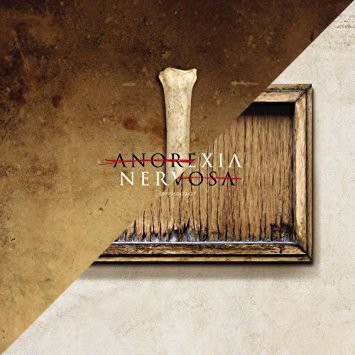 #18. Showbread - Anorexia / Nervosa
"When I got the chance to write the review of Anorexia/Nervosa, I got in touch with Josh Dies to see if I could get a copy of the story that he wrote for it. And as the band had urged its fans, I got into a place where I wouldn't be interrupted and I did nothing but listen to both albums while reading the stories with absolutely no distractions. And it was beautiful. The music was all over the place, from punk rock to balladry, and the story was heavy and beautiful. The atoning work of Jesus Christ was the cornerstone of that body of work, and though it's often overlooked, it remains one of the best entries in Showbread's discography." -Scott Fryberger, JFH Staff
Thoughts from the Band:
"In 1989, I was given a storybook based on the Joe Dante film Gremlins. The book was called The Gift of the Mogwai, and it included a seven inch vinyl record intended to enrich the reading experience. There was the predictable narration, but also background ambience, sound effects, and gremlin snarls. I remember being fascinated by the idea. Movies include soundtracks and foley, sure, but a book's audio landscape is ordinarily populated by the reader's imagination. In 2007, I remembered The Gift of the Mogwai. I'd also become frustrated by what was then the burgeoning technology of mp3 players and the already lost art of sitting with a record from start to finish at full attention. I wanted a way to both enrich the listening experience and to somehow force the listener to pay attention. The result was a 24 track, double disc concept record packaged with a short story that was itself riddled with a system of intricate codes (some of which enterprising fans solved, others, to my knowledge, remain hidden)." -Josh Porter, Lead Singer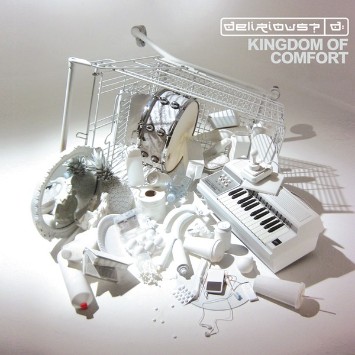 #17. Delirious? - Kingdom of Comfort
"It seems 2010 was the year I really started to find some of Christian music's best artists because around the time I found Sanctus Real I also found the innovative worship act Delirious?. I remember going to the Christian bookstore with some birthday money and buying nearly every Delirious? record I could find, including World Service, Glo, and Kingdom of Comfort. This record is still relevant to the church at large for its criticism of materialism and complacency. It was a fantastic conclusion to a prolific career." -Lucas Munachen, JFH Staff
Thoughts from the Band:
"We didn't know, at the time of recording, that Kingdom Of Comfort would be our final studio Album. We'd been making records for about 15 years including the Cutting Edge albums, and I think it shows in the tones--we were becoming good musicians. The two opening songs encapsulate the time we were in. The self-awareness and wrestling of Kingdom Of Comfort (inspired by a Rob Bell Sermon) and the ecstatic simplicity of "God Is Smiling", both capture a moment where we were expecting change." -Stu G., Guitarist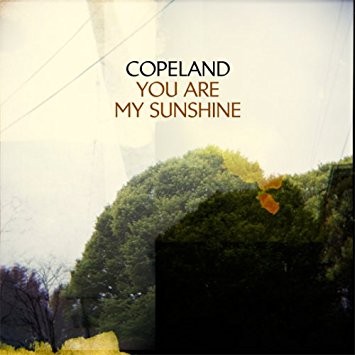 #16. Copeland - You Are My Sunshine
"While no longer the last hurrah everybody thought it was (thanks, Ixora!), You Are My Sunshine still marked a notable turning point in Copeland's discography. Leaving behind their old record label and producer, Aaron Marsh and company joined forces with Tooth and Nail Records and emo-producing royalty Aaron Sprinkle for their most mature and stripped-down sound yet. While previous albums depended on traditional emo bombast, You Are My Sunshine was often content to simply let Marsh's impeccable falsetto carry the music by itself. When the album did break out into a larger sound, as in phenomenal track "On the Safest Ledge," the contrast was only more powerful. You Are My Sunshine is the sound of a band continuing to break out of the genre mold they began in and growing into a more mature artistic vision." -Timothy Estabrooks, JFH Staff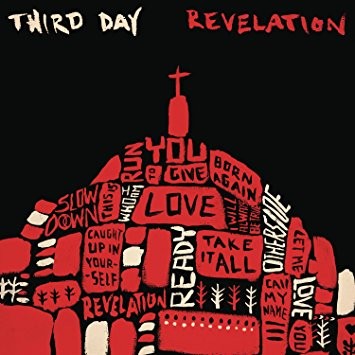 #15. Third Day - Revelation
"A return to the rock/alternative stylings that made me a fan through the first three releases, Revelation was the album that re-ignited my interest in their music. It helped that I was working retail and had the opportunity to meet them in person and have a picture snapped with them. My favorite part of meeting them was lead singer Mac wearing a Jars of Clay t-shirt. Revelation roars out of the gate with "This is Who I Am" and rarely lets up. For this one I felt like they were better able to balance the southern rock with the radio ready ballads, and it is the closest to their album Time that they would come to again until their recent swan song Revival. Other noteworthy tracks for me were the radio smash "Call My Name," the vocal backings of Flyleaf's Lacey Mosley (Sturm) on "Run To You," the pedal steel infused "Otherside, and the duet ballad featuring Lacey Sturm again on "Born Again." In my opinion, Revelation was their best overall offering of 2000's, and contains several songs that should be in the conversation as their most memorable." -Josh Balogh, JFH Staff
"Now that the Third Day discography has been finalized (*soft sobbing*), Revelation stands out as one of the band's best. I remember loving it from the first listen and that hasn't waned. Great songs, still relevant messages, and even great vocal guests round out one of the best albums of 2008. Songs 'Revelation,' 'Call My Name,' and 'Slow Down' especially still resonate with me even today." -John DiBiase, JFH Founder/President
Thoughts from the Band:
"Revelation was a landmark album for Third Day in a lot of ways. Coming off of the huge success of Wherever You Are and the long gap since we'd recorded a new studio album, we placed a lot of pressure on ourselves. We knew it needed to sound great, but didn't need to rehash any familiar territory.

We enlisted Howard Benson to produce the record, knowing that he would push us into breaking some new ground. He did that and then some. Howard really challenged us on the lyrics, saying things like "I don't believe you" whenever we'd play a song for him.

He also really did a great job in getting a great vocal performance from Mac. I'll never forget when we first heard the mixes for "Call My Name." That last line where Mac just sings "You just call my name" a capella - I still think that's one of the better Third Day recorded moments. I get chills every time I listen to it." -Mark Lee, Guitarist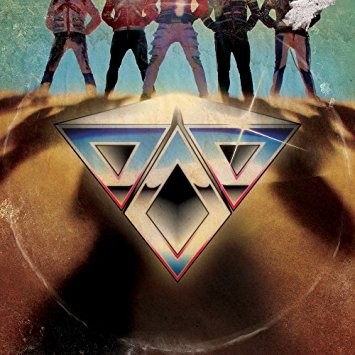 #14. Family Force 5 - Dance Or Die
"By the time Dance or Die came around, Family Force 5 had taken Christian music by storm with a crunk rock sound that was without rival. So when their follow up sounded nothing like their debut, many fans weren't pleased. But that was their loss, because Dance or Die is arguably the band's best work. The album was full of terrific dance tracks and electronic pop ballads that displayed a bit of maturity without losing the fun. It was a highlight of 2008 and has become perhaps the brightest spot in the group's discography." -Scott Fryberger, JFH Staff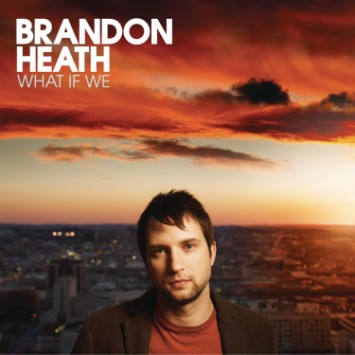 #13. Brandon Heath - What If We
"Funny story. You know those contact forms that artists have on their websites? Brandon Heath actually used to answer his. Personally. For a few months, he and I emailed back and forth, just in time for me to meet him in person at a waterpark concert. I still remember him saying, while standing above a wave pool, "Mind if I play a new song?" before performing a little tune titled "Give Me Your Eyes." And by "little," I mean it very nearly got Heath onto the Billboard Hot 100. It was everywhere; even my dad eventually asked me if I knew the song. But Heath's second official album is worth much more than that hit ditty, with other highlights such as the Jars of Clay-assisted "Sore Eyes," the lovely "London," and the worship-service-ready "No Not One." Heath thoroughly surpassed this album with 2012's Blue Mountain, but What If We still represents many of the singer/songwriter's strengths and charms." -Chase Tremaine, JFH Staff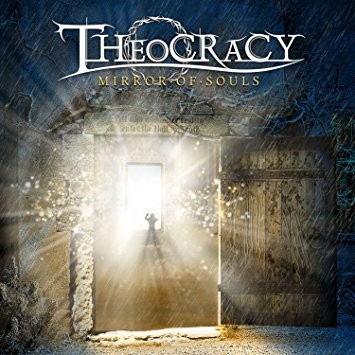 #12. Theocracy - Mirror of Souls
"Thanks to my wonderful colleagues who first brought Theocracy to my attention, this group's music has become an all-time favourite of mine. Mirror of Souls is simply one of best heavy records I have ever had the pleasure of hearing. The pummeling aggression of "Laying the Demon To Rest" and the twenty-two-minute epic that is the title track are just two examples of the eight flawless gems on display here. One of the best records of the 2000s, hands down." -Lucas Munachen, JFH Staff
Thoughts from the Band:
"My main memory in thinking back to that time is really wondering if anyone would still care about Theocracy. It had been five years since the first album, which now doesn't seem like that much, but back then it was an eternity--especially after having only released one album. It seemed like immediate career suicide. There were many reasons for the five-year gap: Theocracy went from a solo project to adding band members and starting to play some shows, and I had to learn how to record and mix a proper album with real instruments instead of just doing everything on a portastudio alone in my basement. So hundreds and hundreds of hours went into trial and error and learning software and studio techniques, which eventually became a side career for me. But at the time, it was very stressful and difficult. In addition to all that, add the time spent writing these lengthy songs, on top of all of us working full-time day jobs, and suddenly it's five years later. For all these reasons, although all our albums have been exhaustingly difficult, Mirror of Souls remains probably the most difficult project I've ever done. But thankfully, it turned out that people did still care, and the reaction was pretty positive right away. I think some people felt it was different from the first album, but grew to love it. The other thing I remember from that period is being very enamored with the idea of an eight-song album. I felt like there was something magical about an all-killer, no-filler, eight-song Metal album (Master of Puppets, etc.), and so that was one of the goals. I'm really proud of the songs. I still consider the "Mirror of Souls" title track to be the best song I've ever written, and my favorite to perform live. I love the emotion and theatricality of it, and the truths behind the metaphor. We still play almost every song from the album regularly, and some, like "Laying the Demon to Rest" and "Absolution Day," are staples at almost every Theocracy show. Many people still consider Mirror of Souls their favorite Theocracy album, so the songs connected with people, and I'm very thankful for that. As with everything creative, there are things I would do differently now if I were doing it all over again, but that's the beauty of albums--they're snapshots in time. While I could never pick a favorite among our records, I'm still very proud of Mirror of Souls, and I'm so happy that 10 years later, people still remember it." -Matt Smith, Lead Singer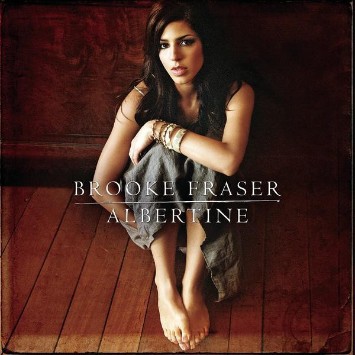 #11. Brooke Fraiser - Albertine
"Brooke Fraser's Albertine marked the singer's international debut, and the album was well-loved by critics, even earning a 5-star review from JFH staff writer David Goodman. Feeling inspired after a trip to Rwanda where she met a girl named Albertine, Brooke Fraser penned the title song about our responsibility to care for orphans and widows. While there are a few love songs present ("Deciphering Me," "The Thief," and the beautifully evocative "Love is Waiting"), Albertine showcases some of Fraser's most vertical songwriting outside of Hillsong, with the eternity-focused opener "Shadowfeet," the hopeful and musically climactic "CS Lewis Song," and the stripped down strings-and-piano closer "Hymn." "Hosea's Wife" challenges believers to shake off spiritual complacency, and the contemplative ballad "Faithful" shows Fraser choosing to draw near to God in spite of feeling distanced. I first listened to Albertine four years after its release, and the album held up well then and still does now, mostly in thanks to Fraser's timeless sound as well as smart production from Marshall Altman. In the past ten years, Fraser has released two other solid studio albums, the folk-pop Flags and experimental Brutal Romantic, but Albertine is still her warmest, most God-focused effort." -Nicole Vacca, JFH Staff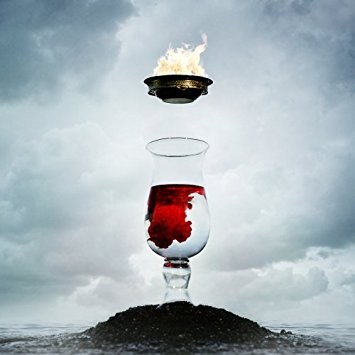 #10. The Classic Crime - The Silver Cord
"I think most everyone was a bit suprised by the Silver Cord. Those that passed over Albatross (myself included) finally caught on, and those that had been following the band found a dramatic shift in style. The Silver Cord is absolutely loaded with deep philosophical musings, dynamic chemistry among musicians, and the signature raw vocals of Matt MacDonald. The mostly live production gives this album a level of cohesiveness that helps when you have 15 songs covering a plethora of sonic themes, and makes the already poignant topics covered feel even more relatable (even just little details like Matt taking a breath before singing the first verse of "Medesin"). It's everything you'd hope for in an alternative rock album and a magnum opus among an exceptional discography." -Christopher Smith, JFH Staff
Thoughts from the Band:
"The Silver Cord was the most fun we've had making a record. It was our second album, and all of us were all in, fully committed to making the best record we could make. We spent seven weeks together on the coast of Virginia at the mouth of the Chesapeake bay, secluded in a studio on the beach, far from distractions and home life. We ate, slept, and breathed the songs on the album from their conception to recorded execution. We had our friends in the band Tyler Read swing by on one of their tours, and they helped us with the claps and group vocals on "Gravedigging," one of the more energetic songs on the record. 10 of us all stood around several microphones in the live room, shouting, laughing and yucking it up. At one point, a member of Tyler Read (I won't name names), decided he could sing better if he was fully naked. We all watched, horrified, as he stripped down to his birthday suit and cut a few takes. At the end of the song you can hear us laughing - that's what we were laughing at. Looking back now, it's like we believed we had the world ahead of us. Just young kids, having fun making music." -Matt MacDonald, Lead Singer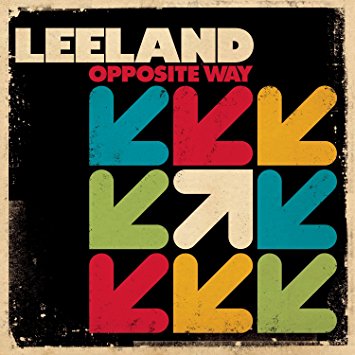 #9. Leeland - Opposite Way
"While recent years have seen a significant shift in genre (in addition to an 80% lineup change), Opposite Way remains one of Leeland's greatest successes. Overcoming the potential risk of slipping into the "sophomore slump," the album only served to solidify Leeland's standing as one of the greatest new CCM artists. Opposite Way capitalized on a need brought by some of the industry's deficiencies, doubling down on worshipful themes to create a genuine, sincere, and theologically sound experience. Rather than moving away entirely from their melodic pop rock roots, they enhanced their focus and accessibility, showing signs of musical maturity seldom seen in such young performers. Ultimately, Opposite Way remains a favorite even a decade later." -David Craft, JFH Staff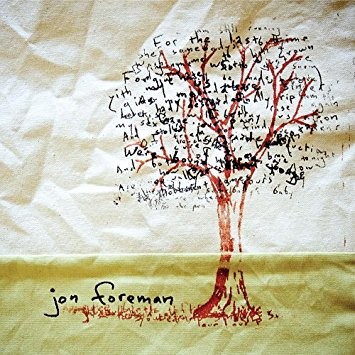 #8. Jon Foreman - Seasonal EPs (Winter, Spring, Summer)
"Foreman's first foray into releasing solo material was nothing short of a masterpiece. From the packaging to the collection of songs on each disc, Foreman weaved an intricate tapestry that explored faith, love, justice, and life. Each EP contains songs that adequately match the mood of the season it represents and so the whole project can stay in constant rotation as a year progresses. The depth and complexity of this project showed a more intimate side to the Switchfoot frontman and remains a strong offering a decade later." -John Underdown, JFH Staff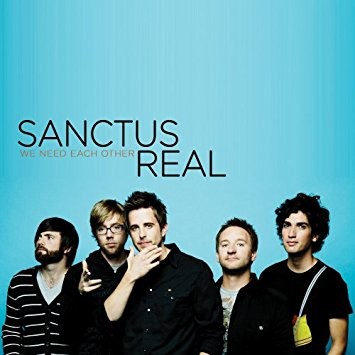 #7. Sanctus Real - We Need Each Other
"I first listened to Sanctus Real at the time Pieces of a Real Heart released and following that I quickly bought the Pieces of Our Past anthology. Both Fight the Tide and We Need Each Other gripped teenage me with their anthemic, guitar-driven openers and hooks that sound as fresh and infectious as they did ten years ago." -Lucas Munachen, JFH Staff
"For as long as I've been alive, individualism has been spreading throughout Christianity. Growing up, I recall consistently being taught that, as long as I'm keeping up my quiet times and personal devotions, I'm doing okay as a follower of Jesus. Listening to Sanctus Real's song "We Need Each Other" was the first time I really had to question my Jesus-and-me-alone religion. Do we need each other? It took me time to realize that God wasn't in the business of simply saving individuals, but rather of saving a people, building a church, and making a bride. We're saved into the church, and we do need each other. This mature understanding of this overflows throughout Sanctus Real's We Need Each Other, an easy contender for their best album ever. Over the past decade, the opener "Turn On the Lights" and closer "Legacy" have been known to randomly get stuck in my head, and even the weakest songs from this album are pretty great. Even by 2018's standards, this is a great sounding, top notch pop/rock album." -Chase Tremaine, JFH Staff
Thoughts from the Band:
"I know what you've been asking yourself for the last decade... 'What the heck is Dan pointing at that he needs to use two fingers? And why the straight face?' So midway through this photo shoot, the photographer said something like, 'I'm going to take ten photos in a row. You guys do ten random different things.' So I was doing my best slow-motion robot dance and one of my moves (apparently) is to give a grumpy stare and point with two fingers. An entire day of photography, and this one had to become the cover? C'mon man! Haha. On a more nostalgic note, the last three songs on WNEO are still some of my favorites we ever wrote. "Eternal" is probably my all-time favorite, and even today I still try to play Pete's guitar intro on "Legacy." Since I was the bass player, you can imagine how bad it sounds." -Dan Gartley, Sanctus Real
"I remember the creative juices that were flowing on that album - especially when it came to exploring guitar parts. Our other guitarist Pete and I would just geek out over finding the right riffs for that batch of songs. It was a fun time to be a band and to make a record with such a talented producer. Chris Stevens gave everything he had on the production and mixing of that album and it's one I'm still very proud of." - Chris Rohman, Sanctus Real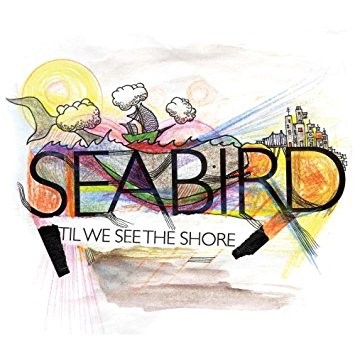 #6. Seabird - Til We See The Shore
"This was an album that came at the right time for me. I was transitioning from high school to college and a musical collection focusing on the various challenges of growing up struck a chord. The lyrics pulsate with emotion and angst while the music creatively underlines each song. From the jarring opener of "Black and Blue" to the frustrated cries of "Let Me Go On" to the sweetly quiet "Falling for You", 'Til We See the Shore offers an insightful look into a heart growing up and making sense of a confusing world. This is still a top album for me and most of the songs remain in my top 25 most played." -John Underdown, JFH Staff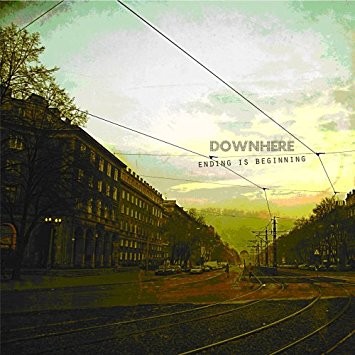 #5. Downhere - Ending Is Beginning
"I remember 2008 being a fantastic year for Christian music, and I remember it being a year that I really needed it. A recent cross-country move and new job had me down, and I needed encouragement wherever I could get it. Downhere had been a longtime favorite band and I was optimistic when I heard of a new album coming. It more than delivered, and if I had to rank their discography, this one would sit in the number two spot behind their debut. Highlights for me are the worshipful and radio ready, "Here I am," the Queen-esque "My Last Amen," the hope-laced "Hope is Rising," the earnest "All At War," and the convicting one-two punch of "The Problem" and "Beggar Who Gives Alms." With insanely catchy music, hopeful lyrics, and expertly crafted pop songs, Ending Is Beginning is still a favorite to this day and well worth revisiting often." -Josh Balogh, JFH Staff
Thoughts from the Band:
"Ending Is Beginning for us as a band was a definitive this is our sound, this is our message record. One might think that the center of a lifespan would be the pinnacle, but often it is the back stretch that has the best gems. "Cathedral," "Hope is Rising," "My Last Amen," "The Problem," "The Beggar Who Gives Alms" and "How Many Kings." Come on! Those are our songs. The record had multiple producers, Steven Guase, Mark Hiemermann and us. How quickly the flower fades after bloom, the ending was actually beginning as well for us as a band. We still had some fantastic songs in "On The Alter Of Love" Not because of any artistic or interpersonal fallout, but simply because the seasons change. This record is still holding up under many seasons! Especially Christmas." -Jason Germain, downhere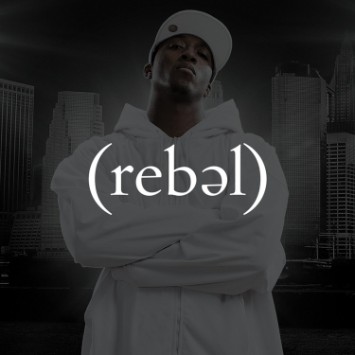 #4. Lecrae - Rebel
"In 2008 Lecrae was a young rapper with two albums already released. Real Talk and After the Music Stops were well recieved in the Chrisitan market, but Lecrae wasn't yet the dominating force he is today. However, that all began to change with the release of Rebel. The album that claimed being a Christian and living outside of worldly standards was true rebellion set Lecrae up on a huge stage to spread the name of Jesus and also set his label up to become the giant that it is today. Rehab may have been what gave Lecrae crossover success, but none of that would have been possible without Rebel. It should certainly be considered amongst the classics of CHH." -Michael Weaver, JFH Staff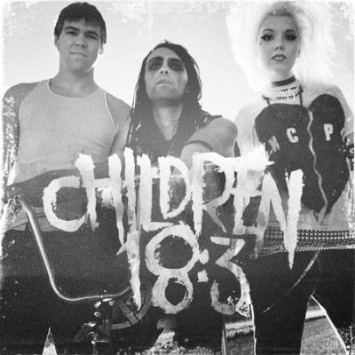 #3. Children 18:3 - Children 18:3
"Children 18:3's self-titled debut was one of my first introductions to pop/punk music and it remains one of the strongest I've heard in the genre. These make-up clad punks created some extraordinarily infectious and energetic music in their heyday. It was quick, to the point, slightly experimental, and above all unbelievably fun. -Lucas Munachen, JFH Staff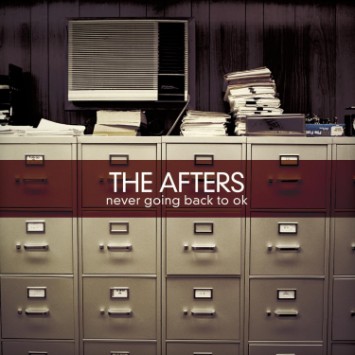 #2. The Afters - Never Going Back To Okay
"Never Going Back to OK contains some of the most infectious melodies heard within the Christian Power Pop scene. The Afters deliver both a strong opening/title track and a strong closing with a healthy flow of pop choruses, rock anthems, and ballads thrown in between. The album's lyrics are decidedly devout, but the band is also willing to flirt with cynicism and sarcasm, providing Never Going Back to OK with a witty and poignant edge. Save for the obviously dated terminology (but not concepts) heard on "MySpace Girl," this album remains as relevant today as it was in 2008." -David Craft, JFH Staff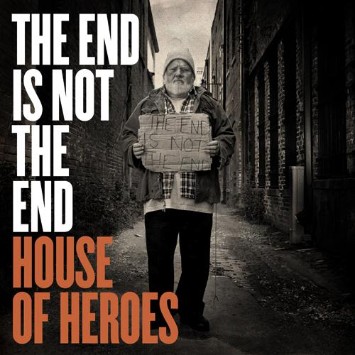 #1. House of Heroes - The End Is Not The End
"I'm not alone in thinking that The End is Not the End is peak-Christian-rock. Rarely, if ever, has the genre been done better than this. If you want to hear more of my thoughts about this album, I gushed about it on a recent episode of the JFH Podcast (listen here), including a funny story about the whistle sound from "If," the incredibly great and weird and rocking song that jumpstarts this triumph of an art album. This is the rare type of music that has received unanimous praise from anyone I've introduced it to. And as great as House of Heroes' output has continued to be (especially the Smoke EP), nothing quite compares to this monumental achievement. As for the band today, the verdict is out on whether or not we'll get more House of Heroes music. Drummer/back-up vocalist Colin Rigsby is staying busy with his project Vesperteen, which is presently touring and just released the single "Memory." Bassist/lyricist A.J. Babcock has also stayed active in the music scene, participating frequently in Nashville co-writes. Singer/guitarist Tim Skipper has been working in radio and leading worship with his local church. Circumstances made it such that the band wasn't able to go on a full tour in support of 2016's Colors, but here's hoping they find a way to make another album together." -Chase Tremaine, JFH Staff
"Nearly ten years ago, House of Heroes released what is arguably their best album, The End is Not the End. From the insanely catchy opener, "If," to the compact but epic art rock of "In the Valley of the Dying Son," this album is easily one of the best of the 2000s, Christian or otherwise. Attempts to classify it are difficult, given its diverse influences. It is simultaneously punk and Beatles-inspired, harmony-laden rock with the intricate songwriting and musicianship of progressive rock. In this case, diversity is a strength rather than a distraction as driving, complex rockers like "Drown" fit seamlessly with comparatively simple, emotional ballads like "By Your Side." A lot could be said about The End is Not the End, way more, in fact, than can fit in this blurb. I will say, though, that this album holds up very well after a decade because, stylistically, it doesn't scream 2008. Like most House of Heroes music, these songs go wherever the band wants them to go, and since these guys are great musicians, they have the chops to do it." -Andie Hardee, JFH Staff
Thoughts from the Band:
"At the time, there was a lot of adversity in making that record and getting it released. I remember when we finished it, I didn't have any feeling as to whether it was good or bad. I lost objectivity about it. But when I listen to it now, I can see very clearly that we really put every ounce of care into every part of it. And I'm really proud of the way it was composed. It's what I'm most proud of. It's very cohesive and intentional. I used to not be able to accept compliments about my music, I thought it was too prideful. But God has changed that, and now I can hear what people are saying. These songs really meant something, and when people tell me, I can appreciate that." -Tim Skipper, Lead Vocals / Guitars
Closing Thoughts on 18 Turning 10:
We hope you enjoyed this nostalic look back at our favorite albums from 2008, and if there is music here you completely missed we encourage you to go take a listen on Spotify! If there is an album not on here that is special to you, be sure to let us know in the comments! We'll also post some of the statistics from the voting process and honarable mentions in the comments section.