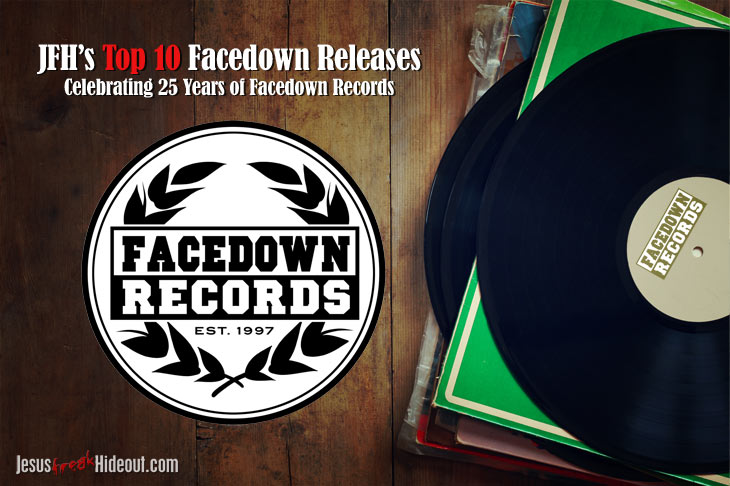 In 1997, No Innocent Victim drummer Jason Dunn formed Facedown Records, a small upstart in Southern California that would specialize in Christian hardcore bands, acting as a record label with a ministry side as well. NIV itself had the first release on the label, as half of a split 7" EP with a band called Phanatik (not to be confused with the former Cross Movement member). Since then, Facedown and its now-defunct sister labels Strike First and Dreamt Music spent 25 years (and counting) releasing over 200 albums from artists in a wide variety of genres: punk (The Deal, One-21), prog metal (Extol, Fleshkiller), death metal and deathcore (Impending Doom, In the Midst of Lions), metalcore (For Today, War of Ages), post hardcore (A Hope For Home, Hands), rock & roll (Thieves & Liars), Scandinavian metal (Immortal Souls), and traditional hardcore (xDEATHSTARx, Sleeping Giant, Dodgin' Bullets, etc). There have even been some acoustic-based albums from Dens and My Epic.

On top of the great music and success, Facedown's fan base has grown into a real community. Whether it's Facedown Fest or the Facebook Family Appreciation Club group on Facebook, the label's biggest fans and supporters are much more familial than that of other labels. So, to celebrate the 25th anniversary of the founding of Facedown Records, members of that community, including JFH staff, members of various bands, and other industry folks, have all taken turns selecting their top ten favorite Facedown Records albums.

Each list is that person's top ten favorite albums from the label, not necessarily the ten albums they would consider to be the "best" ones. While there are several albums that shows up on quite a few lists, the only rankings you'll find are subjective to that of the list-maker.

If you're wondering why your favorite album didn't show up, that's okay! Feel free to comment below with your favorite Facedown albums, and tell us why you love them so much! And be sure to check out each of the lists. Maybe you'll find some common ground, or maybe you'll find something you had never listened to before! Whatever happens, please be respectful in the comments, and enjoy!

Thanks to all of the contributors to this feature, and a very special thank you to Facedown Records for everything! Seriously, everything.
What are
YOUR
Top Facedown Records Releases? Post your list in the comments below!
Check Out The Full List of Staff and Guest Picks:
©2022 Jesusfreakhideout.com

Leave a Comment