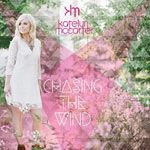 Katelyn McCarter
Chasing the Wind EP
Street Date:
Fall 2015
Style:
Pop
Official Site:
Official Website
Social Media:
Facebook
Strong vocals, catchy melodies, and trendy music are what make up the pop music scene. Sadly, in today's culture, and more or less the past 20 years, the genre is full of cheap art: sexuality, sensuality and superficial happiness. Enter indie artist
Katelyn McCarter
as she artfully stands against the trend while maintaining the quality of pop music with her latest EP,
Chasing the Wind
.
The album opens with the piano-driven title track, "Chasing the Wind." Noticeably, the music is aggressive while remaining approachable and matches the passion of the lyrics. The song communicates a crystal clear message of not conforming to the world but finding our identity in Christ. Introducing listeners to a more serious tone is the encouraging "Unmistakable." Musically, it carries an epic undertone without distracting from the lyrics that encourage believers to press on through trials and adversity. Keeping the momentum is "Larger than Life." It reminds listeners of the gratefulness that should come with salvation, with a bouncy beat and danceable synths. Showcasing a softer side to McCarter's sound is "Shape of Your Heart." While the lyrics have a more serious tone, it still has an upbeat and cheerful feeling. Without a doubt, any of these tracks could easily be played on CCM radio without seeming like a copycat artist. The EP may be considered short but is overall effective, giving listeners a good experience but leaving them wanting more.
It should be noted that the recording quality of the album is extremely high. There are a number of independent artists that are trying to put out as much music as possible as fast as possible. That can sometimes distract from the vision and overall presentation of the art - and that is never good. Thankfully, this does not have to be said about Katelyn McCarter. Her EP is sincere, it has a clear vision and great presentation.
- Review date: 10/8/15, written by
Ryan Barbee
of Jesusfreakhideout.com

Record Label:
None

Album length:
5 tracks

Street Date:
Fall 2015

Get It:
AmazonMP3
(Single)
Chasing The Wind
Unmistakable
Larger Than Life
Shape of Your Heart
Drown Me In Your Love